Ninth in Portugal was 'damage limitation' says Ricciardo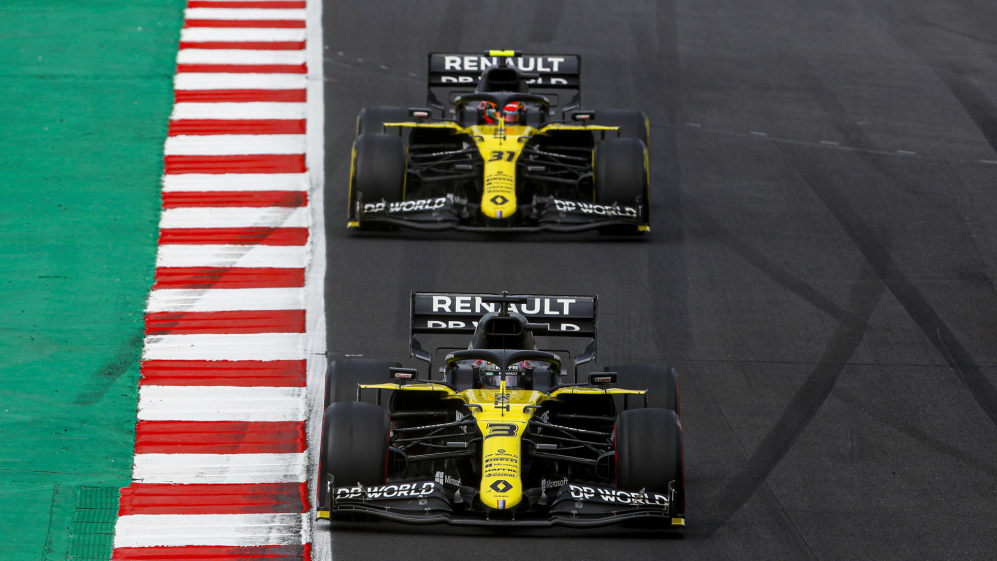 It shows how far Renault have come that Daniel Ricciardo was disappointed with ninth in the Portuguese Grand Prix, the Australian saying the result was "damage limitation" after he struggled for performance on the medium tyres.
Ricciardo qualified 10th but was among the first of the midfield runners to pit after suffering from graining on his soft tyres. He then faced a long stint on mediums but was unable to make them work in the way his team mate Esteban Ocon could and therefore his ability to make progress was limited.
READ MORE: Hamilton takes record-breaking 92nd win with dominant drive in Portuguese GP
With Ocon finishing eighth, Renault are well in the fight for P3 in the constructors' championship, four points behind McLaren in fourth, and six adrift of Racing Point in third, leaving Ricciardo looking at the positives on what was a tricky weekend for them.
"It was a bit of damage limitation," he said. "From a constructors' point of view I think McLaren gained points on us, and we kept a tie with Racing Point, which is important on a difficult race.
READ MORE: Norris says Stroll 'doesn't seem to learn' after Portuguese GP collision
"I had graining on the soft tyres, so we did not have enough aero balance on the car, and killed the front quite quickly. On the medium it was a struggle to get the tyre working and to get it into the temperature.
"You would get the few drops of rain every now and then, so I felt I would get there and then the track would cool and I was just underneath the window. It was very tricky to push and to generate temperature.
"I did not have the grip to push. So a tricky one but we still got some points so not too bad."
Ricciardo said in Germany that their third place there showed they had made progress in terms of high downforce, but after the race on Portugal, he admitted it's clear they still have a lot of work to do in that area.
"Our weakness still lies in that, in maximum downforce," he said. "I do not know that everyone had it in the Nürburgring, so if everyone has put it on here, and onto that you have a lower track surface, so the downforce plays even a bigger part because the grip is low.
"Maybe that put us back to where we are with this style of wing. It is a slippery track. Nürburgring was cold but actually once the tyre was warm it was actually high grip. Whereas here it was never high.
"It was slippery all through the weekend. Even with low fuel and new tyres nothing was ever glued to the track. It exposed our weakness."
Ricciardo will be hoping to go better this weekend at Imola, when the teams convene for the two-day Emilia Romagna GP.