Report
Hamilton takes record-breaking 92nd win with dominant drive in Portuguese GP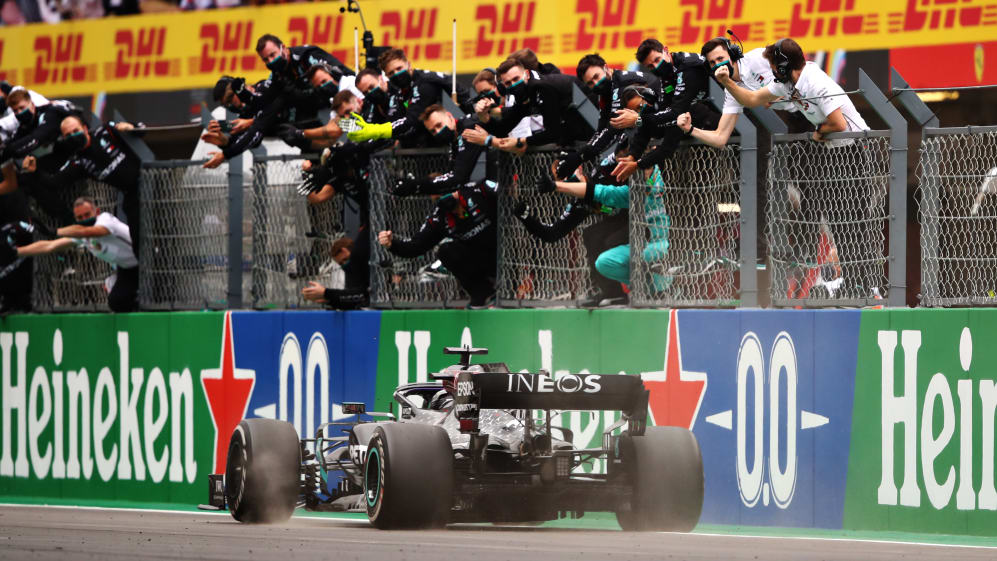 Mercedes' Lewis Hamilton has become the most successful driver in terms of victories in Formula 1 history, after a dominant display at the Portuguese Grand Prix saw him claim his 92nd victory from team mate Valtteri Bottas and the Red Bull of Max Verstappen.
Having started from pole position, Hamilton's victory looked in serious doubt after a dramatic opening lap that saw him get passed by both Bottas and the McLaren of Carlos Sainz – Sainz then taking the lead from Bottas a lap later, as the Mercedes pair struggled to get their medium tyres fired up.
Once up to temperature, though, the Mercedes quickly re-passed Sainz, while Hamilton was then able to out-drag Bottas on Lap 20 of 66 to take a lead that he would only briefly relinquish in the pits, as he closed out a victory that moves him ahead of Michael Schumacher in the all-time wins list.
FORMULA 1 HEINEKEN GRANDE PRÉMIO DE PORTUGAL 2020
Portugal
2020
Race results
POSITION
TIME
POINTS

1

Lewis

Hamilton HAM

Mercedes

1:29:56.828

26

2

Valtteri

Bottas BOT

Mercedes

+25.592s

18

3

Max

Verstappen VER

Red Bull Racing

+34.508s

15

4

Charles

Leclerc LEC

Ferrari

+65.312s

12

5

Pierre

Gasly GAS

AlphaTauri

+1 lap

10
Verstappen had had his own dramatic first lap, connecting with Sergio Perez and sending the Mexican spinning, forcing Racing Point into an early pit stop. Both drivers had a strong recovery though, Verstappen eventually climbing back into a comfortable third, while Perez made it up to P7 – the Mexican passed in the latter stages by Pierre Gasly and Carlos Sainz.
Ferrari's Charles Leclerc backed up his stunning P4 in qualifying with the same position in the race, Ferrari appearing to have cracked their recent race pace issues with a strong performance from the Monegasque. He finished ahead of the AlphaTauri of Gasly – the Frenchman driving an excellent race to take fifth – and one-time race leader Sainz in sixth.
The top 10 was rounded out by the Renault pair of Esteban Ocon and Daniel Ricciardo, while a solid recovery from Sebastian Vettel gave him the final points-paying position in the second Ferrari. It was a less-happy day for Racing Point's Lance Stroll, however, the Canadian colliding with McLaren's Lando Norris at Turn 1, before receiving a pair of five-second penalties for both the contact and track limits infringements, before Racing Point retired his car.
Despite all that, the 2020 Portuguese Grand Prix will be remembered most of all for the moment where Lewis Hamilton became Formula 1's most successful driver of all time in terms of victories – a mighty record that came after yet another mighty drive from the six-time World Champion.
AS IT HAPPENED
The 20 drivers lined up on the Portimao grid beneath threatening clouds, and with an uncertain first lap in prospect, with many complaints of low grip coming over the airwaves during the drivers' reconnaissance laps. That lack of grip would play out in extraordinary fashion on Lap 1.
With the clouds starting to spit drizzle, the medium-shod Bottas struggled off the line on the dirty side of the track, with Verstappen instantly outdragging him and tucking in behind Hamilton, as behind there were strong starts for Sergio Perez, Carlos Sainz and Kimi Raikkonen – the Finn jumping up 10 places to P6 at one point on Lap 1.
WATCH: Raikkonen makes up 10 positions on incredible opening lap in Portimao
Bottas has been robust on opening laps recently, though, and he muscled Verstappen off the track at Turn 3 to retake P2. The Dutchman got himself back on the circuit but moved onto Perez's line, turning the Racing Point around – his second contact with one of the team's cars this weekend – forcing the Mexican to pit, with the stewards ruling the collision as standard first lap fare.
The drama was far from over, though. Leader Hamilton couldn't seem to get any heat into his medium tyres on Lap 1, and had big oversteer moment going through Turn 7. The cameras duly picked up Bottas driving past his team mate for the lead so easily it looked briefly as though Hamilton had an issue.
Hamilton's woes were then compounded by Sainz, who'd benefitted from Verstappen and Perez's crash to take third, and was then able to nip past Hamilton as well, having more easily fired up his soft tyres.
All that meant that at the end of the first lap, the order was: Bottas, Sainz, Hamilton, Lando Norris (who'd also had a good opening tour), the recovering Verstappen, Leclerc (who'd dropped two places from fourth, as he also appeared to struggle with warm-up on his mediums) and Raikkonen in seventh, after his stunning opening.
There were still more incredible scenes to come, though. With Bottas struggling out of Turn 5 on Lap 2, he was passed for the lead by the charging Sainz, whose incredible start-line reactions, helped by his soft tyres, had reaped dividends once again. Sainz looked to be on borrowed time at the front, though, with Bottas getting back past on Lap 6, Hamilton a lap later and Verstappen a lap after that, the Dutchman having passed Norris beforehand.
WATCH: Hamilton retakes race lead from Bottas
Norris appeared to be struggling for pace generally, in fact. Once the race had begun to settle down after the opening fireworks, on Lap 18, the McLaren driver was being sized up by Lance Stroll down the main straight. Stroll was going so quickly, in fact, that he appeared to be surprised by how fast the McLaren came towards him, the Canadian jinking his steering wheel to the left before trying to sweep around the outside into Turn 1.
For the second time this weekend, though, Stroll appeared to misjudge the available space in Turn 1, and once again he found himself spinning into the run-off after hitting an irate Norris – Stroll receiving a five-second time penalty for his actions.
A lap later and Hamilton, having now got his mediums working, was all over the back of Bottas, and duly swept into the lead, easily resisting the Finn's defence on the main straight to finally get back to the head of the pack – with the reigning champ then quickly gapping Bottas, who was struggling for grip.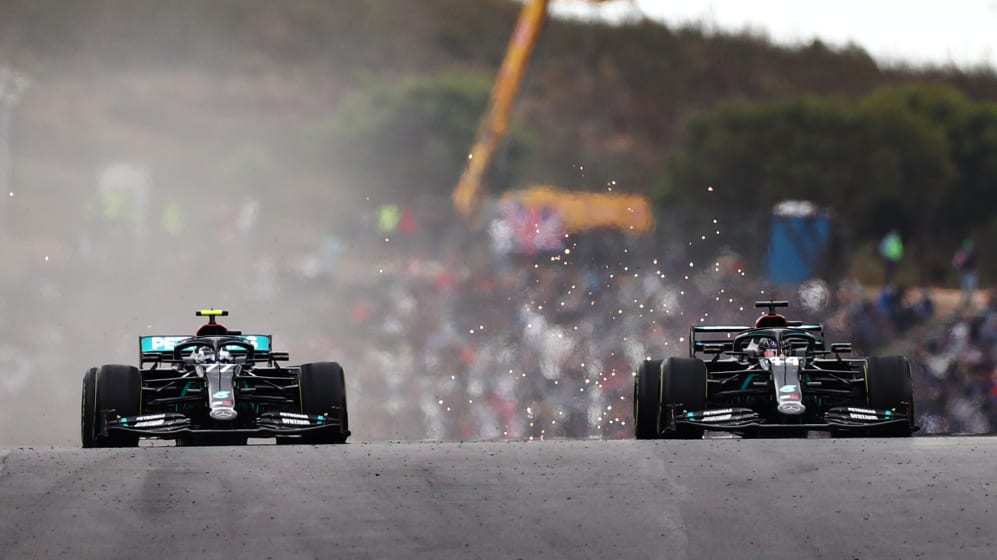 With the race then falling into its rhythm, just after the halfway point on Lap 35 of 66, it was Hamilton with an eight-second lead over Bottas – the Mercedes pair having not yet stopped – and 40s clear of Verstappen, who'd swapped his softs for mediums on Lap 23.
Leclerc, who'd pitted a lap before for hards - the Monegasque driving brilliantly after that slow start on the medium tyres - was in P4 and Sergio Perez in fifth, the Mexican having enjoyed a fantastic scrap with his old team mate Esteban Ocon to claim the position, and having done a fine job to climb back up from being last on the opening tour.
WATCH: Perez overtakes Ocon in fight for P5
Hamilton was called in for new tyres on Lap 40, taking on hards, Mercedes so dominant around Portimao in the first two-thirds of the race (after their dodgy start anyway) that Hamilton was able to slot back into P2, 20s clear of Verstappen. Bottas toyed with the idea of extending his stint and taking softs to try to out-strategise his team mate, but ended up taking hards as well on Lap 41.
Stroll's afternoon went from bad to worse when he received another 5s penalty for track limits – a punishment also handed out to Romain Grosjean's Haas. The two other French drivers in the field were having a better time of it, however, Gasly having driven a brilliant first stint on the softs that saw him climb as high as fourth before his pit stop, while having started 11th, Renault's Esteban Ocon waited until Lap 53 to make his only stop of the race, emerging in front of his team mate Daniel Ricciardo in eighth.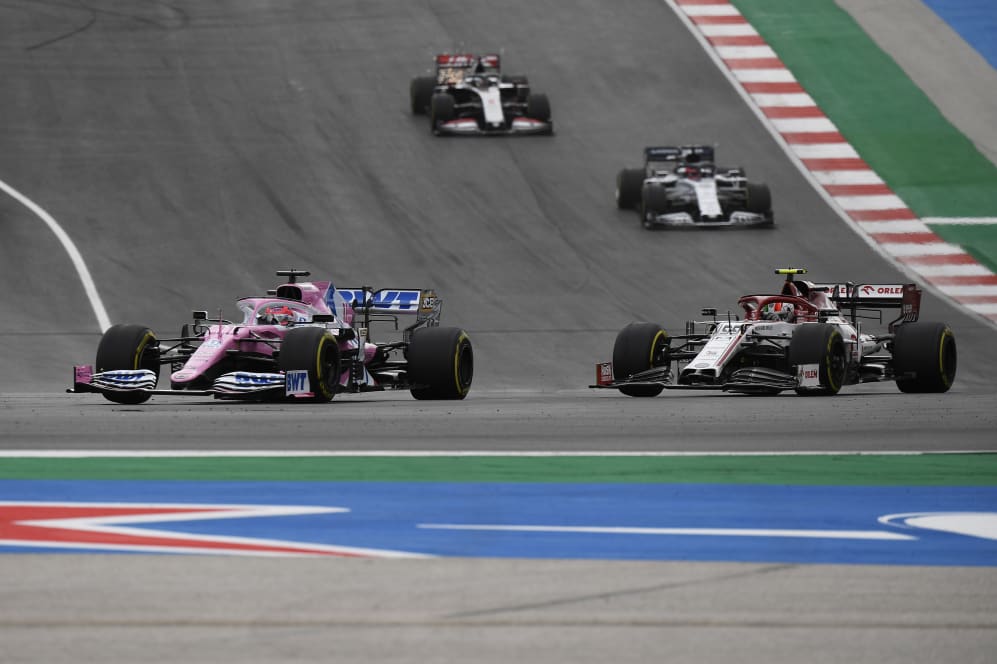 With five laps to go and the skies threatening, but never delivering, any real rain, Hamilton was 20s clear of Bottas – the only thing blighting Hamilton's day being a spot of cramp in his right calf muscle – with the order behind them: Verstappen, Leclerc, Perez, Gasly, Sainz, Ocon, Ricciardo and Sebastian Vettel – the German having done a steady recovery job from his disappointing P15 in qualifying. But with only around 10s separating Perez in fifth to Raikkonen in P11, there was still racing to be done.
Perez would ultimately lose two places in the closing stages of the race, the Mexican squeezing the attacking Gasly hard down the main straight on Lap 63 before succumbing a lap later, while Carlos Sainz was able to out-drag him a lap after that, demoting Perez down to seventh.
Up at the front, though, Hamilton was untroubled, and he duly eased across the line a full 25.592s seconds – the largest winning margin of the year – up the road from Bottas to secure an incredible 92nd victory, a number Hamilton said after the race he simply couldn't process.
Bottas admitted he'd had no riposte, and no pace, on race day – while there was a bit of numerological irony for the Finn too, as he slipped to 77 points (his race number's amount) behind Hamilton in the standings, Hamilton having also secured the fastest lap bonus point.
Verstappen, as he so often has this year, completed the podium, having lapped team mate Alex Albon with around 15 laps to go, Albon eventually finishing a disappointing 12th after stopping twice. Leclerc put in one of the starring drives of the day, appearing to confirm Ferrari's upgrade progress by finishing in the P4 position he'd started in, while Gasly's late overtake on Perez gave him his second-best finish of the year – after that incredible Monza victory back in September, of course.
Sainz may have led the race early on, but he wouldn't have been too disappointed with his second top-six finish in as many races, as he came home sixth ahead of Perez, who salvaged some good points for Racing Point after Stroll's car was eventually boxed into retirement on Lap 51, the team citing damage from the Norris crash as the reason.
WATCH: A shot from every win - Hamilton's 92 race victories in F1
Ocon has struggled to outperform his team mate Ricciardo in 2020, but finished ahead of him today in P8, with Ricciardo and Vettel rounding out the top 10 – while Norris would eventually come home P13, in between his friends Albon and Williams' George Russell, having been forced into an extra stop for a slow puncture.
So, Formula 1 history was made at the 2020 Portuguese Grand Prix. But with the sort of dominance that Hamilton demonstrated for his 92nd victory around the fantastic Portimao track, the mind boggles at how many he might finish on when he eventually calls time on this very special career.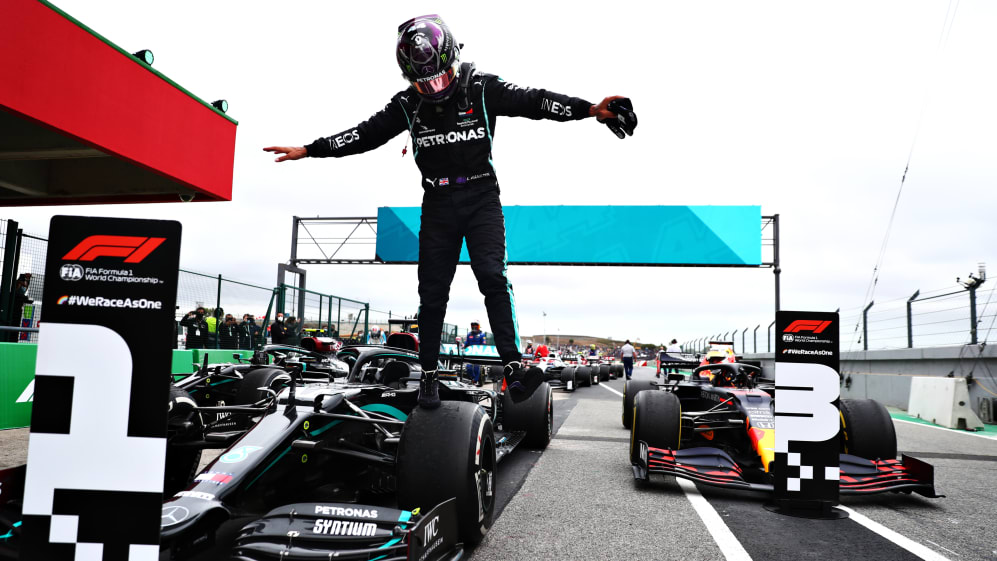 The key quote
"Today was tough... They said it was going to rain straight after the race but we got some spitting just after the start and I got a good start. Going into Turn 7, I had a huge oversteer moment and we didn't know what was next so I really backed off massively and arguably I probably should have tried to defend from Valtteri. But I was like, 'I'll come back later on', and fortunately that's what I was able to do.
"It's going to take some time for [the record] to fully sink in, but I was still pushing flat-out coming across the line. I'm still very much in race mode mentally… I can't find the words at the moment" – Lewis Hamilton, Mercedes
What's next?
Formula 1 now makes a trans-European dash back over to Italy for a consecutive weekend of racing, as the fabled Autodromo Enzo e Dino Ferrari – better known as Imola – returns to the calendar for the first time since 2006. Join us for the inaugural Emilia Romagna Grand Prix then, as the drivers and teams prepare to experiment with a two-day weekend format, with a single practice session and qualifying on Saturday, followed by the race on Sunday, November 1.