No further action over Palmer-Grosjean clash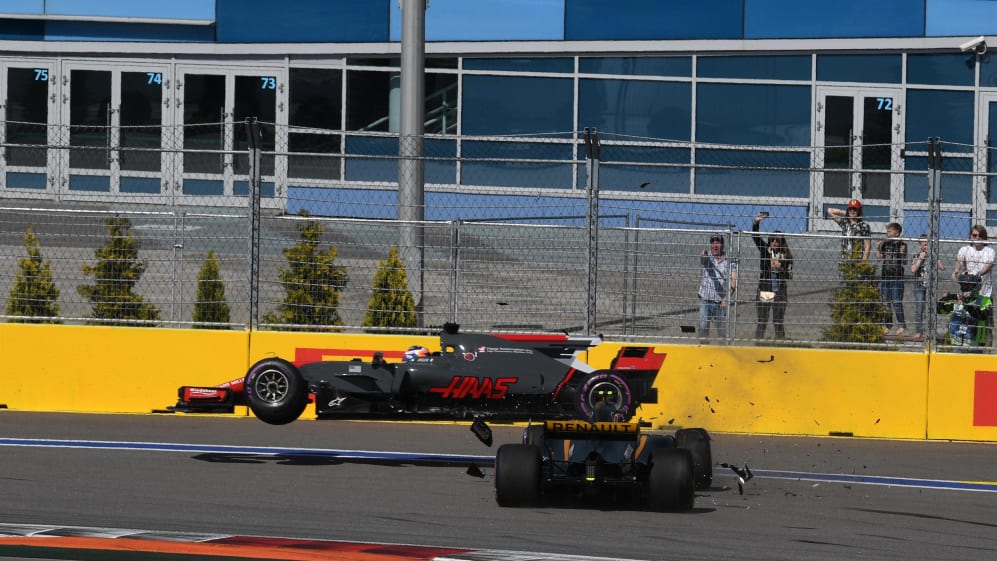 The Sochi stewards have decided to take no further action over the first-lap incident that eliminated Renault's Jolyon Palmer and Haas's Romain Grosjean from Sunday's race in Russia.
The duo came together whilst negotiating Turn 2, with Grosjean's car becoming airbourne before hitting the barriers and Palmer's also sustaining significant damage.
As the safety car was deployed, the stewards announced that they would investigate the incident after the race, but having considered video evidence and spoken to both drivers, they determined that neither "was wholly or predominantly to blame for the collision."
In the immediate aftermath of the incident, Palmer, who also crashed out of qualifying, had pointed the finger of blame squarely at his rival's door.
"I had a decent-enough start then heading down to Turn 2 there was a Sauber on my outside then Romain made a very ambitious move over the kerbs on the inside from behind," the Briton explained.
"There was no space for me to go because of the Sauber, so maybe Romain wasn't aware of that, but he kept it in, hit me, then we were both out of the race."
For his part, Grosjean indicated that Palmer had closed the door on him going around the right hander.
"We had a great start and I was on the inside of Palmer under braking," said the Frenchman.
"I don't know why he turned in. I was there and then he turned in. I tried to get as much as I could on the apex, but he just hit me, spun and came back and hit me again. The car was badly damaged and our race was over."
Both Palmer and Grosjean have retired from two of the four races this season.