No point dwelling on Singapore crash - Vettel
Sebastian Vettel has indicated he has no plans to change his approach at the start of races based on what happened in Singapore, describing the costly crash which eliminated him from the last round as 'part of racing'.
The Ferrari driver lost major ground in the race for the world title at Marina Bay after clashing with team mate Kimi Raikkonen and Max Verstappen off the line, leaving the door open for rival Lewis Hamilton to win the Grand Prix and extend his championship lead to 28 points.
The stewards ruled that nobody was predominantly to blame for the incident, but Verstappen pointed the finger at Vettel for squeezing him in an attempt to maintain his position.
However, when all three drivers addressed the media ahead of this weekend's race in Malaysia, Vettel said he was focused on looking ahead, rather than on analysing what had gone before.
"Every start is different, and the way Singapore happened you can look at it again and again; it doesn't matter. First of all it's done, and second I think it was pretty unfortunate for all three of us so we want to move on.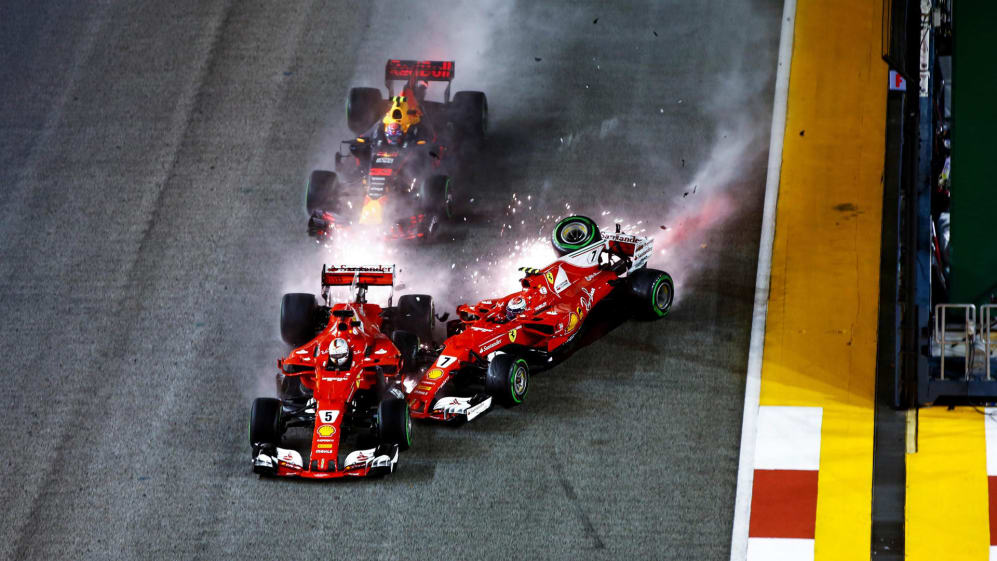 "Having said that, I can't promise you now what will be on my mind on Sunday when I leave the grid, but normally I don't, I never thought about the last race, so I'm pretty sure I'll be focussed on seeing what I can do on that race start on Sunday."
Asked how he'd been able to put his frustrations aside so quickly, Vettel added: "What can you do? The lights went off, obviously, we did our starts, everyone was trying to move at the start and it was the way it happened. It ended up really bad for all three of us and that was it.
"Obviously I could continue a little bit more, but the damage was so bad that I had to stop anyway. Not much you can do - I think it's part of racing. It's also not the first time I've been in a situation like this and probably it will not be the last time.
"It happened, there's not much you can do, and therefore not much point in trying to look at it again and again, I think it's much better if your time and energy is spent looking forward."
Vettel goes into this weekend's race in Malaysia with an enviable record. No one has won at Sepang as many times as the German, who triumphed three times for Red Bull before winning for Ferrari in 2015 – his first race victory for the Italian marque.