Norris and Piastri insist closing down 79-point gap to Ferrari is 'doable'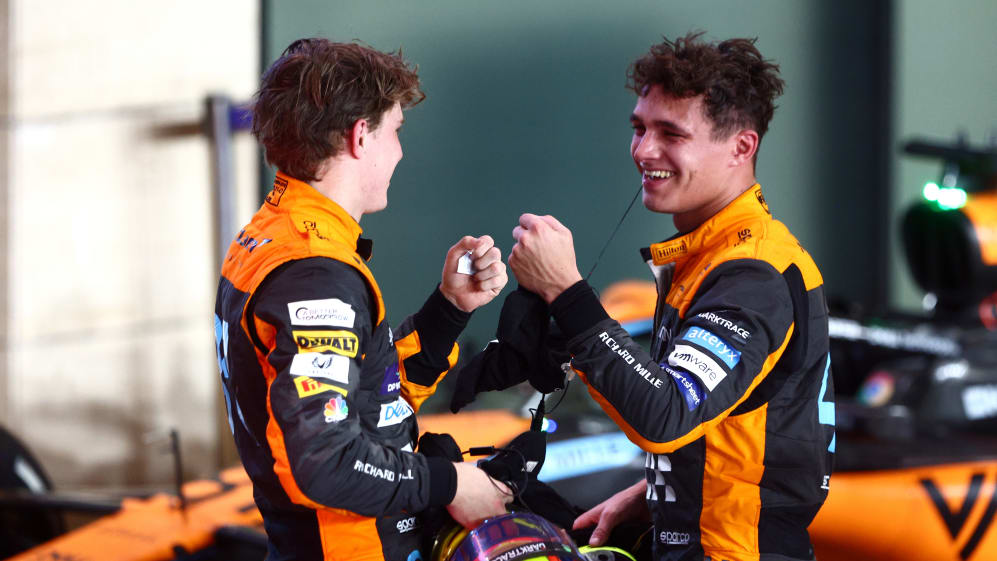 McLaren pair Lando Norris and Oscar Piastri have expressed hope of not only leapfrogging Aston Martin for fourth in the constructors' championship over the final five rounds of the season, but also putting pressure on third-placed Ferrari – with the Woking operation continuing their charge.
McLaren endured a challenging start to the 2023 campaign, failing to score a point at the first two races in Bahrain and Saudi Arabia and sitting at the foot of the standings, prompting a major technical reshuffle under new team boss Andrea Stella.
F1 ICONS: McLaren's Lando Norris on MotoGP legend Valentino Rossi
Since then, McLaren's fortunes have turned around dramatically, spearheaded by a mid-season upgrade that launched them into podium contention – the silverware and points that followed seeing them surge their way up the championship order.
Across the last eight race weekends, McLaren have gone from being more than 100 points behind Aston Martin to just 11 adrift, while Ferrari are now a much-reduced 79 ahead, aided by recent double podium finishes with Norris and Piastri in Japan and Qatar.
Asked if third place behind Red Bull and Mercedes is now a realistic target, Norris said: "It's doable, I think so. A couple of races ago it was 70-something [points] to Aston.
"I think we're doing a good job, not just in terms of pace, but we had a 1.8-second pit stop, which is pretty impressive from the guys. They've been working extremely hard, so to reward the whole team consistently is only more motivating and a bigger boost every weekend.
REACTION: F1 reporters from around the world on 'Terminator' Max Verstappen's third world title
"They like the taste of success. It's the first time they're getting it consistently and I think that only makes them want it more and more and more every weekend that we're doing, so the guys are doing a great job. I think [as drivers] we're both doing a decent job, too, so we'll keep it up."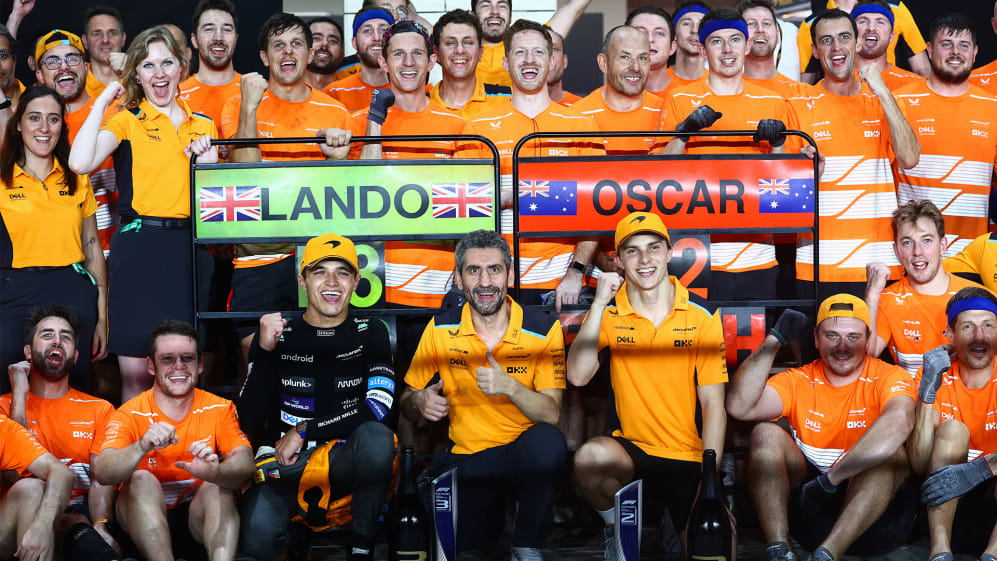 Norris cautioned, however, that the order can change significantly between different tracks, pointing to Ferrari taking pole position and winning in Singapore just two races ago.
"We know that Mercedes are very quick, probably almost as quick as us [in the Qatar race], just they keep making mistakes," he commented. "I'm sure if they have a clean weekend they will maybe make our life a bit more tricky and therefore I'm not as confident in saying it.
READ MORE: Ricciardo returns to F1 action with entertaining Nashville demo run
"But it was only three weekends ago that Ferrari were close to… [They] were on pole and almost winning races and nothing has really changed, it's just a different track. We're looking better, they're looking a bit worse.
"I think we're definitely not overconfident. We're confident, I think we need to be, but we know there's still going to be some races where we're not going to be quite as strong."
Piastri echoed his team mate's sentiments as he also pointed to the remaining Sprint races in the United States and Brazil, where even more points will be up for grabs.
BARRETTO: From 17-year-old rookie to three-time champion – what next for Max Verstappen?
"I think Suzuka and here [in Qatar] have probably been tracks we've been looking at for quite a while in terms of what's going to favour us," the rookie said. "I think there's going to be some races that are going to be more difficult than here and probably will suit other teams a bit better.
"I think 79 points in what, five races and a couple of Sprints? It's a big challenge, but yeah, we'll give it a go. I think obviously the gap to Aston now is very achievable, but yeah, hopefully we can do it."