Report
Norris beats Sainz and Russell to claim sensational maiden pole for Russian Grand Prix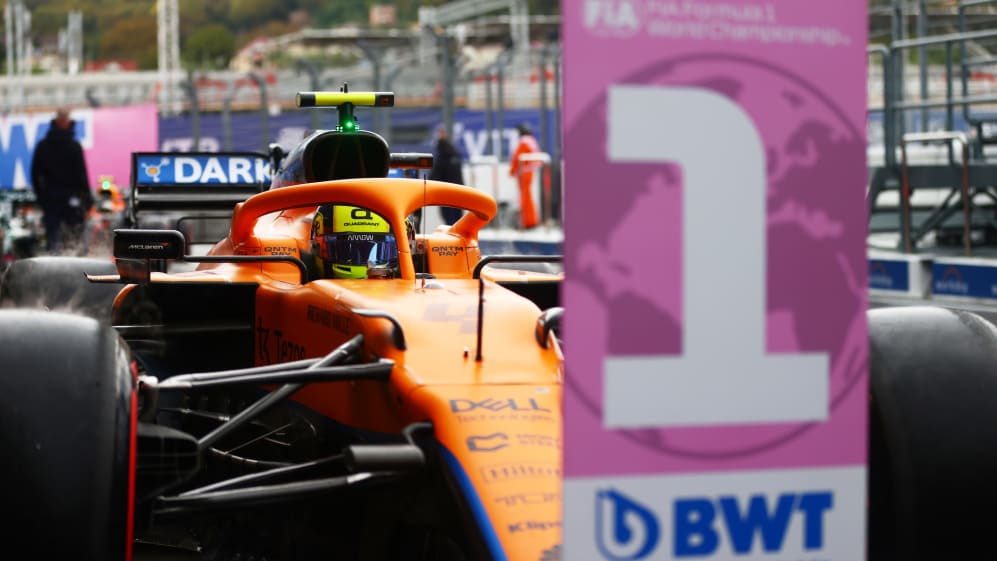 Fresh from the team's first one-two in over a decade at the Italian Grand Prix last time out, McLaren's Lando Norris has claimed pole position for the 2021 Russian Grand Prix, overcoming damp conditions at the Sochi Autodrom to take a shock P1, with the Ferrari of Carlos Sainz and the Williams of George Russell rounding out a surprise top three.
With heavy rain on Saturday morning having seen Free Practice 3 cancelled, qualifying marked the first Saturday track action for the F1 drivers. But with the fastest laps on Q1 and Q2 having been set on intermediate tyres, a drying Sochi track prompted a late move to slicks in Q3.
AS IT HAPPENED: Follow all the action from qualifying for the Russian Grand Prix at Sochi
And it was ultimately Norris who strung a lap together to claim his first ever career pole position, and McLaren's first pole since 2012, winding up 0.517s up on second-placed finisher Sainz, as Russell also starred for Williams to take P3, for his second top-three start in four races.
Mercedes' Lewis Hamilton was on provisional pole going into the final laps of Q3. But the seven-time champion then hit the pit wall as he came in to change for slicks, before failing to improve as he spun on his last lap, claiming P4.
FORMULA 1 VTB RUSSIAN GRAND PRIX 2021
Russia
2021
Qualifying results
POSITION
TIME

1

Lando

Norris NOR

McLaren

1:41.993

2

Carlos

Sainz SAI

Ferrari

1:42.510

3

George

Russell RUS

Williams

1:42.983

4

Lewis

Hamilton HAM

Mercedes

1:44.050

5

Daniel

Ricciardo RIC

McLaren

1:44.156
Monza winner Daniel Ricciardo was fifth for McLaren, ahead of the Alpine of Fernando Alonso, as the second Mercedes of Valtteri Bottas claimed P7 – an upset for Mercedes, who took a one-two in every session and segment leading up to Q3 – with Lance Stroll P8 for Aston Martin, ahead of Red Bull's Sergio Perez and Alpine's Esteban Ocon.
Meanwhile, with a back-of-the-grid start for Sunday's Russian Grand Prix, Max Verstappen opted not to set a lap in qualifying. He'll be joined at the back of the pack on Sunday by Charles leclerc and Nicholas Latifi, who will both be hit with penalties for changing power units.
So the story just keeps getting better for McLaren – but what can Lando Norris and the team achieve in Sunday's Russian Grand Prix?
AS IT HAPPENED
Q1 – Hamilton fastest as Giovinazzi spins, while Verstappen opts not to set a time
With the rain holding off as qualifying got under way, every driver bar Fernando Alonso headed out onto the track on intermediate tyres, Alonso opting to initially sample the conditions on full wets, before switching to inters.
The teams' engineers were nervously scanning the skies for signs of rain, though, with the Sochi Autodrom busy early on in Q1 as all the drivers tried to secure banker laps in case the heavens opened.
All the drivers, that is, bar Red Bull's Max Verstappen, who with a back-of-the-grid start to come after taking on a fourth power unit, chose to complete just two installation laps before boxing to preserve his Red Bull RB16B, with no time set by the Dutchman.
The rain held off though, and with the track (and the drivers' confidence) improving in the final moments of the session, Hamilton put in a storming final lap to go fastest with a 1m 45.992s, 0.404s clear of team mate Bottas.
With Verstappen's penalty, Red Bull needed Sergio Perez to be up there with the Mercedes, and the Mexican showed well early on in qualifying, overcoming a Turn 2 spin to take P3, just behind Bottas and ahead of Aston Martin's Sebastian Vettel in fourth and Norris in fifth in the McLaren.
Back after a Covid-enforced two-race lay-off, Kimi Raikkonen couldn't make it out of Q1, taking P16, joined in the drop zone by team mate Antonio Giovinazzi, who spun early on and was nearly collected by Charles Leclerc's Ferrari before ending up P18 – the Alfa Romeos split by an impressive showing from Haas' Mick Schumacher in 17th.
Local driver Nikita Mazepin was P19, with the time-less Verstappen the other driver out in Q1, as the Williams pair both made it through to Q2, Nicholas Latifi taking 10th, one place ahead of George Russell.
Knocked out: Raikkonen, Schumacher, Giovinazzi, Mazepin, Verstappen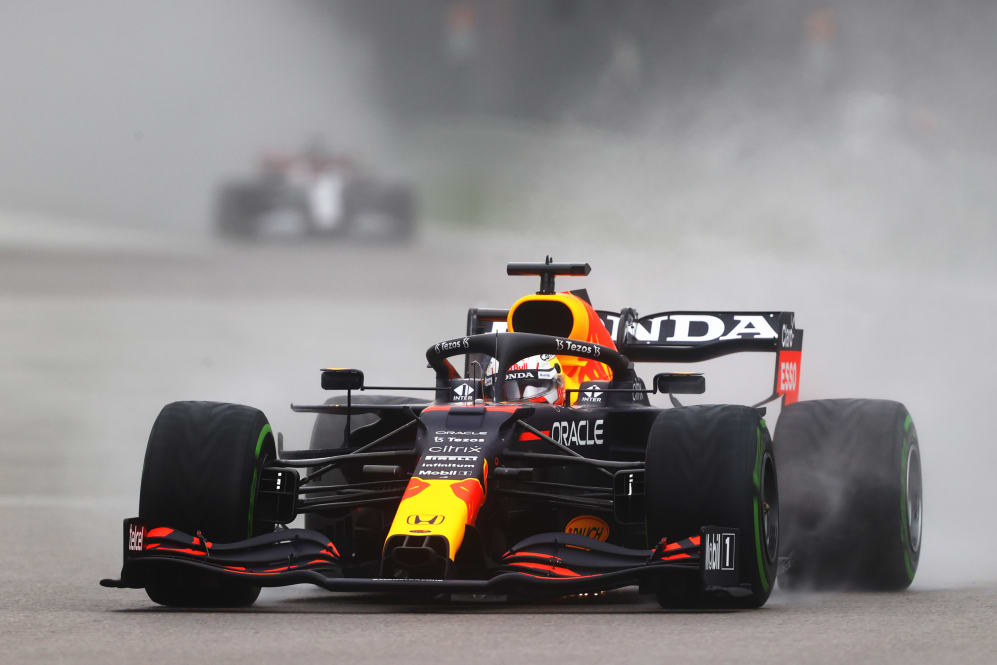 Q2 – Hamilton fastest again as Russell books spot in final part of qualifying
Mercedes rolled their dominance into Q2, with Hamilton once again setting the pace on inters, posting a 1m 45.129s to head Bottas by 0.177s, as Alonso did well to take P3, just 0.385s off Hamilton's time – with Alonso's Alpine team mate Esteban Ocon backing up the Spaniard by claiming fifth.
Two drivers out in Q2 were Latifi and Ferrari's Charles Leclerc, with both set to start from the back of the grid after power unit changes, meaning they opted not to set laps – Williams having discovered a pneumatic issue on Latifi's car on Friday night.
They were joined in the knock-out zone by the AlphaTauris of Pierre Gasly and Yuki Tsunoda in P12 and P13, Gasly expressing his displeasure on team radio after feeling he'd been blocked at one point – before going on to criticise his team for failing to put him out on new intermediates.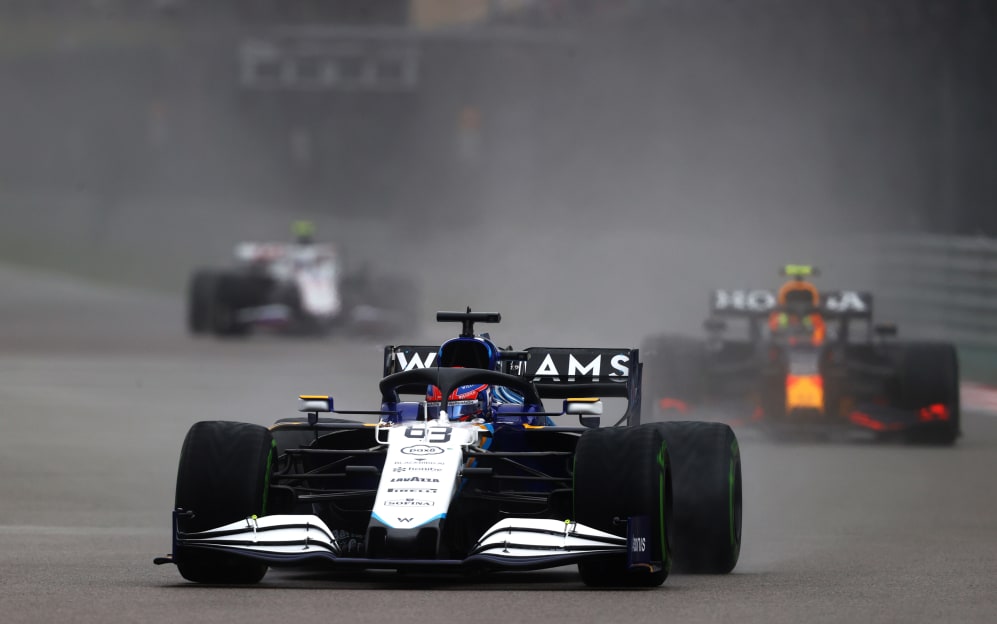 Vettel was perhaps the biggest shock, however, the fourth-placed finisher from Q1 ending up P11, having lapped just 0.052s shy of Ferrari's Carlos Sainz in P10 – leaving Vettel spouting expletives over team radio.
Both McLarens made it through to Q3, meanwhile, Norris taking P4 to Monza winner Daniel Ricciardo's P8 – while George Russell opted to use an extra set of inter tyres to bag his own Q3 berth in P9.
Knocked out: Vettel, Gasly, Tsunoda, Latifi, Leclerc
Q3 – Norris claims stunning maiden pole after late switch to slicks
With the rain failing to appear as the final segment of qualifying dawned, the drivers once again headed out on intermediates for the first flying laps in Q3, with Hamilton once again initially setting the pace with a 1m 44.050s.
But then George Russell instructed his team to prepare his slick tyres, with the rest of the field following suit as they all dived in for soft tyres. Hamilton's dive was over-eager, though, with the seven-time champion hitting the pit entry wall and damaging his front wing, forcing Mercedes to lose time as they changed it.
With Hamilton finally able to re-join the track, he then radioed in to complain of not being able to get heat into his tyres. Initially, however, it had looked as though the move to slicks might have been the wrong one, with few drivers improving on their first laps on the softs.
But then Norris started lighting up the timing screens, eventually stopping the clocks with a 1m 41.993s – putting him 2.057s clear of Hamilton's initial provisional pole time, as the McLaren garage erupted. Other drivers were improving too, with Sainz winding up P2, 0.517s off his former team mate Norris – while Russell went P3, to follow up his own sensational P2 from the Belgian Grand Prix for Williams, setting up one of the most incredible top threes we've seen in recent times in qualifying.
Hamilton wasn't amongst that top three, spinning a few corners from the end on his final run to compound a rough finish to qualifying, but having done enough on the inters to end up P4, ahead of Italian Grand Prix winner Ricciardo in fifth, with Alonso sixth.
The Spaniard managed to finish ahead of Bottas, who'd been forced to wait in the pit lane as Mercedes struggled to fix Hamilton's front wing, with Bottas also failing to improve on slicks as he took seventh. Stroll was eighth, as Sergio Perez was another driver not to improve on softs, ending up a disappointing ninth, ahead of Ocon.
But there was no doubt who the ultimate star of the day was, with Norris claiming McLaren's first pole position since the 2012 Brazilian Grand Prix – a pole taken that day at Interlagos by none other than Lewis Hamilton…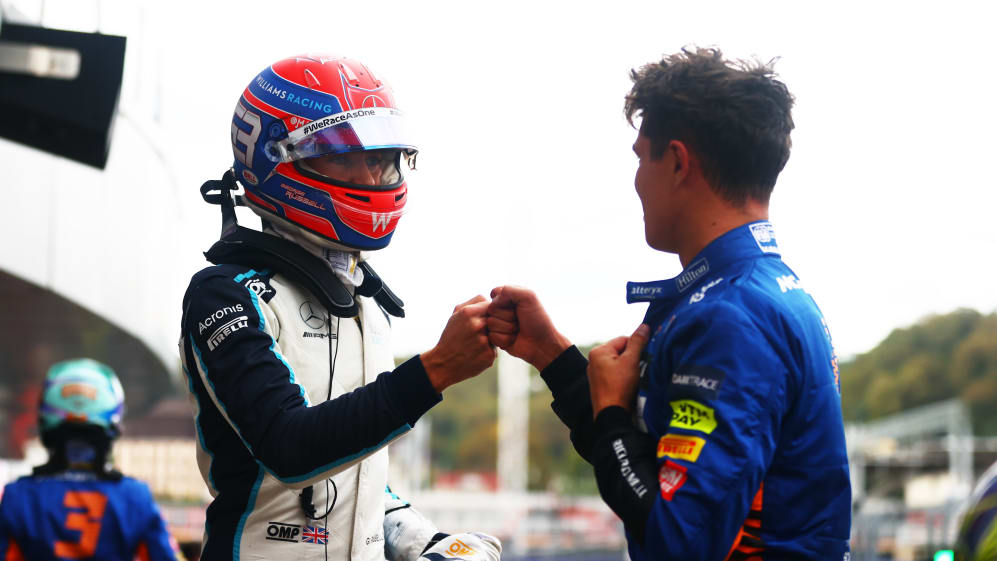 The key quote
"Oh boy. It feels amazing. I don't know what to say. Quite a demanding session but it was going well and obviously we made the decision to switch to slicks and, I don't know, you never think you're going to get a pole until you get it and now I've managed to do it. Yes, extremely happy and big thanks to the team as well – they've done an amazing job" – Lando Norris, McLaren
What's next?
Sunday's Russian Grand Prix kicks off at 1500 local time, with Mercedes looking to maintain their streak of never having been beaten at the Sochi Autodrom. But with Verstappen looking to scythe his way through the field from the back of the grid and attempt to limit the damage in the title fight, and a McLaren, a Ferrari and a Williams all starting ahead of Hamilton, we're set for a fascinating contest, which you can follow in full on F1.com.