Norris bemoans 'extremely difficult' first day of running at Silverstone despite finishing third in FP2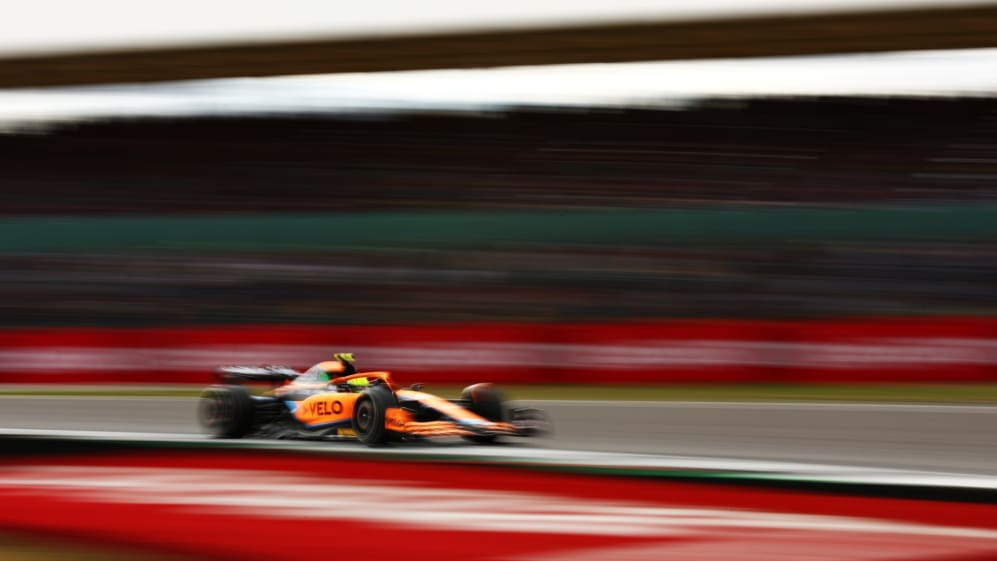 Even after enjoying a fine start to his home Grand Prix weekend, as he set the third fastest time of the second practice session at Silverstone, McLaren's Lando Norris was not fully happy with his first day of running at the British Grand Prix, as he described it as "sketchy".
After rain hampered running in the first practice session, the drivers hurried out on to the track to make the most of the sunnier FP2. And after switching on to the soft tyre to begin his qualifying simulations, Norris briefly went to the top of the leaderboard with a time of 1m 29.105s – a lap that was later only bettered by the Ferrari of Carlos Sainz and the Mercedes of Lewis Hamilton.
However, when asked how the car felt out on track, Norris replied: "Sketchy! It's been a tricky day, just the wind conditions make it extremely difficult. As good as it looked, it's still difficult to put things together and to be consistent and so on, especially in the long run.
FP2: Sainz leads British duo of Hamilton and Norris in second practice at Silverstone
"But happy – the car seems to be in a decent place at least, a little bit better than we were expecting, whether that's good or not, whether that's because we turned up more than the others. But yeah, as far as we know from ourselves, things are in a good area, and we can find some more improvements into tomorrow.
"It's very difficult to get that rhythm and to get into it," he added, "because every lap the car is doing something different. You have different gusts of wind that can affect the car in a huge way. I think, let's say, I'm as confident as I can be in these conditions."
Rain is forecast for tomorrow afternoon's qualifying session, which throws up the possibility of a mixed grid, like the one seen in Montreal. However, Norris was unperturbed by the prospect, and put that down to his love for the Silverstone track.
"I mean, we did hardly any [wet weather running in FP1] because we were saving the tyres for tomorrow," said Norris. "We think it's going to be a higher chance of it being rainy, or it being wet, tomorrow.
READ MORE: Red Bull 'miles off' around Silverstone says Perez – while Verstappen says it's 'not a surprise' to see Ferrari lead FP2
"I don't know if it's like today, hopefully that's perfect because it's always tricky in the rain. But I love the circuit, things are going well and hopefully that continues whether it's dry or wet."
Oops! Error retrieving Twitter post
Despite finishing just under eight-tenths further back from his team mate in P8, Ricciardo was in an optimistic mood after FP2, as he believes that he and his team are in a "decent spot" and was looking to find further improvements overnight.
"It was okay," said Ricciardo, who celebrated his birthday on Friday at Silverstone with a shoey cake. "The morning actually, there wasn't much going on, but the afternoon, I guess it was more fun, we got out there, had a little bit of fun. With the hard [tyre] it was looking alright, but then with the soft, I didn't really put the greatest lap in the world together.
MUST-SEE: Watch Norris's fancy footwork as Pedal Cam returns to F1 for the first time in 22 years
"But I think we got in a decent place considering, and looking at Lando, it looks like we're in a decent spot. So, it's early, we've obviously only had one session, but for the only dry sessions of the day, I think we're alright. So, we'll kind of look across cars tonight, try and optimise everything, and then it won't be my birthday tomorrow, so I'll just be more focused, I guess!"