Norris blames qualifying performance for McLaren's 'difficult' race at Imola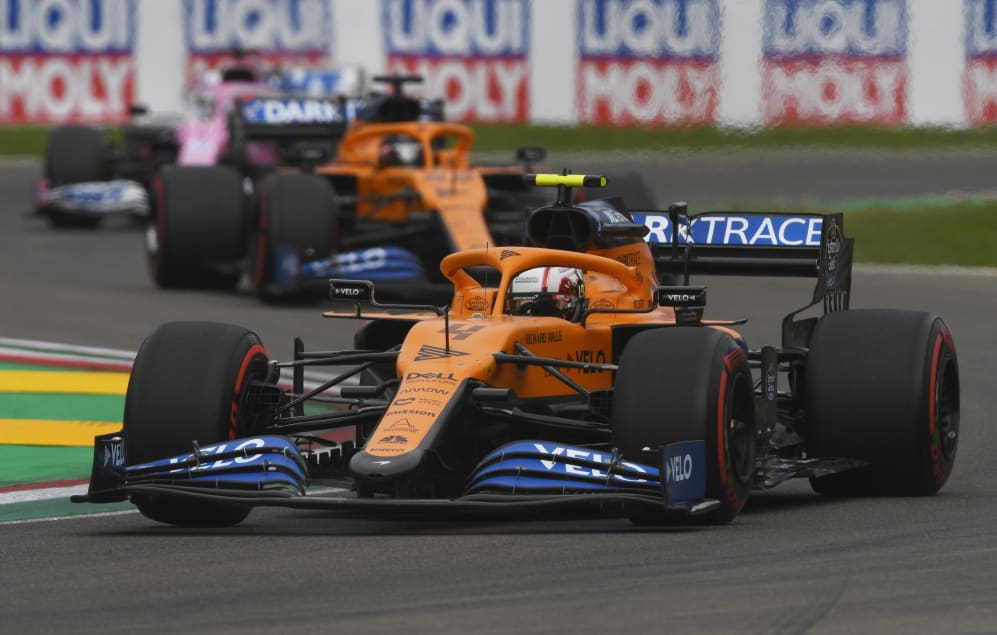 Lando Norris finished the Emilia Romagna Grand Prix just behind his McLaren team mate Carlos Sainz in eighth place to pick up four points, but the young Brit was frustrated after the race, and said his chances of a better finish were scotched by the team's pace in qualifying.
Norris and Sainz both got through to the top-10 shootout in Saturday's qualifying session, but finished up ninth and tenth on the grid respectively. On race day, Sainz got past his young team mate early on, as they went on to come home seventh and eighth – and Norris said this was the best they could do at a race track where overtaking was not easy, given their starting positions on the grid.
READ MORE: Who were the Winners and Losers of the Emilia Romagna Grand Prix?
"We just stayed in the position we started in," he said after the race. "We were just further back because we didn't qualify well enough. [It was] difficult because we couldn't do anything else and we were just stuck where we were for the whole race, and being at the back of the pack, not being able to overtake always put us in a compromising position to cars behind who could do different strategies.
"I think we had a good car today, good enough. If we were in third and fourth, then we would have stayed third and fourth, and they probably wouldn't have been able to overtake us. So it was tricky, we were just always in a difficult position because of where we started in the race and we didn't make any positions on the opening lap.
"[It was] Just a tough race for us, not being able to overtake, not being able to do anything with strategy and we were just fixed in our positions."
McLaren are locked in a very tight battle for third in the constuctors' championship, with the Woking team tied with Racing Point on 134 points, and Renault one ahead.
But after the race at Imola, Norris also picked out another rival outfit that had better pace than the McLarens in Italy. Asked if his relative lack of speed was qualifying or track specific, he said: "It's a bit of both. Qualifying always helps. Of course we need to improve qualifying. I think yesterday, maybe I didn't do the perfect lap but we need a decent amount more to compete with AlphaTauri and what Renault could achieve."
Renault, of course, secured a second podium in three races through Daniel Ricciardo, while AlphaTauri looked quick all weekend, with Pierre Gasly qualifying fourth - the same position that Daniil Kvyat would finish the race in after a barn-storming run up the order following the Safety Car restart.
READ MORE: Kvyat sad to miss 'cherry on the cake' podium after scintillating restart helps him to fourth at Imola
But with the F1 circus next off to Istanbul to race at another track returning to the calendar after an absence, Norris said the team would regroup and give it everything as the season enters the final stretch.
"[Istanbul is a] very different track, we don't know what to expect from it yet," he said. "We have to wait and see but we'll work on our car, we'll try and make improvements and hopefully come back stronger."