Kvyat sad to miss 'cherry on the cake' podium after scintillating restart helps him to fourth at Imola
AlphaTauri's Daniil Kvyat finished the Emilia Romagna Grand Prix just 0.821s off his first podium of the season, coming home just behind the Renault of third-placed Daniel Ricciardo. But that was the only thing dampening Kvyat's mood after a fantastic race for the Russian at AlphaTauri's home Grand Prix.
Starting P8, Kvyat showed strong pace throughout at Imola, as he found himself locked in a near race-long battle with the Red Bull of Alex Albon.
But a call to pit Kvyat during a late Safety Car period paid off handsomely, with Kvyat using his fresh rubber to pass Albon, Sergio Perez and Charles Leclerc – the latter with a beautiful move around the outside at Piratella – to claim fourth place behind Ricciardo, at a track located just 15 kilometres from the AlphaTauri factory in Faenza.
READ MORE: Hamilton wins wild race in Imola as Mercedes clinch seventh-straight constructors' title
"A great race, great result," said Kvyat afterwards. "Just a shame not to be able to get the cherry on top of the cake – but a strong race, zero mistakes from myself or from the team, great overtaking after the Safety Car restart and very happy with my driving, and the team's job… It's like a home race for me, and the team. I had a special helmet made so I'll put this helmet in a special place."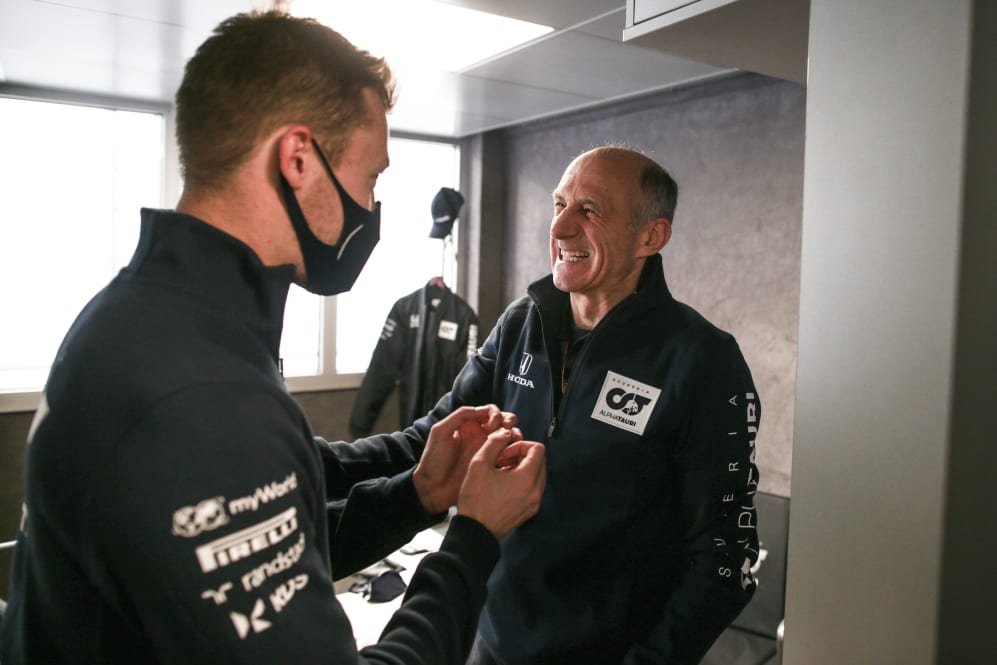 Kvyat's result was all the more impressive given that he'd survived a few hairy moments with his fellow drivers to achieve it, including light contact with Albon and a near-miss with McLaren's Carlos Sainz. But survive he did, as he claimed his best finish of the season – and just the sixth time in 13 races that he's scored this year.
"It could have gone really wrong today, because I almost lost my front wing with Albon once, almost had contact with Carlos," said Kvyat. "It was a very action-packed race for me, but we kept our heads cool and did a very strong race.
READ MORE: 'It would have been a great race' – Verstappen taking positives from Imola despite cruel retirement
"Since the start, I was much stronger than Albon, who has a potentially quicker car. I was on his gearbox all the first stint, half of the second stint. I knew that our pace was strong here today, and I was like, 'Yes, we really can do it today.' I felt that the whole race, our pace was good."
The fourth place for Kvyat, coming on the weekend when AlphaTauri confirmed his team mate Pierre Gasly – who was forced to retire on Lap 8 – for next year, will be a shot in the arm to Kvyat's hopes of retaining his own seat with the team for 2021. Whether it's too little too late, however, remains to be seen…