Norris delights in P5 as McLaren net best qualifying result since 2014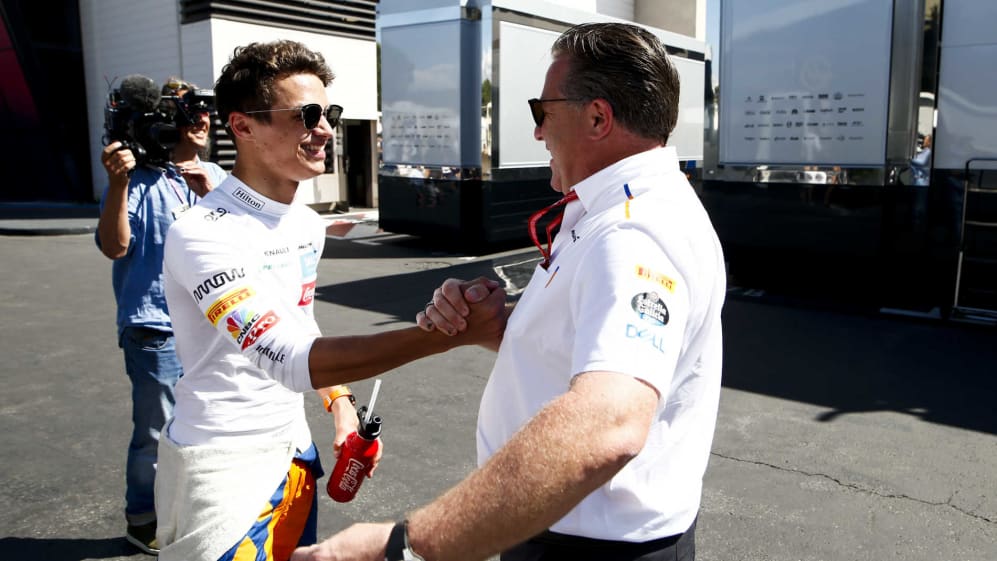 It's fair to say that McLaren's pace had been one of the most talked about topics of conversation of the French Grand Prix weekend heading into qualifying – and in a performance that left CEO Zak Brown racing back to the garage high-fiving colleagues, the British team duly saw both of their cars qualify in the top six for the first time since 2014.
Havcing delivered the team's best qualifying result since Austria 2016, Lando Norris will start the French Grand Prix with a Ferrari, a Red Bull and both works Renaults at his back, having converted the pace that saw him finish FP2 in fifth place into the same position in qualifying – while just nine-thousandths of a second would have seen him start fourth ahead of the Red Bull of Max Verstappen. Carlos Sainz, meanwhile, will line-up directly behind the British rookie in sixth.
"It's a good day," said Norris when asked whether this had been the best day of his career so far. "It's a good achievement for myself, just in Formula 1, to get fifth, but I think there's a few other things which I've done, winning championships let's say, which have been better.
"But it's a big highlight. It's something I'll remember. It depends how much we go on to hopefully be able to win and so on, but so far, in Formula 1, it's probably my best achievement."
Having spent Friday trying out experimental parts, Sainz admitted that he'd been a step behind Norris throughout the weekend, despite ending up just a tenth adrift of his team mate. But according to the Spaniard, he was happy to put in the hard graft on Fridays to help the team move forward.
"So far, in Formula 1, it's probably my best achievement"
"I'm happy to... not sacrifice but to spend a Friday trying to make it work," said Sainz. "I'm just very happy to know that the team is bringing new things for me to try on Friday or to give them a go knowing that there's always things coming to try and develop the car, try to find another tenth.
"I would say Lando has been very strong this weekend. From my side, today I was a lot happier with the car, and I could more or less manage to match him in most of the corners, but I think I was always one set of tyres, or one or two laps behind on getting up to speed. But it's definitely a penalty, or a thing that I take for the sake of the team and keep pushing forward because that's exactly what I want."
Looking ahead to tomorrow, and despite some excited paddock chatter, Norris was keen to downplay the chance of a McLaren podium in Le Castellet. But having fought with Red Bull's Max Verstappen in the early laps in Canada, Norris was hoping for more of the same in France.
"I think our pace is obviously pretty good," said Norris. "I think the Ferraris are quicker, Mercedes are quicker, Red Bull look like we could fight, but you never know. You could have other people crashing, which obviously we'll hope for! I think we can just get some good points. If we can race the Red Bulls, and kind of be around them, so kind of fifth onwards, I think we can be happy."
McLaren will be doubly achieved with their efforts, given that the works Renault team – who currently sit two points behind them in the constructors' championship – only managed to get one car into the top 10, with Daniel Ricciardo set to start the race P8, while Nico Hulkenberg will be P13.
The last time both McLaren's started in the top six of a race was the 2014 Italian Grand Prix. Both drivers duly finished in the points that day - will we see a repeat on Sunday?