Norris has 'made the next step as a driver' after Imola podium performance, says Seidl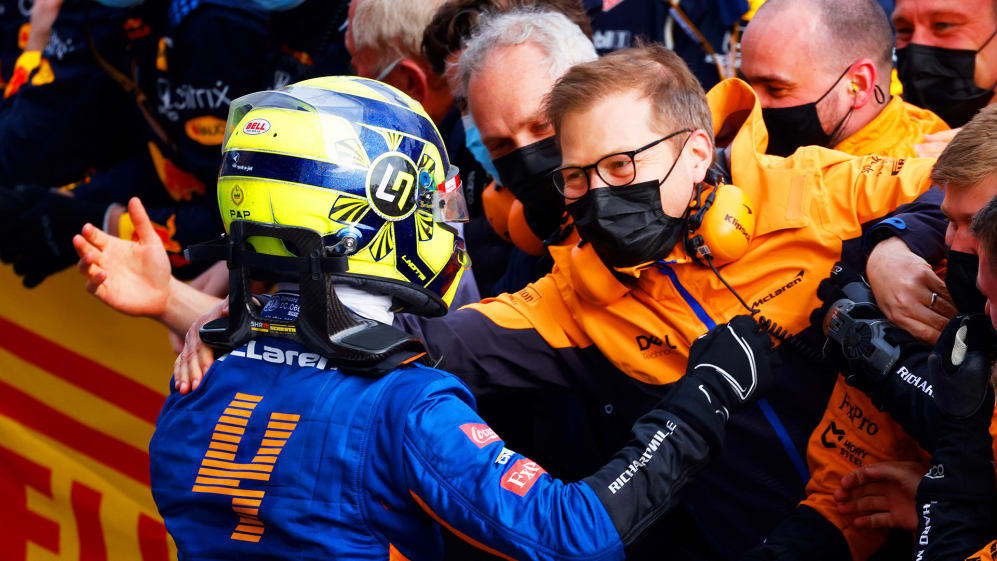 Lando Norris took his second career podium at the Emilia Romagna Grand Prix after a valiant drive to P3 at Imola. And the performance drew praise from Norris' McLaren Team Principal Andreas Seidl, who said that his Imola showing marked another step in the 21-year-old Briton's already impressive career development.
Norris had been left devastated on Saturday after a lap that would have been good enough for P3 in qualifying (ahead of Red Bull's Max Verstappen) was deleted for a track limits violation – with Norris eventually starting the race in P7.
READ MORE: Verstappen takes victory from Hamilton and Norris in action-packed Grand Prix at Imola
But having been comforted on social media by Lewis Hamilton after qualifying, Norris found himself fighting the Mercedes driver in the closing stages of the race, doing his best to withstand the seven-time champion as he tried to hold onto P2 – but eventually falling to third, to follow up his maiden podium from the 2020 Austrian Grand Prix, much to the delight of team boss Seidl.
"I'm really, really happy for the entire team," said Seidl. "Lando is flying at the moment. He's definitely made the next step as a driver, so just happy for the whole team that he could score this P3 today.
"You could see already in Bahrain and in the winter that he'd definitely made the next step both as a driver and a guy," Seidl added. "He digested last year's season, together with his engineering team, in the right way.
"It's normal also that these young guys make steps, especially in these first years. They have to make it, otherwise they will never make it to the top, but it's just great how he's pulling it off. He has the confidence to put the laps in and what he did today again was great."
READ MORE: Norris celebrates 'near-perfect' weekend as he recovers from Saturday heartbreak to seal second F1 podium
Especially impressive was the way in which Norris eked out the life of the soft tyres McLaren elected to start him on at the Lap 35 Safety Car restart – with Norris driving brilliantly to keep the soft rubber alive, and hold off the two medium-shod Ferraris of Charles Leclerc and Carlos Sainz, even if he wasn't able to resist Hamilton's assault.
"[It was] a great call… from the team, putting the soft tyres on at the restart," said Seidl. "It was a bit of a gamble, and we weren't sure really if it would work out until the end. But it worked out so a great call from the team as well.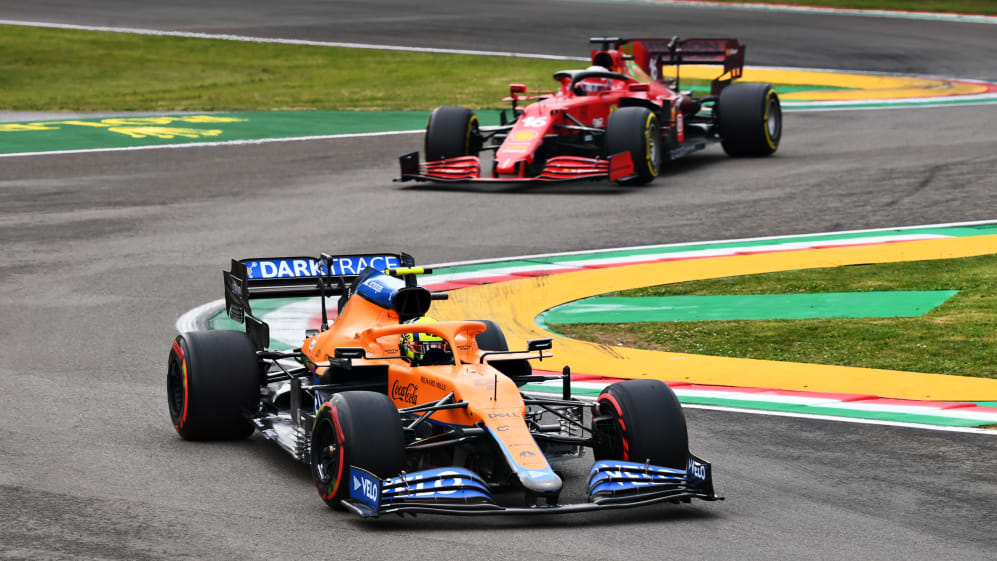 "We're still in the position where we can accept that Mercedes and Lewis Hamilton overtake us on track," added Seidl. "But we simply have to keep working hard and hopefully at some point in the future, we can keep them behind."
READ MORE: Mixed feelings for Leclerc as wet set-up almost yielded Imola podium
McLaren's second double points score of the year – the only team bar Ferrari to manage that feat in 2021 – meant that McLaren consolidated their third place in the constructors' standings, stretching their advantage to seven points over Ferrari thanks also to Daniel Ricciardo's sixth place finish.