Report
Verstappen takes victory from Hamilton and Norris in action-packed Grand Prix at Imola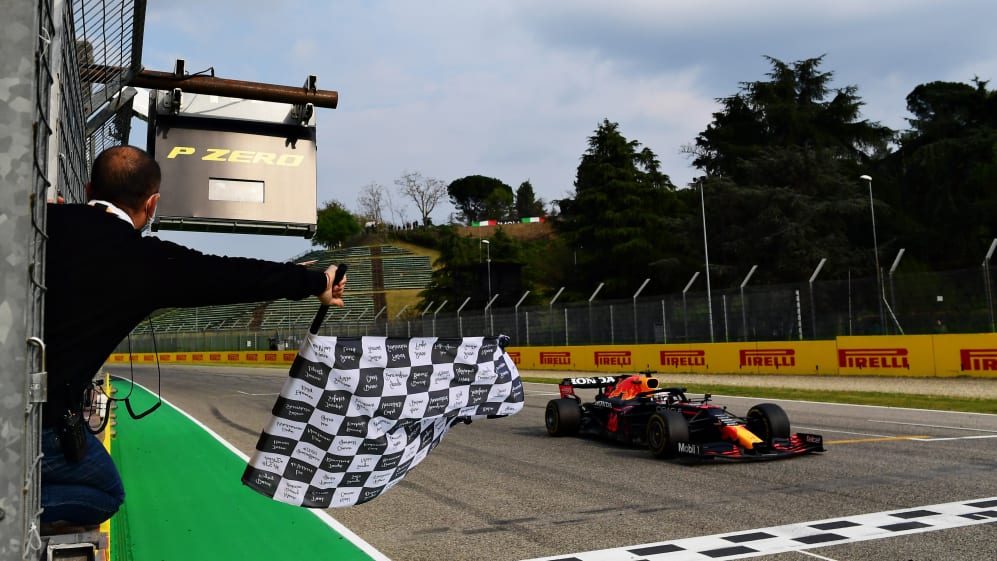 Max Verstappen took a superb victory in an action-packed Emilia Romagna Grand Prix that was red-flagged half way through after a a high-speed crash involving Valtteri Bottas and George Russell, which both walked away from unhurt. Lewis Hamilton recovered from a spin at Tosa to finish second, while Lando Norris made it from seventh to third with a terrific drive that earned him the Driver of the Day tag.
For the 99th time in his F1 career, Hamilton started from pole as rain fell at Imola, but it was Verstappen who jumped from third to first with a masterful second-gear launch. Hamilton briefly led again when Verstappen pitted for mediums from intermediates on Lap 27, but the Briton emerged second thanks to his sluggish stop one lap later. On Lap 31, the seven-time champion locked up and beached his car at Tosa, only to rejoin P8.
WATCH: Verstappen steams into the lead from third in thrilling start to the Emilia Romagna GP
A terrifying accident followed that as Bottas and Russell came together at Tamburello. Both were thankfully unhurt, but Bottas was apparently winded and Russell furious as another potential points finish slipped away from the Williams driver in a spectacular fashion. Neither faced action from the stewards after a post-race investigation, but both disagreed on who was to blame.
The red flag followed to allow marshals to clear the cars and debris, and the rolling restart saw Verstappen keep his lead, with Hamilton quickly making up ground from P8. A brilliant recovery followed, with the world champion up to fifth by Lap 43, fourth by Lap 50 and third – at the expense of Leclerc – by Lap 55.
READ MORE: Russell accuses Bottas of breaking 'gentleman's agreement' over crash, as Finn says Briton's move made no sense
FORMULA 1 PIRELLI GRAN PREMIO DEL MADE IN ITALY E DELL'EMILIA ROMAGNA 2021
Italy
2021
Race results
POSITION
TIME
POINTS

1

Max

Verstappen VER

Red Bull Racing

2:02:34.598

25

2

Lewis

Hamilton HAM

Mercedes

+22.000s

19

3

Lando

Norris NOR

McLaren

+23.702s

15

4

Charles

Leclerc LEC

Ferrari

+25.579s

12

5

Carlos

Sainz SAI

Ferrari

+27.036s

10
Victory was to be Verstappen's, however, and by a margin over 20 seconds at the flag as the action behind did nothing to rattle him. That left Hamilton second, Norris third thanks to a sensational drive from P7, and Leclerc fourth – his podium having slipped away to the superior McLaren of Norris, who had jumped the Ferrari after the red flag restart.
Carlos Sainz finished fifth even after two trips through the gravel, while Daniel Ricciardo took sixth for McLaren having started there.
WATCH: Alonso hits the wall on his out lap as rain strikes Imola before the start of the Grand Prix
Lance Stroll was once again rapid in the wet and made it to P7 from P10, ahead of Pierre Gasly whose choice to start on wets didn't pay off, leaving him as low as 18th on Lap 16 when he bit the bullet and swapped to inters. However, Stroll was given a five-second penalty post-race and finished eighth; Gasly seventh.
Alfa Romeo's Kimi Raikkonen started 16th but made it up to P11 in the wet, taking P9 when Bottas and Russell came together. The Finn was later penalised for an infringement during the Lap 35 rolling start that left Esteban Ocon ninth and Fernando Alonso scoring his first point since his comeback, in 10th.
AS IT HAPPENED
Light winds and cloud cover shadowed the track as the paddock paid tribute to MotoGP legend Fausto Gresini an hour before the race, and that escalated to conditions that had the drivers use a mix of intermediate and medium tyres on the way to the grid.
Thirty minutes before lights out, Fernando Alonso spun his Alpine on inters on his way to the grid, damaging his front wing. Panic then followed at Aston Martin when Lance Stroll's car sprung a rear-right brake fire as he trundled up to his grid slot. The team changed his and team mate Sebastian Vettel's brakes in a frantic pre-race repair, and Vettel had to start from the pitlane as a result - and would finish his race in the pits too, when he was forced to retire with a gearbox issue.
READ MORE: Mixed feelings for Leclerc as wet set-up almost yielded Imola podium
They say that when it rains, it pours, and it began to do exactly that as Charles Leclerc spun at Acqua Minerale on the formation lap. He was one of 16 to choose intermediates for the start; with only Haas pair Mick Schumacher and Nikita Mazepin, Alpine's Esteban Ocon and AlphaTauri's Pierre Gasly on full wet tyres.
It was pole position #99 – but hopes of win #97 quickly faded for Lewis Hamilton as Max Verstappen instantly jumped him at the start from P3. At Tamburello the two touched wheels and Hamilton thudded over the kerbs, parts of his floor and wing flying off in the process. Verstappen sped away with the Mercedes driver chasing.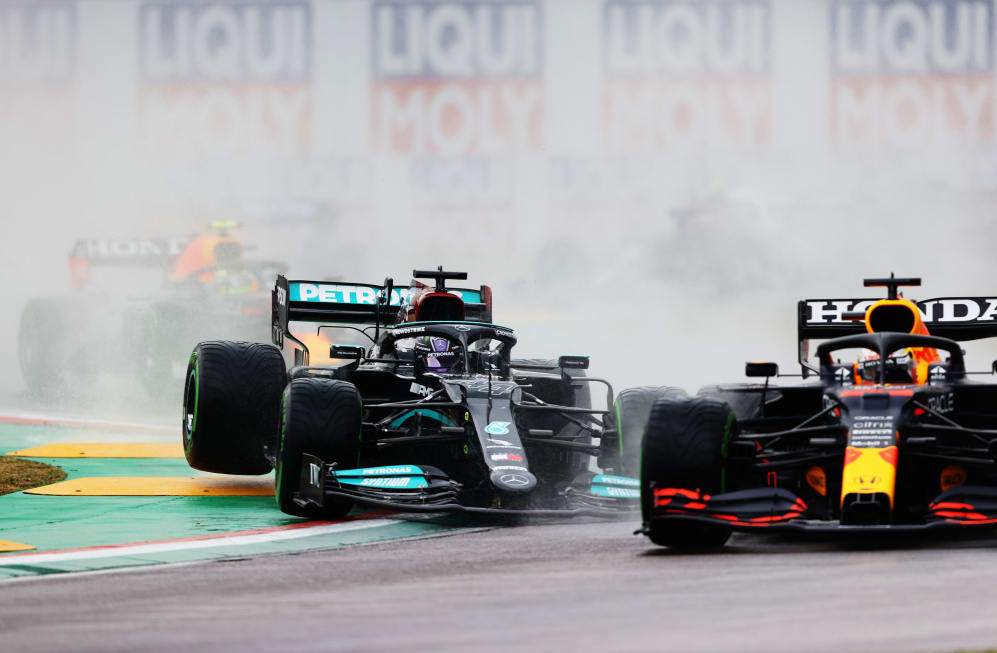 Lap 2 brought the first Safety Car of the race as Nicholas Latifi spun, then continued at Acqua Minerale. But as he rejoined, contact with Mazepin tipped him into a spin and sent the Williams hurtling into the wall and out of the race just before Turn 14. Behind the Safety Car, Mazepin's team mate Mick Schumacher lost his front wing in a spin at the pit exit as drivers struggled on the slippery surface.
Perez had lost P3 to Charles Leclerc just before the Mazepin/Latifi collision and worse was to come for the Mexican. Behind the Safety Car, he went off track and then regained the two places he lost. He was hit with a 10-second penalty for overtaking the Safety Car and took that penalty on Lap 29, ending the race down in 12th.
READ MORE: 'I wasn't there today' says Perez as he rues costly mistake that left him P12 at Imola
When the race restarted on Lap 7, Hamilton was right on Verstappen's tail for the Safety Car restart and attempted a move mirroring the Dutchman's at the start, but to no avail. Leclerc was right behind them, hoping to capitalise on any mistakes, but despite a slight wobble from Hamilton, the top three remained the same, at least for a good few laps…
Mercedes' Valtteri Bottas, who was 10th on the restart, couldn't move anywhere at this point in the race. A melee of midfield cars was ahead – Lance Stroll, Sainz, Gasly and Lando Norris – and all were sparring for sixth place. Norris was the one to take it, Gasly's choice of wet tyres yielding diminishing returns. The AlphaTauri driver was finally switched to inters on Lap 16, emerging in 17th.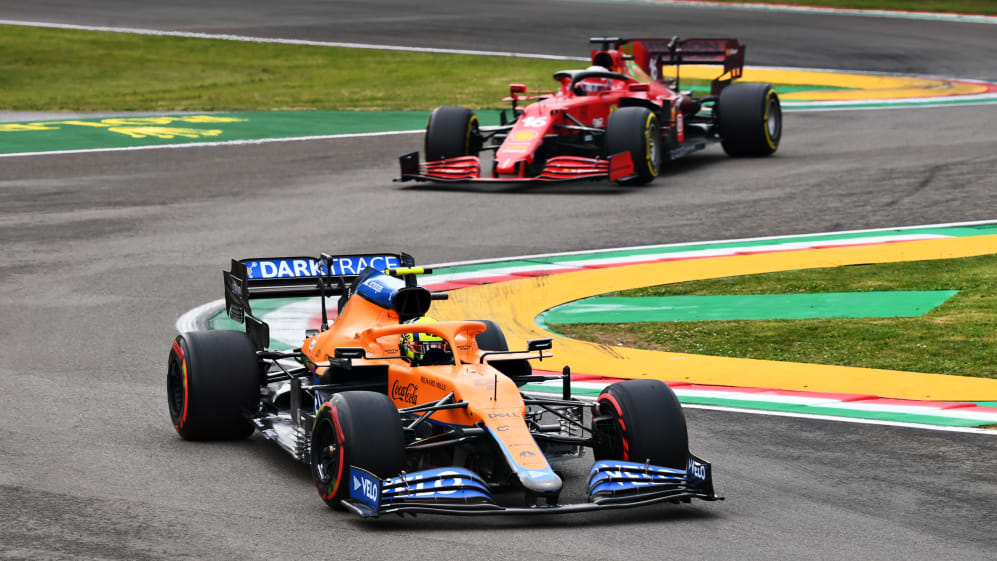 Soon after, Norris and Ricciardo swapped positions under team orders, with the Briton's pace deemed superior to the Australian's. Ricciardo then lost P5 to Sainz - who had shrugged off two trips through the gravel – on the main straight in a brief Lap 27 skirmish.
Back to the front where Verstappen began to call back to the pits over the radio, eager to know who would take slick tyres first as the track gradually began to dry. With a five-second advantage over Hamilton, the Dutchman blinked first and took medium tyres on Lap 27, leaving Hamilton one lap to make up time and pull off an overcut on the Red Bull.
WATCH: Lewis Hamilton expects 2022 F1 Miami race to be 'favourite spot for everyone'
What followed was a quick lap from Hamilton but a slightly slow pitstop – four seconds – on Lap 28 that had him emerge second and Verstappen re-take the lead. But this seemingly crucial moment would fade into insignificance soon after, as Hamilton locked up on Lap 31 at Tosa (Turn 7), damaging his front wing as he slowly recovered his car with a gentle run in reverse gear over the gravel.
Then, a heart-stopping moment: with George Russell looking a sure shot for points having made up a three places from P12, he encountered Bottas on the way into Tamburello and the two collided spectacularly, sending them both spinning into the barriers and out of the race. Replays showed that Russell lost control with two wheels on the wet grass on the outside of the corner, continued at full throttle, and was left furious as this chance to score his first points for Williams was ruined.
A red flag and a long stoppage for the clean-up followed with all the cars stopped in the pitlane, Hamilton to restart eighth, now on the lead lap, behind Lance Stroll as the Briton held his head in his hands, reflecting on his mistake at Tosa. He had it all to do to get a podium, but chances of a win were slim at best with Verstappen to restart in the lead.
Behind Verstappen on the Lap 35 rolling restart was Leclerc, then Norris and penalty-hit Perez in fourth. A brief scare followed for Verstappen as a squeeze of throttle very nearly lost him the lead on the penultimate corner, but he gathered it all up and continued in front.
WATCH: Valtteri Bottas feels George Russell 'clearly at fault' for huge Imola crash
Norris was on soft tyres for the restart and made quick work of taking P2 from Leclerc – the heartbreak of a stellar lap chalked off for track limits infringements in qualifying fading away for the McLaren man.
On Lap 38, Perez spun off at the Villeneuve Chicane and was down from P4 to P14, adding insult to injury in a poor race for the Mexican. Meanwhile, Hamilton wrestled positions off Kimi Raikkonen and Lance Stroll, beginning his charge up the field as Verstappen slowly began to stretch his legs over Norris in front.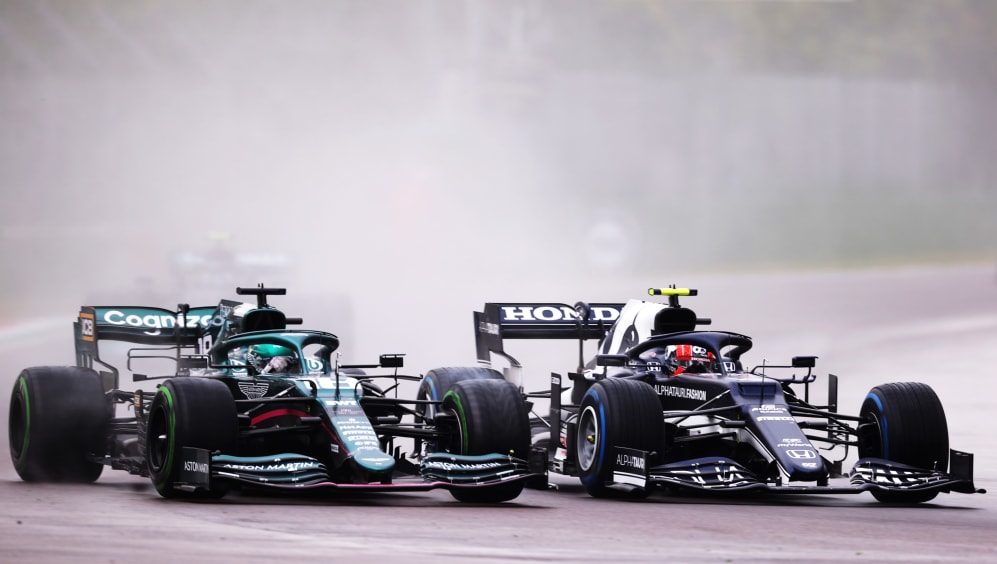 Hamilton took P5 off Daniel Ricciardo soon after at Tamburello and was setting fastest laps to put himself just 12 seconds off the lead on Lap 43. But the seven-time champion found Sainz, ahead in fourth, a stubborn obstacle. Only on Lap 50 did Hamilton wrestle P4 off the Spaniard, doing so with DRS into Tamburello.
"Let's get after it, mate," he was told on the radio by his race engineer Pete Bonnington. But Verstappen was 14 seconds ahead at this point, unthreatened by the McLaren of Norris and the Ferrari of Leclerc behind.
READ MORE: Verstappen and Hamilton at odds over whether they made contact in crucial start of Imola race
Hamilton took P3 off Leclerc using DRS on Lap 55 and was back up into the podium places, Verstappen now 17 seconds ahead and Norris fuming at backmarkers hampering his efforts to cling onto P2 on his soft tyres.
Norris's nerves were clear to see when Hamilton emerged in his mirrors on Lap 60, and over the radio came a message to Norris that he was "knocking the clutch paddles" with his knees. He proved a tough obstacle for Hamilton, but the Briton swept by for P2 three laps to the end and his charge back up the field was complete.
By the chequered flag, Verstappen was 22 seconds ahead of Hamilton, but the runner-up took the Fastest Lap bonus point in the process, crucially giving him a one-point lead in the championship.
The Ferraris missed out on a podium at home, Leclerc struggling with Norris's pace and eventually losing out to a charging Hamilton at the end. Sainz shrugged off two trips through the gravel to finish fifth from 11th after a brilliant start, and a nailbiting battle with the likes of sixth place McLaren driver Ricciardo and seventh-place Aston Martin racer Stroll, who started 10th. The Canadian ended up P8 as he received a five-second post-race penalty post-race for leaving the track in a move on Gasly.
Gasly dropped as low as 18th as his gamble to take wets starting in P5 didn't pay off, but he recovered to P8 (eventually P7 after Stroll's penalty) ahead of Raikkonen – who was given a 30-second post-race penalty for spinning and regaining his positions just before the Lap 35 rolling restart. Raikkonen made up seven positions but finished out of the points by the end of the race. Thanks to Raikkonen's penalty, Esteban Ocon scored the first F1 points for Alpine in P9; veteran Fernando Alonso started 15th and finished 10th; and penalty-hit Perez was classified 11th.
READ MORE: 'I refused to believe the race was done' – Hamilton revels in recovery drive to P2 after 'first mistake in a long time'
Hopes of a Yuki Tsunoda comeback into the points were undone by a slow spin on the Lap 35 rolling restart, and he ended the race 13th having started last thanks to a Q1 crash on Saturday. The rookie was bumped up to P12 thanks to Raikkonen's post-race penalty.
Alfa Romeo's Antonio Giovinazzi was running ninth at home on the Lap 35 restart having capitalised on the three retirements for Bottas, Russell and Latifi, and while he looked sure for points he had to stop for a fix to his brakes and ended the race 14th, only ahead of Vettel who was classified a finisher though his gearbox gave way late on.
Haas rounded out the standings, 16th-place Mick Schumacher finishing around a minute ahead of team mate Nikita Mazepin, who spun at Acqua Minerale late in the race and ended 17th.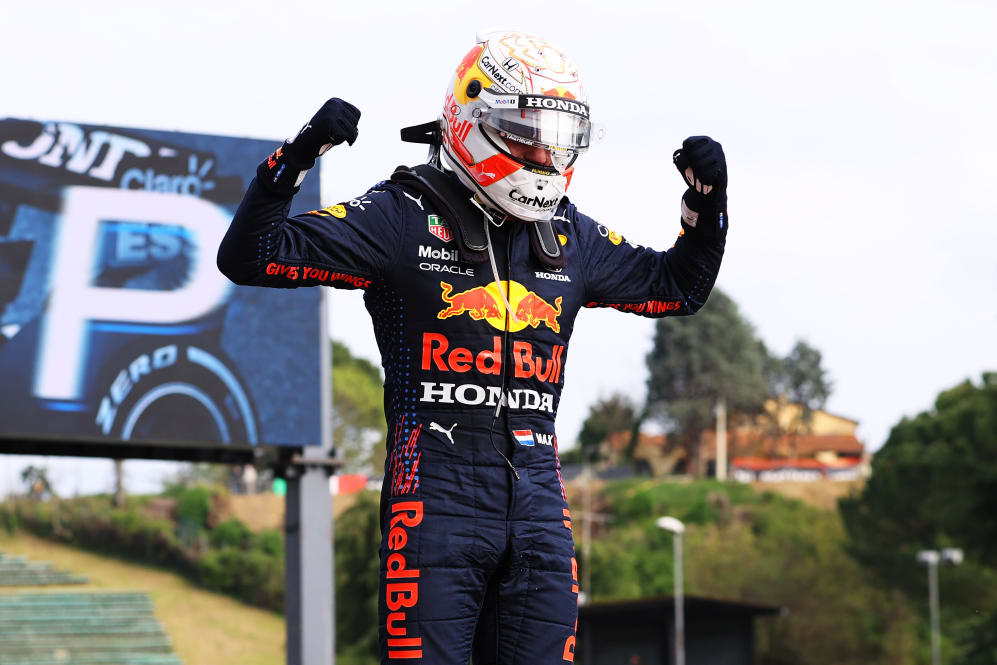 The key quote
"It was very challenging out there, especially in the beginning. It was very hard to stay on track to be honest, it was very slippery. And then of course with the tyres degrading in the wet and then choosing the right moment to go onto slicks is never easy.
"I think we managed everything well, then a little moment in my restart, but everything else went really well today, so of course, very happy with that." – Max Verstappen
What's next?
After two absolutely sensational races to start the season, we're thankful there's only a two-week wait until the Portuguese Grand Prix on May 2 that begins a double-header, ending with the Spanish Grand Prix on May 9. Hamilton enters one point ahead of Verstappen in the championship. Bring it on...