Norris labels Las Vegas qualifying a 'reality check' after double Q1 exit for McLaren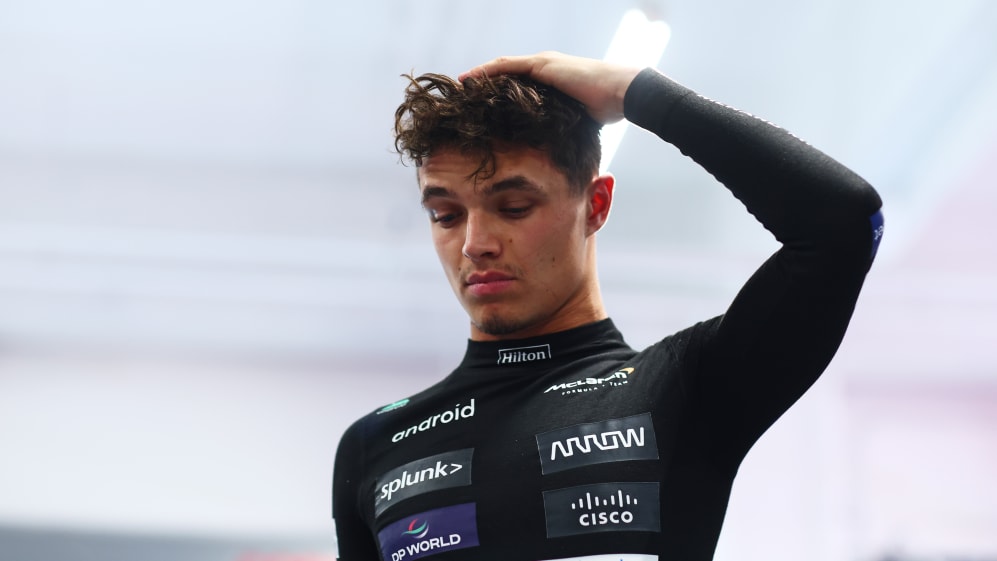 Lando Norris believes that McLaren's surprise early exit from qualifying at the Las Vegas Grand Prix was a "reality check" for the team after a recent run of good form.
The Briton has secured podium finishes in five of the last six races, while the squad currently remain ahead of Aston Martin in the battle for P4 in the constructors' championship.
READ MORE: Leclerc charges to pole for Las Vegas GP ahead of Sainz and Verstappen
However, the weekend at the Las Vegas Strip Circuit has so far proved more challenging for McLaren. Norris missed out on reaching Q2 by just 0.020s in 16th, while team mate Oscar Piastri ended qualifying down in 19th.
While Norris was disappointed by the result, he has also stated that the MCL60's struggles at the circuit did not come as a total shock. When asked how he was feeling after his Q1 elimination, Norris responded: "Not great because I got knocked out! But yeah, the pace of the car was where we are to be honest. It's where we've been all weekend.
"We've been a long way off the pace, but I'd say where we expected to be, honestly. It's been a tough weekend, just the car's not been performing where we've been the last few weeks of course, so I guess that's disappointing. But at the same time, since our first few laps we knew we were not going to be very quick.
"In a way I'd say – not that I'd say it's a great thing – but it's a good thing that it's kept us… a bit of a reality check, I'd say. I'd rather have that this year than next year, if that makes sense. Not what we wanted but it's kind of what we were expecting."
Norris added that the car has been both "slow with low fuel and slow with high fuel" but, while the new track has seemingly proved difficult for McLaren, he believes that this is a similar situation to the highs and lows experienced by other teams on the grid.
TECH TALK: The teams' set-up gambles for the Las Vegas Grand Prix explained
"We've seen everyone going up and down a lot," Norris added. "I think we've said that we have strengths and weaknesses, we know where we're very good, we know where we'll be. Like we saw Mercedes struggling so much in Brazil, and Ferrari struggled a lot more in Brazil, and suddenly they look like the quickest car [here].
"So it's just up and down a little bit for everyone, and it's about time we had a little bit of a down just to make us realise that we still have weaknesses and some big struggles, and I think a day like today, as much as it hurts inside, is sometimes a good thing too."
Piastri, meanwhile, was slightly surprised by his lack of pace in qualifying, having earlier ended Free Practice 3 in second place on the timesheets.
"I think earlier tonight the pace in FP3 was good," the Australian commented. "The tyres were in a good place. The pace at the start of qualifying was good. I don't know if we were one of the only ones to not use two sets of tyres.
"If we were I think that probably explains it a lot because, yeah, the first few laps we were in the top five, more or less. I don't think it was really an issue of pace, just run plan maybe wasn't what it should have been."
READ MORE: FP3: Russell heads Piastri and Sargeant during final practice session in Las Vegas
In terms of his feelings about Saturday night's race, Piastri said with a smile: "Well, I'm not going to go to the casino and hopefully all the luck comes up tomorrow! We'll see what happens.
"There's a lot of long straights, tight corners. The tyres are very difficult to get in the window so maybe that will catch some people out – we just have to make sure we're not one of them, but we'll try our best. I think the pace in the car is reasonable, [it] just didn't go to plan here."