Norris says he understands 'certain parts' of Ricciardo's struggles with McLaren in 2022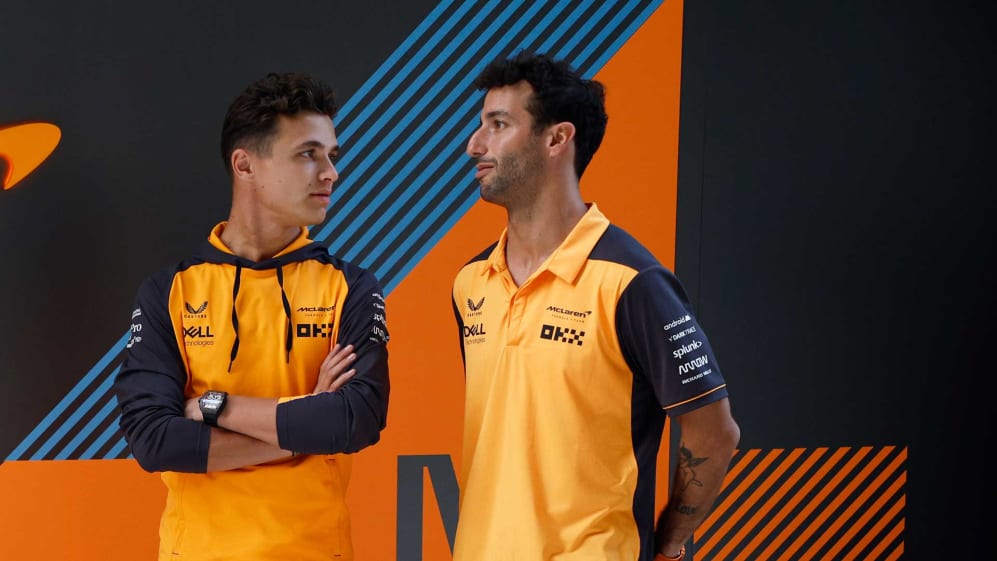 McLaren's Lando Norris has said he "can understand" team mate Daniel Ricciardo's relative struggles with the team's MCL36 car this season – but said that he also struggled to get to grips with the 2022 machine.
Norris and Ricciardo – the latter now in his second season with McLaren – have faced markedly different starts to the 2022 campaign: the Briton has scored 64 points including a podium at Imola, while Ricciardo has notched up 17 points with a best of P6 in Australia.
At the Red Bull Ring, where both drivers ended up in the points last weekend, Norris was asked if he understood Ricciardo's tough start to life in 2022.
READ MORE: Ricciardo says he's 'committed' to McLaren for 2023 as he insists he's 'not walking away from the sport'
"I understand certain parts of it; the rest of it's at the same time, I just focus on myself and that's all, you know. As much as I'm willing to help and offer advice and answer questions, it's not like I go out there only to try and do that. I still have to focus on my own race and try and finish sixth and get the good points like that. It's a balance; certain things I do understand – other bits not so much.
"Because, I do feel like it's a difficult car to drive, our car. You know, I think our characteristics which he's also had over the past few years, even Carlos [Sainz, ex-team mate] said it, they're quite specific and unique so some of the driving styles you need are like not ones you kind of grow up learning, and therefore you have to adapt quite a bit.
READ MORE: 'We could have had P6' says Norris, as track limits time penalty costs him in Austrian Grand Prix
"Especially this year, the car's very different, and some of the characteristics of last year are gone and we've introduced some other characteristics, so I've had to change my driving style. At the same time, I've also had to adapt to it. It's not just because I've been with McLaren for four years that I know this car inside-out.
"I struggled at the beginning of the season probably with my driving style a bit more than what Daniel struggled with initially in the first few tests, and I feel like I had to adapt quite a bit."
POWER RANKINGS: Who earned the highest score after the Sprint and Austrian Grand Prix?
Norris reasoned that Ricciardo might still be wrestling with the characteristics of the MCL36 because he prefers a more "stable" front-end.
"Some of my feelings are not translated to his feelings. And how we drive the cars is slightly different as well; I prefer a car with - I don't mind as much instability from the car and kind of can push on the fronts more, and he prefers a car that is a bit more stable and made with a little more understeer."
The team in orange head to France fourth in the constructor standings, equal on points with Alpine – who gear up for theirs and Esteban Ocon's home race on July 22-24.