Norris thanks 'very generous' Sainz for DRS aid as he holds off both Mercedes to finish second in Singapore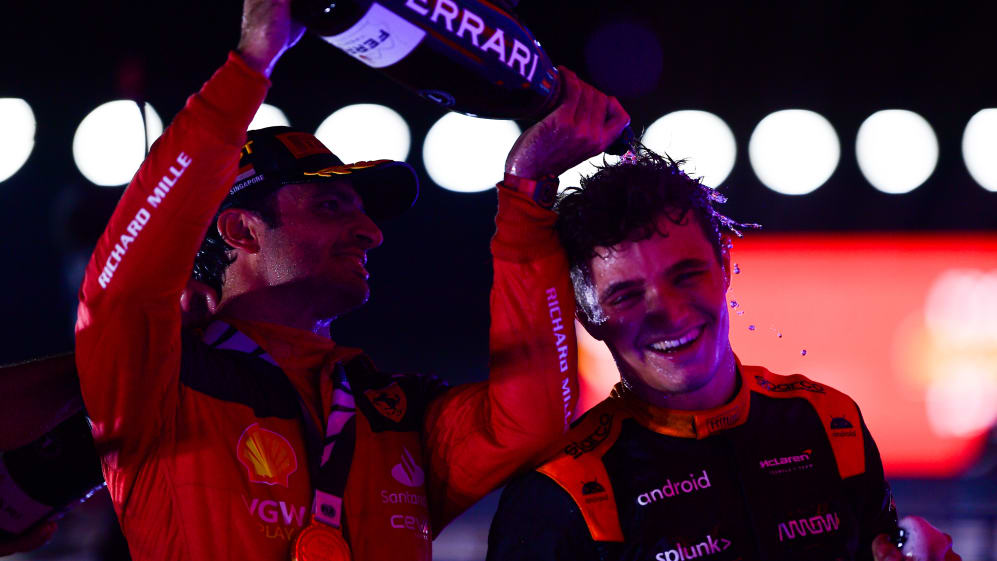 Lando Norris was thankful for the help of his former team mate, and friend, Carlos Sainz on his way to taking second place in Singapore – as the McLaren driver also shared his sympathy for George Russell, who crashed into the barrier whilst attempting to chase him down on the final lap.
Norris started in fourth place, and had initially lost out to Mercedes' Lewis Hamilton who moved ahead after running off track at Turn 1, but after his fellow Briton duly gave him the position back, he set his sights on the podium.
READ MORE: Sainz holds off Norris and fast-charging Mercedes pair to take sensational Singapore Grand Prix victory
Under the Safety Car – caused by Logan Sargeant crashing his Williams into the Marina Bay barriers – Norris was able to jump Ferrari's Charles Leclerc, before overtaking both Red Bulls of Sergio Perez and Max Verstappen at the restart to move up to third.
With the top four of Sainz, Russell, Norris, and Hamilton looking settled despite the quartet being covered by just four seconds, the Mercedes pair then pitted for new medium tyres under the Virtual Safety Car, caused by Esteban Ocon's Alpine stopping on track.
This left Norris in a battle to finish on the podium, as the much more rapid Russell and Hamilton looked to use their fresh rubber to overtake him and Sainz in the closing stages. However, with Sainz helpfully allowing Norris to stay within DRS range, that extra bit of straight-line speed meant he was able to hold off the Mercedes pair to take second, much to his relief.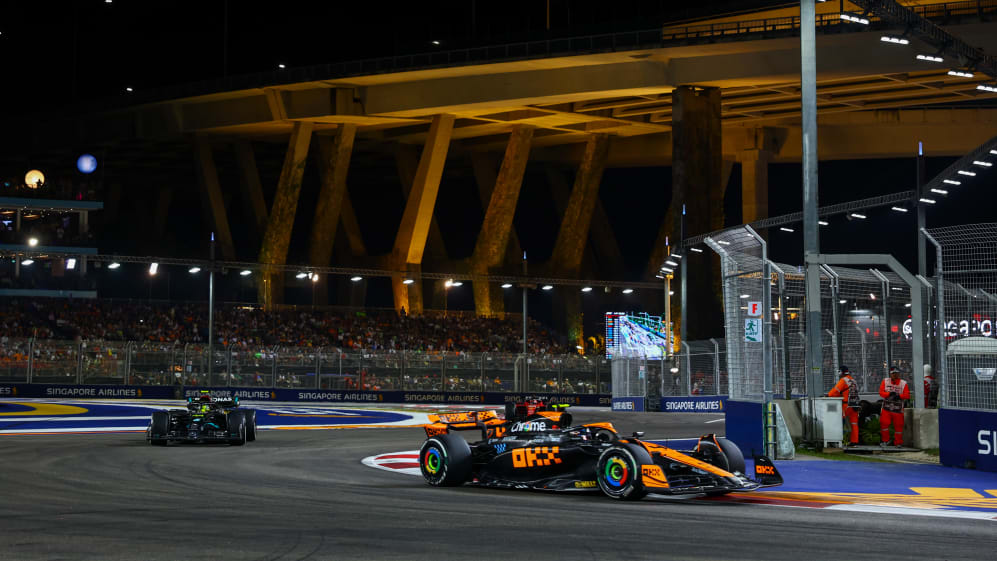 "It was [a hard race] but Carlos was very generous trying to help me get DRS, help my race that helped his," said a jubilant Norris. "It was tough, we knew it was going to be tough as soon as the Mercedes boxed.
FACTS AND STATS: Red Bull's run finally ended and Lawson takes maiden F1 points
"Especially with only a couple of cars for them to overtake, but got the podium, P2, we held them off. We did everything we needed to do and more, so super happy."
Russell's hopes of taking the win - or at least a podium - ended in disappointment as the Briton clipped the wall on the entry to Turn 10 on the final lap, sending him straight into the barrier. And Norris admitted he felt for Russell, having also made the same mistake himself.
"I hit the wall the same lap, the last lap, the same place," Norris revealed. "I did the same, so I think he copied me and just did it even worse! No, I feel for him, he fought a tough race. He was probably one of the quickest out there… he was the quickest today.
"So, it helped me a bit the last couple of corners, I could chill just a little bit more. But good points for the whole team with Oscar [Piastri] there. But everyone, Carlos, Charles, Lewis, and George, we all pushed each other the whole way. It was stressful but it paid off."
The result was Norris' third podium finish of the season as he and McLaren now look ahead to next weekend's Japanese Grand Prix at Suzuka.