Norris 'very happy with fourth' after joint-best qualifying of the year in Budapest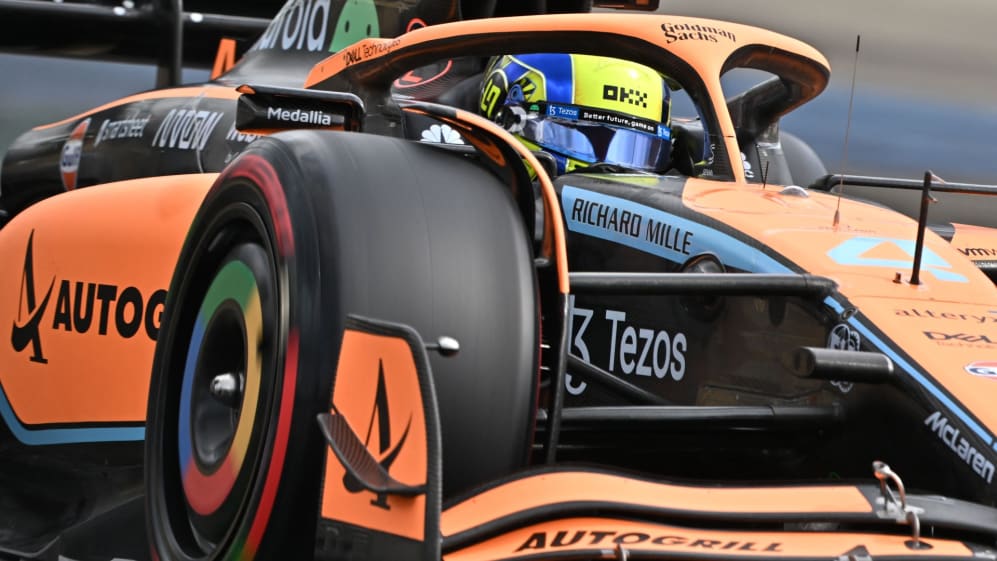 After a positive first day of running in Budapest, Lando Norris was delighted to make good on McLaren's promising start to the weekend by qualifying in fourth place for Sunday's Hungarian Grand Prix – with team mate Daniel Ricciardo left pondering a lack of grip on his final run after qualifying in ninth.
Norris will start on the second row tomorrow, alongside Charles Leclerc, in P4 – his joint-best qualifying position of the season after Australia – after looking fast all weekend. And the Briton was thrilled with his performance, while admitting his surprise at out-qualifying some of the drivers behind him.
"I'm very happy with the fourth. Probably wasn't expecting it: to be ahead of two Red Bulls is never the expectation," admitted Norris. "But also, to cut off the gap to the Ferraris, two-tenths off Charles, it's not a lot knowing they have a much quicker car than us. I'm happy, felt like I did some good laps, put in the laps when I needed to, and I did a good job. So, I'm very happy with a lot of things.
READ MORE: Russell beats Sainz to take shock maiden pole at Hungaroring as Red Bulls hit trouble
"I guess maybe surprised with George [Russell] to be so quick," added Norris, after his former F2 rival claimed a maiden pole position, "but as soon as they went out in Q1, and they did their laps they looked fast. They are where they should be now, a little bit surprised at the same time but they did a good job. George drove well so congrats to him on pole position, his first one, now matching me! But yeah, great position for tomorrow, so we will go from there."
The data from Friday afternoon's race simulations revealed that McLaren where quicker than Mercedes, but Norris dismissed this, believing that his fight would be with the drivers behind him, especially the Alpine duo lining up in fifth and sixth.
"I think the Mercedes, they are just quicker than us. Considering George is like four-tenths quicker than me now, they are purely quicker. You are not going to be four-tenths quicker today and slower tomorrow.
READ MORE: 'A lot of things can happen on Sunday' – Verstappen optimistic of fightback after power issue ruins Budapest qualifying
"So, yeah, I think we can still have a good race you know. I can fight the guys ahead. Might not have much of a chance, but we can give it a go, but... the main guys are the guys behind me, so as long as I stay ahead of them, then I'll be happy with that."
Team mate Daniel Ricciardo made it into Q3 at the Hungaroring for the first time since 2017, and will start tomorrow's race in ninth. But the Australian was left ruing a lack of grip on his final run, believing he left time out on the track.
"I do know… where the lap got away from me; it already started in the first sector, I just didn't have the bit on the front, locked a bit into two but even then, just didn't come back through the lap so I just didn't have that step of grip that normally you would get in Q3.
FACTS AND STATS: Hamilton and Verstappen both start outside the top 6 for the first time since 2018 after Hungarian qualifying
"I obviously want to get into the data now and see where it got away from us, because it wasn't like I lost the rear and there was three-tenths and four-tenths in one corner, it was just kind of a progressive loss through the lap.
"So yeah, it certainly felt like it wasn't quite there, where we thought it would be or expected it to be, so yeah, we will have a look now and figure out where it maybe slightly got away from us. Finished ninth in Austria, ninth in France, qualified ninth here – no bueno ninth, yeah, it's not good. So, we will do better tomorrow."