Ocon calls P5 in Spain qualifying 'the confirmation Alpine needed' of improved pace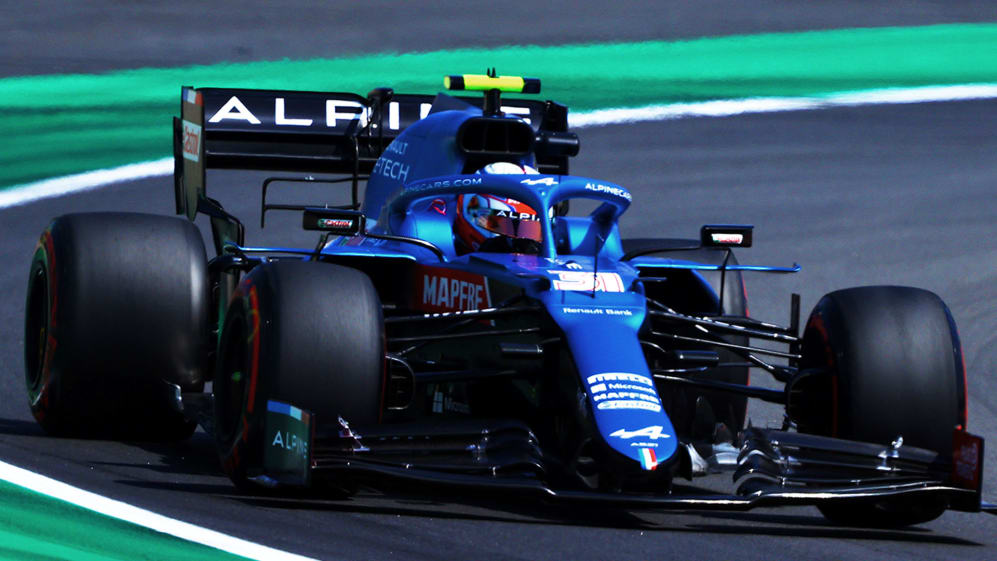 Alpine shocked the F1 paddock with their impressive Portuguese Grand Prix performance, as Esteban Ocon and Fernando Alonso claimed P7 and P8 in the race – after what had been a low-key start to the team's existence in 2021. But after Ocon took fifth on the grid for the Spanish Grand Prix, the Frenchman said he was delighted to have proved that Alpine's Portuguese pace had been genuine.
Ocon was sitting in P4 after the first runs in Q3 of qualifying at Barcelona, before a late effort from Ferrari's Charles Leclerc demoted him to fifth. But Ocon said he was nonetheless pleased to see that the work his team had done to improve their A521 challenger had been rewarded, as he secured his best grid slot of the season so far.
READ MORE: Hamilton beats Verstappen to take 100th career pole in Spain
"This is the confirmation that we needed to have," said Ocon. "Coming here, everybody knows the track by heart, all the teams are fast. Coming after Portimao, we had a quick car, but we were not sure it was going to work here, and the car's been great all quali, so I'm very pleased with the work that we've done.
"It's been very solid and I feel great at the wheel, with the team that I have around me and back at the factory as well. Everyone was not satisfied that we were so far back [at the start of the year] and they've been working so hard and it has all paid off.
"Let's see tomorrow," he added, when asked about his race chances. "But I think Charles was fast in race pace on Friday, that's for sure. A bit gutted that he pipped me in the end [in qualifying], but it's good to see that we can split them, we can fight with those [teams]. It's going to be a fun race tomorrow starting from where we are, so we'll give it everything."
READ MORE: Ferrari duo hoping to fend off McLaren on race day after Leclerc qualifies a brilliant P4 in Spain
Meanwhile, Fernando Alonso made it a double Q3 showing for Alpine for the first time this season, taking P10 for his first home race since 2018. And he said he was aiming for an aggressive start to Sunday's Grand Prix, as he goes in search of his third straight points finish.
"I think Q3 was the target," said Alonso. "It was very tight on the midfield as we knew, and being in Q3 was an achievement, I think, from a team perspective with both cars. Then in Q3, it was a little bit messy with traffic and so on in the last lap with everybody.
"Tomorrow I think we have to do a good start, good first lap and try to consolidate these points," he added. "There is always an opportunity. Races are very long and anything can happen, but I think realistically, there are not many places to overtake here.
"It's going to be very tricky, so once you consolidate the positions after Lap 2, Lap 3, I think it's going to be extremely difficult to overtake. We need to do a good start, be aggressive on the first lap, and then we'll see."
READ MORE: Mazepin penalised by stewards for blocking Norris in qualifying
Alpine currently sit P5 in the constructors' standings, but a full 29 points of fourth-placed rivals Ferrari – with Ocon starting the race in Barcelona sandwiched between the two Ferraris of Leclerc and sixth-placed Carlos Sainz.