Ocon enjoys 'karting battle' with Hamilton as Alpine reclaim P4 from McLaren with Suzuka points haul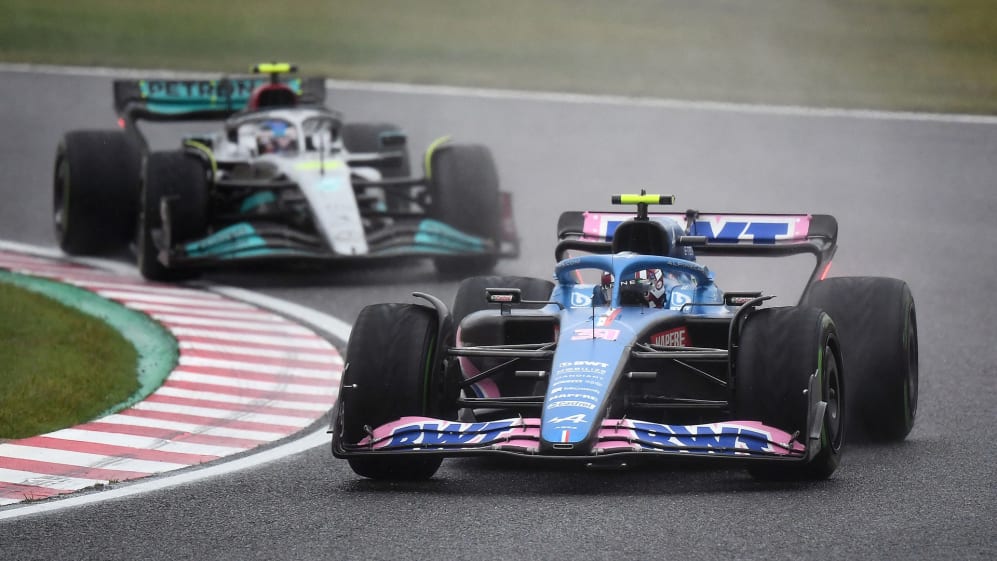 Esteban Ocon has explained how racing with Lewis Hamilton during the Japanese Grand Prix took him back to his karting days, as he reflected on a fight that was "a lot of fun".
Alpine driver Ocon came under attack from Mercedes rival Hamilton in the restarted, rain-shortened race but defended smartly to keep the seven-time world champion at bay and hold on for fourth position – crossing the line just over half a second clear.
READ MORE: Verstappen crowned world champion with Japanese GP victory after late penalty for Leclerc
Reflecting on a wet and wild afternoon at Suzuka, Ocon said: "It's very good that we've scored that many points. It was looking like we had nothing in the beginning, you know – there was no racing, the weather was really bad.
"Eventually, [the rainfall] reduced. I was still not confident that we would be able to go [racing again], but the track did clear quite quickly and it was good to finally get going.
"From there on, the fighting with Lewis, I enjoyed it a lot – it was a lot of fun. It was a bit of a karting battle, trying different lines; not one corner [was] I not watching my mirrors! It was definitely good fun [and] I'm very happy with the outcome."
Ocon's points, along with team mate Fernando Alonso's seventh-place finish, mean Alpine are now back in P4 in the constructors' standings with four races to run this season – 13 points clear of rivals McLaren.
INTERVIEW: Verstappen opens up on the emotion of his second championship, Red Bull's 2022 dominance and much more
After a non-score for the team in Italy and a double retirement in Singapore, Ocon hailed the importance of their Japanese GP result – with Alpine senior management also in attendance over the weekend.
"It's been great. It was only a matter of time until we could really show what the car was capable of, and I think finally we've done it. We brought the update to Singapore, it was not really working, [at] Monza we had issues. But when we are [there] in the end, it is there," he added.