Ocon says 'the car felt awesome' as Renault qualify P6 and P7, just 0.002s apart in Bahrain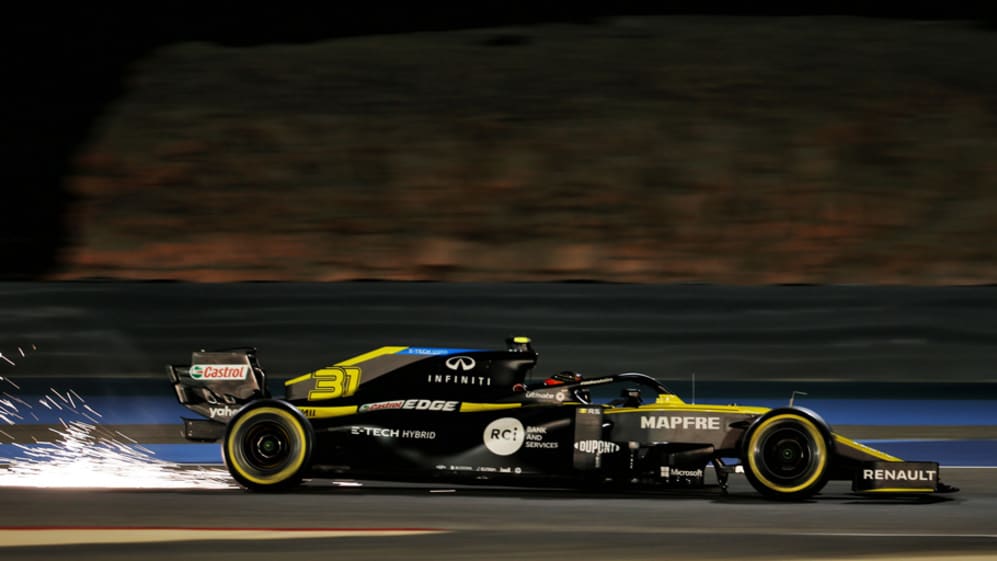 Esteban Ocon has only outqualified Renault team mate Daniel Ricciardo once in 2020 – at the Styrian Grand Prix back in July – but he came almost as close as is possible to repeating the feat in Bahrain, falling short by the smallest of margins to the Australian.
The Frenchman hailed the performance of his Renault R.S.20 as he got through to Q3 for the second race in a row, before adding his disbelief at the gap between the two Renaults: just 0.002s.
READ MORE: Hamilton on pole from Bottas as Red Bull lock out the second row in Bahrain
He said: "The car felt awesome. Today I felt it was a great lap coming around. Daniel is two-thousandths ahead of me. He's blessed! When it's that close it's always in his favour.
"I have two more races to turn it around but overall, it was good. To produce a good session, well managed by the team; we got through Q1 with one set [of tyres] and we then got to Q2 and managed to qualify for the top 10 with mediums, so it's a good starting tyre for tomorrow.
"Everything went well, it's a track that I like, that I really enjoy, and to have two cars in the top 10 and our rivals have only one – it's a good thing – but it's not done yet," he said.
With Renault just 18 points behind Racing Point as they chase third in the standings, Ocon warned that the Enstone team have a fight on their hands to score a double-points finish on Sunday.
READ MORE: Sainz left 'very disappointed' as technical problem causes huge spin and damages race chances
"I think it's good to be in the top 10 but it's not done," he said, "with the high deg[radation] and how easy it is to overtake here compared to another track, I think a lot is going to happen and we're going to have to fight hard to score points tomorrow."
Team mate Ricciardo, who is four points behind Sergio Perez in the standings explained that a mistake in Q1 compromised him in Q3 and cost him a shot at out-qualifying the Mexican, who will start Sunday's race from fifth.