P3 was the 'the maximum we could reach' says Bottas after recovery from back of the grid at Monza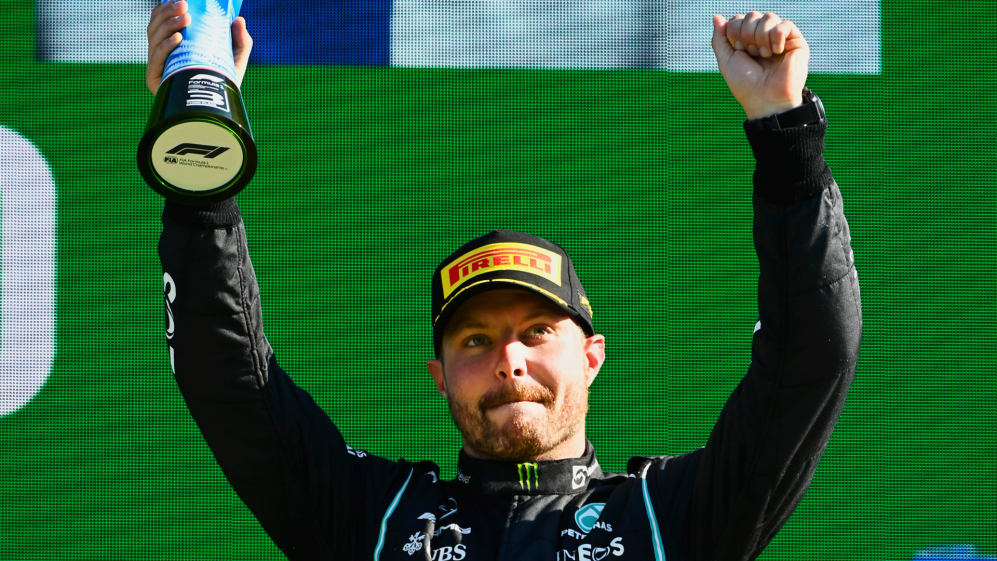 For a moment in the Italian Grand Prix, it looked like Valtteri Bottas could have staged a sensational late challenge for victory – but the Finn said the final podium place was the best he could have achieved, having started right at the back of the grid.
New engine components meant that even though Bottas finished first in the F1 Sprint to take pole for Sunday's Grand Prix, he would inevitably start from the back having accrued numerous grid penalties for the new power unit.
READ MORE: Verstappen handed three-place grid drop for Sochi after crash with Hamilton at Monza
Asked if he ever thought the win was possible, Bottas replied: "When I was progressing quite quickly you know, in the beginning of the medium[-tyred stint] and then I could see both the McLarens were actually pretty close and I was catching, but once I was behind [Sergio] Perez… of course I was trying everything I could – but just the last few laps, the tyres started to drop and that was it."
Victory was ultimately taken by Daniel Ricciardo, who led home a McLaren one-two – and Bottas said the two papaya cars would have been very difficult to pass, even if he had cleared Perez.
"I think it would have been tricky to get past the McLarens, honestly; I think they've been strong all weekend and they had their strengths in a straight line and like yesterday Lewis was trying everything he could but couldn't get by. I honestly think it was the maximum today we could reach."
Even though he left the Italian Grand Prix without a first win of 2021, Bottas said he was satisfied with a sterling drive from the back to third, the Finn unable to recall another race where he'd made it to the podium from the back.
"Never, I think. I think it was probably the most positions I've gained maybe in my career; I don't know, I'm not the best with statistics. Honestly, you know although some people might think it's easy to overtake at Monza, actually it isn't when there's a few cars in a row, it's not easy.
READ MORE: 'Tactical foul' or 'racing incident'? Wolff and Horner have their say on the Verstappen-Hamilton clash
"So, I'm happy with the progress we made today. We did have a good car and good pace and good strategy. Starting with hard tyre in my case was definitely the right choice and we could go on and take the opportunities once it was time to attack and push.
"Just at the very end the medium started to drop. By then things started to stabilise and overall, I did everything I could today this weekend and today, and for that I'm happy," he concluded.
Bottas sits third in the standings, on 141 points, with second-place finisher Lando Norris just nine behind after McLaren's one-two at Monza.