'P4 the best we could have done' – Leclerc delighted with 'very competitive' Ferrari performance in Spain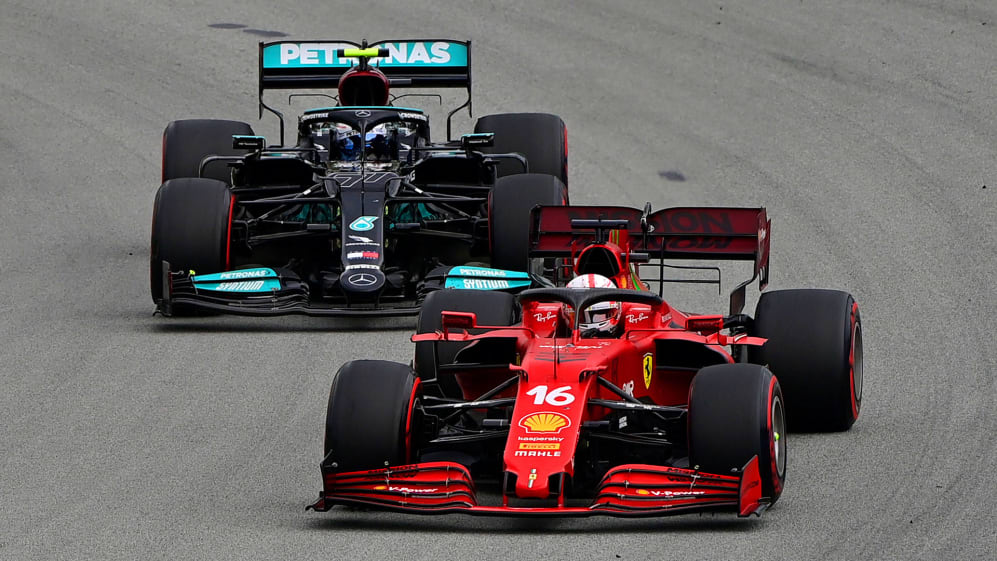 Race pace has been Ferrari's bugbear in 2021 – but Charles Leclerc was left delighted after converting his P4 on the grid at the Spanish Grand Prix into the same position at the race end, following a long battle with Mercedes' Valtteri Bottas.
The key to Leclerc's strong performance at the Circuit de Barcelona-Catalunya was a fantastic pass on Bottas at the race start, the Monegasque benefitting from the Mercedes drivers having to avoid each other at Turn 1 to then send a pass around the outside of Bottas in Turn 3. And although Bottas was later able to re-pass Leclerc in the pit stops, Leclerc had enough pace in hand to finish fourth, and comfortably ahead of Sergio Perez's Red Bull.
READ MORE: Late pass secures Hamilton victory in Spain after race-long battle with Verstappen
"I had a good start," said Leclerc afterwards, "then I went for the outside in Turn 3 and it worked out for us and then from that moment onwards, we've had a very, very good race, very competitive throughout the whole race, and surely for now, P4 is the best we could have done today.
"So I'm happy with what the team have done over the weekend; we should be happy in moments like this and now we need to just work more and to improve the car and fight for third."
Leclerc's efforts in Spain – as team mate Carlos Sainz finished P7 at home – helped Ferrari to close to within five points of rivals McLaren in the fight for P3 in the constructors' standings.
AS IT HAPPENED: All the reaction to Hamilton's third victory of the season in Spain
And Leclerc called the team's performance further proof of the steps forward Ferrari have made since their bitterly disappointing 2020 season, which saw them finish sixth in the constructors' standings.
"It feels very good," said Leclerc, "because it just means that everything we do, every direction we've taken so far in terms of development is the right one, and we can show it on track. It's always a good feeling, and I'm pretty sure that everyone in Maranello is happy to see the result on track."