Report
Late pass secures Hamilton victory in Spain after race-long battle with Verstappen
An incredible, tense race-long battle between Red Bull's Max Verstappen and Mercedes' Lewis Hamilton saw Hamilton triumph for his sixth Spanish Grand Prix win, the reigning world champion brilliantly executing a two-stop strategy to claim his third win in four races this season, as Verstappen finished ahead of the second Mercedes of Valtteri Bottas.
Verstappen led the majority of the race after brilliantly snatching the lead from Hamilton into Turn 1 at the start, with Red Bull then committing to a one-stop strategy around the Circuit de Barcelona-Catalunya, as Hamilton opted for two.
But with six laps to go, Hamilton used the superior performance of his newer tyres to pass the Dutchman into Turn 1 and check out for his 98th victory, and fifth straight win at the circuit – Verstappen ultimately deciding to pit for softs once Hamilton was past and go for a consolation fastest lap, which he duly got.
FORMULA 1 ARAMCO GRAN PREMIO DE ESPAÑA 2021
Spain
2021
Race results
POSITION
TIME
POINTS

1

Lewis

Hamilton HAM

Mercedes

1:33:07.680

25

2

Max

Verstappen VER

Red Bull Racing

+15.841s

19

3

Valtteri

Bottas BOT

Mercedes

+26.610s

15

4

Charles

Leclerc LEC

Ferrari

+54.616s

12

5

Sergio

Perez PER

Red Bull Racing

+63.671s

10
With Hamilton and Verstappen having been in a class of their own in Spain, Bottas came home a distant third after his own race-long battle with Ferrari's Charles Leclerc, who overcame Ferrari's 2021 race pace woes to take an excellent fourth, while Red Bull's Sergio Perez put in a solid recovery drive from P8 on the grid to take fifth.
McLaren's Daniel Ricciardo drove arguably his strongest race of the year to take sixth, ahead of home hero Carlos Sainz in the second Ferrari. Lando Norris in the second McLaren had an off-key afternoon but still managed P8 – the first time he's finished outside of the top five this season – with Alpine's Esteban Ocon and AlphaTauri's Pierre Gasly rounding out the final points-paying positions.
But after his 100th pole position on Saturday, it was Hamilton who once again demonstrated his class in Catalunya to deny Verstappen once again, and move 14 points clear at the top of the drivers' standings.
AS IT HAPPENED
Lewis Hamilton may have secured pole #100 on Saturday – but he admitted ahead of the race that he was uneasy about the prospect of being outdragged at the race start on the 612-metre run down to Turn 1 at the Circuit de Barcelona-Catalunya, either by Max Verstappen starting just alongside him in P2, or his Mercedes team mate Valtteri Bottas just behind in P3.
Hamilton's fears proved well-founded, with Verstappen making a beautiful launch – so good in fact that he didn't even need a slipstream, hanging onto Hamilton's flanks down to Turn 1 before aggressively sticking the nose of his RB16B into the corner and forcing Hamilton to back out and concede the position.
Hamilton's checked momentum at Turn 1 then had a knock-on effect on his team mate Bottas, who was slow out of Turn 2, allowing Charles Leclerc to send a beautiful pass around the outside of the Finn at Turn 3 to take third place.
By the time he crossed the line to start Lap 2, Verstappen's advantage was already 1.5s over Hamilton, while Esteban Ocon's fantastic P5 on the grid had become P7 after he was cautious into Turn 1, Daniel Ricciardo jumping up from seventh to P5, as Red Bull's Sergio Perez overcame his shoulder issues from qualifying to move from eighth into sixth.
Verstappen and Hamilton quickly built up an 8s cushion over the chasing Leclerc, who was holding up Bottas, the Finn having been unable to find his way through when AlphaTauri's Yuki Tsunoda ground to a halt at Turn 10 on Lap 8 – with the race quickly neutralised under a Safety Car as the AT02, whose engine had turned itself off, was craned away.
Antonio Giovinazzi took the opportunity to dive into the pits, but a puncture on the Italian's prepared tyre set forced the Alfa Romeo mechanics into a change over, keeping Giovinazzi stopped for 35s – while Williams also took the opportunity to doble stack Russell and Latifi and put them on mediums.
Racing resumed on Lap 11, Verstappen doing a brilliant job to resist being outdragged himself by Hamilton into Turn 1, Hamilton actually having to keep his eye on his mirrors instead to prevent an attack from Leclerc behind. Further back, and Aston Martin's Lance Stroll pulled off a sweet move on Alpine's Fernando Alonso, holding on around the outside of Turn 4 to claim P10 from the home hero – a pass of which Stroll could be rightly proud.
Verstappen and Hamilton quickly set about building their cushion over Leclerc again – the Ferrari driver still managing to keep Bottas at bay – but there were worries in Hamilton's cockpit as he radioed in on Lap 18 of 66 that his tyres were going off, his right-rear especially showing signs of blistering.
Despite that, it was Verstappen who blinked first and pitted on Lap 24 – but an uncharacteristically slow stop for Red Bull saw Verstappen stopped for 4.2s with the left-rear tyre not going on smartly. He emerged in P5, but was quickly moved ahead of team mate Perez in front, as Hamilton opted to extend his stint at the front.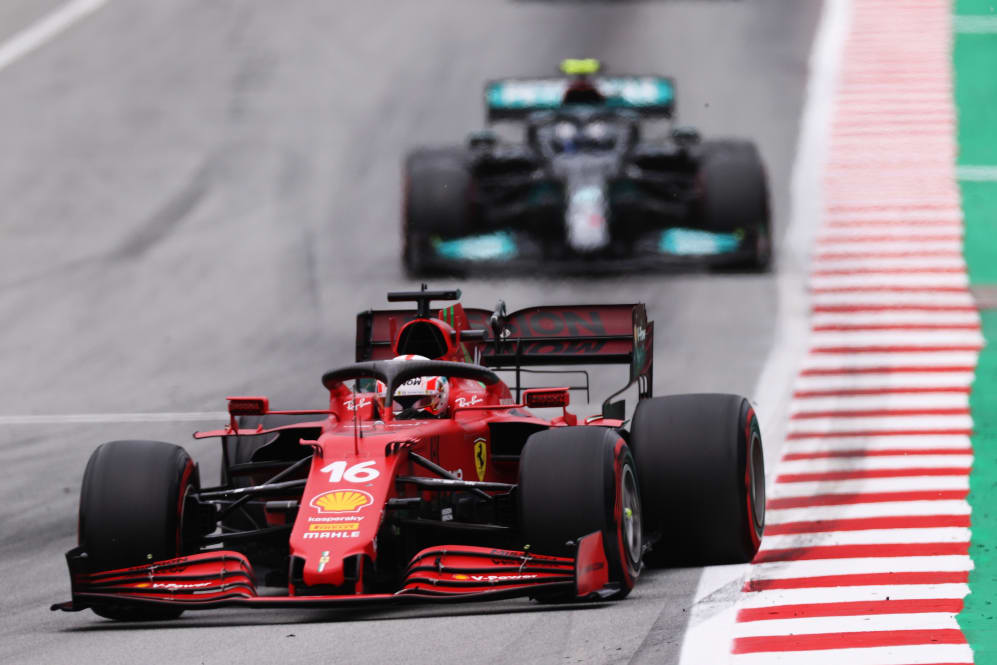 Hamilton was brought in four laps after Verstappen on Lap 28 – but while Mercedes' stop was quicker than Red Bull's, Verstappen had used the undercut to good effect, with Hamilton exiting a full 6s back from the Dutch driver. Bottas, meanwhile, had been doing his own undercutting, pitting on Lap 23 to Leclerc's Lap 28, and doing enough to jump the Monegasque in the pit stops and make it back to third, albeit 8s off the fight at the front – while Sainz had also moved past Ocon for P7.
Hamilton was lapping incredible rapidly around the Circuit de Barcelona-Catalunya, cranking the pressure up on Verstappen as he quickly reduced the gap down to around a second – but with the Briton unable to get close enough to try an overtake.
Then on Lap 41, Hamilton rolled the dice, sweeping into the pits and putting on a set of scrubbed medium tyres and rejoining in third. Verstappen was out in front – but he'd been in this position before, with his engineer GianPiero Lambiase warning Verstappen "it could be Hungary all over again" – referring to the 2019 Hungaroring race, where Mercedes out-strategied Red Bull to allow Hamilton to win. It would prove to be a prescient call from the Red Bull pit wall...
With 15 laps to go, Verstappen was 9s clear of Bottas, with Hamilton a further 2s back, and Leclerc fourth – while Perez moved past Ricciardo to claim P5 with a lovely move around the outside of Turn 1.
Bottas was instructed by Mercedes not to hold Hamilton up – but there might have been some choice words being uttered in Hamilton's helmet, as Bottas didn't exactly make life easy for his team mate, Hamilton eventually being forced to dive past the Finn into Turn 10 on Lap 52, Bottas then pitting for softs and dropping behind Leclerc to fourth, before passing the Ferrari again on Lap 57.
So it was now Verstappen vs Hamilton, one-stop plays two-stop – and with Verstappen understandably worried about the charging Hamilton, who was lapping at an average of 1.5s a lap quicker.
On his fresher rubber, Hamilton was quickly on the Red Bull's tail – Verstappen admitting after the race that he'd been a "sitting duck", as Hamilton, having played the patience game throughout the Grand Prix, was finally able to unleash the pass on the Dutchman into Turn 1 on Lap 60.
And just like that, it was game over, Hamilton able to pull away easily on his fresher rubber, crossing the line at the end of Lap 66 to extend his winning streak to five consecutive Spanish Grand Prix victories – and six at the venue in total – while Verstappen disconsolately ducked into the pits a few laps from the end, to take what was effectively a free pit stop, bolting on soft tyres and claiming the fastest lap bonus point.
That will have been scant consolation, however, on a day when Red Bull were outmanoeuvred by Mercedes once again, Hamilton now with three wins to Verstappen's one this season. Bottas had never really been in the fight at the front, coming home third – while there were likely to be strong words from Mercedes management about his less-than-helpful on-track interaction with his team mate...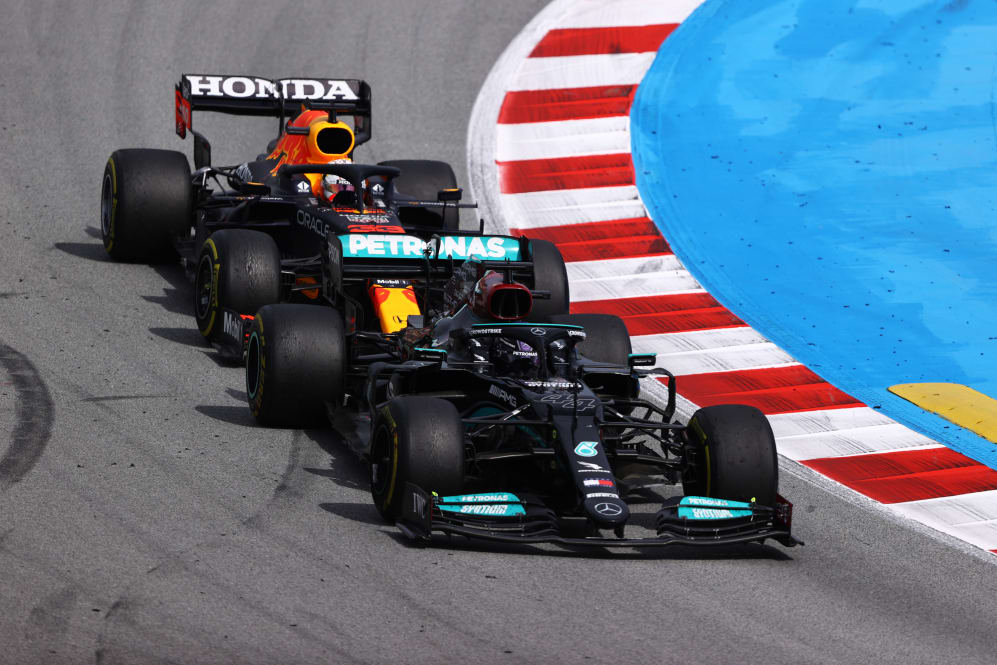 Leclerc was finally able to match his race pace to his qualifying pace, finishing in the P4 he'd started in, and comfortably ahead of Sergio Perez, who may have recovered well from his eighth place in qualifying – but who was nonetheless over a minute behind Hamilton at the flag.
Ricciardo managed to be the quickest McLaren driver on a Sunday for the first time this season, taking sixth by just 0.9s from Sainz, Norris and Ocon finishing P8 and P9 – while a fantastic scrap for the final point of the day went the way of Pierre Gasly, who won out after a brave late move on Lance Stroll's Aston Martin.
Stroll thus took 11th from Alfa Romeo's Kimi Raikkonen – the only driver to start the race on the medium tyres – with Vettel 13th, as both Aston Martins failed to score for the second race in succession, despite Stroll and Vettel being kitted out with the team's latest upgrade. George Russell had been sharking around the near the points for much of the afternoon but endured a late tumble down the order to 14th.
Giovinazzi and Latifi were 15th and 16th, with Alonso also falling down the order in the latter stages to finish 17th – while the two Haas cars of Mick Schumacher and Nikita Mazepin finished two laps down in 18th and 19th, as Tsunoda registered as the race's only retiree.
But for the third race weekend out of four this season, a battle between Hamilton and Verstappen went the way of the seven-time champion – with Red Bull surely hoping to strike back hard at Monaco in two weeks' time.
The key quote
"It had been the plan all weekend for us to make sure we had two mediums to be able to do a two-stop. Even though a one-stop potentially looked better, I know from experience here that a one-stop is very, very hard to pull off.
"I was about to kind of, I think, have a shot at getting past [Max] before I pitted right at the end and I was really conflicted, like, do I come in or do ignore the call and stay out? The team asked and naturally that's because there's a great trust between us but it's a remarkable job by everyone in this team, through and through. What a day" – Lewis Hamilton, Mercedes
What's next?
Next stop is Monte Carlo, as we return to the Principality for the first time in two years for the 2021 Monaco Grand Prix. It's the race that everybody wants to win – but who can triumph at the blue riband event this year? Tune into our coverage on May 20-23 to find out.