P7 a small win for us – McLaren's Alonso hails 'perfectly executed' race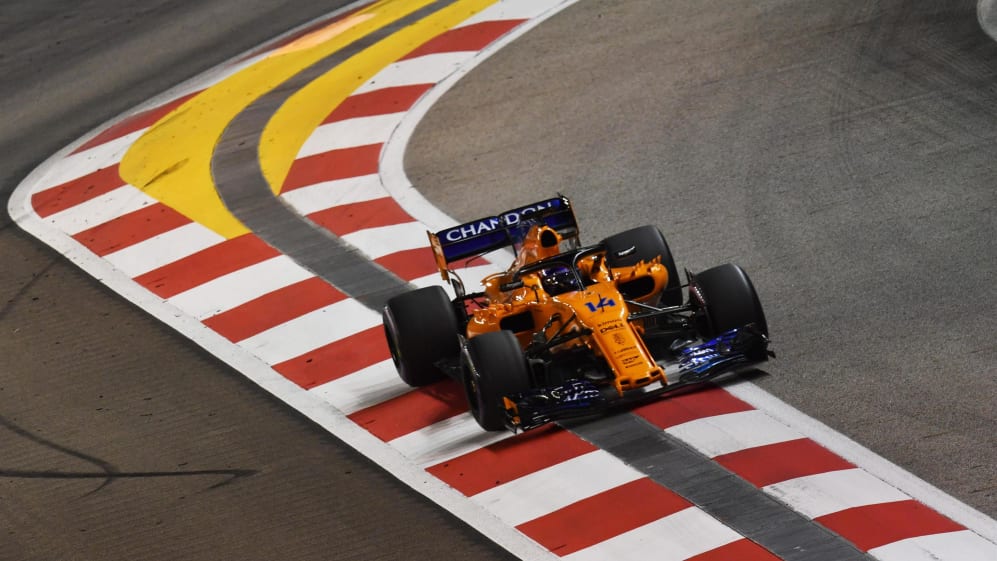 Sunday's race in Singapore may well turn out to be Fernando Alonso's last ever under the Marina Bay floodlights, and if it was, the McLaren man signed off with another memorable performance at a track that holds so many memories for him.
Having won the first ever night race at the street circuit amid controversial circumstances in 2008, Alonso produced one of his greatest performances to keep Sebastian Vettel at bay and take his second win in this most arduous of Grands Prix in 2010.
His 2018 drive didn't result in him standing on the podium for what would have been a sixth time at the event, but it did see him rise four positions from his starting slot to finish a superb P7 and claim 'best of the rest honours' behind the dominant front three teams of Mercedes, Ferrari and Red Bull.
The Spaniard, who will step away from F1 at the end of the season, has now claimed four top-ten finishes in his last seven races – form that sees him climb to an impressive eighth place in the drivers' standings.
We executed the race to perfection today – good strategy, good tyre selection, and good points
Understandably there was a smile writ large across his face as he spoke to reporters after the race.
"I'm really, really happy with seventh. Normally [to finish so high] something happens in front of us, but today all six cars [from the top three teams] finished the race," beamed Alonso.
"P7 is a small win for us. We executed the race to perfection today – good strategy, good tyre selection, and good points."
Having qualified 11th, Alonso had the advantage of being the first driver on the grid with a free choice of tyres on which to start the race. He duly chose the more durable ultrasofts, made a great getaway and then ran a longer first stint than those top-ten runners who had started on hypersofts.
But though it may have looked relatively unspectacular, the man himself said he was kept busy behind the wheel.
"We still had to open some gaps in case of safety cars and we didn't know when people behind us might stop, so we were opening the gaps. So it was a race where even if we were alone we were controlling some of the gaps ahead and behind, so it was not that boring!"
Another gem from the soon-to-be-departing double world champ then – what chance of a few more over the remaining six races?