'P8 is still disappointing because P6 was there' – Albon rues tyre calls that cost him crucial points in Dutch GP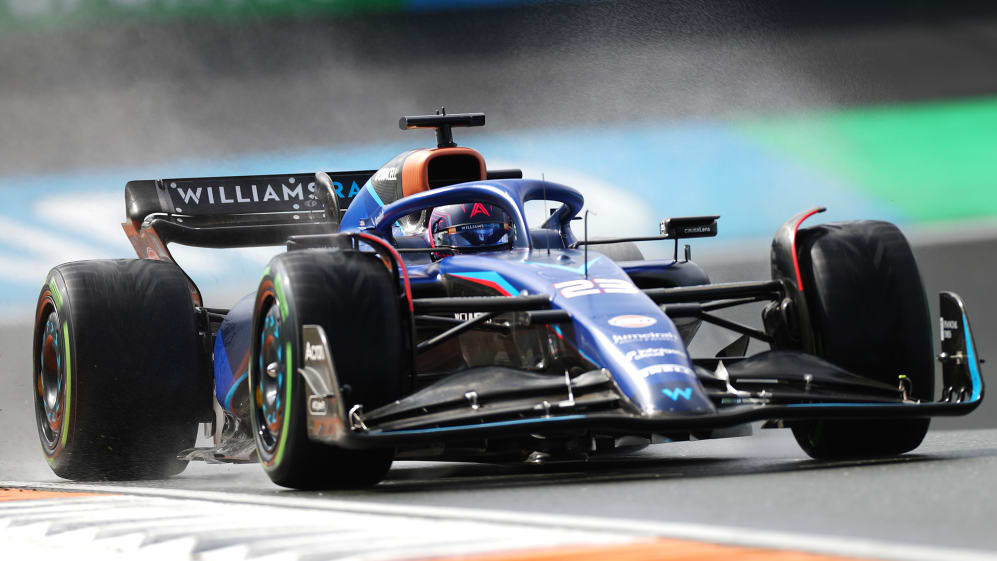 Alex Albon knew he was in the mix for points at the Dutch Grand Prix after a superb qualifying gave him a starting slot of fourth on the grid. And so it proved as he crossed the line in eighth – but given how good the car was feeling, the Thai driver admitted he was disappointed not to have brought home an even bigger haul of points.
Rain hit Zandvoort on the very first lap of the race but Albon elected not to pit, surviving 44 laps on his initial starting soft tyres, before a brilliant stint on the mediums brought him back into top 10 contention.
READ MORE: 'I'm incredibly proud' – Verstappen overjoyed as he makes more F1 history with hard-fought Zandvoort win
"I have to remind myself to be happy," he said with a chuckle afterwards. "You know, truthfully speaking, we were running P5 at the start, [then] that rain came.
"I think obviously we didn't do the optimum thing of pitting early on the inter tyre but then we stayed out to really hang it out there and make it last.
"We then had a great stint on the soft tyres, we then had a great stint on the medium tyres – you know overtaking the Mercs it was great. Everything was going well, we were running P6 – I was actually catching P5, P4. I thought this was going to be an amazing race I just need to finish here."
But in a chaotic race, more rain late on led to some frantic calls up and down the pit lane as some cars came straight in for the intermediate rubber, some the full wets and some stayed out for a lap – which is what Albon ultimately did.
"I think in some ways, I played it a little bit safe and stayed out a little bit too long really, lost out to the other cars. Partly me to blame I think, making that call with a bit more authority but it was just so hard to judge.
READ MORE: Alonso thrilled with podium return at Zandvoort as he says Aston Martin car was 'flying' in tricky conditions
"I did half a lap and thought 'they've pitted too early, I've nailed them, I've overcut them'. And then in three corners it chucked it down so hard, it went from a slick to a wet in 20 seconds and that was it.
"All in all, P8 – that's the best the car has felt all year, that's the best the car has ever felt in my time driving at Williams. It's a great day, we have to be really positive about this weekend, P8 is still disappointing because P6 was there but I have to be very, very happy."
As for his team mate, Logan Sargeant's day was cut short early on. He slid off into the barriers as the track dried up, bringing out the Safety Car for his second crash in two days.
Initially it looked like driver error, but Sargeant immediately radioed to say he felt as if something had broken on the car – a feeling that was backed up after the race by his team boss James Vowles, who confirmed a hydraulics failure.
READ MORE: 'We would've been challenging Max' – Hamilton and Russell reflect on costly opening few laps in Zandvoort
"After yesterday I was just trying to be extremely cautious and build up nicely," Sargeant said afterwards. "Unfortunately, [it] didn't end the way we wanted it to. Just touched the kerb and from there, just lost any sort of steering assistance or anything like that so it's disappointing but we'll have to look and see what happened.
"Obviously [failures] shouldn't happen so we need to look into that, see what went wrong. Honestly, just a great job by the team to even get the car turned around for today. Just sad to have another broken car."