Feature F1 Unlocked
PADDOCK INSIDER: Momentum is currently with McLaren – and anything is possible in Belgium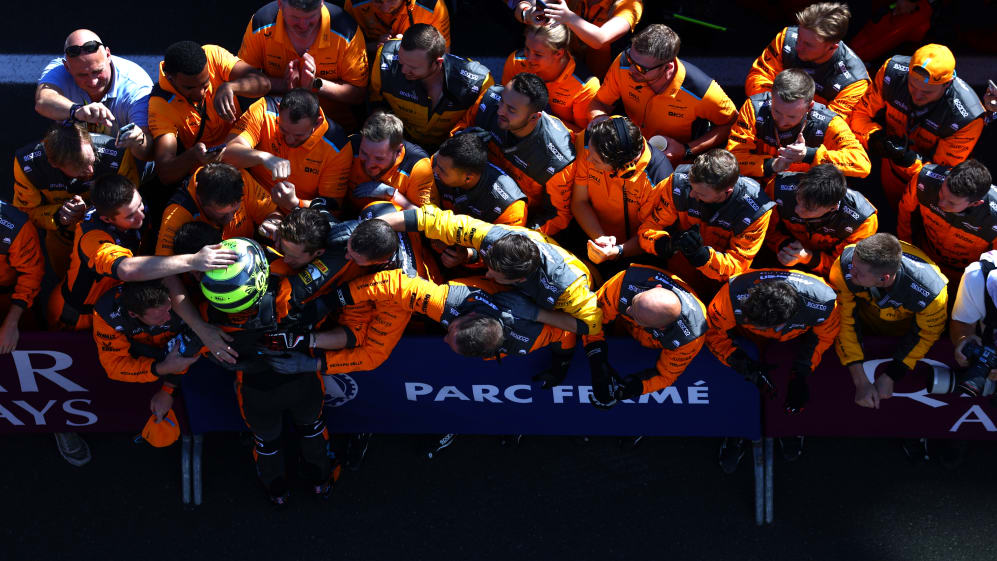 McLaren is a great place to be right now. At the start of the season, they were struggling to get out of Q1 and in a world of pain.
They were trying their best to stay positive, not least because they knew this would likely happen after they changed development direction late on, forcing them to start the year with a significantly compromised car.
NEED TO KNOW: The most important facts, stats and trivia ahead of the 2023 Belgian Grand Prix
They also knew a B-spec-esque car was on the way for July and that should haul them back into contention. But waiting – and losing – is hard.
So, the relief was palpable when Lando Norris got the upgrade for Austria and was able to attack other cars. That bubble continued into Silverstone as Norris took second with Oscar Piastri just off the podium in fourth.
And that continued again into Hungary, on a very different track that featured a slew of slow-speed turns to Silverstone's high-speed stuff. McLaren, from a sample of three races it seems, are back.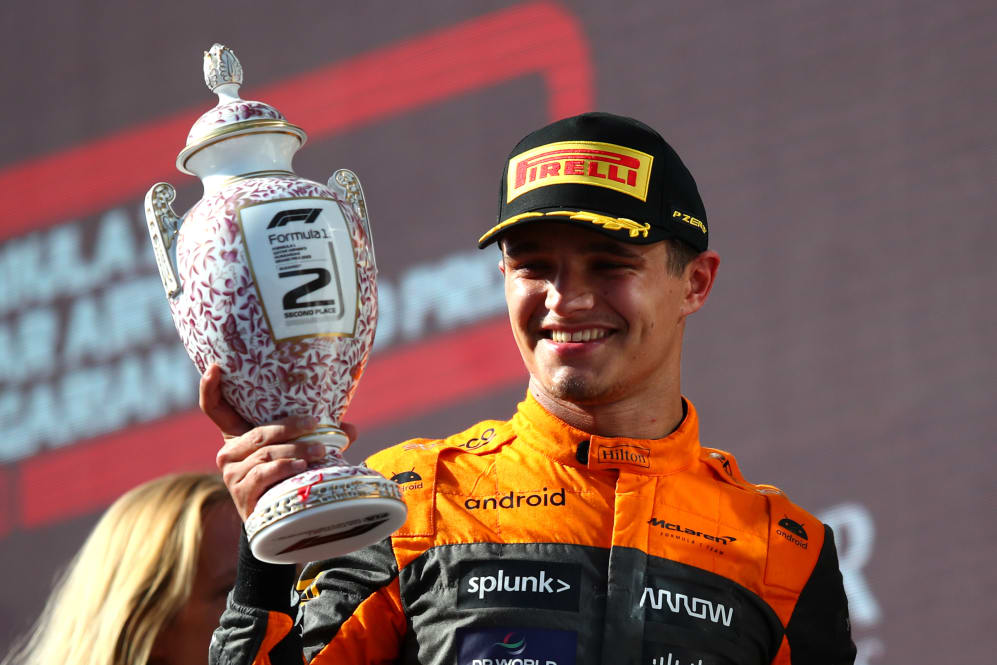 It's a hell of a shift in performance. "To go from struggling to get out of Q1 to fighting for pole, I would say it's one of the biggest turnarounds in Formula 1 for a very long time, and in the middle of a season," said Norris.
"I'm very happy. There are always things to improve on and that's what we are going to do."
Naturally, the papaya team are not getting carried away. Their messaging centres around a realistic, grounded and humble stance to their form.
READ MORE: All 10 Formula 1 teams to have F1 Academy drivers and liveries for the 2024 season
But privately, it's clear the team reckon they are finally heading back in the right direction and, not only is this form real, but that there is more to come from this package and another big package planned for after the summer break.
The buzz inside the team is palpable. There's a spring in their step and smiles on their faces. They've gone from propping up the constructors' championship table early on to being in the fight for decent points every week in a matter of months.
This is not the work of a moment, of course. These plans were put in place late last year – and means that the likes of former Technical Director James Key, who parted ways with the team a few months ago, played some part in it, too.
But the restructured technical team have got it through design, development and production before bolting it onto the car and collectively, they've understood the new package quickly, allowing them to unleash it's potential.
On top of that, they're strategy has been slick, as has the way they've operated over the course of a weekend. It's a proper team effort that has hauled them above the likes of Aston Martin – who were second-best in the first sequence of races – plus Alpine and Ferrari and possibly even Mercedes.
WATCH: 5 great Belgian GP battles from the F1 archive
Dare I say it, but are McLaren Red Bull's closest threat and by default the second best team on the grid?
"I think it's close with Mercedes at the moment," said Piastri when I asked him that very question on Thursday at a soaking wet Spa. "In Silverstone I would agree we were Red Bull's biggest threat – threat is still a big word to Red Bull, but we were the closest to them.
"In Budapest it was very even between us and Mercedes. They were very strong both over one lap and especially the end of the race, the second half Lewis was incredibly quick. I think it's been tight with us two teams as, sort of, the fight for the second best. We'll see if Ferrari and then Aston are also back in the fight.
"Even if they're a little bit slower than us in the last couple of weekends, it's still been very close, and it doesn't take much to get back there. So we'll see who we're fighting but hopefully it's someone at the front."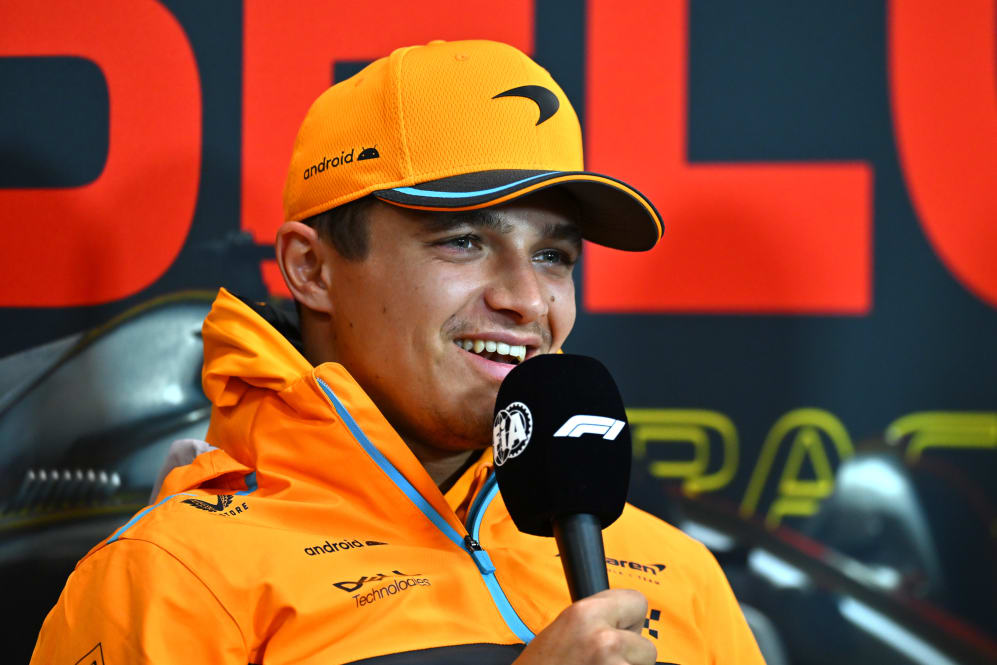 Norris is equally buoyant about McLaren's recent upturn in form and he says "there's no reason why we shouldn't continue" that at Spa, which is one of his favourites of the season. He rightly points out that Spa is a fourth very different track in terms of characteristics in as many events and thus it provides another opportunity for the team to understand just how good their package is.
"The car is competitive, we've clearly made a big, big step, fighting cars we weren't expecting – being ahead of cars we weren't expecting to be ahead of, fighting for podiums, fighting for pole positions so I'm not going to say no [the car can't be quick at Spa], but could be a trickier weekend than the last few," he said.
BETTING GUIDE: Who could stop Red Bull's record-breaking run in Belgium?
In his favour, Spa is a circuit Norris is very strong at. He was in the fight for pole in wet conditions in 2021, only to crash at Eau Rouge. Wet conditions are predicted throughout this weekend – and Norris is a far more experienced driver than he was when he had that accident – so it would be fair to predict, at the very least, he's in the fight for a third successive podium.
And with the Sprint format adding a little more jeopardy to proceedings, who is to say a win isn't on the cards? That might be too bold a prediction but the momentum is with McLaren. Find the right set-up window quickly – especially as there could be limited running this weekend because of the weather – and anything is possible.
To read on, sign up to F1 Unlocked for free
You'll unlock this article and get access to:
Live leaderboard data
Epic experiences and rewards
Money-can't-buy competitions