Feature F1 Unlocked
PADDOCK INSIDER: Ricciardo and Norris – the former team mates with all eyes on them in Hungary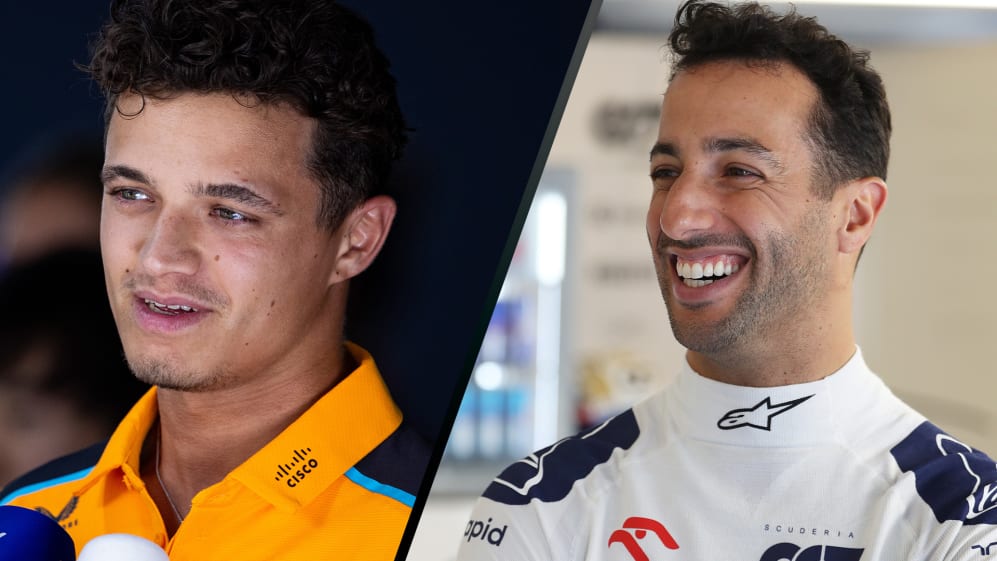 It would be wrong to say a familiar figure was back in the paddock on Thursday in Hungary. Daniel Ricciardo has peppered the 2023 season with appearances as Red Bull's third driver, smiling for the cameras on the team's pit wall publicly – and impressing them with his dedicated simulator work and input behind closed doors.
Now, though, Ricciardo is back as a front-line driver, and as he strode and scooted through the Hungaroring paddock in AlphaTauri overalls and fireproof underwear on Thursday, that famous 'Danny Ric smile's' wattage was turned up just a little bit brighter than we've seen recently. "Race week," he wrote on Twitter on Monday. "Haven't said that in a while. Cool."
READ MORE: Ricciardo says he's 'fallen in love' with F1 again as he admits Red Bull return is his 'dream'
Ricciardo's 'return' to AlphaTauri – a team he raced for in 2012-13 in their Toro Rosso guise – has been a whirlwind. It's rumoured that the Australian was still lapping in the Red Bull RB19 at a Silverstone Pirelli test last week when Dr Helmut Marko, sufficiently impressed by Ricciardo's performance, phoned Nyck de Vries and told him that his services – after just 10 Grands Prix – would no longer be required at AlphaTauri.
Ricciardo is back in a front-line race seat, then, eight months after his McLaren career ended with a whimper at Abu Dhabi – an experience which left the Australian, as he said on Thursday in Hungary, needing to "reset but also enjoy it again".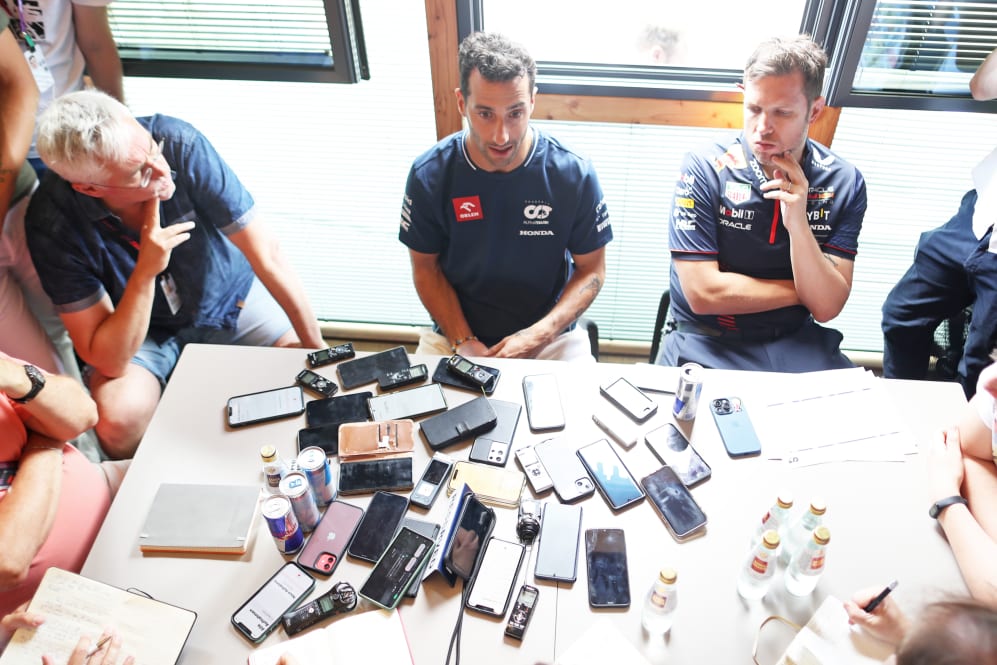 But it was reassuring to hear that Ricciardo had rebuilt himself ahead of his race return with AlphaTauri, telling the press that he'd "fallen in love with it again and been myself again" and that he was back where he "belonged".
Ricciardo's not back at Red Bull Racing though – and he knows all too well that he's unlikely to be fighting for the poles, wins and podiums that all F1 drivers crave with an AlphaTauri AT04 car that's taken just two points so far in 2023.
READ MORE: 'I never wanted him to leave!' – Verstappen gives his take on potential future reunion with Ricciardo at Red Bull
"There's going to be a lot of work to do here," he told journalists in Hungary during a packed media session in Red Bull's wood-clad 'Energy Station'. "I think in terms of expectation, there is none.
"I've obviously been following; I know the car's going to have some limitations but I'm going to do the best with what I've got. If it's something I feel I can work with, that's all I need to feel good behind the wheel again and also obviously use some of my experience to push the team.
"As far as this weekend goes, if you ask me 'where do you want to finish' I couldn't tell you. I just want to know I've put everything into it."
Norris doubtful of repeating Silverstone heroics
Lando Norris was the yardstick that Ricciardo was measured against during a pair of challenging seasons at McLaren. And two weeks ago at Silverstone, the Briton showed just why he is so highly rated in the paddock with a stirring drive that earned him a prized spot on his home podium.
READ MORE: 'He had the pace' – Tsunoda praises departing De Vries as he looks forward to working with 'experienced' Ricciardo
But that was Silverstone, a track that provides F1 drivers with a high-speed thrill ride through some of the world's fastest corners.
The Hungaroring is different kettle of fish: a tight winding bowl first added to the calendar in 1986, where teams dollop on the downforce to near-Monaco levels, and drivers ping their cars, kart-like, at the kerbs as they try and wring out the lap time.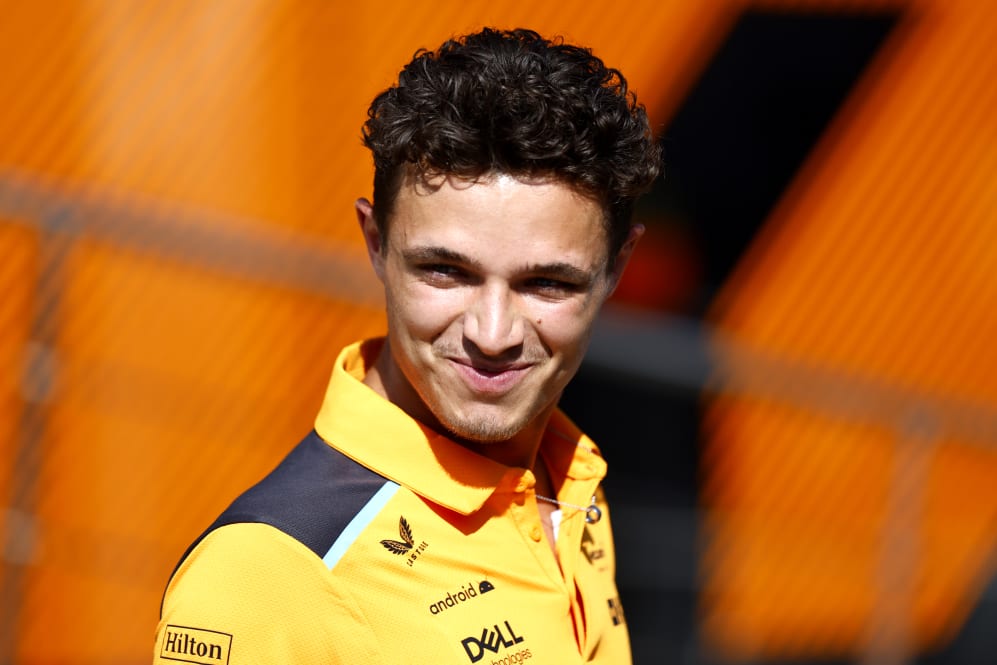 A crucial question then: can McLaren take that pace that stung and stunned the likes of Mercedes and Ferrari last time out and translate it to the Hungaroring's confines?
Norris had a cheeky 'one answer fits all' response ready to go as he parked himself in a chair in McLaren's hospitality unit and faced the media on Thursday afternoon, just as the baking heat of the day was starting to recede.
NEED TO KNOW: The most important facts, stats and trivia ahead of the 2023 Hungarian Grand Prix
"I'll just answer it all: are you going to finish on the podium? No. Are you quick enough to finish on the podium? No… Great that Daniel's back. Yeah, that's pretty much it."
Joking aside, Norris then backed up his steely post-Silverstone realism, as he moved to quell the fervour of journalists aching to know whether McLaren were now solid podium contenders.
"No matter what the outlook of it all is, we are not very good in the low-speed [corners]," he said. "We're not terrible – if you fully focus on slow-speed, we're not too bad; if you look at Monaco we're not too bad in Monaco.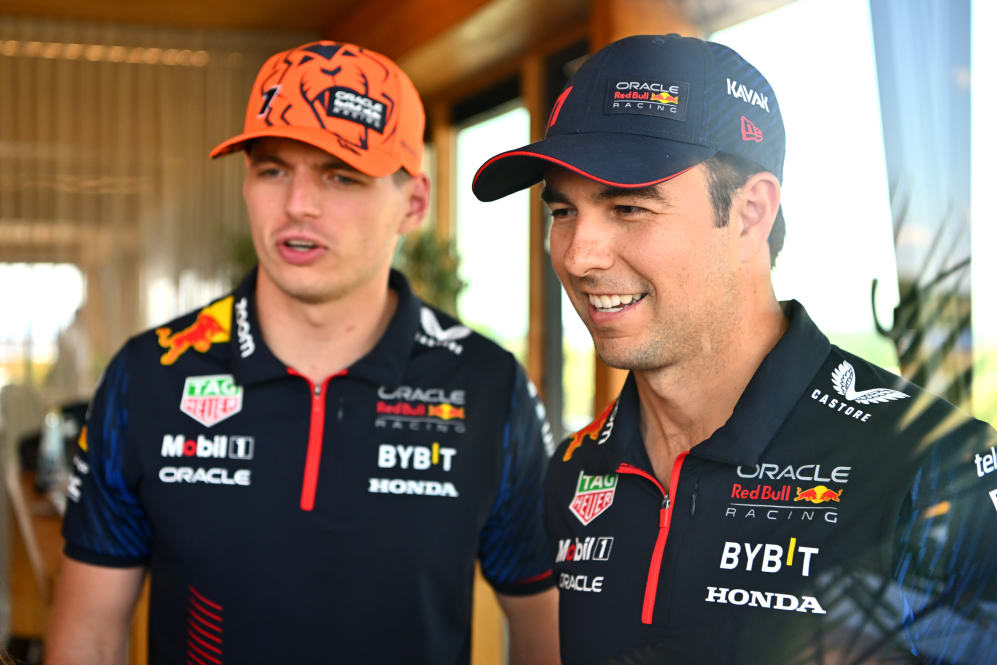 "I guess [I don't expect us to be] bad here; last year this was not a bad weekend for us with a car that we struggled a lot with at the start of the season. So I still want to be hopeful but as I said, I doubt it's going to be as good as Silverstone because there's no high-speed [corners]."
READ MORE: Formula 1 and Sky Group announce details of first-ever children's broadcast at Hungarian Grand Prix
Norris and McLaren are no strangers to dampening expectations early doors on a race weekend. But while there was understandably excitement and expectation surrounding the papaya-coloured team, one thing that will have caught the attention of all in the paddock were the upgrades being bolted onto the Red Bulls of Max Verstappen and Sergio Perez for this weekend.
Yes, the team – who currently head the constructors' standings by a dizzying 208 points – may be about to get a little extra boost. And that will give both Ricciardo, Norris, and the rest of the F1 grid plenty to think about, ahead of what promises to be an intriguing weekend in Hungary.
To read on, sign up to F1 Unlocked for free
You'll unlock this article and get access to:
Live leaderboard data
Epic experiences and rewards
Money-can't-buy competitions