Feature F1 Unlocked
PADDOCK INSIDER: Why the F1 drivers and fans are pumped for Miami's sophomore Grand Prix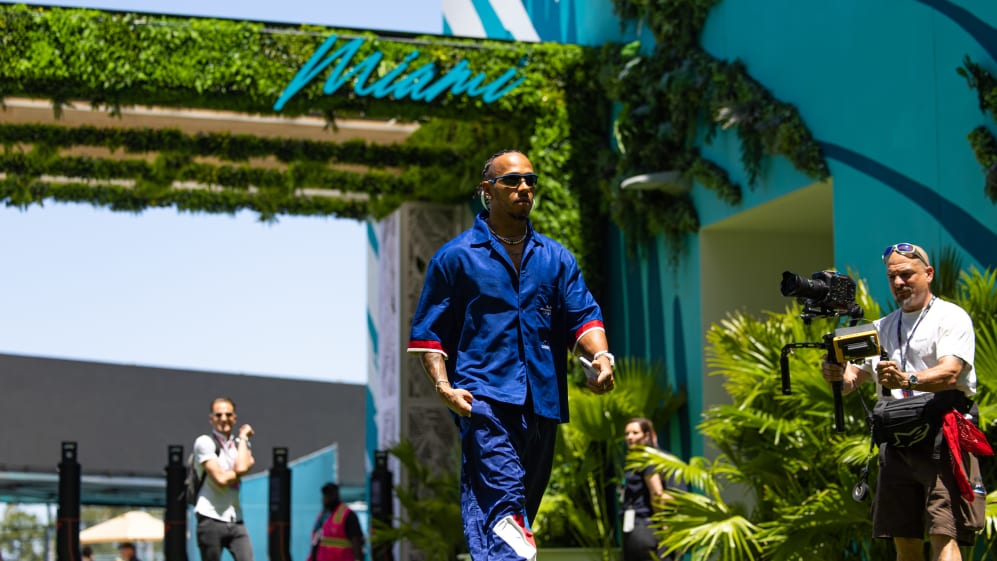 You'd be hard pressed to find someone in the paddock on Thursday who wasn't excited to be in Florida, the coastal metropolis pulling out all the stops to take the Miami Grand Prix to the next level for the second edition of the race.
The Hard Rock Stadium – home to American Football team the Miami Dolphins – remains the centre point of the 5.4km track, but in a tweak to last year, the hallowed turf that has hosted six NFL showpiece Super Bowls, plays home to the team hospitality units, creating a village/festival feel.
IT'S RACE WEEK: 5 storylines we're excited about ahead of the Miami Grand Prix
The whole site, which is fitted into a tight space that runs over the Hard Rock car parks and site of the Miami Open tennis tournament, feels more spacious, with a flurry of cool sofa areas, high-end food stalls, and pop-up beaches.
The track itself remains largely the same in terms of layout, with only minor changes made to the Turn 14-15 chicane. However, it has been completely resurfaced following feedback from the FIA governing body, Formula 1, the drivers and the team.
Last year's surface led to graining, so it's hoped the new covering will offer the drivers more grip, and thus increase the potential of better racing and more overtaking.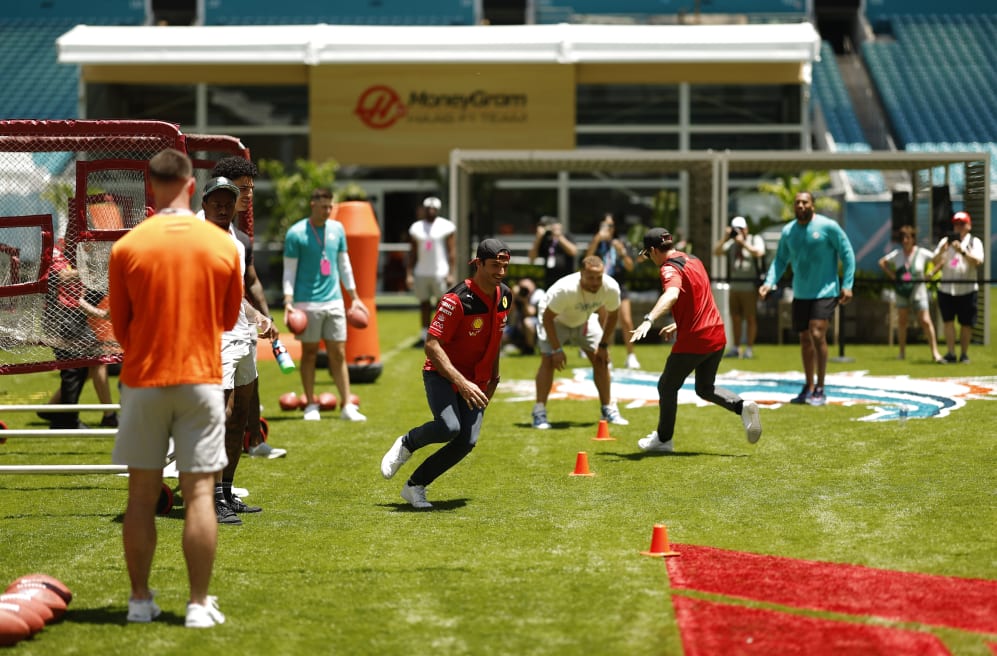 One driver who will hope to go well is home hero Logan Sargeant, who was born just half an hour away from the track in Fort Lauderdale. The American hardly spends any time Stateside, with his main base (when he's not travelling) now London to be close to Williams, so he used this opportunity to catch up with family.
"It's good to be home," says Sargeant, when we spoke on Thursday. "I got to spend Tuesday with my parents and family at home, get out on the beach, get in the water – it felt good. It's been a busy couple of days. It's going to be a tough weekend; it's going to be hot, physical, and a track I don't know but I'm ready to take on the challenge.
FIRST LOOK: Red Bull reveal striking fan-designed livery for Miami Grand Prix
"The American fans are always here to put on a good atmosphere and a good show. I'm excited to go out there and perform. It's just another great opportunity for us to keep building something and have a good weekend."
The Williams racer is excited by the prospect of a return to the traditional format after a Sprint weekend in Baku, as it means he has three one-hour practice session to learn the track – having never raced here before – and get the car set up to his liking.
It's clear that the 22-year-old has made gains quickly at Williams, the team very impressed at how rapidly he has got up to speed. But it's believed the expectation for him now is to have a cleaner, more consistent weekend – and perhaps tone down his approach from 100% to 99% to cut out errors like his qualifying crash in Baku.
"There are a lot of hurdles to get over but I'm excited," adds Sargeant. "I've got the whole team and country supporting me. Baku is the weekend I've learned the most so far this year in F1.
NEED TO KNOW: The most important facts, stats and trivia ahead of the 2023 Miami Grand Prix
"I feel like everything is coming more and more towards me. It's going in the right direction. Qualifying in Baku was already a step forward, apart from the crash – but generally speaking, it was a better weekend than the previous too."
This track isn't especially suited to this year's Williams. However, Alex Albon had his strongest race of the season here in 2022 with ninth – and they've been in the mix in each of the opening four races of the season.
Up front Red Bull remain the team to beat, the reigning world champions' RB19 a step ahead of the field – and on a street circuit like Miami, that advantage is expected to be maintained.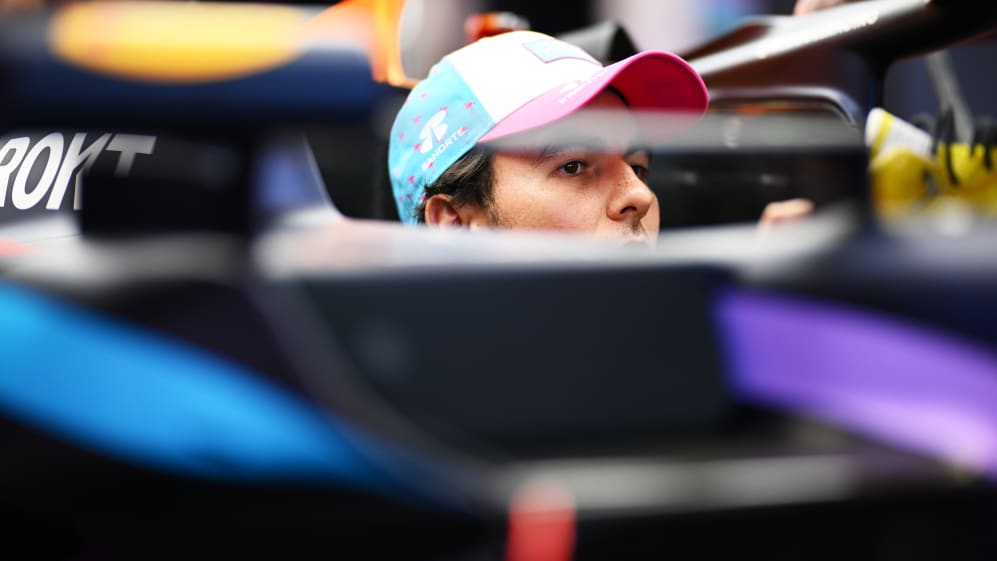 All eyes will be on Sergio Perez to see if he can win back-to-back races for the first time in his career and start to build some momentum that can support his claim that he can be a genuine title contender. Drive like he did in Baku and he'll have every chance.
Team mate Max Verstappen, the reigning world champion, doesn't seem worried though about the threat from the other side of the garage, such is his confidence in his own ability. After the frustrations of Baku, where he lost the lead – and ultimately the win – because of the Safety Car, the Dutchman will be keen to reassert his authority and extend his slender six-point championship leader.
READ MORE: Launch date and new features confirmed for F1 23 game – plus watch the official trailer here
Ferrari have brought another upgrade to Miami, albeit a small one which centres around the floor. The Scuderia optimised their package in Baku, aided by Charles Leclerc's prowess around the street track. They were quick in Miami last year and the medium-downforce track should not only suit them but help them inch ahead of immediate rivals Aston Martin and Mercedes if they get everything right.
There aren't any upgrades for Mercedes – Lewis Hamilton and George Russell will need to wait until the next race at Imola for some new parts they hope will improve the balance and predictability of their car to in turn give the drivers confidence to push like in Melbourne.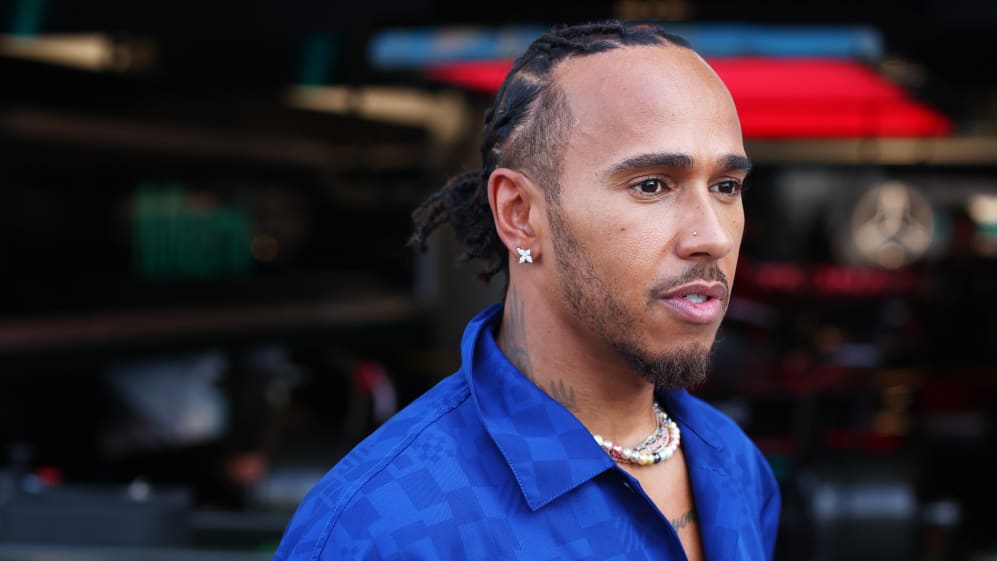 Elsewhere, McLaren hope to learn more about their Baku upgrade package through three practice sessions. Sources say it was worth at least 0.3s per lap, and that's hauled them to the front of the midfield pack and in contention for regular points.
READ MORE: Williams driver Sargeant says first race on home circuit in Miami a 'big hurdle to climb'
Chatting to Oscar Piastri on Thursday, he said he's feeling much better after suffering food positioning in Baku, which is good news for a race in Miami where conditions are so hot, it makes it one of the most demanding races – if not the most demanding, ahead of Singapore – on the calendar.
Hydration, then, for both drivers and fans trackside will be key as temperatures are set to soar in the Sunshine State. Hopefully, it'll be a sizzler on track, too.
Watch the Miami GP live with F1 TV Pro
For the Miami Grand Prix, F1 TV Pro is offering a 7-day free trial so you can test drive the service for free in selected countries (USA, Canada, Netherlands and Brazil). Jump in. Start your 7-day free trial now.*
*Renews to full price unless cancelled. Web and app only. Excludes previous free trialists. T&cs apply.
To read on, sign up to F1 Unlocked for free
You'll unlock this article and get access to:
Live leaderboard data
Epic experiences and rewards
Money-can't-buy competitions