Feature
PALMER: Could Hamilton have won the Dutch Grand Prix with a different Safety Car strategy?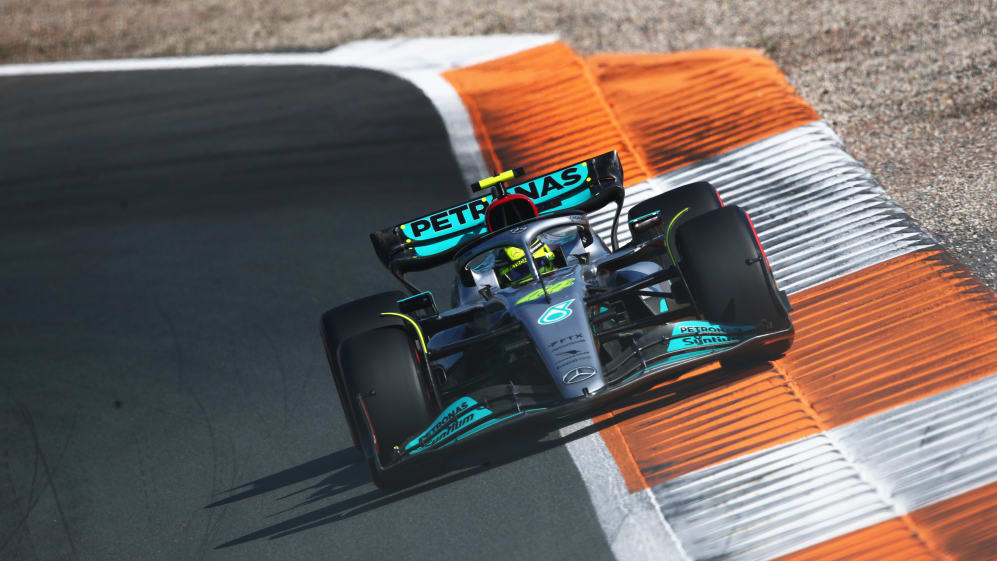 Mercedes were closer than ever to a first victory of 2022 at Zandvoort before Max Verstappen ultimately triumphed for Red Bull. But could a different strategy in response to the late Safety Car have got the Silver Arrows the win? Ex-F1 racer and F1.com analyst Jolyon Palmer investigates...
Zandvoort was always likely to offer Mercedes a better chance, after missing out on the podium in Spa.
The higher downforce circuits generally have been kinder to them this season and Zandvoort isn't so different to Budapest where George Russell landed their first pole of the year. But, like Budapest, this was another race where the team had to settle for second behind the seemingly untouchable Max Verstappen.
So often this season qualifying has been an Achilles' Heel for the Silver Arrows, and Sergio Perez's spin on the final run of Q3 meant they had no chance to better their fourth and sixth positions from the first runs in Zandvoort.
HIGHLIGHTS: Watch the action from qualifying in Zandvoort as Verstappen narrowly beats Leclerc
Toto Wolff afterwards declared Hamilton to be "playing for pole" until he backed off, and looking at the data, that statement is not untrue – Hamilton was a fraction up on Verstappen's pole time at the point he backed off.
But it's also true that he was likely to end up losing out because he was comparatively weak on the run to the line, where the Mercedes typically lost a chunk of time due to Red Bull's impressive top-end speed. With the Ferraris shadowing Verstappen so closely on Saturday it's most likely that Hamilton would have ended up a close fourth even without Perez's yellow flags, unless he managed something extra special in the final corner.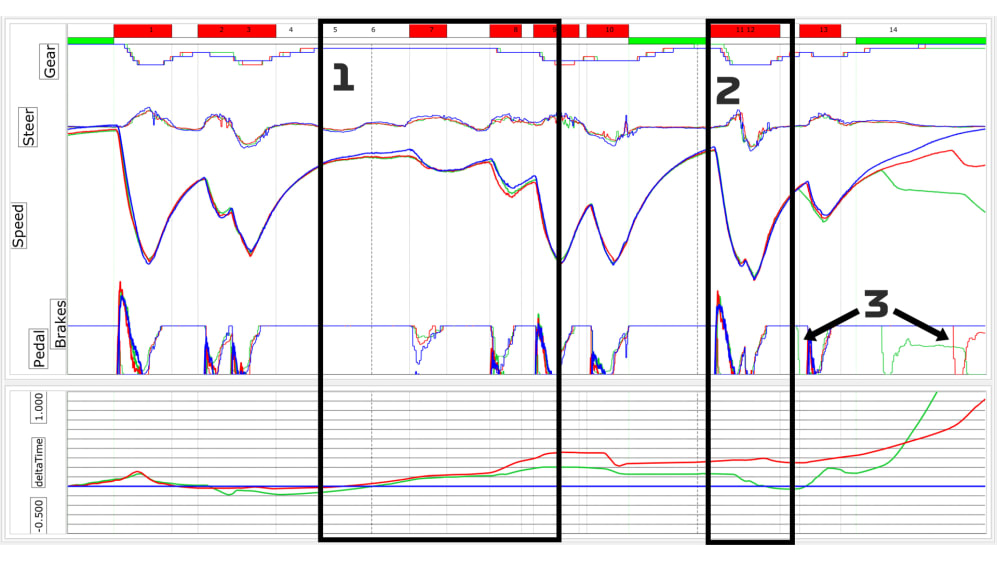 The best news for Mercedes came on the grid though as they exploited 2022's rule change to start on a different tyre than their competition.
All too often this year teams have converged onto the same starting tyre, even though they have a free choice for the first time in a decade. That's because of a largely inherent conservative approach amongst the strategists, particularly from the teams at the sharp end of the grid where there is plenty to lose.
When Mercedes saw their rivals don the softs, it opened up their strategic possibilities. They could try a one-stop whilst the others would surely have to do two. Track position has been a rare commodity for their often race-quick car and cutting out a pit stop gave them a chance to defend from the front rather than have to attack from further back.
POWER RANKINGS: Who dazzled our judges at the Dutch Grand Prix?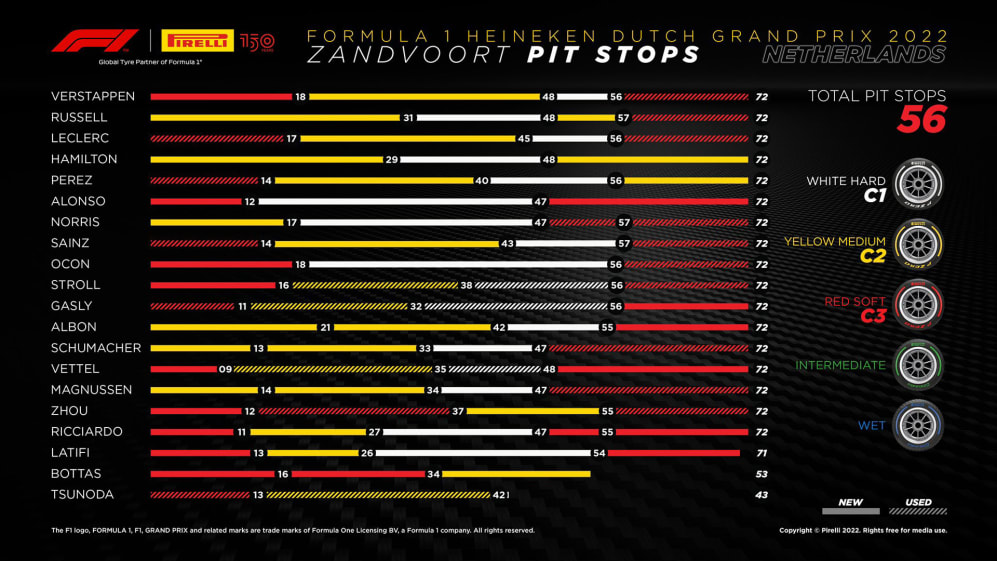 Without the Safety Cars – Virtual and actual – I'm sure it would have been a close finish between Hamilton and Verstappen, but Verstappen had already shown how easy it was for him to pass when he scythed past Russell in the middle part of the race. The race-ability of the Red Bull with their high top-speed would likely have resulted in a Max win anyway, although it's a shame we were denied that battle.
The final call for Mercedes must have been an agonising one to make and the pressure was on more than ever, given their one-two position with just a dozen laps to go.
I can understand why they were hesitant to pit Hamilton from the lead. Compared to Spa, track position is more important at Zandvoort, and with Russell between Hamilton and Verstappen on his softs, the seven-time champion had an important buffer for the restart.
The complication came when Russell called his pit stop.
TECH TUESDAY: Why was Red Bull's pace advantage cut so dramatically at Zandvoort?
Under the Safety Car, drivers are frantically trying to assess what is their best option, through constant dialogue with the team, before they are locked in to their fate. And whist the team has the deciding say in pitting, a driver can use their influence to sway the team's opinion.
Russell did just that, as he argued he was going to be a sitting duck on his cooling medium tyres, and he'd be better off pitting. Mercedes agreed, and the first Hamilton knew of it was looking in his mirrors as the cars trundled through the pit lane and seeing his team mate dive out of Verstappen's way. Initially, Hamilton was fine with the strategy choice, but now it was a straight fight with Verstappen on softs, he was understandably frustrated.
READ MORE: 'I'd rather take the risk to win' says Wolff as he defends Mercedes' Safety Car strategy in Zandvoort
It was a case of Abu Dhabi again, or even a repeat Silverstone this year where Leclerc was swamped on the restart and fell back. Hamilton could do nothing to deny Verstappen the lead and the Dutchman went on to delight the 100,000-strong home crowd, with Russell's strategy call earning him second spot.
In hindsight it was a brilliant call from Russell and one Hamilton could have made as well, especially given the difference in seniority and experience between the two.
However, in reality, the circumstances were different. Russell had nothing to lose by pitting. He was going to finish second at best, but most likely third with Verstappen coming through, so pitting guaranteed him a safer finish, and a chance to beat his team mate. For Hamilton, the choice to pit was much tougher as unlike Russell he had the chance to win.
Once Mercedes pitted one car, they should have pitted both. Actually, this was their only hope of winning as well. In a normal world the two cars would have emerged behind Verstappen to finish second and third and maximise their points, however there's a slight chance Hamilton could have emerged ahead of Verstappen at the end, had George sufficiently backed up Verstappen for a double-stack under Safety Car.
WATCH: SAY WHAT?! Sainz pleads with the stewards as Hamilton turns the airwaves blue in the best team radio from Zandvoort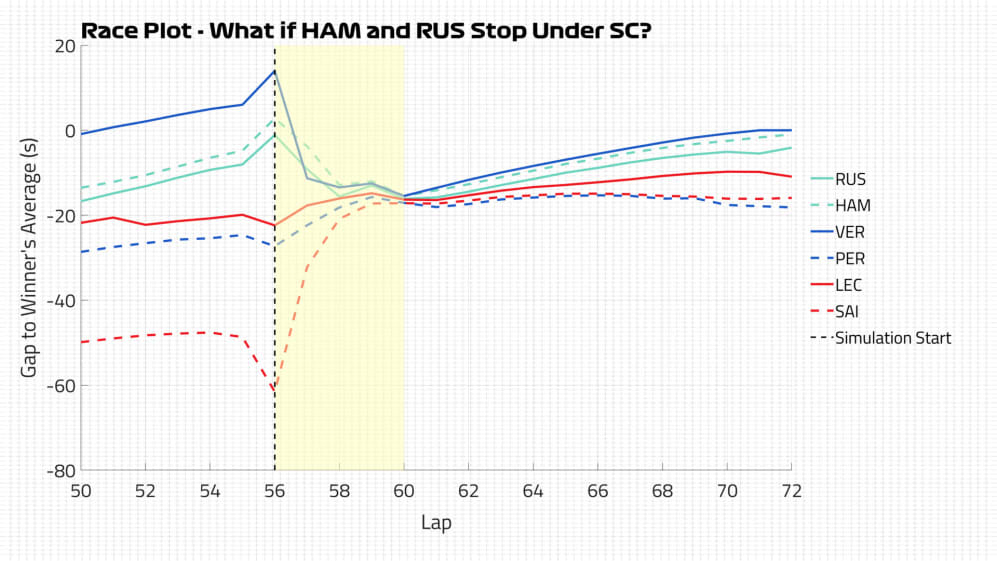 You've got to be careful not to drive 'unnecessarily slowly' and draw the wrath of the stewards in these cases but given they had a car in between them as well, it's possible Hamilton could have emerged ahead of Verstappen with both on new softs at the end. Was this their opportunity?
From fourth and sixth on the grid they still scored good points and Russell scored a brilliant career best result. But for the team, and for Hamilton, there are just seven races remaining though to notch that elusive 2022 win.
Tap here to discover more about F1 TV, with enhanced race coverage, exclusive shows, archive video and more