Feature F1 Unlocked
PALMER: Did Spain offer us a clue as to when Mercedes might be able to seriously challenge Red Bull?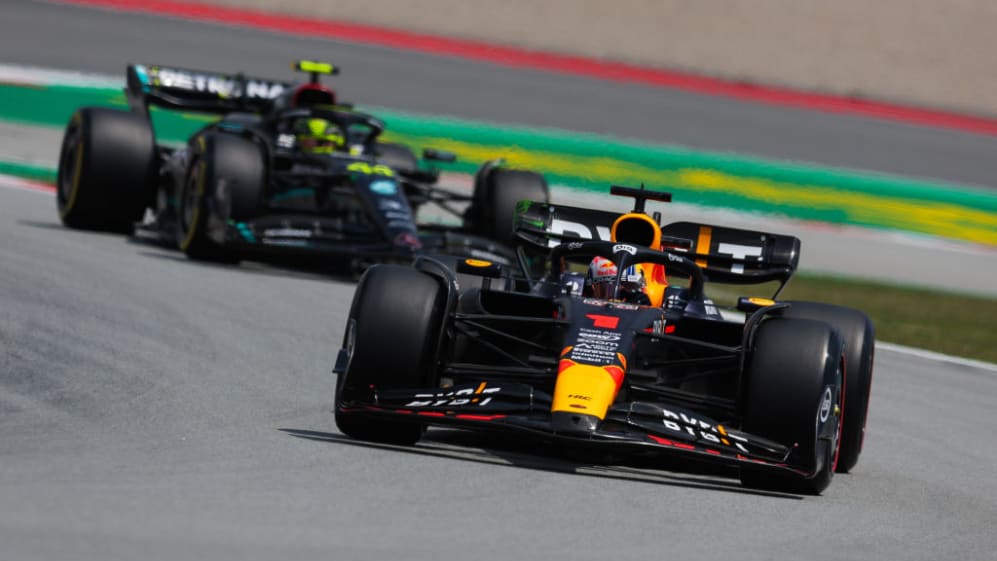 The Spanish Grand Prix weekend threw up some surprise results on Saturday and some mysterious drops in form on Sunday – as well as a leap forward for Mercedes to get them a first double podium of the season.
Barcelona is an outlier circuit from the season thus far, but will become more the trend moving forwards. That's because it's the first permanent circuit that we've been to this year since the season opener in Bahrain – and even Bahrain has characteristics that are more akin to a street circuit, with really high track evolution and massive rear tyre limitations.
READ MORE: 5 Winners and 5 Losers from the Spanish Grand Prix — Who shone in Spain?
After an abnormal run of street circuits to kick the season off, and with Imola having been called off, Barcelona – typically the first European race and classic benchmark of the season – has come a bit later than usual.
Not only is it a track everybody knows and can attack from the start, it's also more forgiving with the walls further away. Crucially there are major changes to how the tyres work, which I think threw up the changes to the results.
Unlike the smooth asphalt on a lot of the newly surfaced temporary tracks, the asphalt in Barcelona is very abrasive, which immediately means higher degradation as the tyres get a rougher time with constant micro-slides over the surface.
The removal of the fiddly final sector chicane also amplified this effect, increasing the overall load of the tyres around the lap because they have to work much harder in fast corners than slow ones.
It also shifted the balance of tyre wear from rear to front. Typically in Barcelona you'd have to look after your front left tyre but also the rears as well, because of the clockwise nature of the circuit, fast corners and some tight traction zones.
With more fast corners added and some traction events removed in 2023, the emphasis on tyre life moved even more to the front left where the amount of long, loaded right handers will have left that tyre on the brink throughout the Grand Prix.
F1 NATION: A Verstappen masterclass and a Mercedes resurgence - it's our Spain GP review
All of this made managing degradation a nightmare for the drivers. With front limitations it's very hard to make a big difference from the cockpit, other than simply reducing apex speeds in the numerous fast corners. This means it was more up to car set-up and there were some big disparities between teams who were competitive on Saturday but struggling on Sunday.
McLaren didn't get a fair comparison on Sunday, because of Lando Norris' Turn 2 damage, but whilst the Brit's performance on Saturday was exceptional, it seemed inevitable he'd fall further back on Sunday regardless of the damage.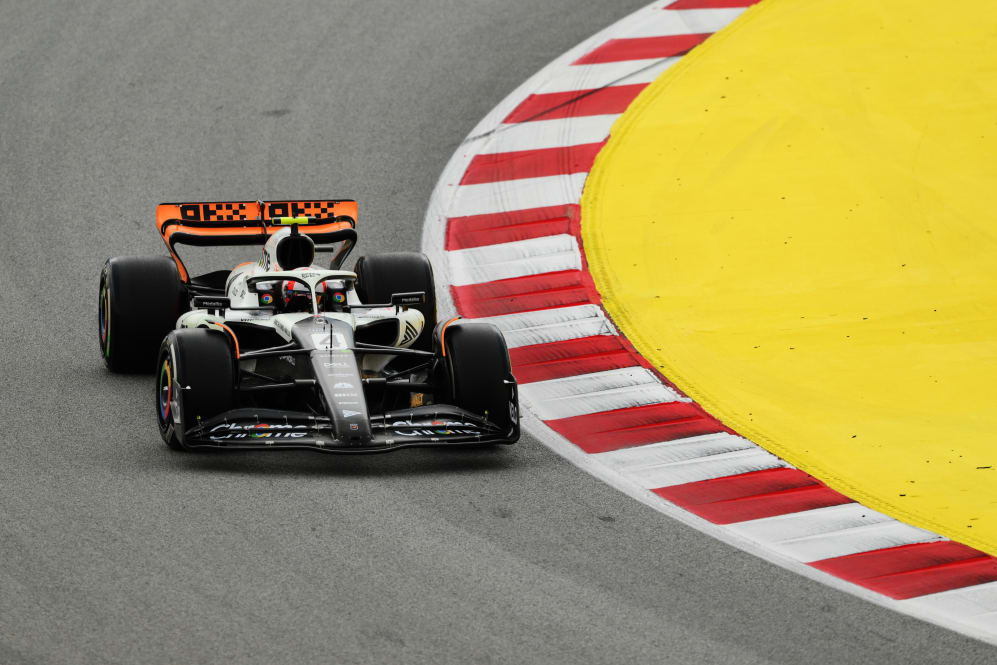 This was because he over-performed in the car in qualifying, beating some of the regular front runners with many of them out of position on the grid. In cooler Catalan temperatures, McLaren got their tyres into the right working window on one lap but that meant they struggled more in race trim, as they were effectively overworking the tyre.
Haas' Nico Hulkenberg was the clearest visualisation of this. It was another sensational qualifying performance from him but the team's performance on Sunday was dismal. They devoured their tyres, becoming the only two drivers to three stop in the race.
STRATEGY UNPACKED: How Mercedes got Russell on the podium in Spain from P12 on the grid
Mercedes were talk of the race securing their double podium. They have significant upgrades on the car and on the face of it, it looks like they are yielding immediate results. However this has always been a strong Mercedes circuit. Last year George Russell was fighting for the lead and ended up third, while Lewis Hamilton put in an eyebrow raising performance from the back of the field.
It's more likely that whilst the upgrades worked, the track characteristics also enhanced their performance. Canada in a couple of weeks' time might be a more interesting comparison, as it's more akin to the street circuits we've had thus far.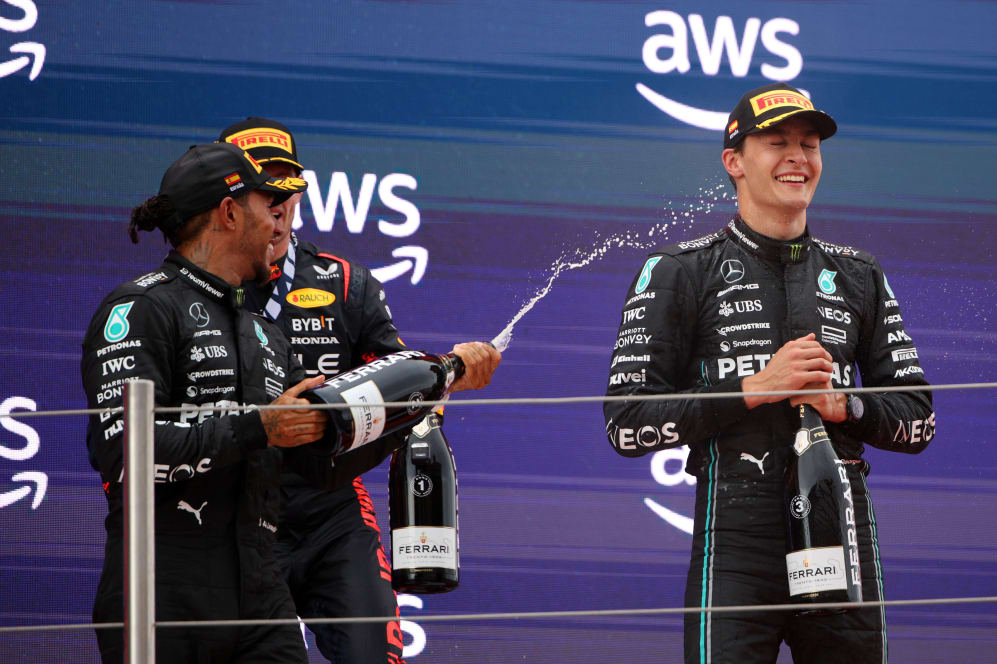 They seem to be on the correct development path now though so like last year, they should only get more competitive from here. The gap to Red Bull and Max Verstappen remains large though and Mercedes were also flattered by their rivals under performing.
Aston Martin were subdued in Spain, partly thanks to Fernando Alonso's high speed run through the gravel which affected his qualifying, but also the nature of the tyre energy didn't help them.
HINCH'S HEROES: Who makes Hinch's list after a captivating contest in Barcelona?
Alonso and Aston have been supreme at nursing tyres on Sundays, looking after the rears particularly well and putting on late attacks to gain positions. The front limitations of Spain looked to be harder work for Aston Martin who couldn't use their main strength, and for Sergio Perez as well who has always been a master of looking after the tyres on rear limited circuits.
Perez looked out of sorts all weekend and opened the door for others to take a podium they shouldn't have had by early season form.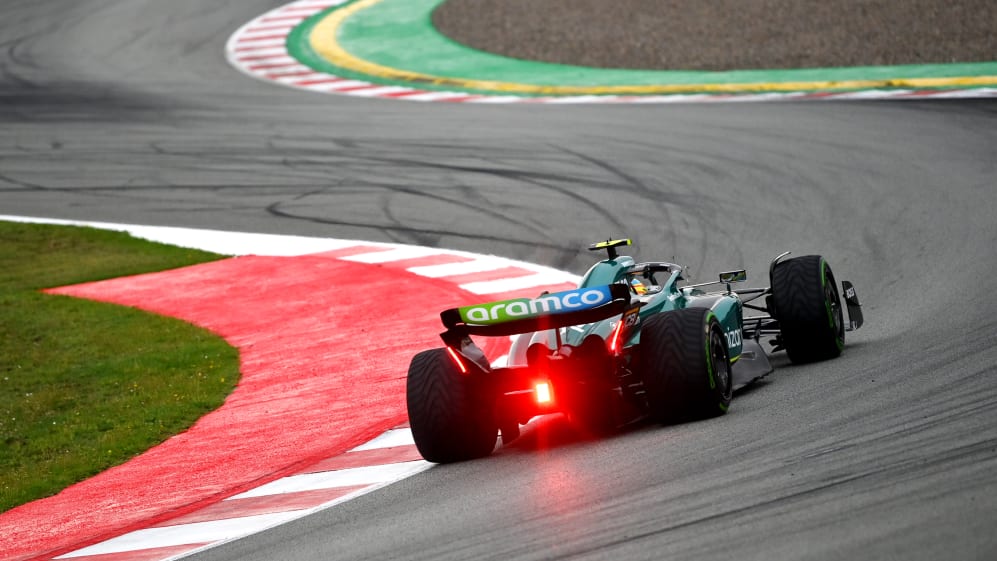 And then there's Ferrari, a team that also had upgrades on this weekend but seemed to go backwards rapidly in the hands of Sainz and forwards slowly in the hands of Leclerc. Ferrari say this upgrade was just a small steer ahead of a further development push and their struggles lay more in understanding the tyres.
At the moment it seems they can be quick on one set of tyres, then bafflingly average on the next and they don't know why – a frustrating issue they must work to understand.
READ MORE: Why Ferrari's big upgrades didn't deliver the goods in Barcelona
But whilst Spain is an outlier thus far and we head to Montreal next, the run of summer races should fit more into this mould, with permanent race tracks of similar characteristics.
Silverstone is the next closest circuit to Barcelona coming up, with a few more races of fine tuning and additional upgrades to come first – could that be the first real chance for Mercedes to challenge Red Bull's domination?
To read on, sign up to F1 Unlocked for free
You'll unlock this article and get access to:
Live leaderboard data
Epic experiences and rewards
Money-can't-buy competitions