Opinion F1 Unlocked
PALMER: Monza is under-pressure Sargeant's best chance to shine – he must grab it if he wants a seat in 2024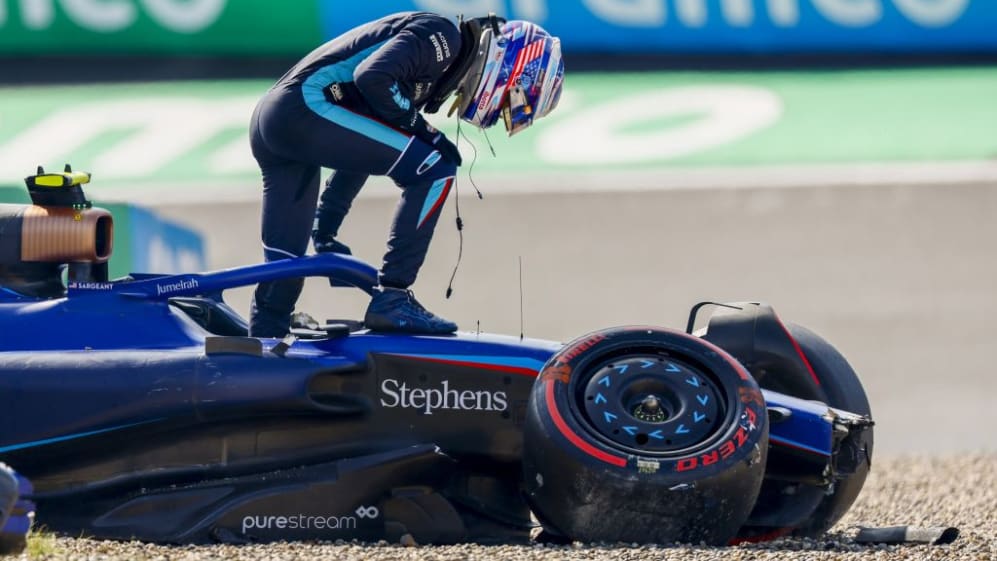 Logan Sargeant cut a forlorn figure as he sat watching the rest of the Grand Prix unfold following his crash on Lap 15 of Sunday's race at Zandvoort.
It was a tumultuous weekend for the American. On Saturday he achieved a career high, making it into Q3 for the first time, moments before crashing heavily into the Turn 2 barrier. And the Grand Prix on Sunday was a grim affair for him from the start until his early finish in the tricky conditions.
WATCH: Sargeant apologises to his team for 'disappointing' crash on his first Q3 appearance
After the race Williams revealed that his hefty crash at the high speed Turn 8 was caused by a car failure. As Logan touched the apex kerb he lost hydraulic pressure, his steering input reduced and never regained fully as the power steering dropped out in a fully loaded high speed corner.
In Formula 2 you get used to driving without any power steering, and the cars are heavy to drive in the high speed corners. But in Formula 1 with today's downforce levels it just wouldn't be possible to hang onto the wheel properly without having the hydraulic powered steering assistance.
When you enter the corner committed and then the steering suddenly goes heavy it is nigh on impossible to save, especially in the tricky conditions at an unforgiving Zandvoort.
Sargeant radioed immediately saying that something failed on the front right after he hit the kerb. You'd feel that from the wheel and even in the blur of a high speed crash he knew that something wasn't right. Most likely the biggest part of the American's frustration was because it was the culmination of a horrible race for him, at a time where he knows he desperately needs to perform.
Sargeant started the Grand Prix in tenth, following his Q3 appearance on Saturday, but by the time he crashed he was running last, five seconds down on fellow Sunday struggler Lance Stroll, and a full pitstop down on George Russell in 18th.
In his first half a lap he'd fallen from 10th to 17th, getting mobbed left, right and centre before settling in ahead of only the AlphaTauris of Yuki Tsunoda and debutant Liam Lawson, and pit lane starting Kevin Magnussen, all of whom pitted at the end of Lap 1.
READ MORE: 5 Winners and 5 Losers from the Dutch GP – Who kept their head when the heavens opened?
Conditions at the start in Zandvoort were immensely tricky, driving on slicks in the rain is as hard as it gets. The car is on a knife edge of grip, snapping almost uncontrollably at random moments as the slick tyres slide on the surface water, which intermediates are designed to cut through.
This is why Perez was able to pit at the end of Lap 1 and still pass cars on slicks before the end of Lap 2 – the gain in lap time on intermediates was immense and it put anyone who pitted at the end of the first lap onto a different trajectory for the race.
Logan was relatively quiet on the radio in the early laps, concentrating more on tackling the conditions than asking for a pitstop or questioning what was going on around him. All of the teams had the same information on the weather radar and were telling their drivers to stay out, but the drivers that pitted were able to overrule from the cockpit and demand their strategy.
Understandably as a rookie it's harder to do that. Without the confidence and experience, it's generally safer to follow the instructions of your engineer. They have more information – and had the shower been as short and light as anticipated it would have been the right call.
Logan wasn't the only driver to stay out either – his team mate was on the same strategy. Alex Albon also stayed on the soft tyre for the first stint, but was much quicker at the front and when Sergeant inevitably got lapped he lost even bigger chunks of time as the intermediate shod cars swooped past, costing him five or more seconds per lap to his teammate.
READ MORE > THE STRATEGIST: Rain, red flags and confusion – how do the teams plan for a race like Sunday's Dutch GP?
Logan was close enough to un-lap himself as the intermediate shod leaders pitted for slicks, but by this time he had fallen to a full 46 seconds behind Albon in just 12 laps. His chance for points was effectively over before his crash.
All of this comes at a terrible time for the American. He was asked on Thursday if he was feeling pressure because his seat is up for grabs next season and he replied with the stock, 'you're always under pressure in Formula 1'. This is completely true, and particularly pertinent for a rookie. I remember answering the exact same way when my own seat was under question back in 2017.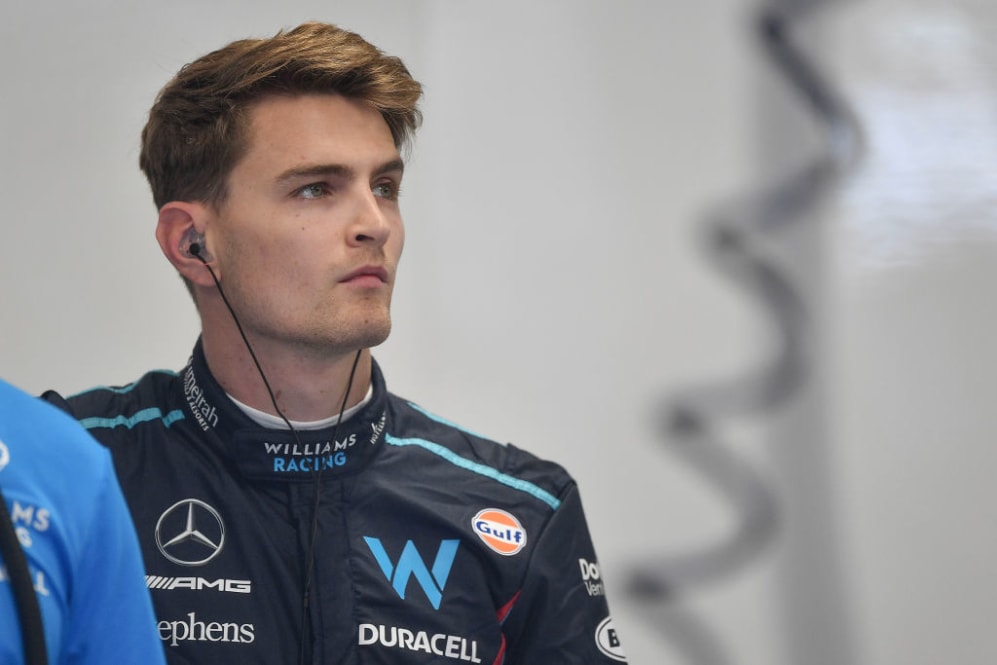 In reality, with Nyck de Vries already out this year and Sargeant's Williams seat being one of the few up for grabs, the pressure on him to stay in Formula 1 in 2024 is great. It's tough generally for rookies in the modern age – pre-season testing is short, in-season testing is limited, and the number of tricky street circuits on the calendar is growing. It all makes life tougher when you are often on a probation period to prove yourself.
The best of them can still do this though, as Oscar Piastri has shown this year in the McLaren. Logan has had a turn of speed on occasion as well but small things have gone against him, particularly earlier in the season when there were more flashes of promise.
READ MORE > BEHIND THE SCENES: 48 hours in the life of AlphaTauri super-sub Liam Lawson at Zandvoort
As the Williams car has gotten more competitive Albon has become a solid midfielder and is a star of the season. Nobody would expect Sargeant to match his team mate, but in order to retain a coveted Formula 1 seat he will surely have to start showing more promise to persuade Williams to retain him.
With time running out, Monza this weekend – where Williams are expected to be strong – could be his best chance yet.
To read on, sign up to F1 Unlocked for free
You'll unlock this article and get access to:
Live leaderboard data
Epic experiences and rewards
Money-can't-buy competitions