Feature F1 Unlocked
PALMER: Perez was superb in Baku – but can he kick on and take the title fight to Verstappen?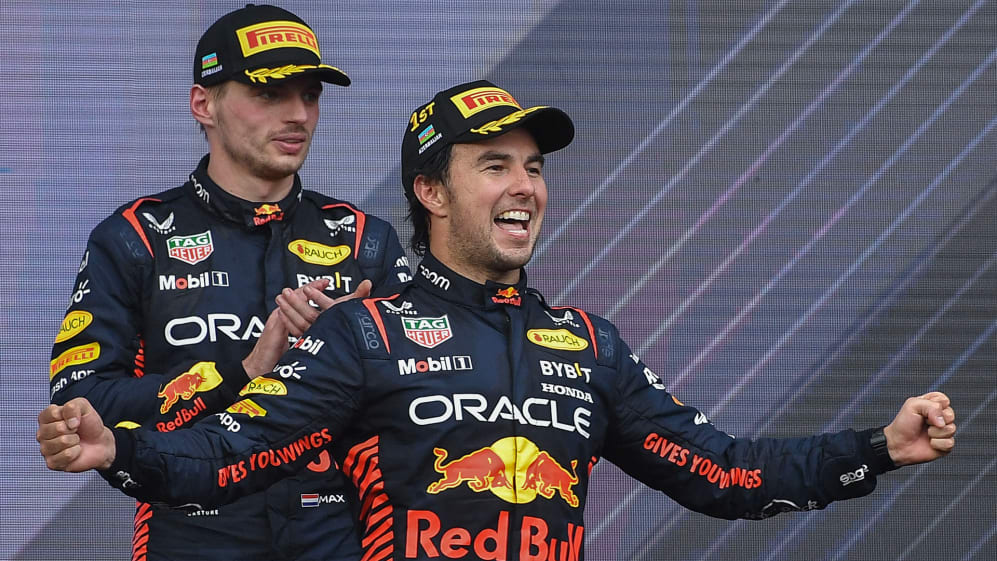 Red Bull continued their dominance in Baku, despite Charles Leclerc being the man to beat over one lap. When it came down to race pace, even over the shortened Sprint distance, the Red Bull combination of low degradation and immense top speed meant they were an irresistible force once again.
Leclerc is a Baku master, having now taken three consecutive pole positions, and that might have flattered Ferrari's weekend here. He's never had the car to even fight for a win from those poles though and that continued for another season.
READ MORE: 'We should be leading the championship' – Perez says he'd be ahead of Verstappen without Melbourne issues
It was Sergio Perez who came through to win both races. The Sprint was fairly straightforward for Checo who started ahead of his teammate, dispatched the race leading Monegasque and checked out for a comfortable win.
The Grand Prix was anything but easy for him though. He had to work hard for it, pushing lap after lap in a thrilling time trial against his team mate Max Verstappen, as well as get a slice of fortune with the Safety Car timing. But could he have won it even without the Safety Car call and what does it all mean for the championship?
The whole reason Perez took advantage of the Safety Car pit stop phase is because of his superb pace in the first stint.
Once he picked off Leclerc on Lap 6, he managed to circulate faster than Verstappen on the medium tyres and inch his way to within DRS range. The medium tyres were degrading considerably more than anyone was expecting in Baku and it seemed Verstappen was already starting to struggle as Perez applied pressure on Lap 9. Red Bull pitted Max from the race lead, instead of keeping him out and allowing the two to scrap for the lead on track.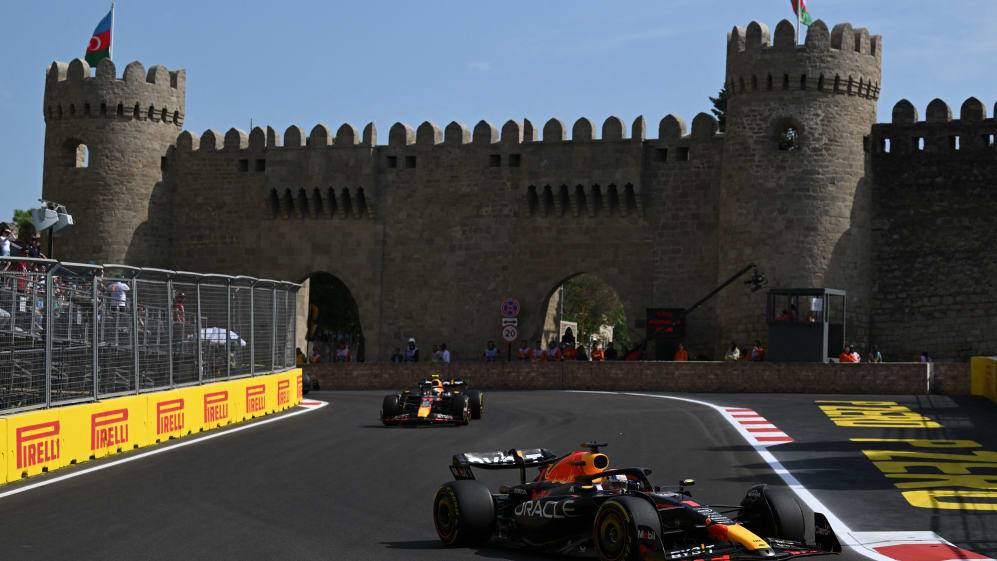 In a normal race this would have been a sensible move as it would keep Verstappen in the net race lead, by protecting against the undercut, whilst also avoiding the Red Bull cars going toe to toe on track, risking a collision, as they will know only too well from 2018.
But Nyck de Vries stopping his AlphaTauri complicated matters. It brought out the inevitable Safety Car and meant Verstappen lost a chunk of time to his rivals, even falling behind Leclerc before the restart.
STRATEGY UNPACKED: Did the Safety Car prevent a different kind of battle between the Red Bulls in Baku?
I think Red Bull could have seen the Safety Car coming. Team boss Christian Horner said before the race that they could expect any car stopping on circuit to instigate a Safety Car, yet they still pitted Verstappen and ended up costing him his best chance of victory.
Had Verstappen not pitted, Perez would have had a run on him and they'd have been running very close at the end of each DRS zone. It would have been brilliant to watch and probably would have decided the outcome of the race, given how equally the two were then matched on the much more durable hard tyre in the second stint.
Perez earned his win though. He was supreme in Baku, matching Verstappen well over one lap, controlling the Sprint – and it was his own strong pace that pressurised Red Bull into pitting Max earlier than they would have liked, which gave the Mexican the lead. Even from there he was the stronger Red Bull by a fraction, with the two charging on lap after lap, brushing the walls.
With this win he now equals Verstappen on two race wins this season, and has proven he has the pace so far this year to be a match for his double world champion teammate – so can he go on and fight for the title?
READ MORE: Horner says Perez had a 'sensational weekend' at Baku as Red Bull take their 25th 1-2 finish
Of course the answer to that one is yes. Red Bull have such a car advantage that even at this early stage it's a long shot to see how anybody else can mount a challenge. They'd need a serious turn around in form and Red Bull to run into plenty of trouble.
On current form, with Perez matching Verstappen for pace through three of the four Grands Prix so far (with the other one being tough to compare because he was mired in traffic in Melbourne after car problems), there's no reason to think he can't continue in this vein.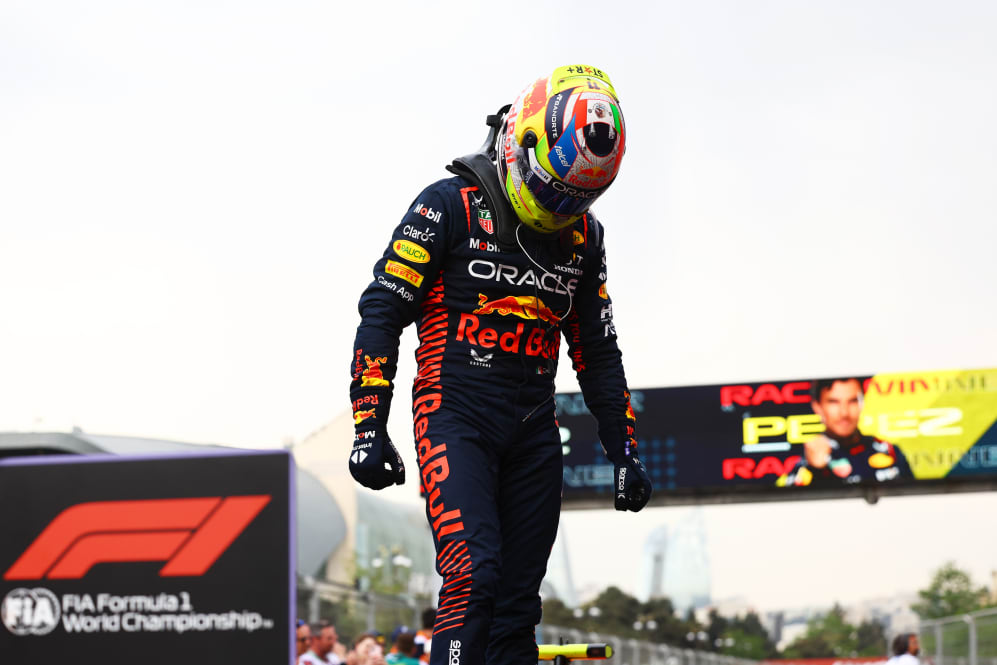 It's worth remembering that this time last year the same questions were being asked, after Checo's Monaco victory, yet he ended up being left behind as the year went on, in a very similar way that Valtteri Bottas used to in his Mercedes days.
MONDAY MORNING DEBRIEF: Would Perez have beaten Verstappen in Baku without the Safety Car?
The longer the season, the better the chance for the strongest drivers to come out on top, as we've seen with Lewis Hamilton and Verstappen in recent years. On his day Perez has now proven that he can match or even beat Verstappen in a straight fight, but can he do it consistently enough over the season?
For the king of the streets, he has another barrier-lined circuit coming up next weekend, and Monaco not too far away either. The longer he can keep this strong momentum up, the more pressure will start rising on the other side of the garage, and that's where decisive moments can come in a championship fight. Baku shows that it's very much all to play for.
To read on, sign up to F1 Unlocked for free
You'll unlock this article and get access to:
Live leaderboard data
Epic experiences and rewards
Money-can't-buy competitions