'Penalty for what?' – Horner says punishing Verstappen for staunch defence would have been 'unfair'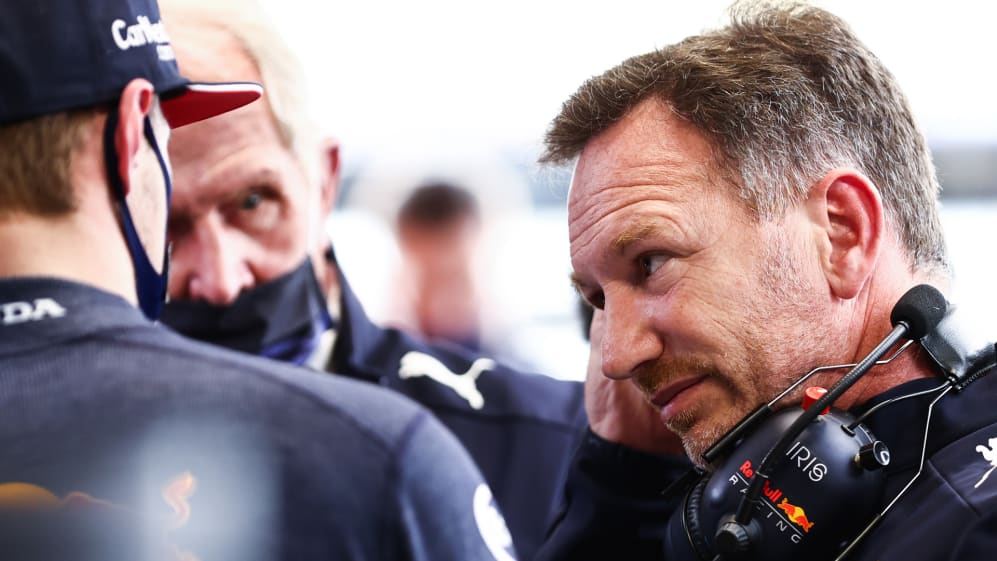 Max Verstappen's robust driving against Lewis Hamilton in Brazil stoked strong words from Mercedes' Team Principal Toto Wolff, who branded the Dutchman's defence as "over the line". But Red Bull Team Principal Christian Horner said the fact there was no penalty from the stewards was "the right decision".
It was on Lap 48 that Hamilton attempted a pass around the outside at Turn 4 for the lead, Verstappen running wide and in turn forcing the reigning champion wide. The stewards noted the incident, but chose not to investigate. Asked whether he would have wanted a penalty if the situation was reversed, Horner offered a strong response.
READ MORE: 'It was a good battle' – Verstappen gives his take on his Lap 48 defence from Hamilton in Brazil
"Penalty for what? I mean, there's no advantage gained, there's no contact been made, so… I think it's just hard racing between the two of them. And yes, I think that the stewards actually made the right decision on that. We've talked about this many, many times, about the 'let them race' mentality. I think they made the right call today.
"I mean, it's two guys running hard. Lewis has got a run around the outside, Max has gone in deep, they've both gone wide. It would have been really unfair to penalise on that. If it had been the other way round, I'd have told my sporting director to have a moan about it, but I wouldn't have expected to get anything from it.
"You want to see the guys going hard at it. You know with Max, he's going to race hard, Lewis is exactly the same. That's two guys fighting for a world championship so it's going to be tough racing. I think it was fair, there was no contact, and they rejoined and recommenced it a few laps later."
RACE HIGHLIGHTS: Watch all the action from a thrilling Sao Paulo Grand Prix at Interlagos
Ten laps later, Hamilton did make the pass on Verstappen – on the straight leading up to Turn 4 – to take the lead before he sealed victory in the Sao Paulo Grand Prix. Horner praised his driver for doing a "hell of a job" against the defending champion on Sunday as he discussed Red Bull's chances of sealing the championships with three Grands Prix to go.
"Well, it really depends on the type of circuit, because we saw today that car [the Mercedes] was unraceable. I said Max did a hell of a job, 75% of the race to have Lewis with the speed that he had behind. And we're going to fight, we're going to give it everything we've got; we've worked so hard to be in this position.
READ MORE: 'I don't remember another weekend like this' says Hamilton after sensational last-to-first comeback in Brazil
"Mercedes have never been in this position. They've won and dominated. It's all been done by now. We're pushing them as hard as we can and we'll push them as hard as we can all the way to the chequered flag in Abu Dhabi," he concluded.
Red Bull head to Qatar 11 points behind Mercedes in the constructors' championship while Verstappen holds a 14-point lead in the drivers' standings.