Perez and Ocon no longer free to race - Force India
Force India say Sergio Perez and Esteban Ocon can no longer be trusted to race each other without team orders after two clashes in Sunday's Grand Prix in Belgium cost the team valuable points.
The Force India pair, who have had a number of heated exchanges on track this season, including contact in Azerbaijan and Hungary, were lucky to escape unscathed after banging wheels on the run down to Eau Rouge on the opening lap, with Ocon also clipping the wall.
However, when Ocon attempted to pass Perez at the exact same part of the track on lap 28, both drivers sustained damage as they came together again, wrecking the team's hopes of a double points finish.
"In the future they'll never have that opportunity [to race] again," explained Force India COO Otmar Szafnauer. "We let them race up till now and if they can't do that in a manner that is good for the team, then they won't be racing anymore.
"They shouldn't be coming together. We've given them the latitude to race and I've always said that, but we told them if a Baku-type incident happens again we'll be calling races from the pit wall in the future.
"Once it gets to the point of safety margins and crashing into each other then we've got to take it into our hands."
Ocon said he understood if the team wanted to impose stricter controls on him and Perez, but insisted his more experienced team mate would have to take the blame for that.
"I fully understand the point of Otmar, I mean how many points have we lost today because of it? We were running in a great position…it's just a stupid manoeuvre and there was no reason to do that. How we can get the boss back with us? Just by showing we are progressing. It's even worse for him [Perez] because he's 28, he been seven years racing in F1, so I guess he has to think about what he does.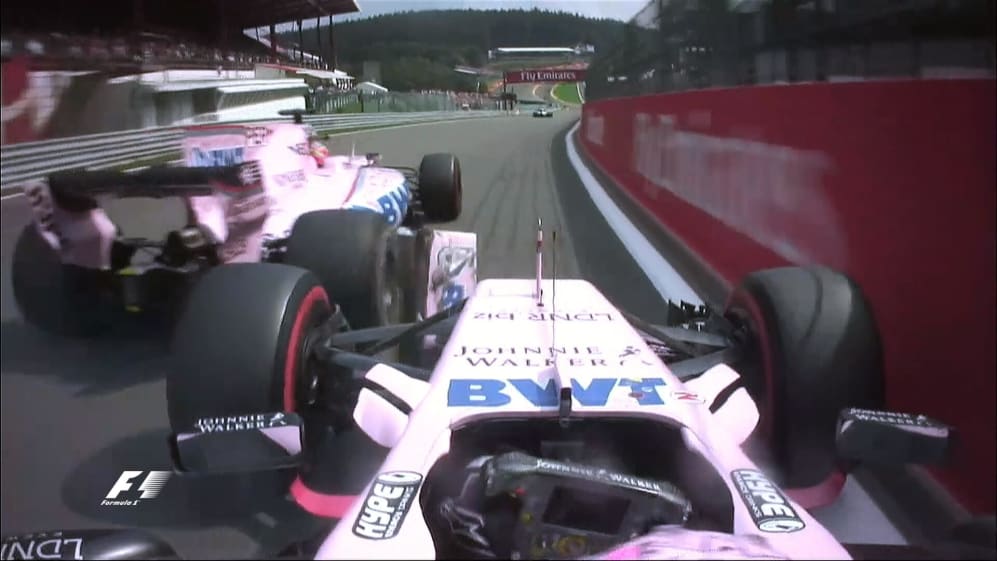 "The first incident at the start, I accept it, even if I think he saw me in the mirror. We are three wide [with Nico Hulkenberg], so I accept that, even if he squeezes me into the wall and that's very dangerous and not professional.
"The second one is just too much. You know, what's the point in doing that? He just squeezed me into the wall at 300km/h, risking my life, risking his life for no reason and costing the team a lot of points. He's supposed to be a professional driver and he didn't show it today."
For his part, Perez accepted blame for the duo's first coming-together, but not for the second.
"The first one was 100 percent my fault," said the Mexican. "I just have to accept that one and put my hand up. It was quite messy but it was all down to not having the right energy [setting] because when I looked in my mirrors after the corner everybody was really far behind, but then I moved to the right and Esteban was there. I totally didn't see him at all if I'm honest.
"The second incident I think Esteban was really optimistic, because there was no room for two cars. He had the whole straight to do the manoeuvre. It was just too much on the limit. It's a shame that we touched because it ruined our race."
Asked how they would move forward from the incident, both drivers insisted face-to-face discussions were needed.
"I will tell him the truth and I will not be scared of him," said Ocon. "I will go and talk to him and if it needs to be 'man words' it will be."
"I think if we look back everything started back in Baku," added Perez. "Now we have to move forwards as a team. Today we lost so many points and it's one of our strongest tracks. People are closing the gap to us, so it's really important."
With Perez retiring and Ocon finishing ninth, Force India picked up just two points in Belgium, but maintain a healthy lead of 58 over Williams in the battle for fourth in the constructors' championship.