Perez enjoys 'epic' final laps at Silverstone after recovering from last to P2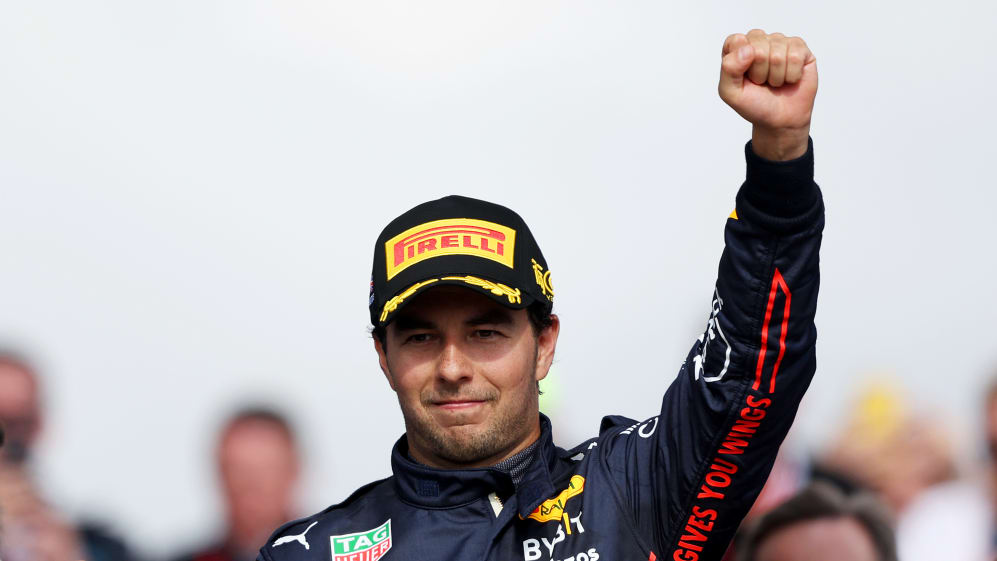 Sergio Perez said the "epic" final laps of the British Grand Prix reminded him of his junior formula career, after the Mexican worked his way up to P2 following a great scrap with Charles Leclerc and Lewis Hamilton – having been last at one point.
Contact with Leclerc at the race restart – which came after a Turn 1 crash at the original start had brought out the red flags – forced Perez to pit for a new front wing, dropping him to P17 and last, and forcing him to put in a mammoth 35-lap stint on a set of medium tyres.
But the Mexican then got his just desserts, as a Lap 39 Safety Car allowed him to pit for fresh softs. From there, he engaged in a captivating duel (below) with Lewis Hamilton and Charles Leclerc – Perez finishing second to maiden winner Carlos Sainz.
READ MORE: 'It was looking good for victory' – Leclerc says he 'cannot hide disappointment' after falling to P4 at end of British GP
"It was getting difficult towards the end of the stint, keeping that pace, trying to open a bit of a window to... Fernando [Alonso] and Lando [Norris], trying to get the window on them and then when the Safety Car came out, it meant we were in P4 so it was a good chance. Then it was an epic final laps. Those laps really reminded me of the junior series, where we're all racing and having a lot of fun.
"Those final laps were a great fight with Lewis – it has been so long since we had a good fight so it was great to have him back and also with Charles, he was very aggressive but fair and I'm sure the fans enjoyed it."
The Mexican driver – still second in the championship and now 34 points behind team mate Max Verstappen (P7 at Silverstone) – said he took the "worst part" of the Lap 3 race restart battle against Verstappen and Leclerc.
"It was unfortunate with Charles on the first lap; there was not much room for three cars and unfortunately I took the worst part of it, I got front wing damage, which on these cars, it's said, it doesn't affect that much – but for me, I had no front-end, so I was forced to pit and basically I went all the way to last and just recovered from there lap after lap.
"At some point it was looking like a P4, P5, and then we got in the mix for the podium and we just went for it."
READ MORE: Zhou and Albon both conscious and taken to medical centre after first-lap crash in British GP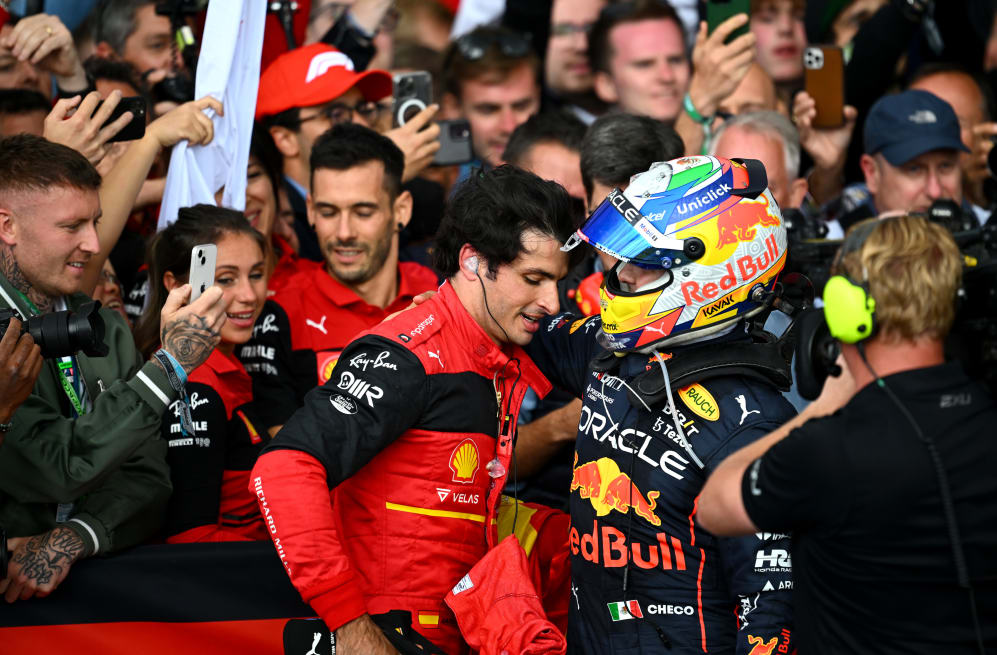 The F1.com Driver of the Day did however admit that after clearing Leclerc and Hamilton, eventual winner Sainz was too far away for him to catch.
"He was too far. I think he was three and a half seconds at some point, so he was just too far at that point."
Austria is up next, Red Bull's eponymous venue one on which Perez has a best finish of P6 in F1 – with the Sprint to return on the weekend of July 8-10.