Perez explains how his final Q3 run came undone as he targets maiden home podium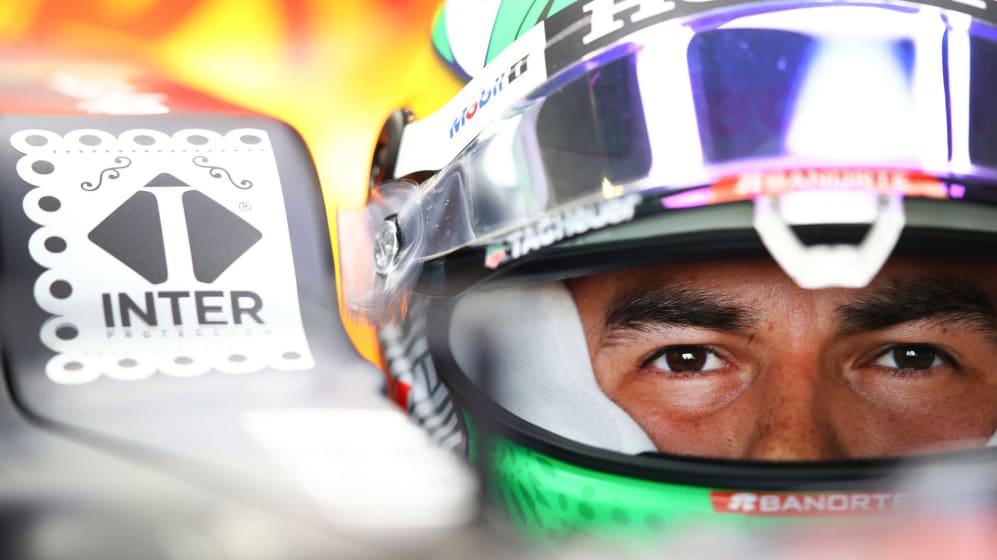 Sergio Perez left hearts in mouths when he went off track in his final run of qualifying, leaving him a personal-best P4 on the grid for his first Mexico City Grand Prix for Red Bull. But despite not making it onto the front row, he's still gunning for a first-ever home F1 podium to keep the crowd on their feet on Sunday.
The Mexican towed his team mate Max Verstappen across the line as the Red Bulls started their final runs of Q3 on Saturday but it all unravelled when Perez encountered AlphaTauri's Yuki Tsunoda – who had gone off track – and took his own off track excursion, causing Verstappen to slow as well (see the clip below). That left Perez fourth and his team mate third on the grid while Mercedes took a shock front-row lockout.
READ MORE: Mercedes shock Red Bull as Bottas takes pole ahead of Hamilton in Mexico
"Yes it was a pretty difficult one," Perez said afterwards. "Trying to manage traffic, trying to get a rhythm, the balance. I think my car was never the same since FP3 to qualifying. We had to do a couple of adjustments and once we got on top of it, all of a sudden, I find Yuki into Turn 11 and I lost a lot of downforce already into [Turns] 8, 9, and that hurt a bit.
"The distraction was [down to] the fact that I was too close to him on braking," he explained. "Once I [braked] there was no downforce and I just lost it. I think P3 was possible, but the Mercedes were too quick today."
The Red Bulls also had a rear wing issue on both cars in qualifying and though they were repaired, Perez said his balance was "never the same" after that.
"Yes, we had to change the rear wing and the car was never the same, to be honest. I don't know how to explain it, but I think we will have a proper look to see if we are able to get on top of it and try to improve it for tomorrow's race," he said.
"I think it's something for the team to have a look at. It's something that we will discuss and but yes, for some reason the car was never the same going into qualifying."
READ MORE: 'It was a joy to drive' – Bottas hails 'one of my best laps' after surprise Mexico City GP pole
Perez, whose best finish in Mexico City is P7 (2017 and 2019), had the crowd chanting his name after qualifying, and he's aiming to reward them with a podium finish on Sunday.
"I will give it a go," he said. "I'd rather finish on the podium than not finish, so I will give my maximum tomorrow."