Report
Perez heads Red Bull one-two in dramatic Azerbaijan GP to cut Verstappen's championship lead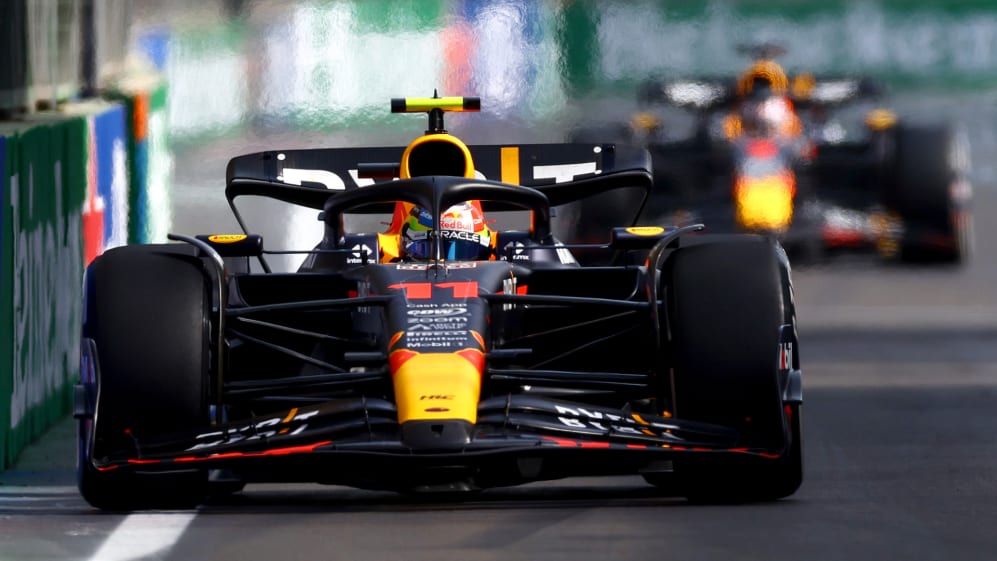 Sergio Perez doubled up on the streets of Baku by adding to his Sprint race triumph with victory in Sunday's Azerbaijan Grand Prix, leading Red Bull team mate Max Verstappen and Ferrari's Charles Leclerc home to boost his title push.
Verstappen and Perez overhauled pole-sitter Leclerc in the early stages and proceeded to trade fastest lap times at the head of the field, with the defining moment of the race coming when a Safety Car was deployed either side of the Red Bull drivers pitting.
With Verstappen pitting under yellow flags brought out when Nyck de Vries stopped on track, and Perez coming in under a Safety Car that followed, the Mexican cleared his team mate and rejoined the action in the lead.
Verstappen fell to third, meaning he had to overtake Leclerc for a second time. While that was a formality when the race resumed, he could not make inroads on Perez during the run to the chequered flag and had to settle for second.
FORMULA 1 AZERBAIJAN GRAND PRIX 2023
Azerbaijan
2023
Race results
POSITION
TIME
POINTS

1

Sergio

Perez PER

Red Bull Racing

1:32:42.436

25

2

Max

Verstappen VER

Red Bull Racing

+2.137s

18

3

Charles

Leclerc LEC

Ferrari

+21.217s

15

4

Fernando

Alonso ALO

Aston Martin

+22.024s

12

5

Carlos

Sainz SAI

Ferrari

+45.491s

10
Leclerc held off a late charge from Fernando Alonso to take third, meaning the two-time champion's 2023 podium run came to an end – though fourth still represented another strong haul of points for the Aston Martin driver.
Carlos Sainz crossed the line fifth in the other Ferrari, fending off Lewis Hamilton's Mercedes in the closing stages, with the Aston Martin of Lance Stroll and Silver Arrow of George Russell picking up minor points after a close call in the pits early on.
Esteban Ocon and Nico Hulkenberg rose from the pit lane to hold points-paying positions for much of the race, as they extended their first stints on hard tyres, but late mandatory pit stops meant they were banking on more Safety Car drama that never arrived.
McLaren's Lando Norris moved into the points with a late move on Hulkenberg, before gaining another spot when Ocon pitted, while Yuki Tsunoda rounded out the top 10 to salvage a result for AlphaTauri.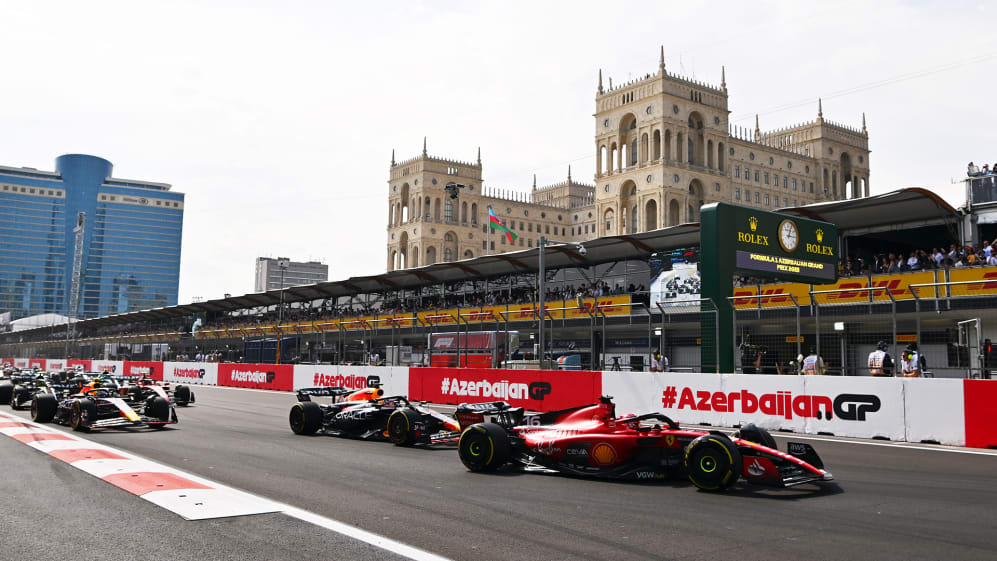 Oscar Piastri, Alex Albon, Kevin Magnussen and Pierre Gasly all narrowly missed out on points as they completed a close midfield pack, ahead of final finishers Ocon, Logan Sargeant, Hulkenberg and Valtteri Bottas – the latter making three trips to the pit lane amid tyre woes.
Bottas' Alfa Romeo team mate, Zhou Guanyu, pulled into the pits late on with an unspecified technical issue, with De Vries the other retirement after his aforementioned visit to the wall at Turn 5 in the early stages, which caused terminal damage.
With back-to-back Baku wins, which add to his 2021 Grand Prix victory at the venue, Perez cuts Verstappen's championship lead to single figures heading to the next round of the season in Miami, which follows in a week's time.
Perez, who also took home the Driver of the Day award, could have made up further ground in the drivers' standings had it not been for a late stop from Russell, who bolted on a set of softs to grab the fastest lap bonus point.
AS IT HAPPENED
With an action-packed standalone Sprint behind them, teams regrouped, debriefed and got ready for Sunday's 51-lap main event, using the grid that had been set during Friday evening's qualifying session – Leclerc taking pole from Verstappen and Perez.
Two drivers missing from the grid were Ocon and Hulkenberg, whose respective Alpine and Haas teams made suspension set-up changes under parc ferme conditions, sending them both to the pit lane for the start of the race.
Most of the field chose medium tyres for their opening stints, with only De Vries, Ocon and Hulkenberg taking a different strategic route on hards – degradation on the soft rubber proving to be particularly high across Saturday's 17-lap, 100-kilometre Sprint.
As the lights went out, pole-sitter Leclerc made a smooth getaway to hold his lead into Turn 1, with Red Bull pair Verstappen and Perez slotting into second and third, followed by Sainz, Hamilton and Alonso.
Further back, the Turn 2 bottle neck led to Piastri – doing his best to shake off a bout of food poisoning this weekend – getting caught in an Albon/Bottas sandwich, with Magnussen also delayed at the exit.
Verstappen hugged the rear of Leclerc's car over the first couple of laps, threatening to get a run down the lengthy main straight, but the reigning double world champion bided his time and waited for the DRS to be activated at the start of the third tour.
Heading onto Lap 4, Leclerc was a sitting duck and duly Verstappen breezed past across the start/finish straight, with Perez immediately latching onto the back of the Ferrari and almost making a similar move next time round.
Perez had to wait another lap before he got ahead, hitting the DRS button, pulling to the inside on the run to Turn 1 and forcing his way past at the apex, the two drivers leaving just enough space to avoid wheel-to-wheel contact.
At this point, Verstappen led Perez by almost one-and-a-half seconds, with Leclerc and Sainz continuing the two-by-two squad formation, ahead of Hamilton, Alonso and Stroll, who vowed "not to attack" his team mate and continue to benefit from DRS.
Only seven laps in, Gasly and Bottas ditched their starting sets of mediums to go for hards, with plenty more midfield runners making the move shortly afterwards, but the Red Bulls and Ferraris continued to press on up front and extend their first stints.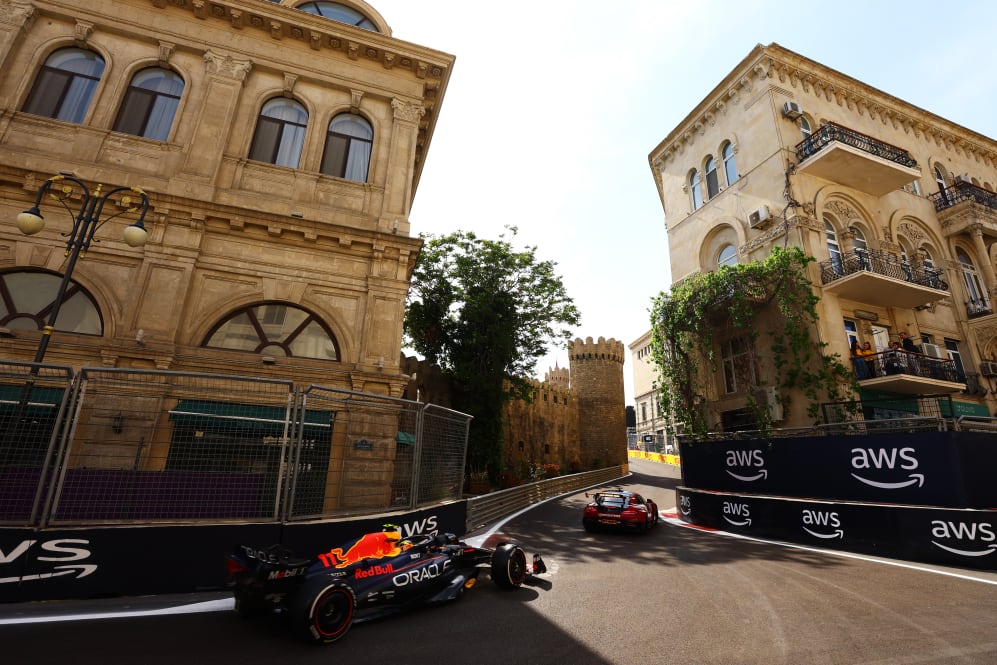 Hamilton was the first of the front-runners to pit for fresh tyres from fifth position on Lap 10, releasing the fast-approaching Aston Martins of Alonso and Stroll, with attentions turning to when Verstappen, Perez and Leclerc would do the same.
Up front, having dispatched of Leclerc, Perez began to close in on leader Verstappen and knock on the door of DRS range, pumping in a sequence of fastest laps while his team mate complained over the radio that "I'm sliding" all over the track.
On Lap 11, with De Vries clipping the wall at Turn 5, coming to a halt just before the Turn 6 barriers and bringing out the yellow flags, Verstappen jumped into the pits to swap from mediums to hards – the Safety Car then being deployed to cover the sidelined AlphaTauri.
These circumstances played out beautifully for Perez, who was able to make his stop a lap later under the caution – and with all drivers running at much slower speeds – to head back out on track in the lead.
Following a flurry of pit lane activity, Perez held P1 from Leclerc, Verstappen, Sainz, Alonso, Russell, Stroll, the yet-to-stop Ocon and Hulkenberg, and Hamilton – the seven-time world champion, like Verstappen, losing out from his stop prior to the Safety Car.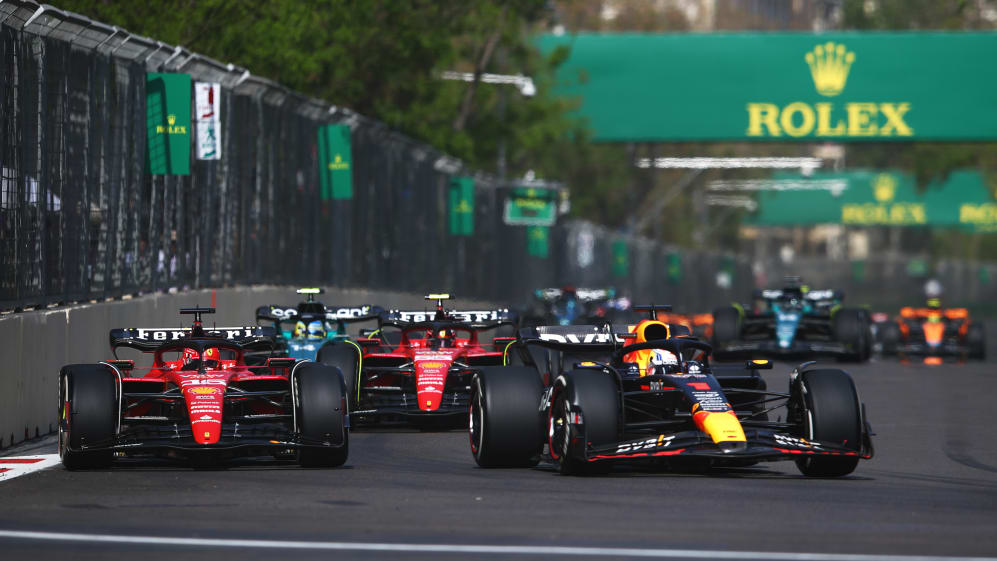 As the train ran around behind Bernd Maylander, replays showed a tussle between Russell and Stroll at the entrance to the pits, with the Mercedes man taking advantage of his slow-moving rival, who had been preparing for a double stack at the Aston Martin garage.
At the end of Lap 13, Maylander pitted to release the field once more, with Perez executing a textbook restart to surge into clear air, while Verstappen pounced on Leclerc for second on the run to Turn 3, after which Alonso jumped Sainz with an opportunistic move at Turn 4.
With his pit lane antics still causing a stir, Russell lost places to Stroll and Hamilton over successive laps, prompting him to radio the Mercedes pit wall and apologise for his efforts behind the wheel: "Well, that was a s**t restart, sorry guys."
Just as Perez settled into a rhythm, a potential unsafe release from the pit lane was noted by the stewards, but fears of a penalty were short lived as the panel confirmed that no further action was required, allowing the Mexican to focus on the task at hand.
Moments later, Stroll was fortunate not to follow De Vries into retirement as he also clipped the wall on the inside of Turn 5 but avoided serious damage and continued on his way, with Hamilton closing in and applying some pressure.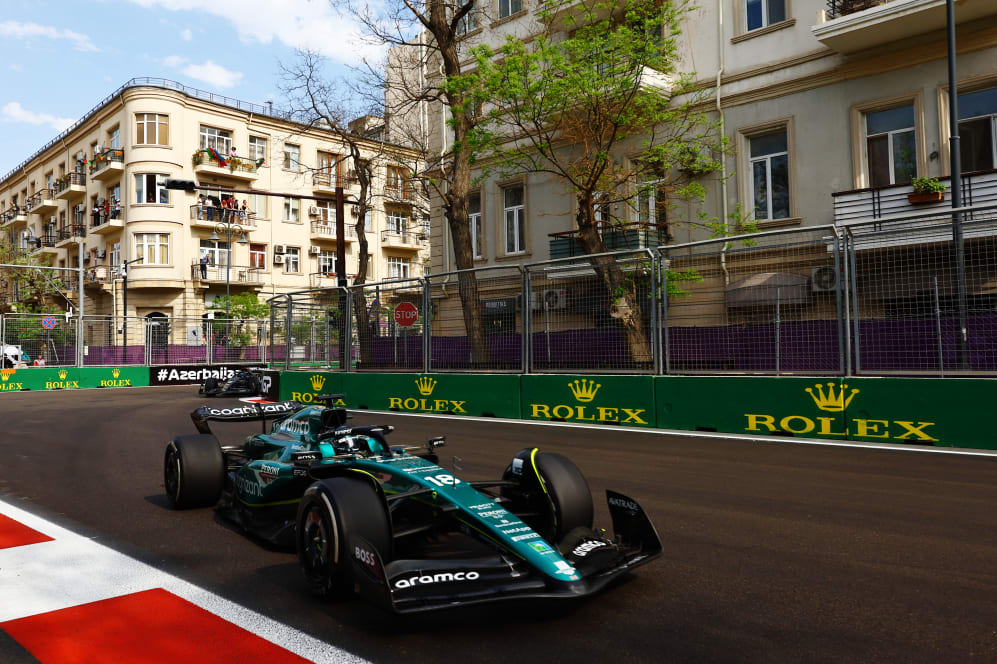 Having cleared Perez and Red Bull of any wrongdoing, the stewards noted the incident involving Russell and Stroll under braking for the pit lane entry, but they swiftly came to the same conclusion that a full investigation was not necessary.
With the race reaching one-third distance, Perez led Verstappen by just over a second, while Leclerc had dropped some five seconds back in third, followed by Alonso, Sainz, Stroll, the two Mercedes drivers, and Ocon and Hulkenberg, who were still yet to stop.
Stroll's erratic race continued with a mistake at the exit of Turn 16, enabling Hamilton to get in his slipstream on the run to Turn 1 and claim P6, with the Aston Martin promptly falling into the clutches of Russell, who was keen to make up for lost ground at the restart.
After a few laps running just behind the fellow Mercedes-powered Stroll, Russell radioed his engineer to suggest a move to "Plan B", predicting that the Aston Martin ahead was set for a tyre-related struggle – the balance between one and two stops finely poised.
A phase of relative calm followed as the laps ticked by, with Ocon and Hulkenberg brushing the wall at the exit of the tricky Turn 15 the most dramatic moments to report, given that their starting sets of tyres were beginning to fade.
"The balance between the diff and engine braking is not good," Verstappen reported over the radio as the race reached Lap 30, with replays showing a couple of close calls as he pushed the limit to keep Perez in sight.
A few laps later, Verstappen went a couple of inches further and kissed the barrier at Turn 15, with Perez managing to stretch out his advantage to two-and-a-half seconds – victory looking more and more likely for the #11 Red Bull.
Off the back of his struggles in the Sprint, Bottas made a third stop for new tyres on Lap 36, dropping him to the back of the field and almost a lap behind leader Perez, with Alfa Romeo's tough day compounded by a retirement for Zhou shortly afterwards.
With the top two positions appearing to be settled, Sainz and Hamilton drew the most attention in the closing stages as the Mercedes got within DRS range and pushed to make an overtake on several occasions, but he could not quite get near enough.
A few laps from the finish, Norris worked his way into the points with a move on Hulkenberg at the exit of the Turn 5/6 chicane, with the German's tyres looking worse for wear ahead of his required switch to mediums. Promotion to P9 came when Ocon stopped on the final lap.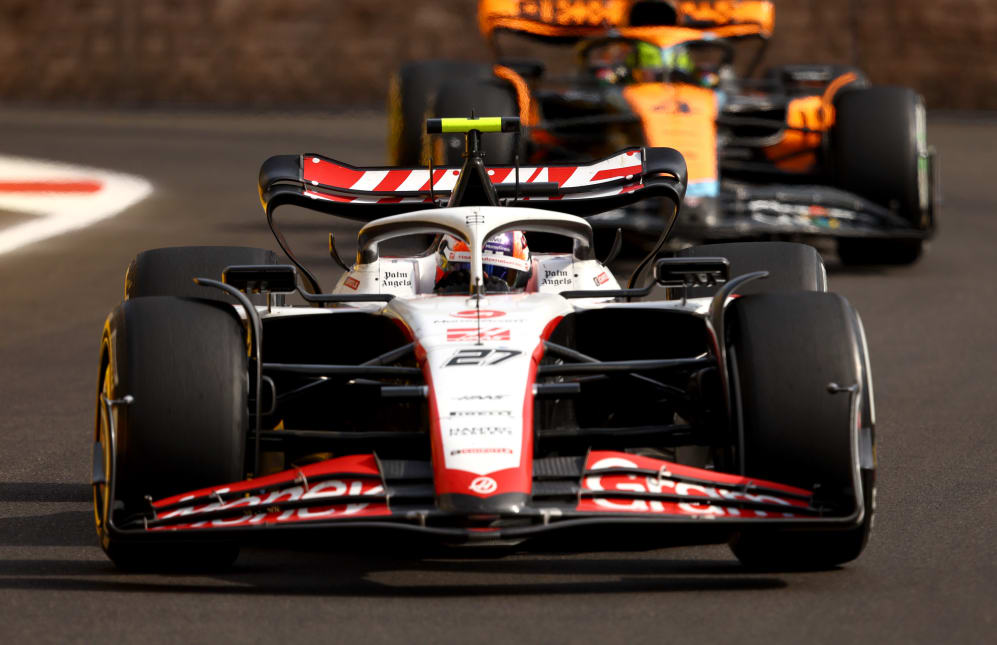 Perez survived a moment of his own at Turn 15 to take the chequered flag and complete a commanding win, with Verstappen just over two seconds back in the runner-up spot and seeing his title advantage cut to six points.
Leclerc's pace faded late on, while Alonso's ramped up, but it was not enough to change the podium positions, as Sainz, Hamilton, Stroll and Russell ensured all Ferrari, Mercedes and Aston Martin cars also scored points – Russell bagging one more for the fastest lap.
Norris and Tsunoda were the final scorers in P9 and P10 respectively, with Hulkenberg falling all the way back to 17th, and Ocon dropping to 15th, when they pitted just before the end of the race.
Piastri, Albon, Magnussen and Gasly gained a spot from Ocon's stop, while Sargeant was the last driver on the lead lap in 16th, ahead of Hulkenberg, a lapped Bottas and the day's two retirements: Zhou and De Vries.
KEY QUOTE
"It really worked out today for us," said race winner Perez. "We managed to stay in the DRS train, and we managed to keep the pressure on Max. I think we had better deg on that first stint. It was looking good already from that side, then the Safety Car came and bunched everyone up and it was again another race on the hard tyre.
"I think it was very close between us [myself and Verstappen]. We pushed to the maximum today. We both clipped the wall a few times. We were pushing out there. The way Max pushed me throughout the race was really hard, but we managed to keep him under control."
WHAT'S NEXT?
With a back-to-back sequence marking F1's return to action after the April break, the paddock departs Azerbaijan directly to the United States for the Miami Grand Prix, which takes place from May 5-7.