Perez says pre-Belgian GP crash 'could have happened to anyone' as he praises Red Bull mechanics' repair job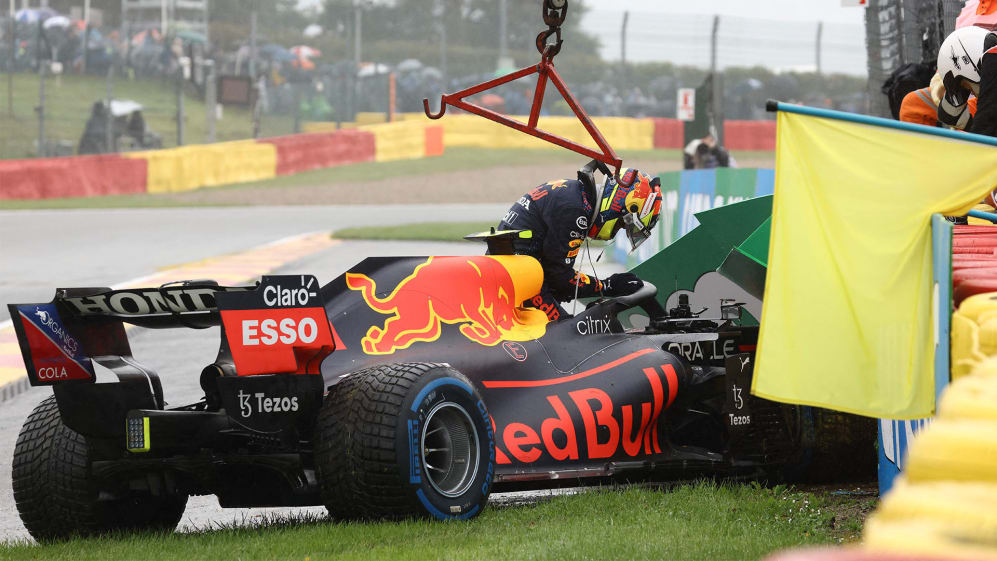 Sergio Perez looked destined for an early bath at the Belgian Grand Prix, after crashing heavily on his laps to the grid. But the Mexican was full of praise for the job done by his mechanics to get his #11 RB16B repaired in time to take the Grand Prix start – even if he was ultimately unable to race it flat out, or bring home any points...
In wet conditions ahead of the Belgian Grand Prix, Perez was negotiating the Les Combes chicane on his laps to the grid when he aquaplaned straight off into the barriers, causing damage to his front suspension and steering rack – with Red Bull subsequently informing the FIA that Perez would be unable to take the planned 1500 race start.
READ MORE: Verstappen takes win and Russell first podium in shortest ever Grand Prix as heavy rain hits Spa
But the Mexican driver was subsequently handed a lifeline when the race was delayed due to rain, with his mechanics leaping into action and getting the car repaired in time to take the start at 1817 local time – with the FIA having confirmed to Red Bull that Perez was indeed eligible to take the start, after a lengthy consultation of the rulebook.
Ultimately, however, Perez's mistake cost him his P7 grid slot, with the Red Bull driver – who, it was announced at the start of the weekend, will remain with the team in 2022 – starting from the pit lane before ultimately being classified P19 after the race was red flagged following two laps behind the Safety Car, costing him what would have been three points – half those usually awarded for a seventh-place finish.
"The conditions were extremely hard," explained Perez of the crash, "and with these wet tyres, things are very, very tricky, very slippery. It was my mistake, but it could well have happened to anyone out there.
READ MORE: 'We did the best we could but the weather got the better of us' says Masi after red-flagged Belgian GP
"My mistake was very costly, so in the end, we lost a couple of points there with my crash," he added. "But I have to say, amazing job from my boys. They managed to turn the car around in a couple of minutes, and that was very impressive. It just shows the spirit that Red Bull Racing has and that's very nice to see."
Red Bull's mechanics are becoming seasoned veterans in repairing laps to grid crashes in time for the race start, having overcome a similar problem at last year's Hungarian Grand Prix for Max Verstappen – who won the Belgian Grand Prix after starting from pole.
READ MORE: 'It's not how you want to win' says Verstappen as he's declared the winner after handful of laps at Spa
And Red Bull Team Principal Christian Horner also lauded the job by his mechanics, telling the media: "Following Checo's unfortunate trip into the barrier on the initial out lap, it was incredible to see our mechanics in action under pressure once again, fixing his car in the time they did, giving him every opportunity to race should we have been able to get out from behind the Safety Car.
"It was a massive job as both sides of the suspension and the steering rack were damaged but it was very rewarding to see the teamwork with both sides of the garage working together to get it fixed."