Report
Verstappen takes win and Russell first podium in shortest ever Grand Prix as heavy rain hits Spa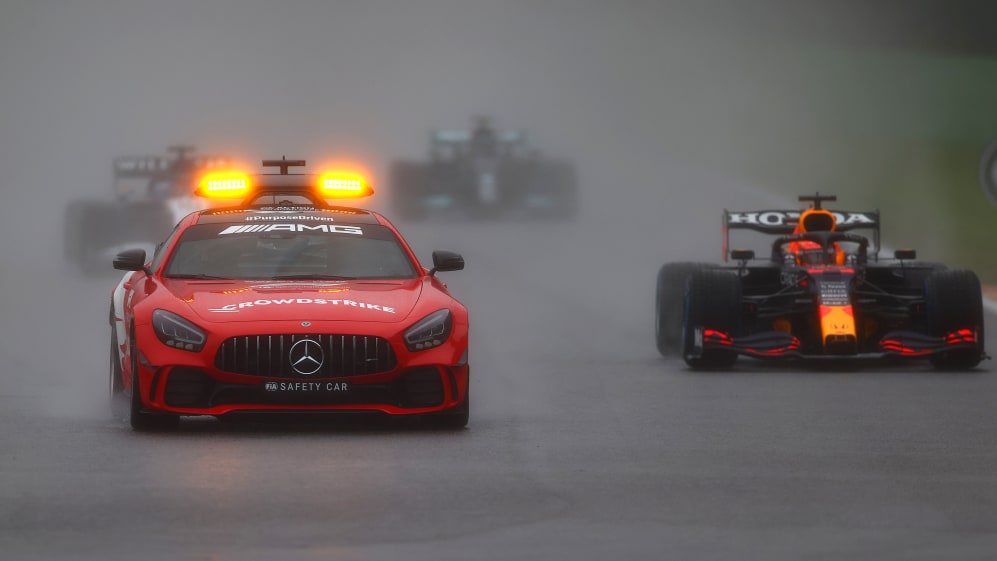 Max Verstappen won a heavily rain-shortened Belgian Grand Prix that finished late into the evening amid torrential conditions at Spa-Francorchamps. Half points were awarded as more than two laps – but less than 75% of the race – were completed.
The 1500 scheduled start time came 30 minutes after Sergio Perez crashed on the way to his grid spot in the wet weather, with the rain showing no signs of relenting. After a 25 minute delay, a brace of formation laps behind the Safety Car followed, before Race Director Michael Masi threw the red flag.
After many more delays, the race finally resumed at 1817 local time – more than three hours after it was set to start – with the clock to tick down from one hour as Masi did everything in his control to try to get a race up and running.
But only a handful laps behind the Safety Car followed before another red flag, and Verstappen pulled back into the pits ahead of second-place Williams qualifier George Russell and third-place Mercedes driver Lewis Hamilton.
Most of the field would thus finish where they had qualified, with half points their consolation on a gloomy day at Spa, as it was finally announced the race would not resume, at 1845 local time.
FORMULA 1 ROLEX BELGIAN GRAND PRIX 2021
Belgium
2021
Race results
POSITION
TIME
POINTS

1

Max

Verstappen VER

Red Bull Racing

0:03:27.071

12.5

2

George

Russell RUS

Williams

+1.995s

9

3

Lewis

Hamilton HAM

Mercedes

+2.601s

7.5

4

Daniel

Ricciardo RIC

McLaren

+4.496s

6

5

Sebastian

Vettel VET

Aston Martin

+7.479s

5
As it happened
With clouds hanging thick and heavy, visibility was at a premium on Sunday afternoon with cars fading into and out of view on their laps to the grid as the rain pelted down at Spa-Francorchamps.
Then calamity struck for Red Bull, Perez losing the car and burying his RB16B in the barriers at Les Combes. He was out 30 minutes before the race was due to begin thanks to heavy right-front suspension damage.
What followed was a 10-minute delay, and a further 15 minute delay with the Safety Car finally leading the cars out at 1525 local time for a couple of formation laps.
But it would be a quick retreat for the field, most of the drivers – bar pole-sitter Verstappen – deeming conditions far too hazardous for a race. The red flag and suspension of the start procedure had drivers returning to the pit lane under the safety of the teams' marquees.
During that break, the clock ticking perilously towards the regulation three-hour race deadline, Red Bull pulled off a gargantuan effort to repair Perez's car and they were told by Race Director Michael Masi that he would be allowed to start the race from the pit lane behind Kimi Raikkonen – whose rear wing assembly was changed in Parc Ferme.
Two hours after the race was scheduled to start, Race Director Michael Masi stopped the race clock to try to allow more time for some action to take place. At 1817 local time, the race finally resumed even with conditions still soaking wet.
Verstappen led the field behind the Safety Car, surprise second-place Williams qualifier Russell following gingerly and third-place Mercedes driver Lewis Hamilton in third, engulfed by spray from the cars ahead. With three laps on the board, the race was red-flagged and the Race Director decided that it would not resume (below).
Daniel Ricciardo of McLaren, Aston Martin's Sebastian Vettel and Pierre Gasly finished fourth, fifth and sixth respectively while seventh-place qualifier Perez missed out on points due to his crash at the start. Instead it was Esteban Ocon who finished seventh, adding to his healthy Hungarian GP-winning haul.
Perez's pain also was the gain of Ferrari's Charles Leclerc in P8, Nicholas Latifi in P9 for Williams and Leclerc's team mate Carlos Sainz who was promoted to P10 - all of them being awarded half points since the race was well short of the 75% distance needed for full points.
Lando Norris may have been frontrunner for pole position after topping Q1 and Q2 on Saturday, but his Q3 crash led to a five-place grid penalty on Sunday morning. He was therefore classified 14th. Haas's Nikita Mazepin set the fastest lap of the race behind the Safety Car but does not take a point as he finished out of the top 10, in 17th.
On a gloomy day at Spa-Francorchamps, Verstappen therefore took half-points for a victory in the strangest circumstances ahead of Russell – who took a maiden podium – and championship rival Hamilton of Mercedes in P3.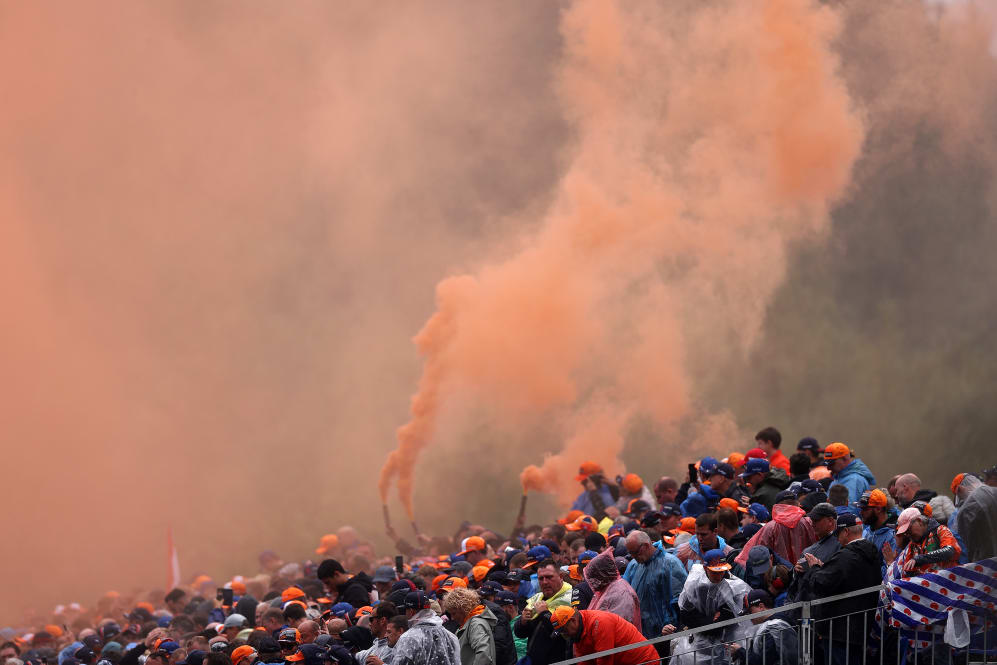 Key quote
"Now in hindsight it was very important to get that pole position but of course it's a big shame to not do proper laps, but the conditions were very tricky out there. I mean, I said it at 1530 like, 'let's go'; I think the conditions were decent, but the visibility was very low, so I think if we would have started at three o'clock we had a better chance.
"But nevertheless, after that it just stayed really wet and it kept raining. Of course, it's a win but it's not how you want to win. I think for today, big credit goes to all the fans around the track to stay here. The whole day in the rain, in the cold, windy conditions, so I think they're actually the bigger winners today" – Max Verstappen, Red Bull.
What's next
F1 is back next week for the second of Verstappen's home races as Zandvoort makes its long-awaited return to the F1 calendar – with thousands of fans expected to grace the beach-side circuit. The title battle continues on September 03-05, Hamilton leading the championship by three points over the Dutchman.