Feature F1 Unlocked
Perez vs Alonso off the line, and a chance of rain – What To Watch For in the Miami Grand Prix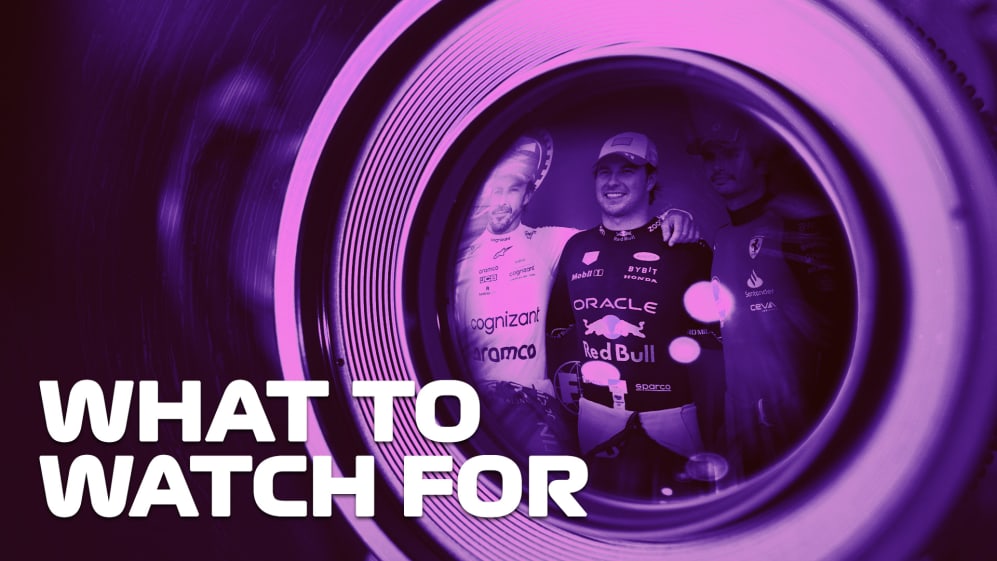 From the chance of a change in the championship lead to Max Verstappen on the comeback trail, and from multiple drivers out of position to a tricky track facing potential rain, we highlight some key things to look out for when the lights go out at the Miami International Autodrome…
1. Perez chasing the championship lead
Much of the talk leaving Azerbaijan was of Sergio Perez's impressive performances on street tracks and how he was maintaining a strong challenge to Max Verstappen in the title race at this early part of the season.
READ MORE: Leclerc spin leaves Perez in pole and Verstappen starting P9 for Miami Grand Prix
Two wins in Baku (in the Sprint and the Grand Prix) had helped close the gap to six points, but then Perez appeared to be struggling on Friday in Miami and was on the back foot heading into qualifying. The Mexican got the job done though to secure pole position while Verstappen faltered, and some fortune due to the red flag has left him with a big opportunity to take the championship lead this weekend.
Perez has never led the drivers' championship, but with Verstappen starting down in ninth he will be eyeing a clear run at victory with a clean race. Fernando Alonso, however, will have other ideas.
Alonso is third in the standings and 33 points adrift, but the Spaniard lines up alongside Perez on the front row. It's a position he will be looking to maintain, but given the pace of the Aston Martin at times this year and with his history of impressive first laps, Alonso could be a factor in the fight for victory too.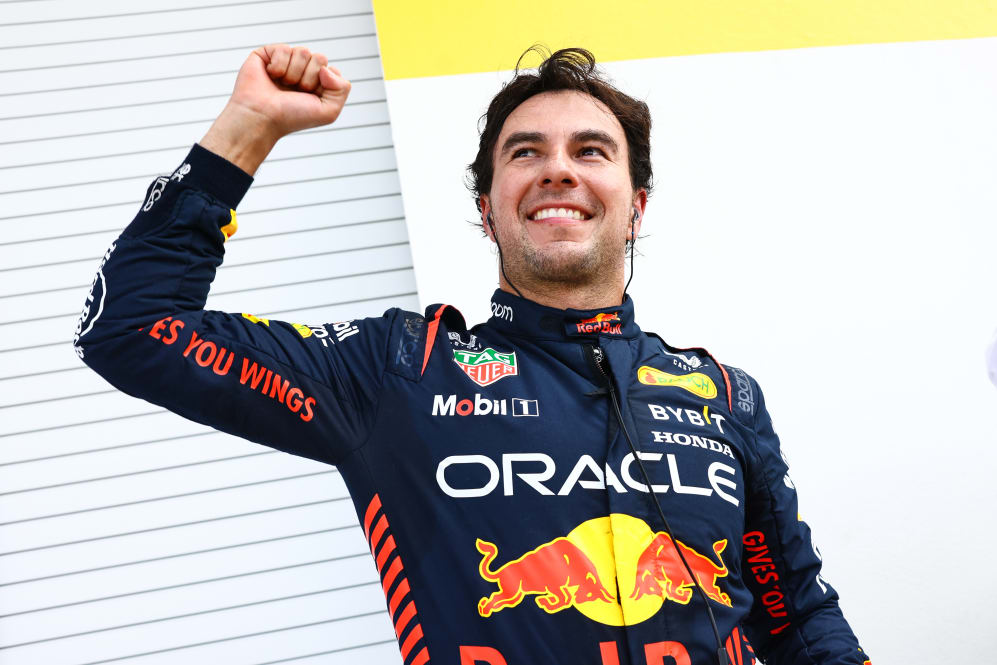 2. Verstappen looking to limit the damage
As much as Perez appeared to be struggling earlier in the weekend, Verstappen was on top in second and third practice and was favourite for pole position right up until his first run in Q3. The championship leader ran wide in the first sector and ended up aborting his lap, giving him just one attempt in the final part of qualifying.
That still wouldn't have been overly daunting to Verstappen but he never got the chance to rectify his mistake as Charles Leclerc crashed at Turn 8 to end the session early and leave Verstappen down in ninth.
Asked what his target is from there, the Dutchman replied: "Minimum P2."
READ MORE: Verstappen 'a bit upset with myself' after Miami qualifying mistake but victory fight back from P9 'not impossible'
And you'd certainly expect him to make progress, with the Red Bull the dominant car over a race distance so far this season and with a particularly potent top speed that ensures their drivers find it easier than most to overtake using DRS.
But there are aspects of the Miami track that could prove tricky when it comes to making moves – more on that later – plus he has the likes of Leclerc actually starting ahead of him despite the crash. Trying to get past perhaps the second-quickest car after the Red Bull could influence how far up the order Verstappen can get, while Leclerc himself will also be looking to recover from his error.
3. Out of position drivers throughout the grid
Verstappen and Leclerc are not the only two drivers that find themselves out of position, but there are a variety of reasons for a mixed-up grid. The top three are all relatively close to where they'd expect to be, so it's Kevin Magnussen who stands out in fourth for Haas who will be hoping to hold on to as many points as possible.
Like George Russell in sixth, Magnussen benefitted from the timing of the red flag and the fact that both Verstappen and Leclerc didn't set representative times, not only meaning they start ahead of the Red Bull and Ferrari, but also other quick cars.
READ MORE: 'It was one of those days' says disappointed Hamilton after qualifying in 13th for Miami GP
I feel like I should also be writing that Lewis Hamilton is out of position down in 13th place, but with Russell only just sneaking into Q3 and Mercedes struggling for raw pace throughout Saturday, the seven-time world champion admits the team were aware that it was going to be a struggle to reach the top 10.
Still, Hamilton will be looking to fight his way into the points with a car he believes is set-up better for the race than qualifying, so will be another to keep an eye on.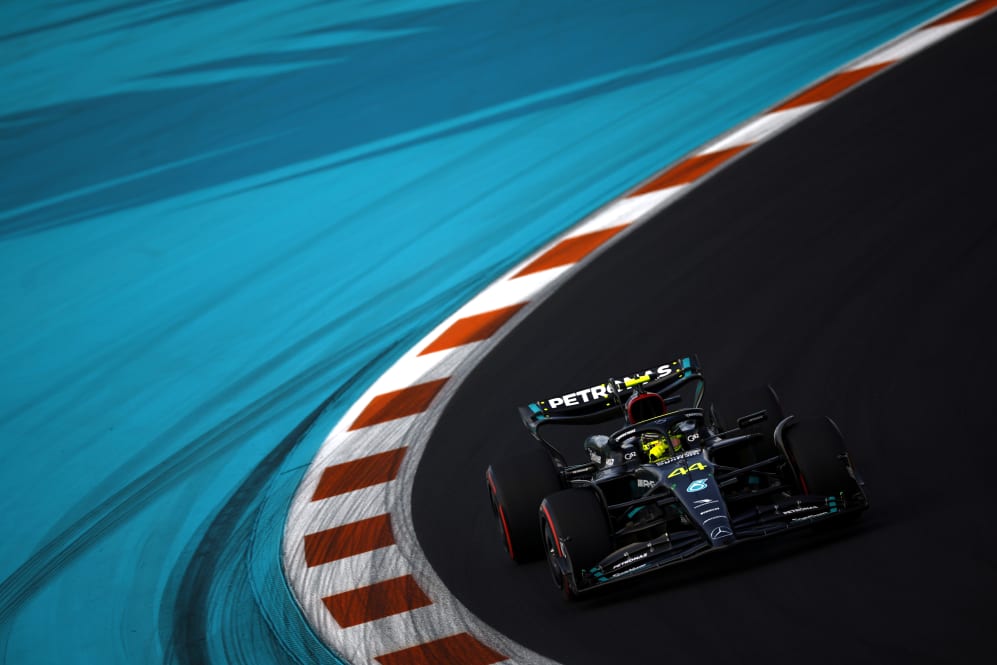 4. Grip versus no grip
The first race here in Miami saw drivers struggling with the initial track surface, and after feedback to the race organisers the circuit was re-paved ahead of this year's Grand Prix. The new surface has proven a big step forward in terms of grip and a lack of bumps, but only where the cars have been running regularly.
The track evolution was massive during Friday's practice sessions – drivers finding some two seconds from FP1 to FP2 just as the grip level increased – but that also meant the grip level off-line was massively lower compared to the racing line.
READ MORE: Leclerc says Q3-ending mistake was 'not acceptable' as he qualifies P7 in Miami
So even small errors can be punished heavily, as a driver running slightly wide will find themselves struggling to regain control and fighting to limit the amount of time that they lose.
After multiple mistakes in practice it was again clear that the track was a challenge during qualifying, with Verstappen's issues and Leclerc's crash two such examples that show it won't be an easy afternoon for the grid on Sunday.
5. Rain in the air
And it could be made even tougher if the track surface becomes wet.
Thunderstorms are forecast for Sunday in Florida, meaning there is a chance we could get rain that impacts the race. Should that happen, it will mark the first time that any of the drivers have driven in the wet in Miami, so they will need to adapt on the fly in a race situation.
Given the challenges that they have already faced with the track grip levels this weekend in the dry, any rain could make it even more difficult as the new surface is predicted to be extremely slippery if it does get wet. And with the walls so close, all bets are off if that happens.
In fact, much of the rest of this feature becomes redundant if it rains, so this should be the aspect you're looking out for the most when the lights go out on Sunday…
HIGHLIGHTS: Watch the qualifying action from Miami as Hamilton drops out in Q2, Leclerc crashes and Perez takes pole
To read on, sign up to F1 Unlocked for free
You'll unlock this article and get access to:
Live leaderboard data
Epic experiences and rewards
Money-can't-buy competitions