Feature
Pictures of the Year - 2017's best photos
They say a picture's worth a thousand words - and that's certainly true with this selection of the year's finest photography...
Ticker tape time Down Under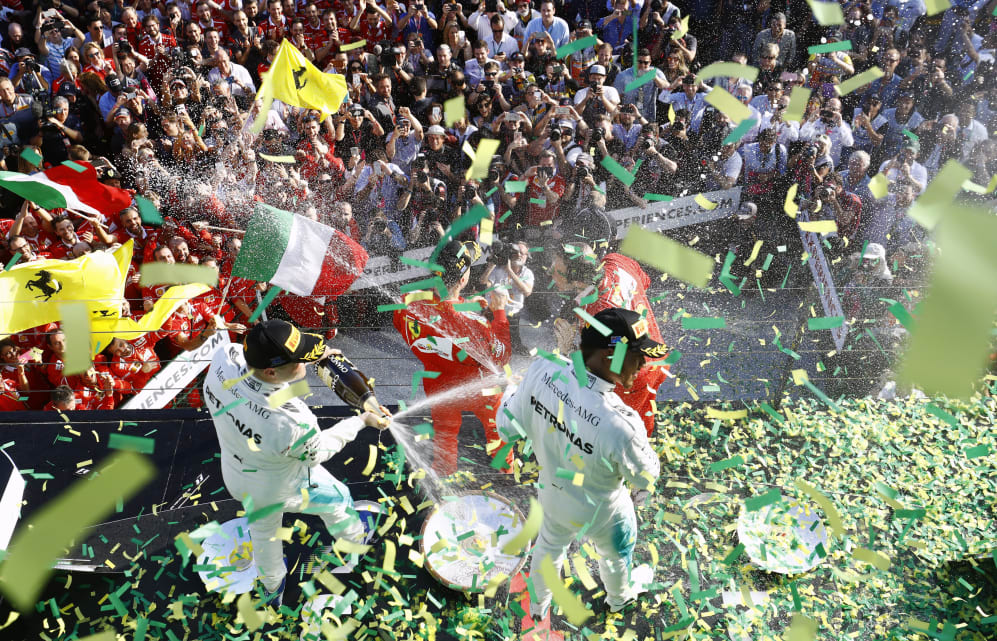 Race winner Sebastian Vettel celebrates in style after beating the Mercedes duo of Lewis Hamilton and Valtteri Bottas to victory in the season-opening race in Australia. © Steven Tee/LAT Images
Bright lights, big city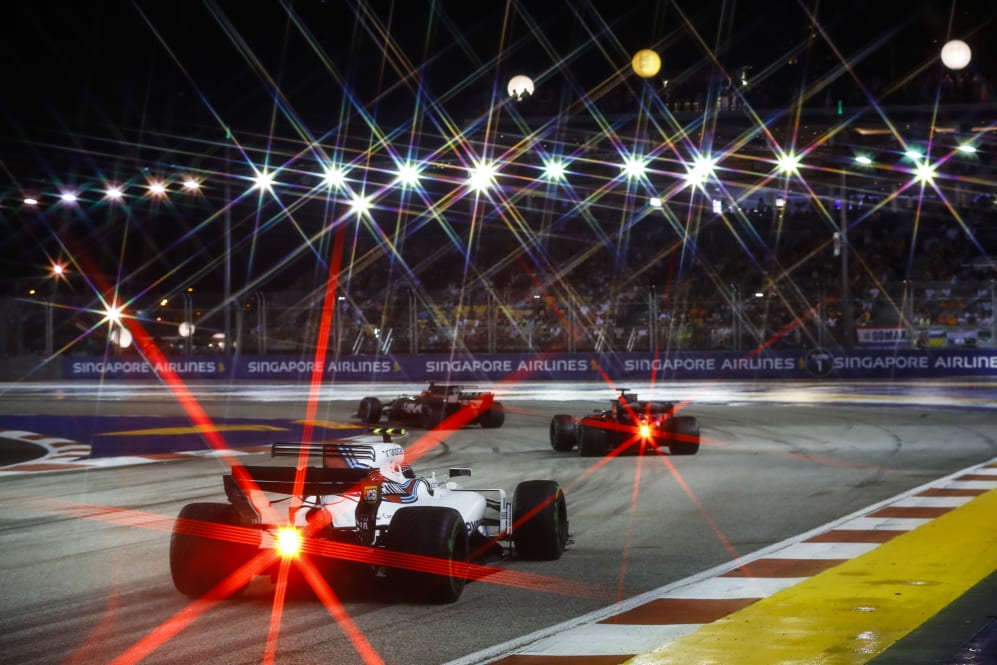 The rear lights on Lance Stroll's Williams and Daniil Kvyat's Toro Rosso contribute to an amazing kaleidoscope of colour in Singapore. © Steven Tee/LAT Images
Stoff pushes it to the limit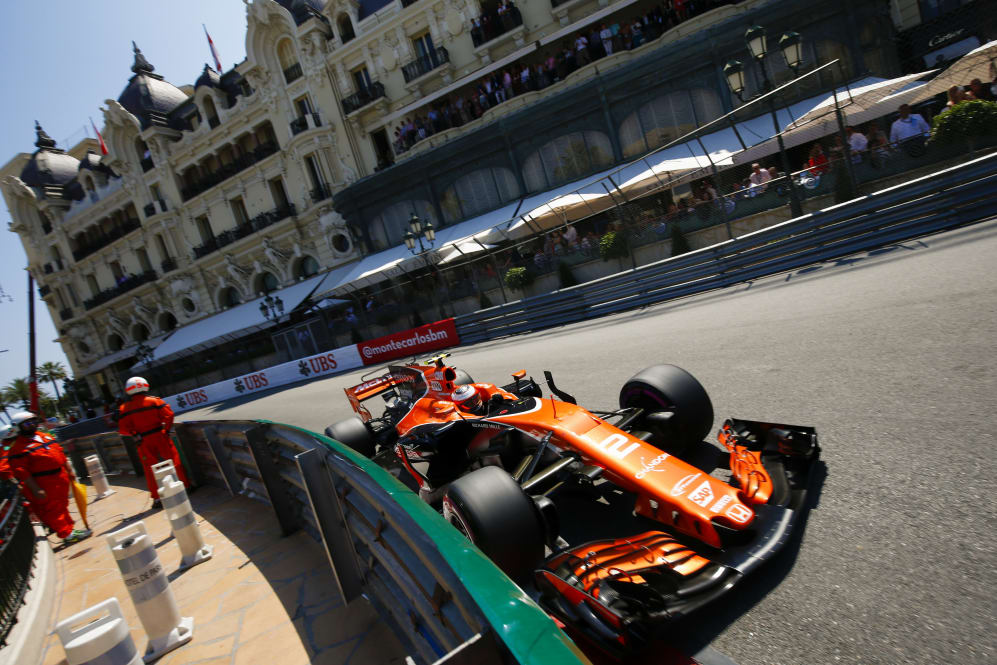 McLaren's Stoffel Vandoorne flirts with the guardrail as he searches for that last tenth in Monaco. © Andy Hone/LAT Images
Stroll enjoys his moment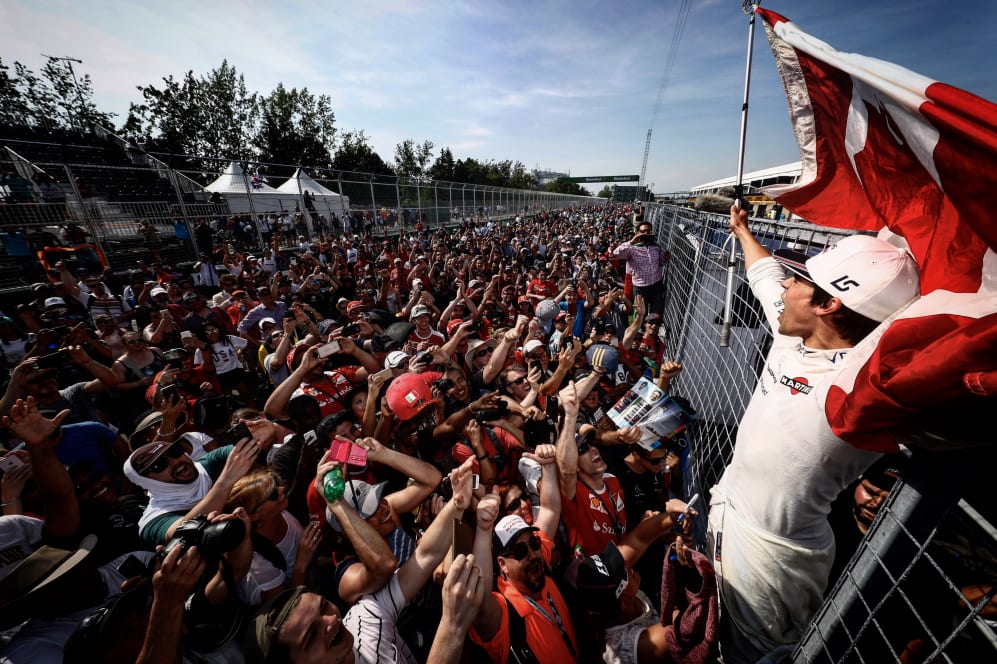 Lance Stroll celebrates a dream come true with fans after scoring his first points in F1 - and at his home race no less. © Glenn Dunbar/LAT Images
Ricciardo revels in the rain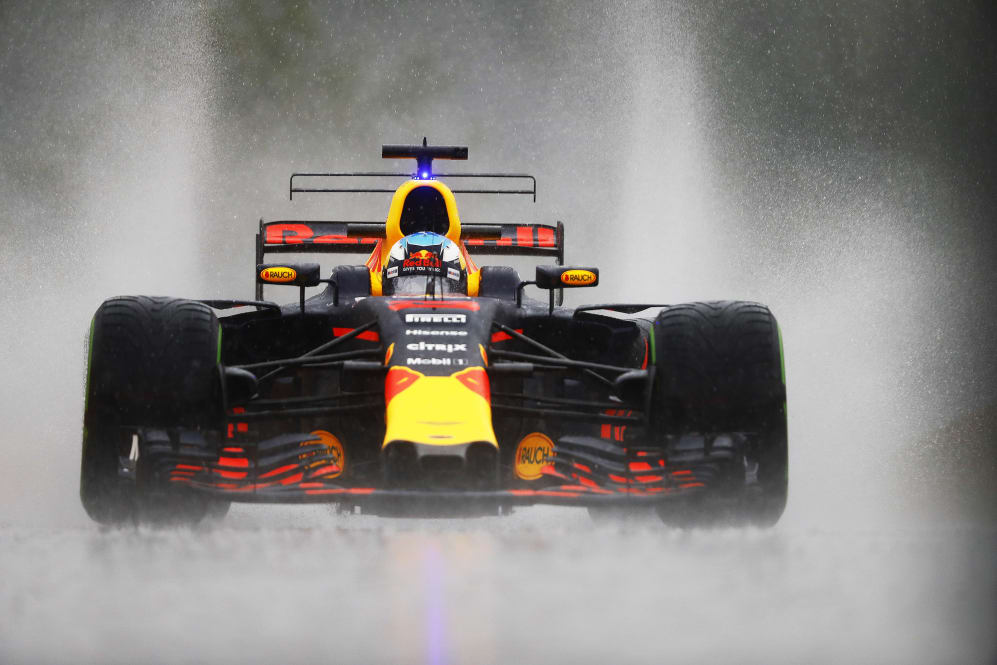 When a deluge ensued in the latter stages of FP2 in Belgium, most drivers stayed put in the garage - Daniel Ricciardo, however, is not most drivers... © Steven Tee/LAT Images
Hamilton leads field through a sea of orange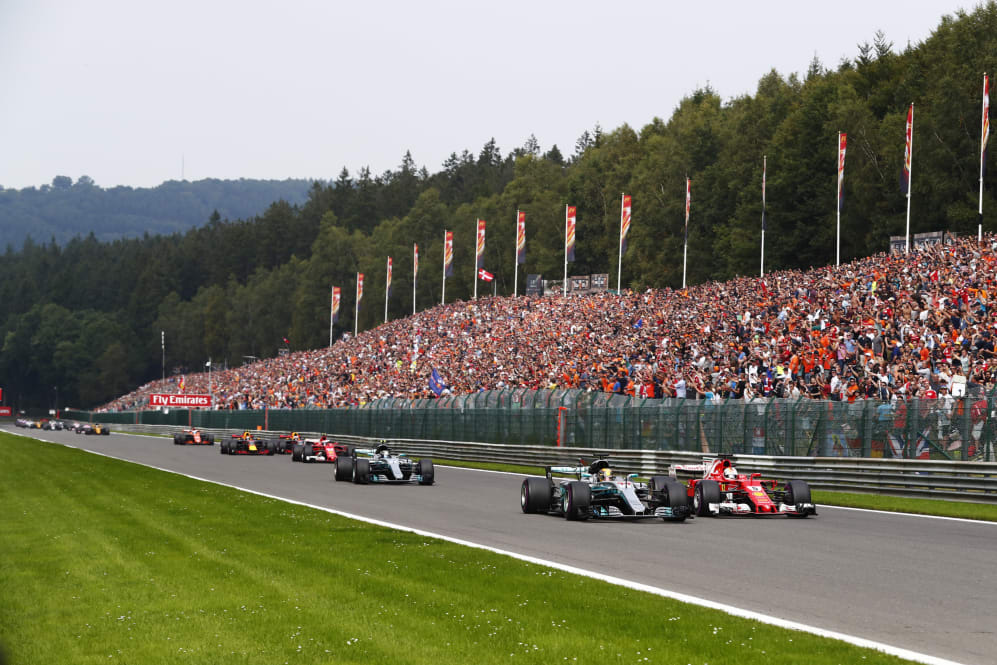 The Belgian Grand Prix saw thousands of orange clad fans cross the border from the Netherlands to urge on Max Verstappen, providing a glorious backdrop along the Kemmel Straight. The Dutchman ended up retiring early on, but his fans did at least get to enjoy an epic scrap between Lewis Hamilton and Sebastian Vettel. © __Sam Bloxham/LAT Images __
F1 takes over Trafalgar Square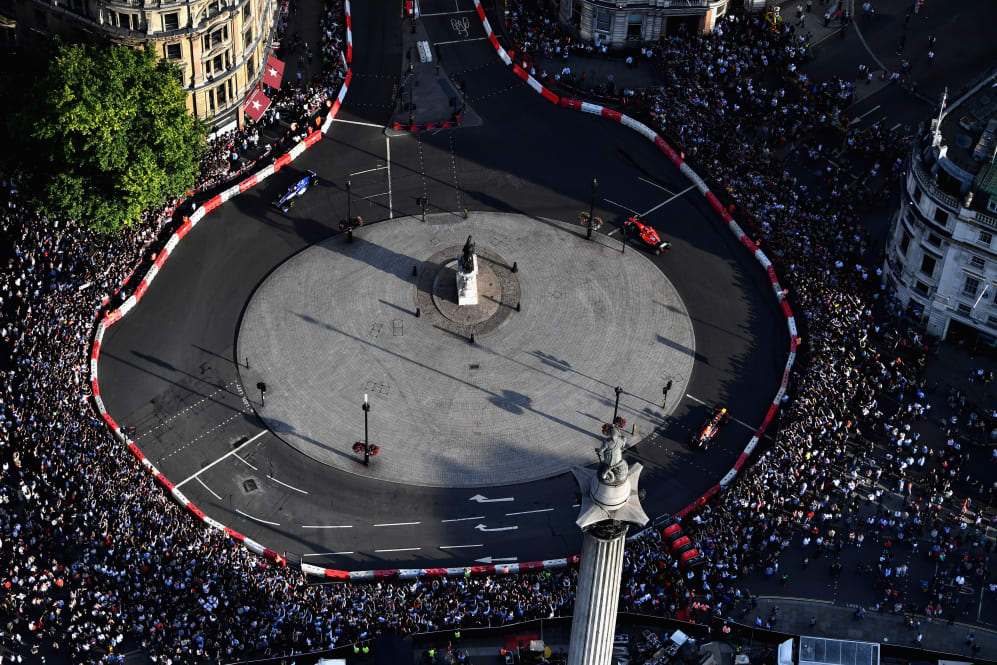 Crowds of 100,000 flocked to F1 Live in the heart of London, with Vice Admiral Horatio Nelson one of those looking on (from the top of his column!) as F1 cars raced up and down Whitehall to Trafalgar Square. Unforgettable. © Dan Mullan/Getty Images for Formula 1
Ready to Bolt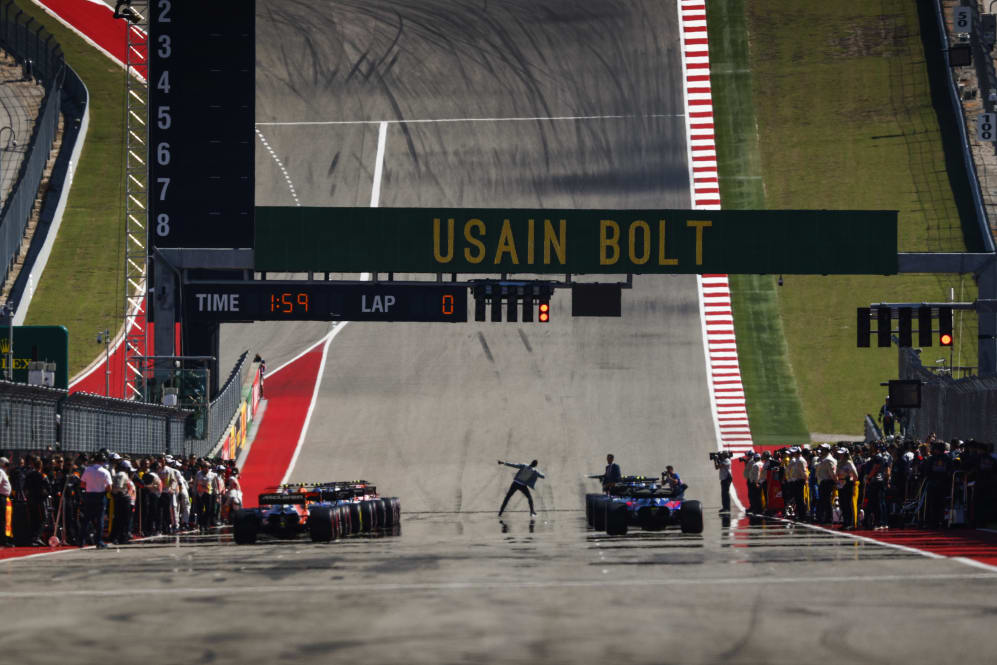 The world's fastest racing cars urged into life by the world's fastest ever runner - just part of an unforgettable pre-race ceremony in the United States. © __Sam Bloxham/LAT Images __
Hands up if you're a winner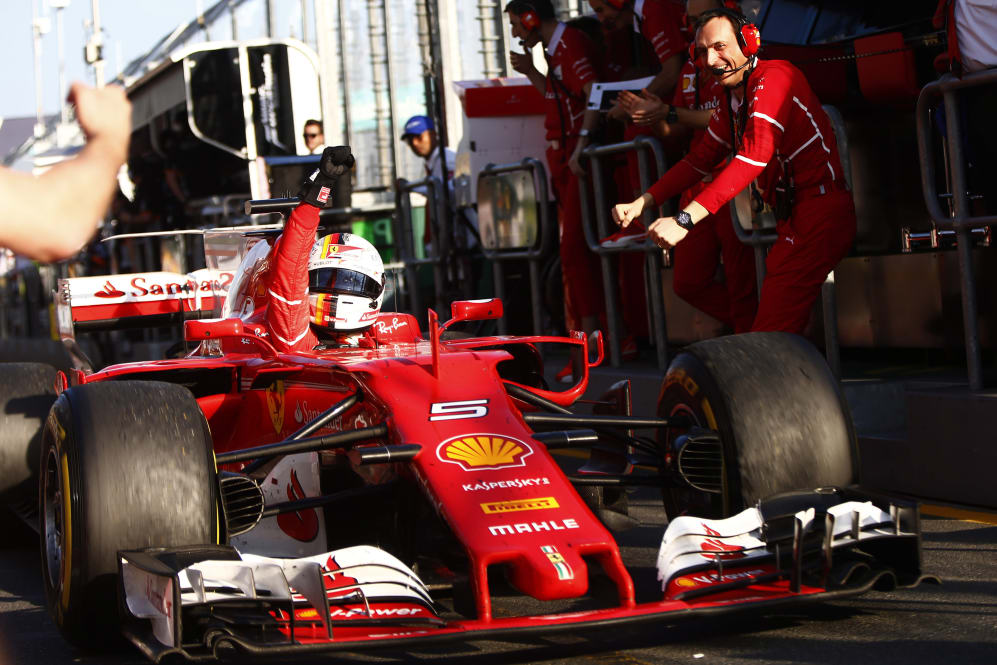 You can't see Sebastian Vettel's face in this picture, but judging by his body language you can imagine he was beaming as widely as his engineer as he made his way to Parc Ferme after winning the season opener in Australia. © Andy Hone/LAT Images
The eyes have it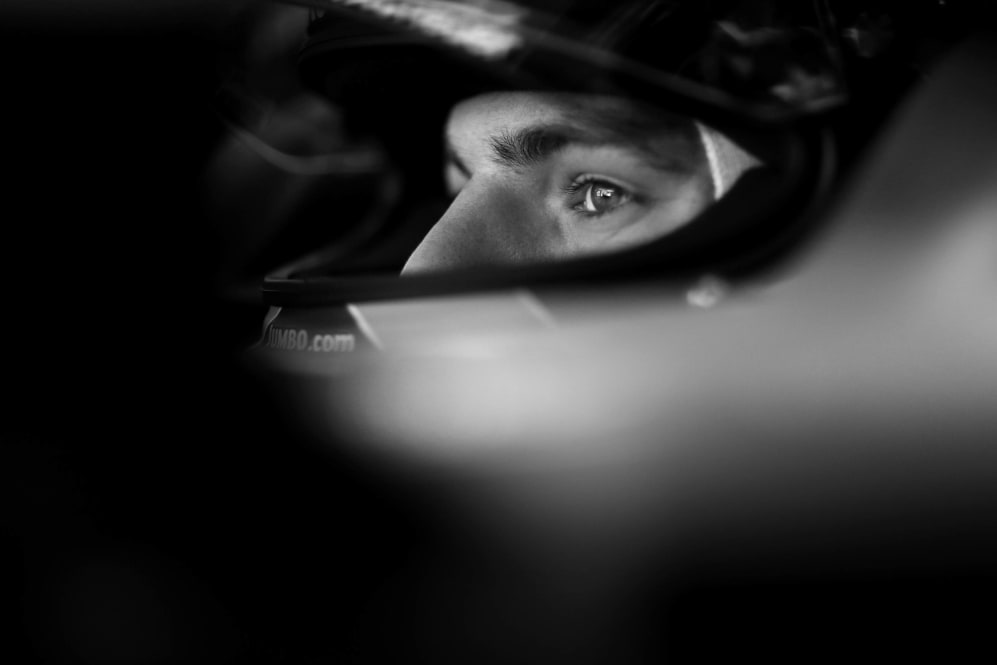 It's a fact that when F1 drivers are out on track, they rarely blink, such is their concentration. Here, Max Verstappen practises the art during a break in practice in Brazil. © Dan Istitene/Getty Images/Red Bull Content Pool
Rough ride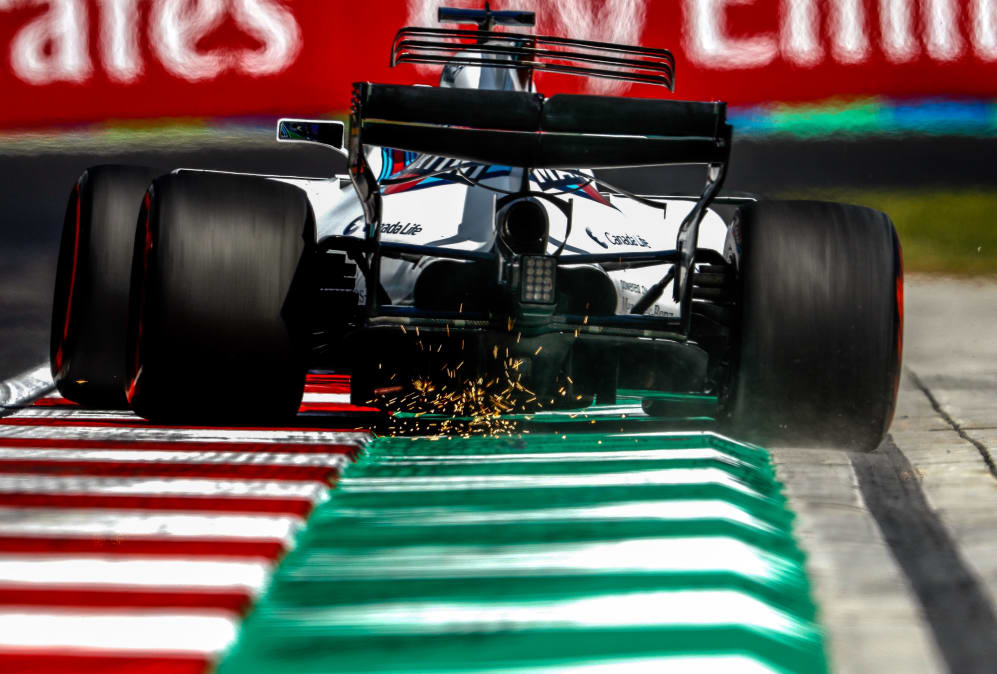 Massa gives his Williams' floor and suspension a thorough test over a section of the Hungaroring's saw-toothed kerbing. The car survived, but Massa was forced to relent, pulling out of the meeting after practice due to illness. © Glenn Dunbar/LAT Images
Locked in battle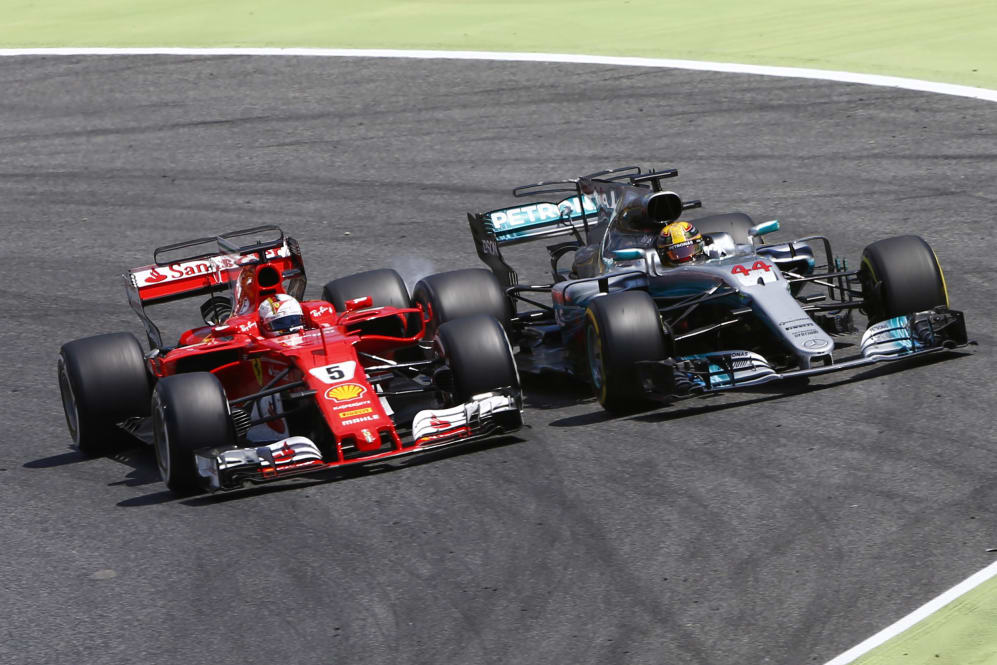 In 1991, rivals Nigel Mansell and Ayrton Senna went wheel-to-wheel in Barcelona as their title fight hit fever pitch. Fast forward 26 years and another pair of championship protagonists - Ferrari's Sebastian Vettel and Mercedes' Lewis Hamilton - indulged in similar dramatics, with the faint wisp of tyre smoke evidence of how close they came. © Andy Hone/LAT Images
Tifosi treated to a champage shower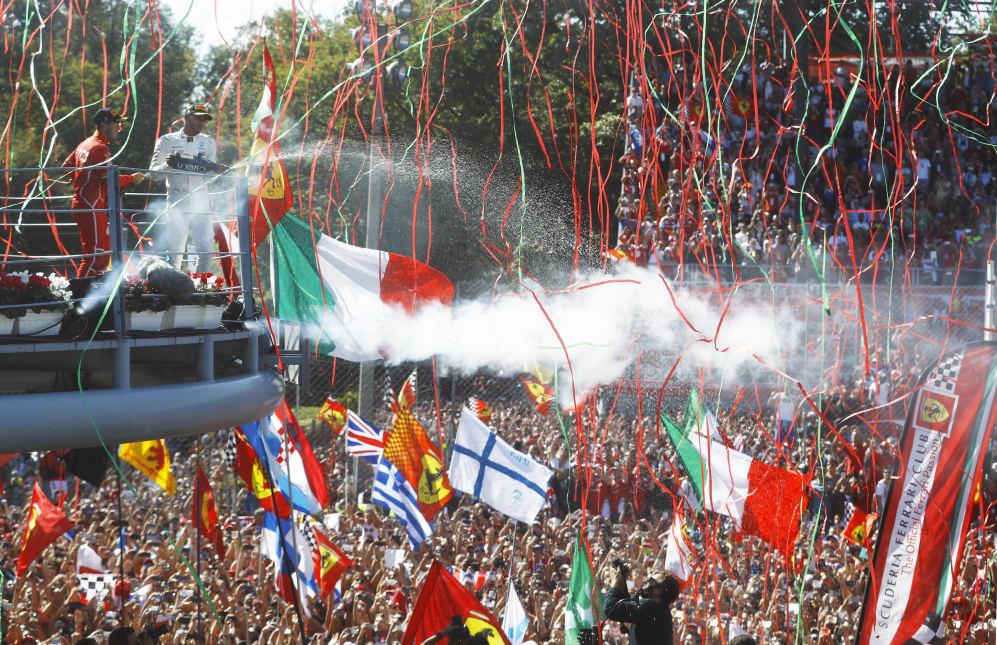 Every Ferrari driver's dream is to win on home territory in Monza. Sebastian Vettel didn't quite manage it this year, losing out to Lewis Hamilton, but he still got to stand on the greatest podium in racing. When it comes to champagne celebrations, nothing else quite compares. © Steven Tee/LAT Images
Mind those marbles...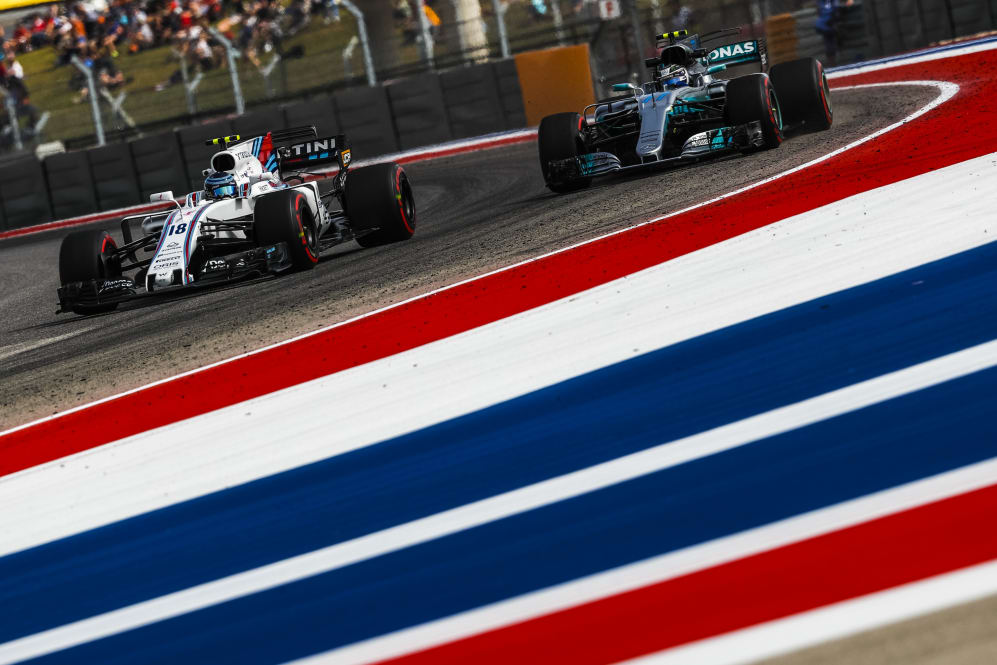 Bottas throws caution to the wind as he attempts to slingshot around the outside of Stroll's Williams in the USA, showing little fear that the piles of rubber marbles on the outside of the track could throw him off course. © Manuel Goria/Sutton Images
Singapore smash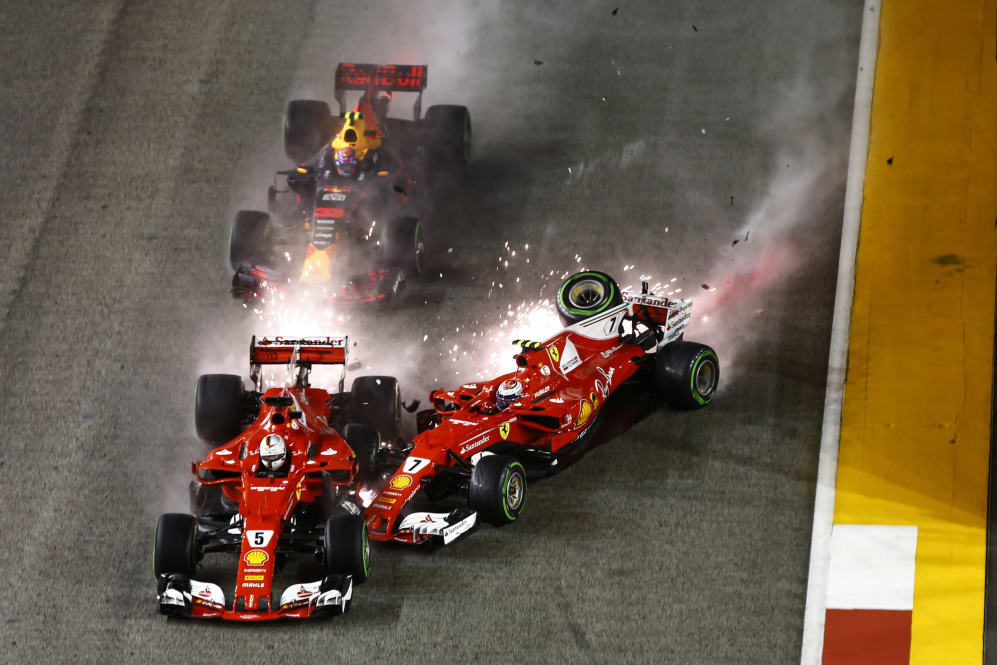 You voted it the most dramatic moment of the year - the split-second incident in Singapore that turned Ferrari's season on its head, with Sebastian Vettel and Kimi Raikkonen eliminated within metres of the start after contact with Max Verstappen's Red Bull. If you had to pick a photo that symbolised the latter half of the season for the Prancing Horse, this is it. © Andy Hone/LAT Images
Hamilton to the four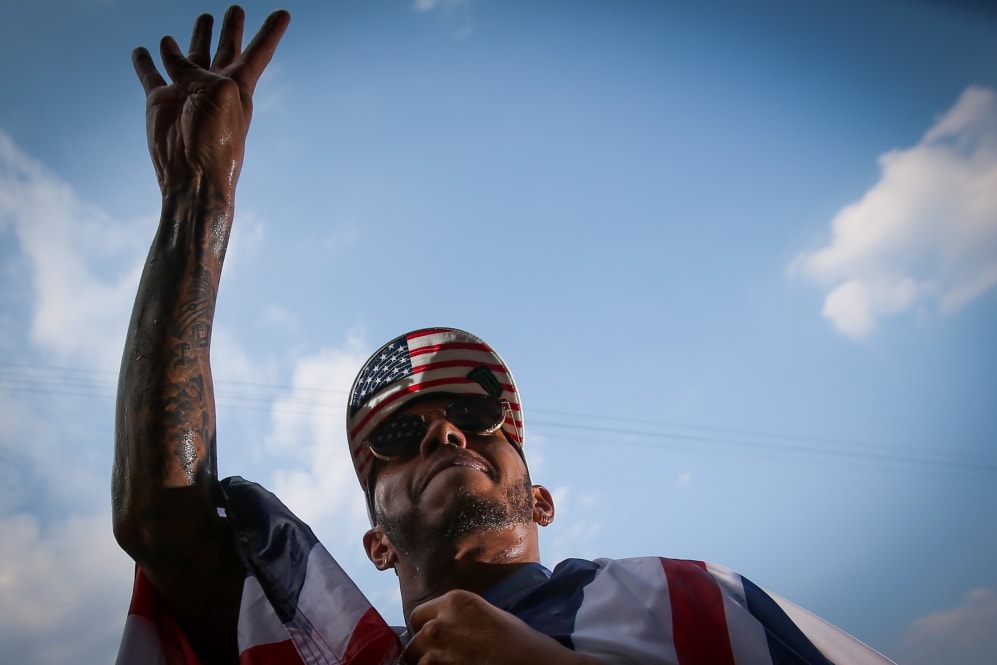 Drenched in champagne, draped in the Union Flag and hoisted towards the sky, in Mexico Lewis Hamilton became just the fifth driver in history to win as many as four world titles, cementing his place among the greatest who have ever raced. © Mirko Stange/Sutton Images
Towing the line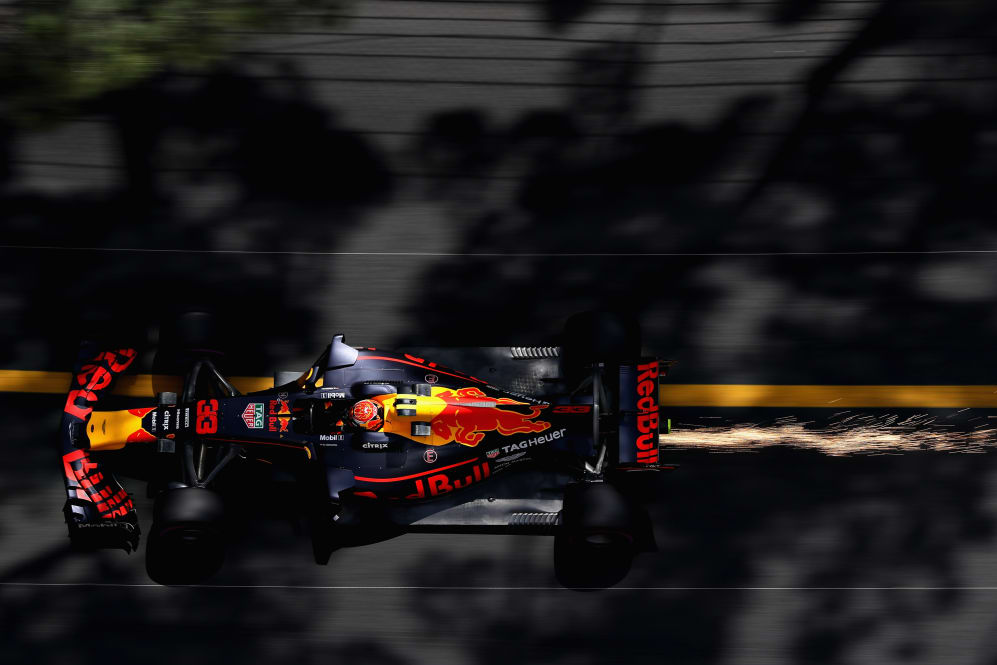 In the mottled sunlight of Monaco's pit straight, Max Verstappen's raging Red Bull leaves a trail of sparks in its wake as it heads down towards Ste Devote on another practice lap. © Mark Thompson/Getty Images/Red Bull Content Pool
Lost in the crowd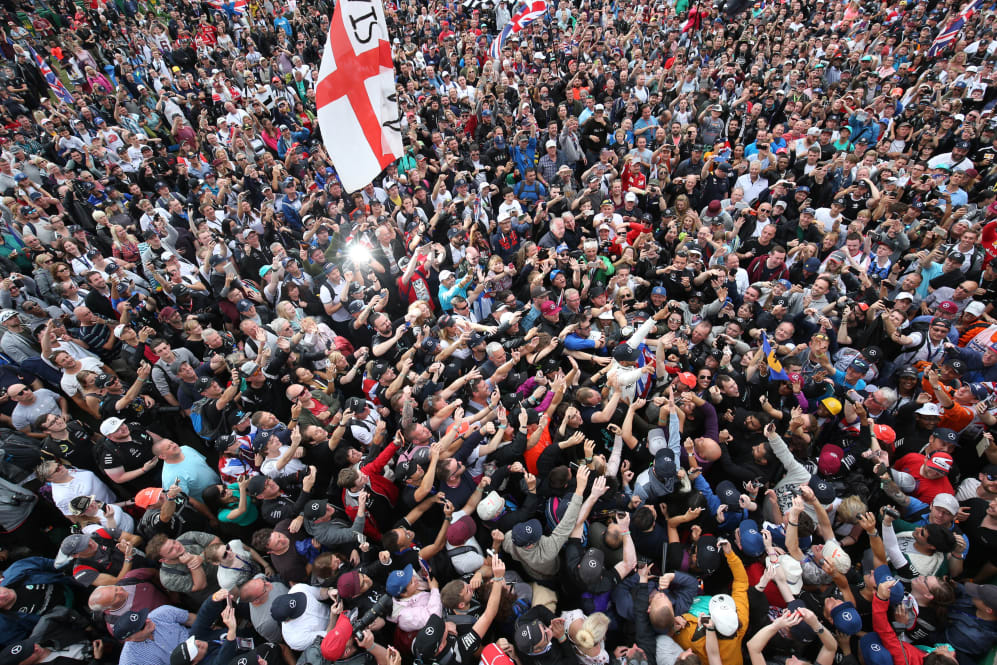 Lewis Hamilton took his fourth Silverstone win in a row in 2017, and just like last year he decided to celebrate with a spot of crowdsurfing. Now that's what you call being the centre of attention... © JEP/LAT Images
Arabian Nights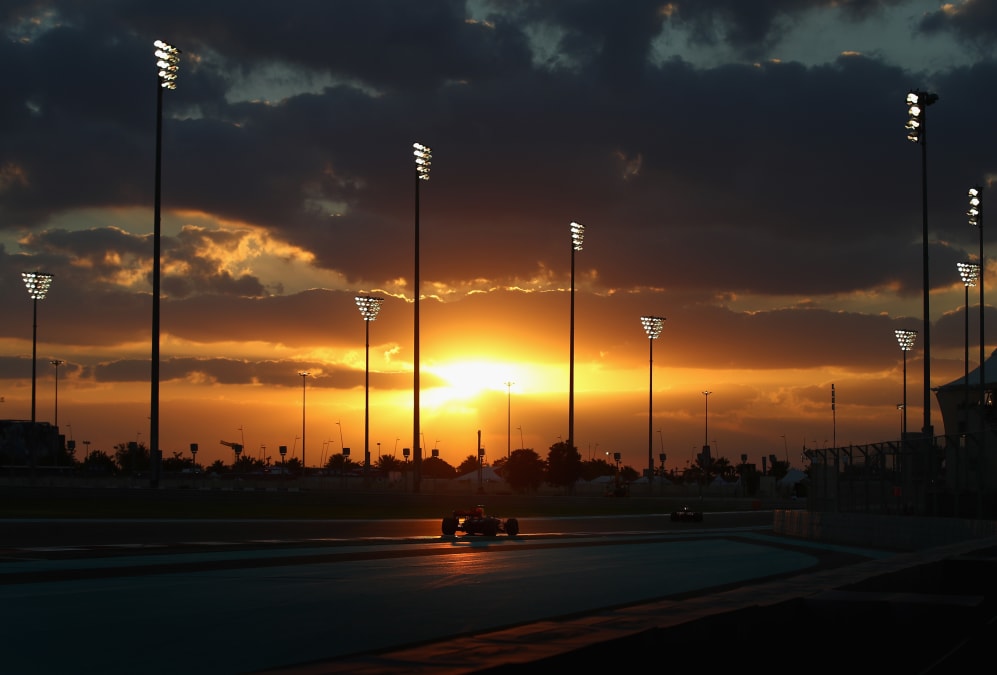 The sun set on the 2017 season in Abu Dhabi where Max Verstappen - pictured - raced to fifth place under the lights. © Clive Mason/Getty Images/Red Bull Content Pool
Mutual respect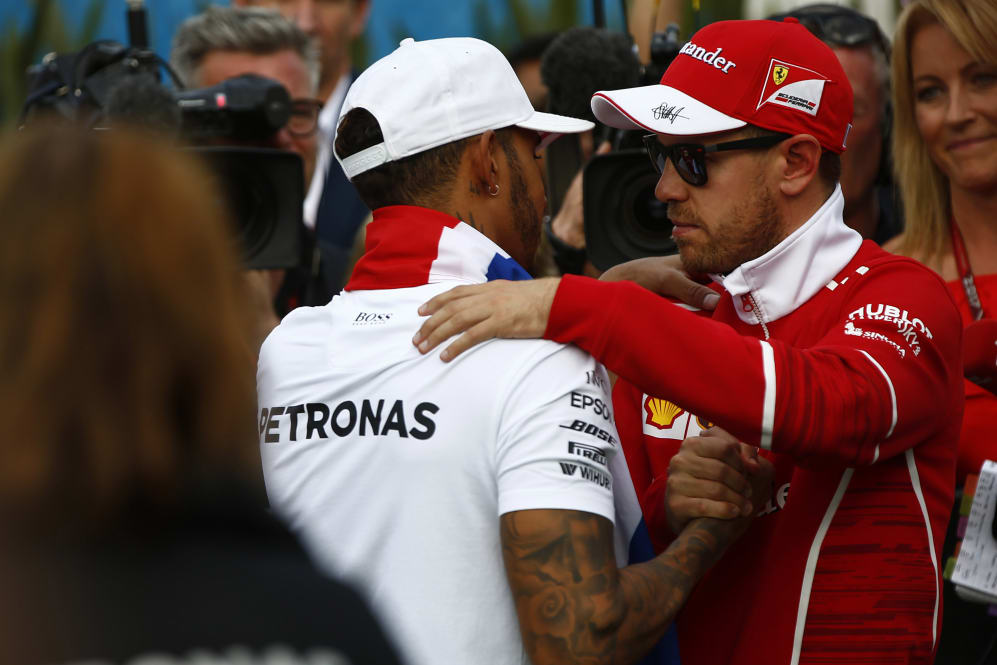 Caught on camera, this is the moment that Sebastian Vettel interrupted a Lewis Hamilton TV interview to congratulate his great rival on clinching the 2017 drivers' crown. There were moments of massive tension between the two men during the season, but never less than massive respect too. © Andy Hone/LAT Images
Sparkling success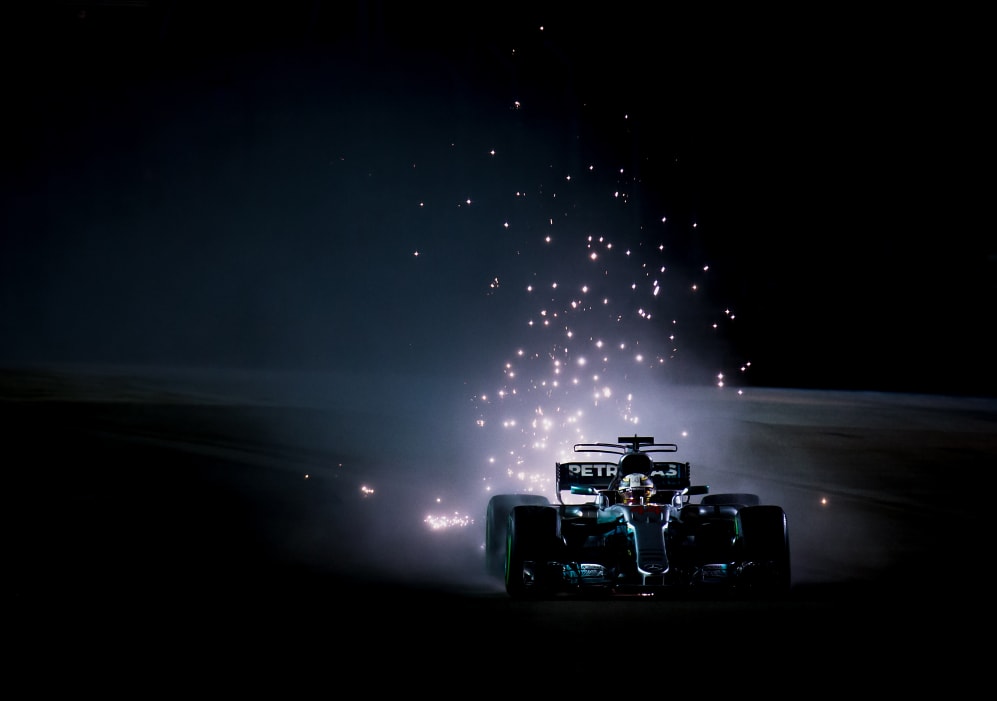 With polesitter Sebastian Vettel an early casualty in Singapore, it was left to title rival Lewis Hamilton to take the honours at Marina Bay, with the Briton treating the crowd to some impromptu fireworks as he captured his second win at the circuit in four years. © Zak Mauger/LAT Images
What it means to win in Monaco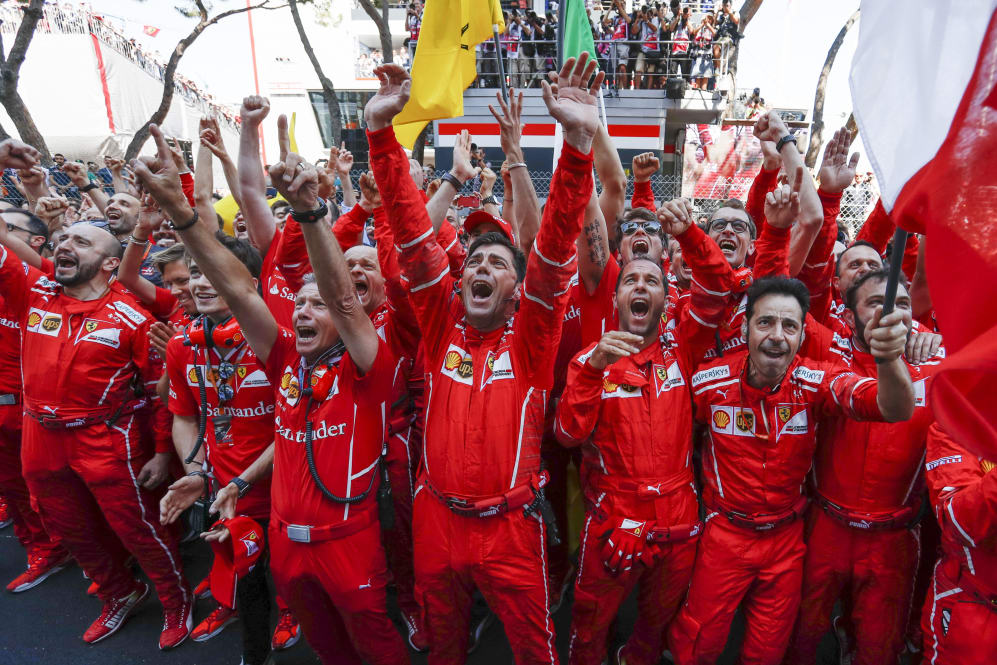 Ferrari celebrate any win with passion - but if the faces here look more satisfied than ever it's because Sebastian Vettel and Kimi Raikkonen had just finished one-two, giving the Scuderia their first victory at Monaco in 16 years. © Manuel Goria
Smokin'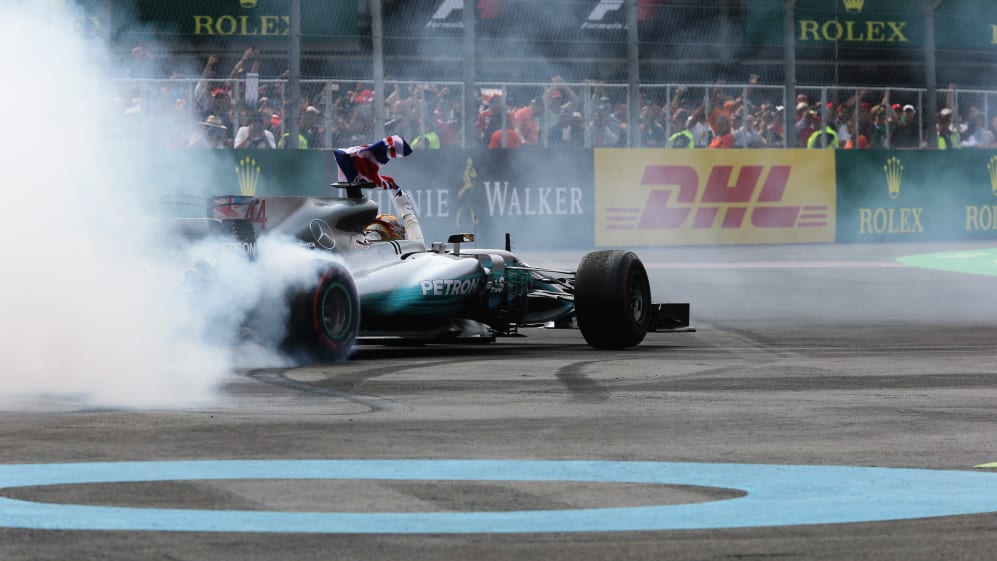 No title celebration these days is complete without a demonstration of donuts - and in Mexico Lewis Hamilton performed the task exquisitely (and one-handed no less). © Steve Domenjoz/F1
Final flourish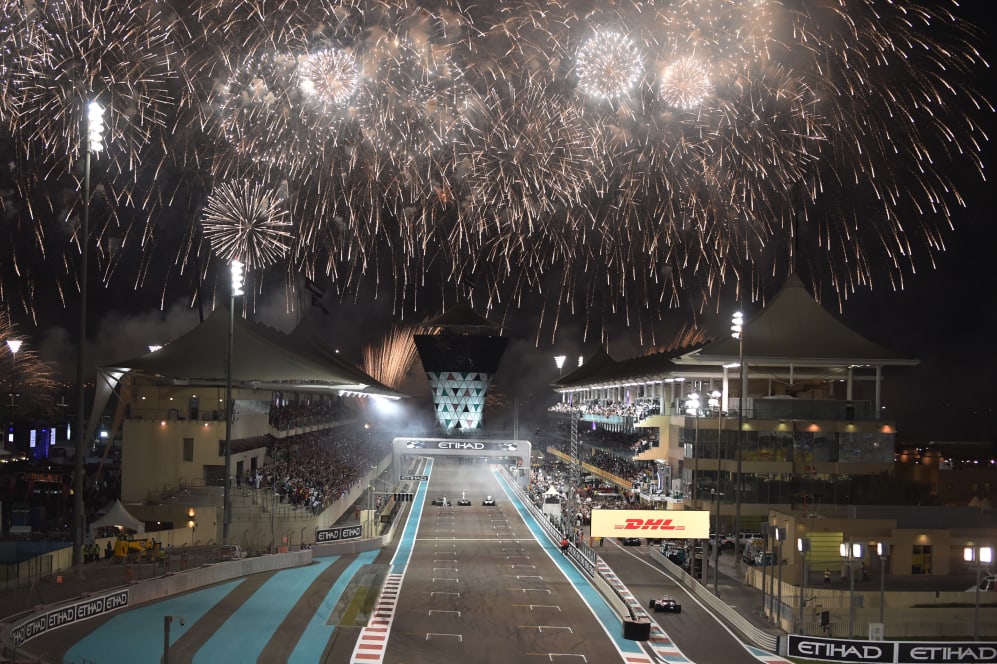 This year's race in Abu Dhabi might not have been quite as tense as 2016's, but the post-race celebrations were just as spectacular. Here, after performing donuts on the pit straight, race winner Valtteri Bottas, his team mate Lewis Hamilton and the outgoing Felipe Massa celebrate beneath the year's most epic firework display. © Sutton Images
And finally...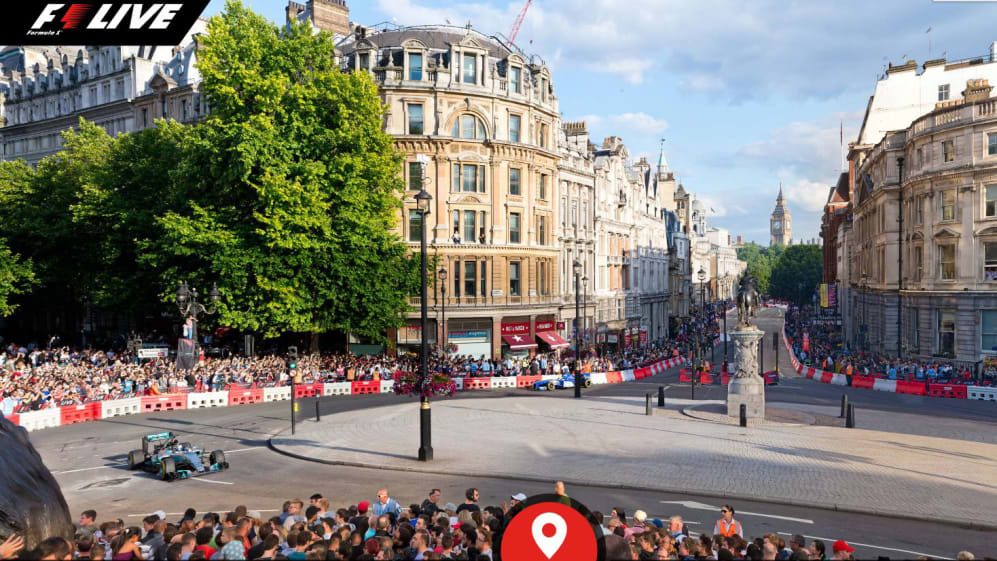 No collection of Pictures of the Year would be complete without another look at our stunning panorama, taken at F1 Live in London. To view the full-size, fully zoomable image in all its glory, CLICK HERE!