Pirelli confirm 2021 testing programme with nine teams ahead of switch to 18-inch tyres next year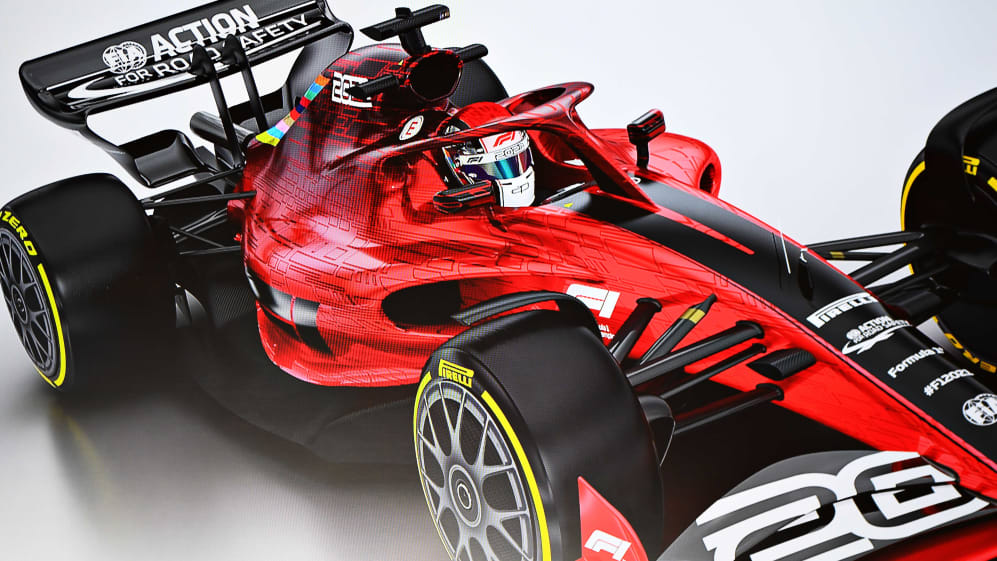 With 18-inch tyres set to be introduced to Formula 1 in 2022, Pirelli will test the new, larger sized rubber over 20 days and 10 sessions this year – with Ferrari having begun the programme at Jerez in February.
The Scuderia kicked off 2021 18-inch tyre testing with slick and wet tyres at Spain's Jerez circuit on February 22-24, with every team bar Williams to test the 2022 compounds over the next few months, ahead of the switch from the current 13-inch tyre for next year.
READ MORE: Aero tweaks, new tyres and the cost cap – The 2021 F1 rules and regulation changes you need to know about
Testing of the new compounds began in 2019 but, thanks to the Covid pandemic, regulations for new tyres and new cars were pushed back to 2022, as Pirelli's head of F1 and car racing Mario Isola explained.
"We're looking forward to resuming our tests for the new 18-inch tyres shortly, but as the Covid-19 pandemic – which led to the suspension of the test programme last year – is not yet over, it's possible that our planned schedule for this year may have to be modified," he said.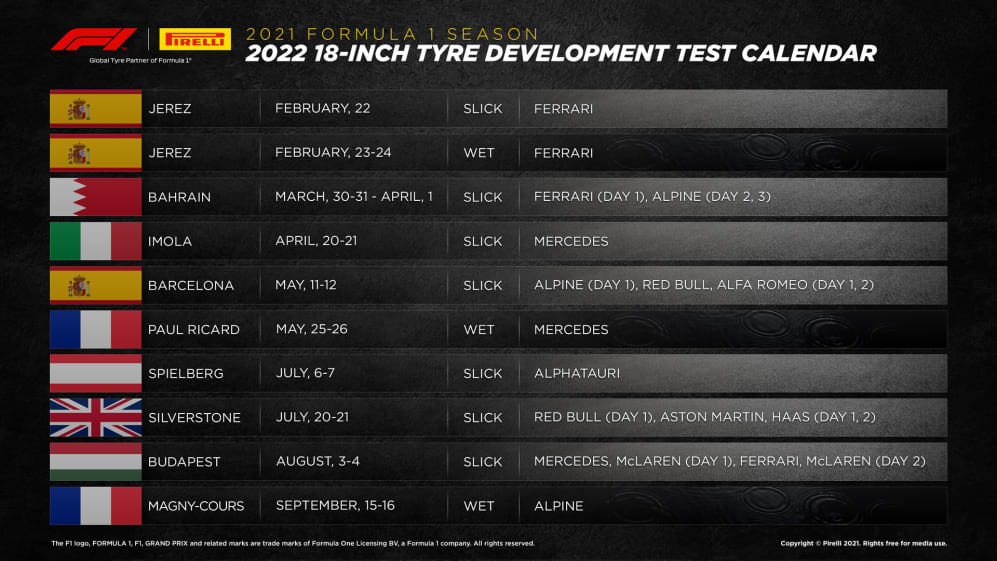 "As a result, we have a back-up plan too. Nonetheless, we have put together a programme that should enable us to pick up solidly from where we left off in 2019 and finalise the specification for a new generation of tyre under fresh regulations that will give Formula 1 a very different look next year.
"Many thanks to all the teams for their support in providing simulations and mule cars, giving us a good base to work from. We will be testing both our slick and wet prototype 18-inch tyres for 2022: we started already at Jerez in Spain for three days with Ferrari, and we will end up at France's Magny-Cours circuit with Alpine in September," he explained.
DIARY DATES: The 2021 F1 calendar, pre-season testing details and F1 car launch schedule
Ferrari will return to test the 18-inch slicks after the season-opening Bahrain Grand Prix before Alpine take the reins, while Mercedes will test them at Imola after the circuit hosts a Grand Prix in April.
Most of the sessions will be single-car sessions, but a few will be multi-car tests, meaning that there will have been 28 days' worth of 2022 tyre tests in 2021; 22 in the dry and six in the wet.