Feature
Aero tweaks, new tyres and the cost cap: The 2021 F1 rules and regulation changes you need to know about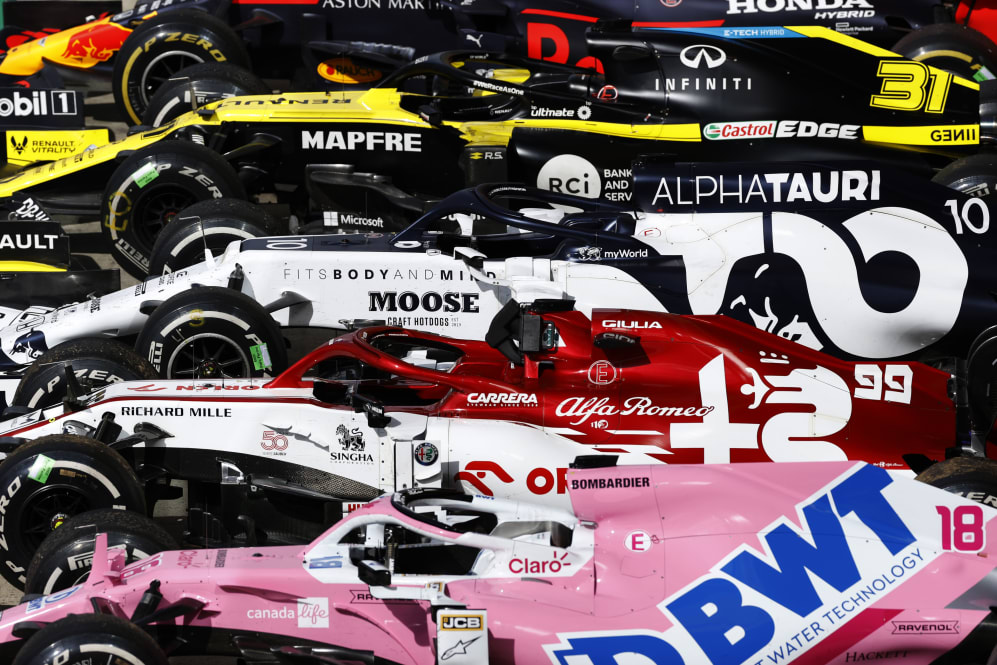 There's a temptation to think that not much will be changing rule-wise for the 2021 season, given that the 2020 chassis are set be carried over this year, ahead of the arrival of the delayed – and radical – 2022 regulations. But scratch the surface, and you'll find some small, but significant, add-ons for this season. Here's what to look out for in 2021.
1. Changes to the cars' floors
The most obvious visual change F1 fans will be able to spot in 2021 is alterations to the cars' floor shape. In recent years the visible part of the floors, when seen from above, have looked rectangular, with various longitudinal and lateral slots poking out of them. These slots were used by the teams to increase the amount of downforce generated near the floor edges, creating stronger suction underneath the car, as well as fine-tuning the vortex that forms at the floor edge to further improve ground effect.
Those slots have been ixnayed for this year – the regulations stating that the whole floor must now be solid – while the floors will also feature triangular cutaways at their rear, reducing the downforce-generating surface area on cars further.
REVEALED: The key performance area being closed off as F1 trims 2021 downforce levels
2. Rear brake duct winglets shortened
Alongside the floor changes, a more minor change for 2021 will be alterations to the rear brake duct winglets on the cars, with those winglets on the lower half of the ducts set to be reduced in length by 40mm to 80mm, while the top winglets remain at 120mm – as you can see in the image below. These winglets may be small, but they crucially create downforce that is fed directly to the wheels, and which is therefore highly efficient.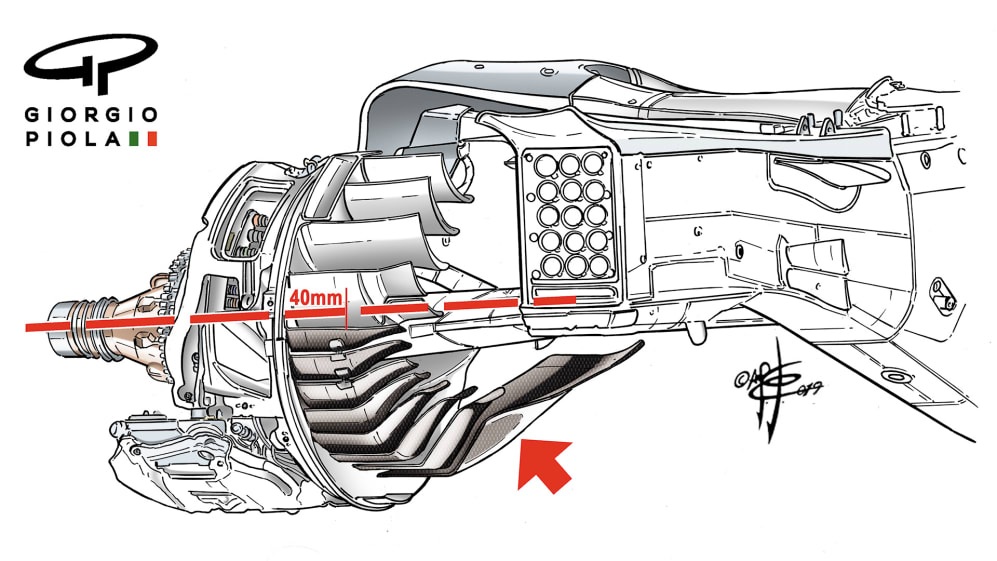 3. Diffuser fences cut down
The above two tweaks to the Technical Regulations have both been added by the FIA with the aim of reducing downforce levels. And the final change in that suite of alterations is the shortening of the diffuser fences – those vertical strakes you see hanging down on the back of the cars' diffusers – which will be reduced in length by 50mm.
Like the removal of those floor slots, the chopping of these fences will make a less effective floor seal, further reducing downforce levels.
READ MORE: What exactly are the revised 2021 aero regs – and will they shake up the order?
4. Cost cap introduced
Without doubt the biggest change coming in 2021 is the introduction of Formula 1's first ever cost cap, set this season at a baseline of $145 million – although it will actually be $147.4m, with teams afforded an extra $1.2m per race in the regulations – while that baseline is set to be reduced to $140m in 2022, and $135m for 2023.
That cap covers every aspect of running a Formula 1 team, with some notable exceptions: marketing costs, driver salaries and the salaries of the three highest earners in the team aren't included. Neither are the costs of employees' maternity, paternity and sick leave, as well as the cost of medical benefits for team personnel and redundancy packages.
Teams are also permitted to run up costs of $45 million relating to 'capital expenditure' – for things like purchasing machinery for their factories – between now and the end of 2024.
READ MORE: The 2021 F1 cost cap explained – what has changed, and why?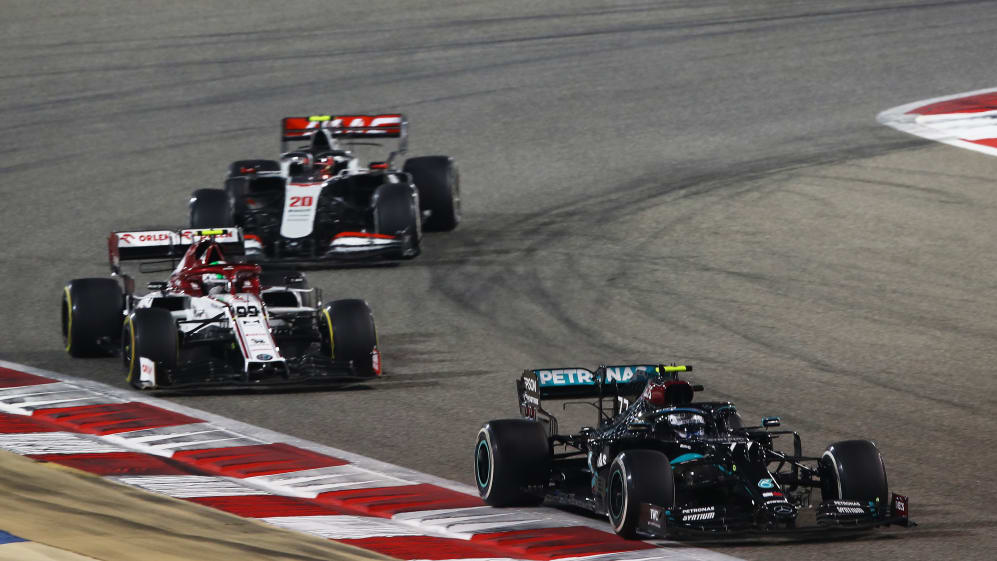 5. A new sliding scale for aerodynamic testing
Another new development for 2021 will by the introduction of sliding scale aerodynamic testing regulations (ATR) – an especially important factor given that this year will see the teams finalising the cars they'll field when the revolutionary 2022 regulations kick in next year.
READ MORE: How F1's new sliding scale aero testing rules work – and what impact they will have on racing
Put simply, the lower a team finished in the championship table in 2020, the more time they'll be afforded to hone the aerodynamics of their 2022 car, be that in the wind tunnel or with their Computational Fluid Dynamics (CFD) simulations. You can see exactly how that works in the table below – with Mercedes set to get the least simulation time in 2021, while Williams get the most. Those changes, meanwhile, will be even more pronounced from 2022 onwards.
New sliding scale on aerodynamic testing in F1
| Teams' previous season's championship position | Percentage of current aero testing allowed for 2021 | Percentage of current aero testing allowed for 2022-25 |
| --- | --- | --- |
| 1 | 90% | 70% |
| 2 | 92.5% | 75% |
| 3 | 95% | 80% |
| 4 | 97.5% | 85% |
| 5 | 100% | 90% |
| 6 | 102.5% | 95% |
| 7 | 105% | 100% |
| 8 | 107.5% | 105% |
| 9 | 110% | 110% |
| 10+ or new team | 112.5% | 115% |
6. Minimum weights of cars and power units increased
There's been a slight increase in the minimum weight this year for both the cars in their unfuelled state – rising from 746kg in 2020 to 752kg in 2021 – and the minimum weight of the power unit – up from 145kg in 2020 to 150kg in 2021. This change can partly be explained as an attempt to discourage teams from using exotic – and, to some squads, prohibitively expensive – weight-saving materials.
ANALYSIS: Why Williams have strengthened ties with Mercedes, and what it means for the future
7. Clamping down on copying parts
A slightly moot point for 2021, this, given that the chassis have been carried over from 2020 into this year (barring the minor changes permitted under the "two-token" system). But after the furore caused by Racing Point's Mercedes W10-aping RP20 last year, the 2021 Technical Regulations have moved to shut down the possibility for teams to repeat that tactic going forward.
READ MORE: Otmar Szafnauer on Racing Point's 'pink Mercedes' philosophy and Aston Martin's bold targets
The rules now state that "although it is permissible to be influenced by the design or concept" of a rival team's car and its individual, exclusive components (called 'Listed Team Components', or LTCs, in the regulations), any information used to create your own car's parts "must potentially be available to all competitors" and "only be obtained at events or tests" – i.e. through the use of standard photography, observation, videos and so on, rather than teams being able to strike deals to have access to another competitor's LTCs.
Additionally, the rules have moved to outlaw teams "reverse engineering" another competitor's car – including a ban on the use of 3D cameras to scan other teams' machinery.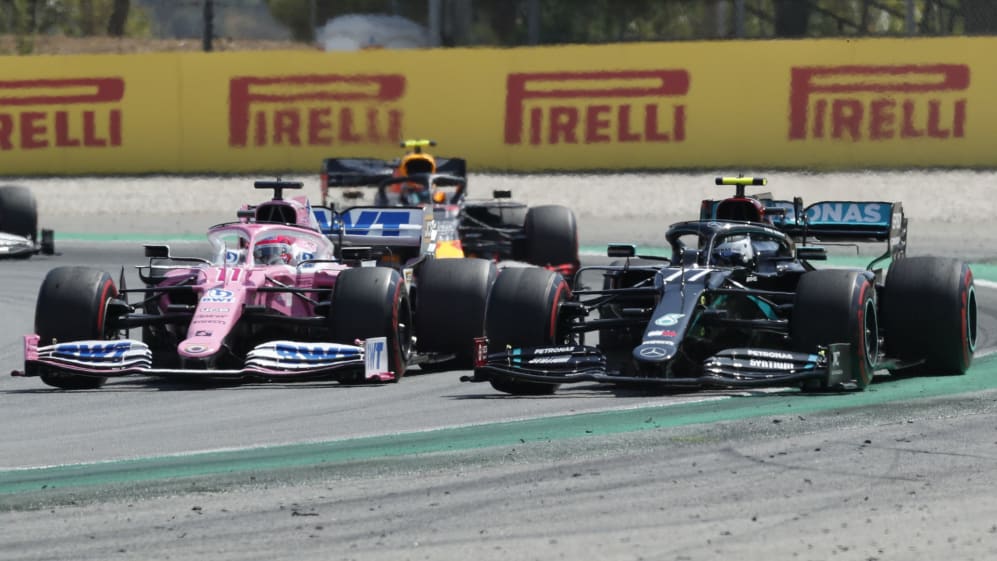 8. Pirelli set to bring new compounds
Pirelli are aiming to bring more robust compounds in 2021, with their Head of F1 and Car Racing Mario Isola telling the media in Sakhir last year that their goal was to "improve the current construction in order to have more… integrity". This comes after Pirelli measured some of the biggest cornering forces in F1 history in 2020, which they said had played a part in the three tyre failures at last year's British Grand Prix.
Pirelli feel the changes are the right way to go, as even with the downforce cuts mentioned above set to total around a 10% reduction in levels – in the estimation of the FIA's Head of Single Seater Technical Matters Nikolas Tombazis – the teams are still expected to claw around 5% of that back with their usual development over the winter, with Pirelli preferring to field beefed up tyres to help cope with the loads.
The drivers, meanwhile, were able to sample some of the proposed 2021 compounds in a number of free practice sessions in 2020.
READ MORE: 10 things every F1 fan should be excited for in 2021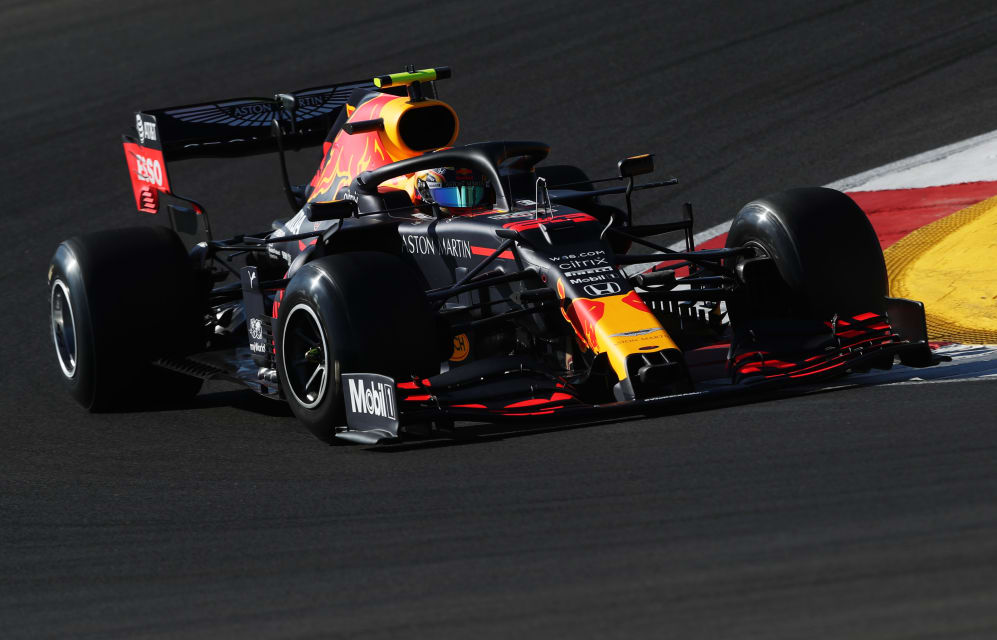 9. DAS banned
A rule tweak that will affect only one team in 2021 is the outlawing of Mercedes' Dual Axis Steering system. 2020 saw Lewis Hamilton, Valtteri Bottas and, for one race at least, George Russell able to push and pull their steering wheels to change the camber levels on the front tyres, helping with tyre warm-up.
READ MORE: Mercedes' trick DAS steering system won't be legal under 2021 F1 rules
A snappy piece of regulation writing has put paid to all that, though. Ready? "The re-alignment of the steered wheels must be uniquely defined by driver input to a single steering wheel permitted to have only one degree of freedom, which must be rotational, and the relationship between the angle of each steered wheel to the angle of the steering wheel must be a strictly monotonic function." Got it? Good.
10. Automatic tyre allocations
A change in the regulations has seen a standardised tyre allocation being brought in for 2021, with drivers – "unless otherwise determined by the FIA and with the agreement of [Pirelli]" – set to receive: two sets of hard tyres, three sets of mediums and eight sets of softs per race weekend.
Meanwhile, the current period for teams to be notified of which tyre compounds will be available for which race – nine weeks for European events, 15 for non-European ones – has been slashed dramatically to just two weeks for any event. This will help to avoid issues if Covid rears its head and causes any late changes to this year's calendar.
READ MORE: 5 bold predictions for the 2021 F1 season – how many will come true?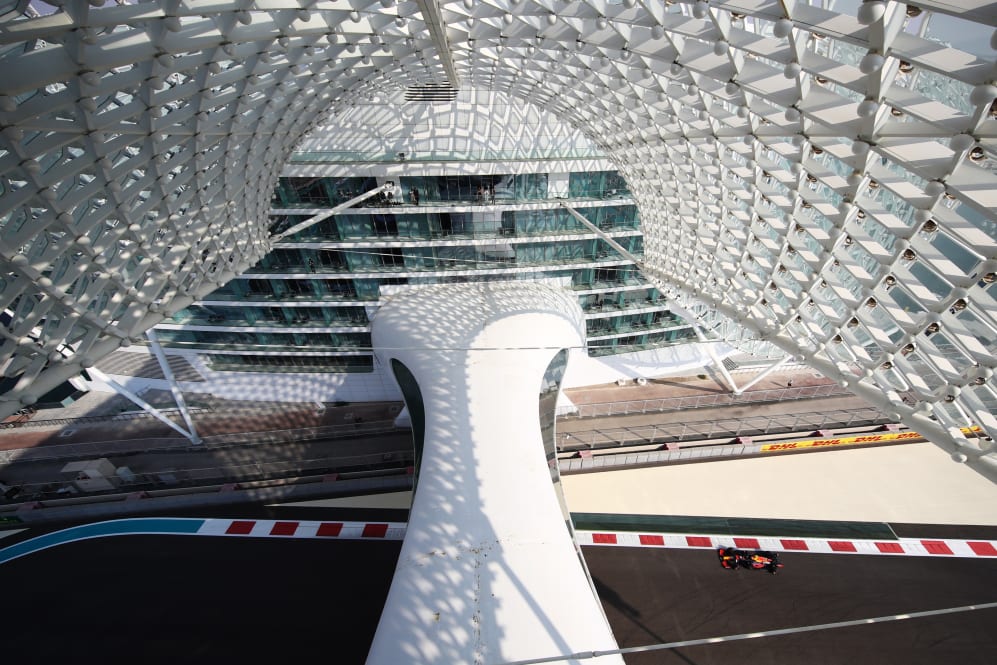 11. All practice sessions now set at 60 minutes
The first two practice sessions of the weekend, Free Practice 1 and Free Practice 2, had traditionally been set at 90 minutes apiece, with Saturday's Free Practice 3 at 60 minutes.
For 2021, however, that's been altered so that both FP1 and FP2 are now 60 minutes each – with FP3 also remaining at 60 minutes. That one hour reduction in practice time will force the teams to cram in more on-track action to get their cars in the set-up sweet spot for qualifying and the race.
Maximum race time, including any suspensions, is also cut from four hours to three.
READ MORE: F1 Schedule 2021 – Bahrain to host season opener as Australia moves later in calendar and Imola returns
12.Limits on exhaust systems usage
Exhaust systems have been added to the list of limited-use components, with each driver allowed no more than eight per season. Go over that and grid penalties apply, just as with engines (ICE) (three per season)), motor generator units-heat (MGU-H) (three), turbochargers (TC) (three), energy stores (ES) (two), control electronics (CE) (two), and motor generator units-kinetic (MGU-K) (three).
13. New materials permitted
A nice one to end on. With Formula 1 always keen to embrace burgeoning technologies, the Technical Regulations have been opened up to allow new 'green' materials to play a part in the sport – with the FIA giving the greenlight for "flax, hemp, linen, cotton [and] bamboo" to feature in F1. We wait to see how teams will exploit this particular regulation…