Pole-sitter Leclerc calls Monza qualifying 'a big mess' as several drivers time out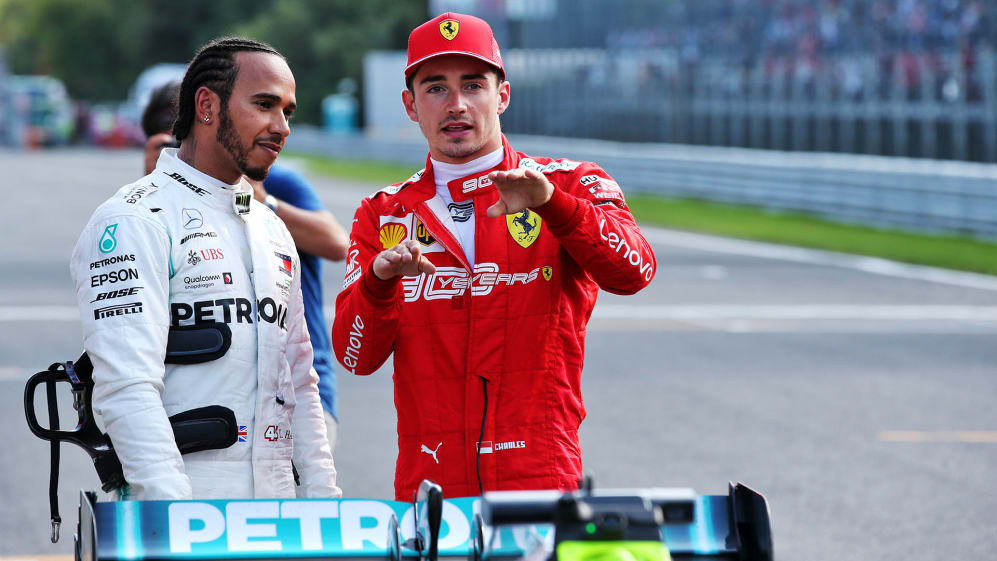 It should have been a thrilling climax to Italian Grand Prix qualifying, but instead the session ended in farcical circumstances as eight of the 10 drivers involved failed to cross the line in time to set a timed lap, with pole-sitter Charles Leclerc calling it a "big mess"…
The tow is worth several tenths of a second at Monza, which meant the drivers jostled for position at very slow speeds on their out-lap to ensure they had a car in front of them to get a slipstream for their flying lap.
But in driving so slowly, eight of the 10 drivers involved in Q3 effectively got timed out as they crossed the line after the clock had ticked down to zero, robbing them of the chance to do a second timed run. Only Leclerc and McLaren's Carlos Sainz made it through.
"I'm happy with the pole but It's a shame at the end there was a big mess," said Leclerc, who took his second successive pole position, to the delight of Ferrari's loyal tifosi.
On the out-lap, it's dangerous for us all
Championship leader Lewis Hamilton was one of the drivers who missed out at the end, and will start Sunday's race from second on the grid and described the tactics as "dangerous".
"It was an anti-climax we couldn't all go out and do that last final lap," said Hamilton. "That's one of the most exciting parts of qualifying. It's crazy, the timing, the system we have where everyone backs up, trying to get position, and they basically timed us out.
"On the out-lap, it's dangerous for us all. There's people slowing down, you don't know who is alongside you. It's a risky business out there but kind of enjoyable at same time.
"For us, we're down on the Ferraris on a straight line, so we need it [the tow]. I think others also do. I think it's the new wing, the drag is much bigger this year so everyone is focusing on that."
Hamilton's team mate Valtteri Bottas, who was in contention for pole on his first lap, but had to back off for yellow flags when Kimi Raikkonen crashed, added: "I was quite unlucky there and also had the yellow flag at the last corner in the first run, so I believe we missed the pole on that. Then the last run was kind of a mess for everybody."