Report
Leclerc takes bizarre Monza pole as rivals misjudge timing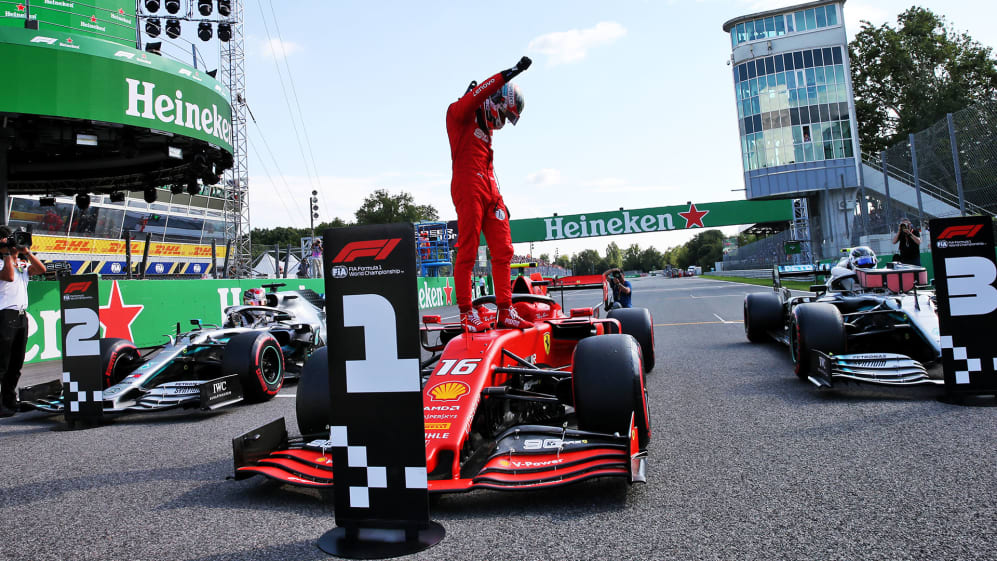 Italy was sent into raptures after an extraordinary qualifying at Monza, as Ferrari's Charles Leclerc claimed his second consecutive pole position when his rivals failed to properly judge the time needed to set their final qualifying runs, meaning only Leclerc and McLaren's Carlos Sainz made it across the finish line to start their second flying laps in Q3.
As the drivers emerged back on track following a stoppage caused by Kimi Raikkonen crashing his Alfa Romeo, all were holding back so as to take advantage of the tow around Monza. But with the clock ticking down, there were farcical scenes as seven of the remaining cars in the segment – including the two Mercedes of Lewis Hamilton and Valtteri Bottas and the second Ferrari of Sebastian Vettel – approached the line to start their final laps only to face a waved chequered flag.
READ MORE: Pole-sitter Leclerc calls Monza qualifying 'a big mess' as several drivers time out
That meant that Leclerc claimed pole position from Hamilton by 0.039s, the Monegasque's first fastest lap good enough to secure his fourth career pole position, and Ferrari's second in a row here.
Bottas was third for Mercedes, 0.047s behind Leclerc, while Vettel was fourth. Impressive pace from the two Renaults of Daniel Ricciardo and Nico Hulkenberg throughout qualifying saw the Anglo-French team lock out the third row of the grid ahead of Sainz – who unfortunately for him wasn't able to improve on his original lap, despite being the only other driver to cross the line to attempt a final effort.
Red Bull's Alex Albon and Racing Point's Lance Stroll in P8 and P9 both failed to set a Q3 time, meanwhile, as did Raikkonen, who crashed at the Parabolica while attempting his first flying lap in Q3.
FORMULA 1 GRAN PREMIO HEINEKEN D'ITALIA 2019
Italy
2019
Qualifying results
POSITION
TIME

1

Charles

Leclerc LEC

Ferrari

1:19.307

2

Lewis

Hamilton HAM

Mercedes

1:19.346

3

Valtteri

Bottas BOT

Mercedes

1:19.354

4

Sebastian

Vettel VET

Ferrari

1:19.457

5

Daniel

Ricciardo RIC

Renault

1:19.839
AS IT HAPPENED
Q1 – Leclerc shades impressive Hulkenberg as Perez stoppage brings out red flag
A note from Race Director Michael Masi ahead of the session enforced a minimum speed for drivers' laps to make sure they weren't running too slowly when preparing for their runs as they waited for other drivers to pass them and give them an aerodynamic tow.
That meant teams had to be extra canny in putting their drivers out in just the right place on track to gain a slipstreaming advantage. Renault were the team that really maximised the effect, Ricciardo going P5 while Hulkenberg ended the session in a stunning P2, just 0.029s off Ferrari's Leclerc – who set his time, like Vettel, on the medium tyres, while everyone else was on softs.
He may be set to start from the back of the grid anyway, but there were worries for Verstappen as he reported issues with his Red Bull's Honda power unit on the one run he had in the session.
There was a brief stoppage, meanwhile, when Sergio Perez pulled off with what looked to be his second power unit issue in as many weekends in his Racing Point. And having not set a time good enough to put him any higher than P17 when he stopped, he found himself out in Q1 – meaning team mate Lance Stroll out-qualified him for the first time this year.
Out with Perez went Haas's Romain Grosjean, narrowly pushed into the drop zone in the final moments of the session, along with Williams' George Russell in P18 ahead of team mate Robert Kubica and the time-less Verstappen – Russell, incidentally, making it 14-0 in the qualifying stakes at Williams this year.
Knocked out: Grosjean, Perez, Russell, Kubica, Verstappen
Q2 – Hamilton heads timesheets for first time ahead of Leclerc
Hamilton and Mercedes found themselves outpacing Ferrari for the first time of the weekend in the middle segment of qualifying, the world champion heading Leclerc by a tiny 0.089s at the end of Q2, having been generously towed around Monza by team mate Bottas, as Vettel was third.
Cruelly turfed out of Q2 was Alfa Romeo's Antonio Giovinazzi, who missed out on a place in Q3 at his home track by just 0.002s to team mate Raikkonen. He was eliminated along with the second Haas of Kevin Magnussen, plus the Toro Rosso pair of Daniil Kvyat and Pierre Gasly, split by the McLaren of Lando Norris.
With Norris set to start from the back of the grid in Sunday's race anyway, he was nice enough to tow team mate Sainz into the top 10 – a top 10 populated by no fewer than seven teams, the Renaults once again showing decent pace with their skinny-winged R.S.19 to go P4 and P8, while Lance Stroll also secured his first Q3 appearance of the season for Racing Point at a track he appears to thrive on.
Knocked out: Giovinazzi, Magnussen, Kvyat, Norris, Gasly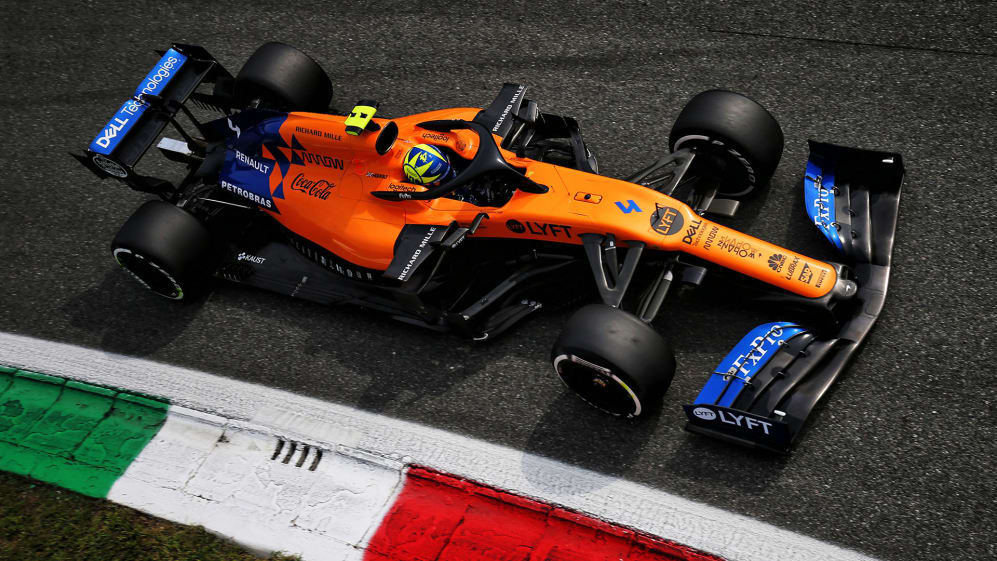 Q3 – Leclerc takes pole as rivals get it all wrong
Having put his Alfa Romeo in the wall at Parabolica during Free Practice 1 in Italy, Raikkonen repeated the trick as he was attempting to set his first quick lap in Q3, his C38 snapping around on him before backing itself into the barriers. Fortunately, Raikkonen was able to make it out of the car under his own steam, but it meant another red flag.
As the drivers headed back out on track again when the session restarted – with no one wanting to come out first and this lose the chance of that all-important tow – there followed one of the most bizarre ends to a qualifying session in F1 history.
With all drivers hanging back through the first part of their warm-up laps, it soon became apparent that the majority had misjudged the timing and were going to miss the cut-off. And so it was that as the cameras picked up the cars rounding the Parabolica to begin their final flying laps, they also picked up a cheerily waving chequered flag, meaning that seven out of the nine remaining runners were unable to attempt an improvement on their times.
It was a scene dramatic enough to earn a spot in the nearby Scala opera house – but the tifosi won't mind a bit, seeing as how their new hero Leclerc was one of the two drivers to cross the line in time. In the end, however, his first lap was good enough to allow him to slacken his pace and take in the applause of the crowd as he took pole position, as Sainz also failed to improve.
That meant Ferrari secured pole for the second year in a row at Monza – and the second consecutive race too – to the delight of the local crowd. However, Vettel not making it across the line in time was sub-optimal for the Scuderia, allowing Hamilton to start from second on the grid – the same position he started from last year, before overtaking a Ferrari to take the win…
Renault, meanwhile, will also have been ecstatic to have taken their best qualifying of the season, with Ricciardo and Hulkenberg P5 and P6. But ultimately, the day belonged to Leclerc, who'd looked well-placed to take that pole anyway, even without all the shenanigans going on behind him!
THE KEY QUOTE
"It's unbelievable… to see so many people, feels absolutely amazing. Happy with the pole. But it's a shame, at the end there was a big mess.
"[For tomorrow] I think the pace was quite good actually during the race sims in FP2, it is looking positive, better than in Spa. Let's hope for a good race tomorrow." – Charles Leclerc
WHAT'S NEXT?
It'll be lights out and away we go at 1510 Italian time tomorrow, which is 1310 UTC, with the Italian Grand Prix set to run for 53 laps. And with rain likely to play a part in proceedings, it's looking set to be a fascinating contest – to follow on from an unbelievable qualifying!