Pole-sitter Sainz wary of Verstappen pace as Leclerc says Red Bull were 'way too fast' in Spa qualifying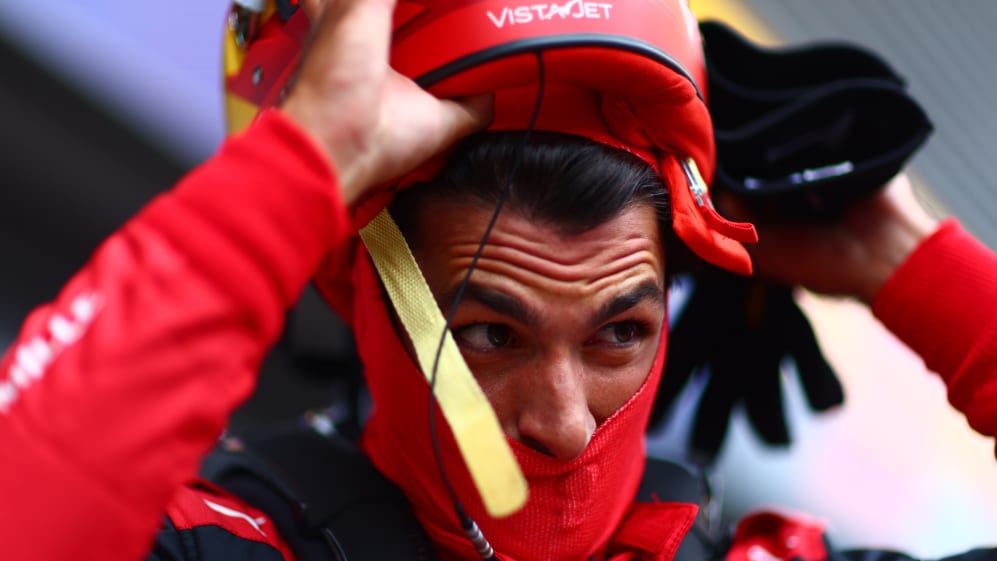 Grid penalties mean Carlos Sainz will start on pole position for the 2022 Belgian Grand Prix as qualifying winner Max Verstappen begins the race down in P15. Yet the Ferrari driver feared his Red Bull rival could still come back and win at Spa-Francorchamps.
Sainz ended up qualifying second, six-tenths behind Verstappen – but the Spaniard ensured he would start the Belgian Grand Prix on pole position as Sergio Perez managed third in Q3. Asked if it would be a straight fight between the front-row starters, himself and the Red Bull of Perez, Sainz replied: "Not entirely, no.
READ MORE: Verstappen fastest in qualifying but Sainz set to start on pole after Belgian GP grid penalties
"Especially with the pace Max has, I think that as soon as there's a Safety Car, that can help him close the gap, or even with the pace that he has that if you translate it into 44 laps, he can come back. And we've seen him do it before.
"That will not be my focus; obviously the first and second stint, it will be a straight battle with Checo and the Mercedes if they have the race pace, but we will try to pull away for sure…
"If I would have done his [Verstappen's] lap that he did today, I would also be confident that as soon as something happens at the front or if there is a Safety Car to close the gap, that he can make it."
Team mate Charles Leclerc – who is just five points ahead of Perez in the championship yet starts 16th due to his own grid penalties, plus his Q3 finishing position of P4 – admitted that he is concerned by a "worrying" gap to Verstappen.
"There's some potential obviously because we didn't prepare qualifying as much as we normally do," said Leclerc. "But when you see the gap to Max, it's... a bit worrying. They are extremely quick, and it's been the case since the beginning of the weekend, and we cannot explain quite why, so we need to work. We'll try our best tomorrow, but they seem to have found something this weekend.
"They are way too fast, there's nothing that we could have done," added Leclerc. "Or nothing that would have changed anything for our starting position tomorrow. We had to beat Max in qualifying but today the car is just not at that level."
HIGHLIGHTS: Watch the action from qualifying at Spa as Verstappen sets the pace but Sainz starts on pole
As for a mix-up in Q3 that saw new tyres being equipped to his Ferrari rather than a set of used softs, Leclerc admitted: "It probably wasn't planned that way, but we'll discuss and see what went wrong."
On Sunday, the championship leader starts 15th to Leclerc's 16th.