Report
Verstappen fastest in qualifying but Sainz set to start on pole after Belgian GP grid penalties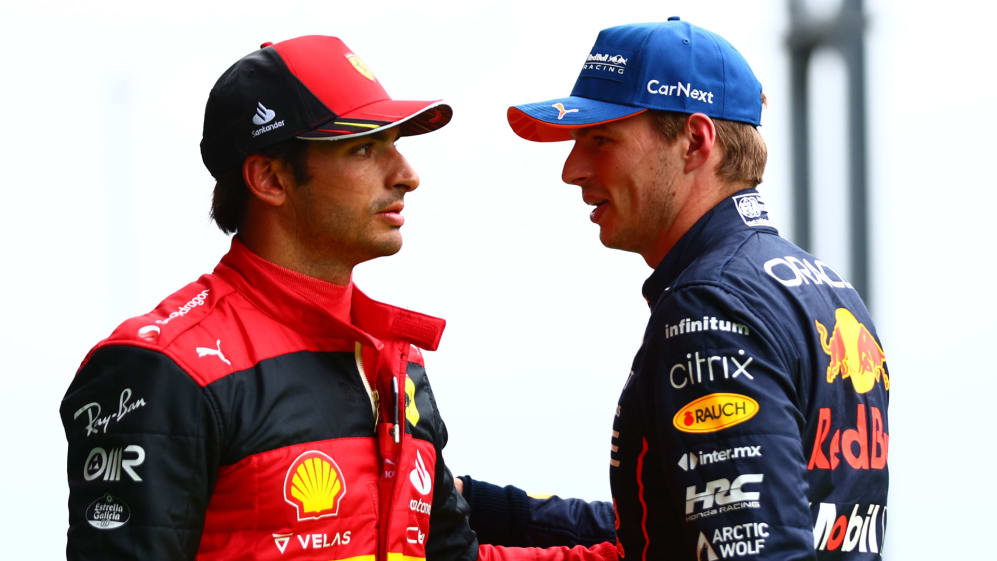 Red Bull's Max Verstappen aced qualifying for the 2022 Belgian Grand Prix – but Carlos Sainz will start on pole position for Ferrari after grid penalties come into play at Spa-Francorchamps.
With seven drivers – Max Verstappen, Charles Leclerc, Lando Norris, Esteban Ocon, Zhou Guanyu, Mick Schumacher and Valtteri Bottas – taking grid penalties, the rest of field were essentially facing off for the top 13 positions on the grid.
As a result, Sainz's scrappy Q3 lap for P2 will see him start first ahead of Sergio Perez, while Verstappen and Leclerc will drop to P15 and P16 respectively having qualified P1 and P4 overall.
Ocon qualified fifth ahead of Fernando Alonso in P6 for Alpine, but the Frenchman will drop behind Leclerc. Lewis Hamilton took P7 ahead of Mercedes team mate George Russell, while Alex Albon made it to Q3 for the first time this season and qualified a provisional ninth.
Of course, those four drivers will be promoted three places apiece, while 10th-place qualifier Lando Norris will start 18th on the grid.
FORMULA 1 ROLEX BELGIAN GRAND PRIX 2022
Belgium
2022
Qualifying results
POSITION
TIME

1

Max

Verstappen VER

Red Bull Racing

1:43.665

2

Carlos

Sainz SAI

Ferrari

1:44.297

3

Sergio

Perez PER

Red Bull Racing

1:44.462

4

Charles

Leclerc LEC

Ferrari

1:44.553

5

Esteban

Ocon OCO

Alpine

1:45.180
Daniel Ricciardo missed out on the top 10 by finishing 11th for McLaren in Q2, while Pierre Gasly finished 12th for AlphaTauri. Zhou Guanyu, Lance Stroll, and Mick Schumacher were eliminated from Q2 from P13 to P15, respectively. However, penalties for others will see Ricciardo, Gasly and Stroll start within the top 10 on Sunday – and Zhou and Schumacher start on the back row.
Q1 was delayed by 25 minutes, and when the session began it was Verstappen who set the benchmark ahead of Sainz and Perez as Sebastian Vettel was eliminated in P16 by 0.002s, followed by Williams' Nicholas Latifi in P17 – that pair set to be promoted into a respective P10 and P11 on the grid.
Haas's Kevin Magnussen finished 18th due to a Turn 8 lock-up, Yuki Tsunoda up next in P19 having locked up heavily in the final chicane, and Valtteri Bottas rounding out the standings in P20. That trio will jump to P12, P13 and P14 respectively for Sunday's race.
AS IT HAPPENED
Q1 – Verstappen sets the pace in one take
Grid penalties became the talk of the paddock at Spa-Francorchamps on Friday and Saturday. Those hit with back-of-grid penalties for the 2022 Belgian Grand Prix are: FP2 leader Verstappen, Leclerc, Norris, Ocon, Zhou and Schumacher. Meanwhile, Bottas has 20 places worth of penalties for his component choices.
Sainz and Perez would therefore have a prime chance for pole as two of the 13 drivers not awaiting penalties for Sunday's Grand Prix – but they'd all have to wait as Q1 was delayed 25 minutes for a Porsche Supercup crash, and the resulting repairs.
However, it was Verstappen who proved the driver to beat in Q1 as he set the early target of 1m 44.581s, Sainz dropping to P2 by 0.469s and Perez third by 0.796s to leave Leclerc nearly a second off in P4 – with Stroll, Latifi, Schumacher and both Alfa Romeos in the provisional drop zone.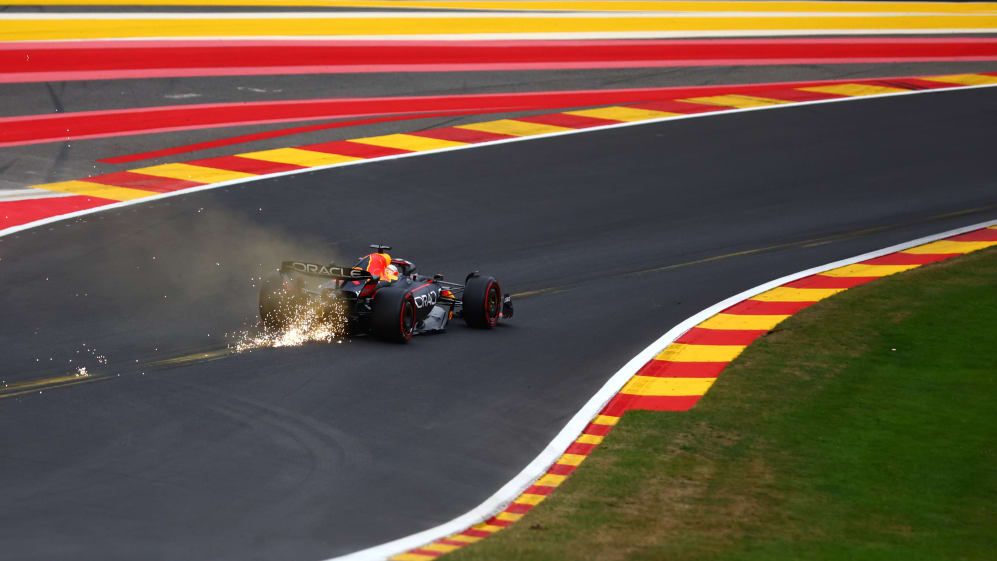 Mercedes struggled to warm their tyres and started Q1 with a brace of flying efforts that saw Russell go 10th and Hamilton 11th. There was still time for the whole field to improve, though neither the Red Bulls nor Ferraris emerged for a second run.
With spits of rain reported through Eau Rouge, Russell rounded out the top five by 1.069s with Albon going sixth to split the Mercedes as Hamilton took P7. That left Norris eighth – Ricciardo dropping to P13 due to a track limit violation.
Ocon finished just ahead of Alonso as Alpine took P9 and P10, leaving Gasly 12th.
Stroll finished 14th, Schumacher a tenth behind in P15 – as Vettel was eliminated from Q1 by a margin of 0.002s to his compatriot. Latifi and Magnussen were next on the board as they missed out on Q2, the Haas driver locking up at Turn 8.
Alfa Romeo driver Bottas's run of 148 Q1 progressions came to an end as he was knocked out in P20, behind Tsunoda – who locked up at the final chicane to finish P19 for AlphaTauri.
Knocked out: Vettel, Latifi, Magnussen, Tsunoda, Bottas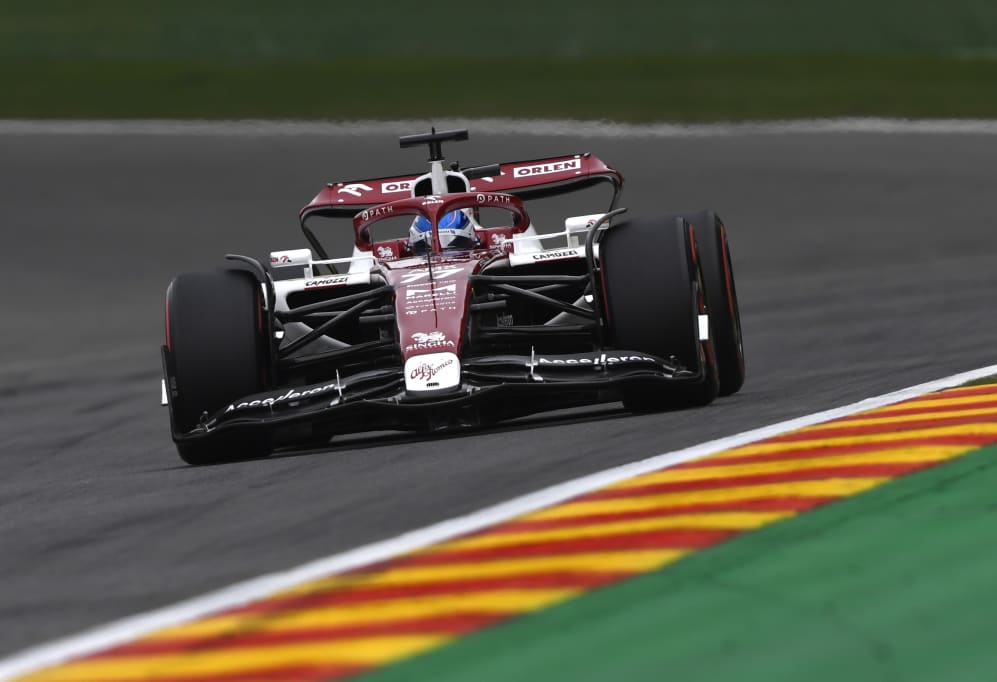 Q2 – Leclerc leads Red Bulls as Albon makes it through
Verstappen came out swinging in Q2 with a time of 1m 44.723s, his team mate Perez just 0.071s off with his effort – while Sainz was another six-tenths behind in P3 and team mate Leclerc was sixth-fastest having reported his car to be "jumping like crazy in the apex of slow corners".
Ricciardo sat P15 after the first runs having not set a time, joining Albon, then Zhou, Stroll and Schumacher in the provisional drop zone.
When Ricciardo emerged, he was towed by McLaren counterpart Norris – Alpine following suit with Ocon towing Alonso down the Kemmel straight. Meanwhile, Red Bull decide to forgo another run.
Leclerc eventually jumped to P1 with a time of 1m 44.551s, leaving Verstappen second by 0.172s and Perez 0.243s off in P3. Sainz ended up fourth in Q2, 0.867s off the pace having also decided against another run – while Hamilton took fifth and Russell sixth.
Ocon finished eighth and towed Alonso to ninth on his second run, while McLaren echoed Alpine's teamwork with ninth-place Norris towing Ricciardo – but the Australian could only finish 11th, missing out on Q3 by a tenth of a second.
It was Williams' Alex Albon who finished 10th in Q2, making it to the top 10 shootout for the first time this season and guaranteeing at least P6 on the grid.
Knocked out: Ricciardo, Gasly, Zhou, Stroll, Schumacher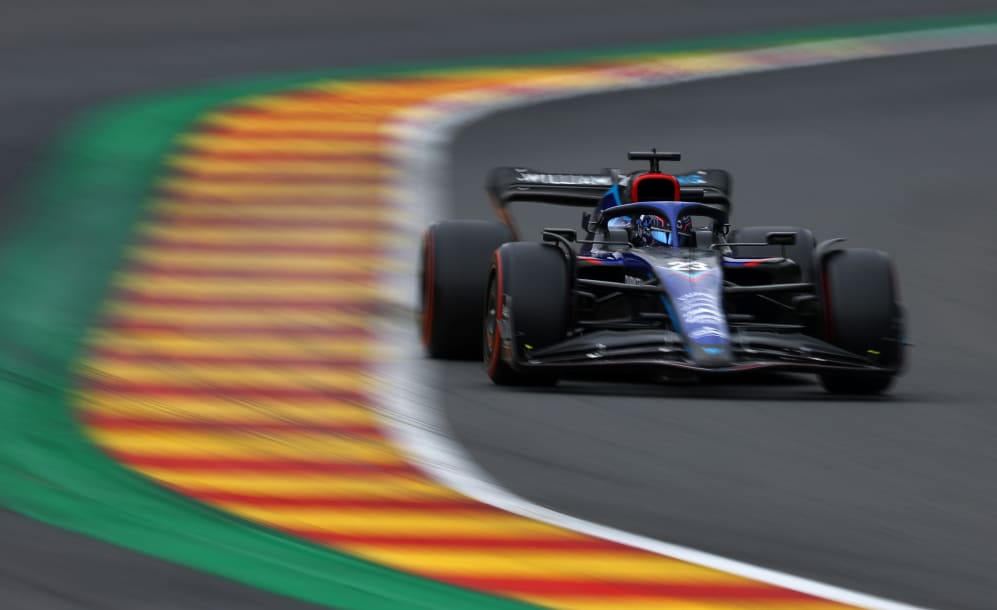 Q3 – Verstappen puts on a show but Sainz secures pole
Verstappen, Ocon, Norris and Leclerc were the four drivers in Q3 set to be demoted to the back of the grid. Despite that, the Dutchman went top with his first flying lap, a time of 1m 43.665s putting him six-tenths ahead of Sainz in P2.
"Wait, what are these tyres?!" came a baffled radio message from Leclerc as he emerged for the top-10 shootout. Anticipating penalties, he would be towing Sainz to help the Spaniard fight for pole – but the team had erroneously stuck the Monegasque the wrong set of softs.
Perez meanwhile had his lap for P3 chalked off for track limits, Leclerc completing his lap to take that third place despite the tyre confusion.
Second runs incoming, Verstappen decided to sit the end of qualifying out as the fastest man on track, while Leclerc emerged only to tow his team mate up Raidillon and the Kemmel Straight. The execution might have been lacking as Sainz lost three-tenths in the first sector alone, kicking up gravel to lose even more time in Sector 2. He did not improve.
Yet neither did the top four, and while it was a qualifying win for Red Bull, Sainz would start on pole position having taken P2 in Q3 – Perez to join him on the front row while Verstappen would drop to 15th and Leclerc 16th for Sunday's race.
Although Ocon rounded out the top five, he will start 17th, while sixth-place qualifier Alonso takes third on the grid. Hamilton will join Alonso on row two having qualified seventh ahead of Mercedes team mate Russell, with Albon beginning the race in sixth having finished ninth on Saturday.
By rounding out the top 10 in Q3, Norris will start 18th behind Ocon.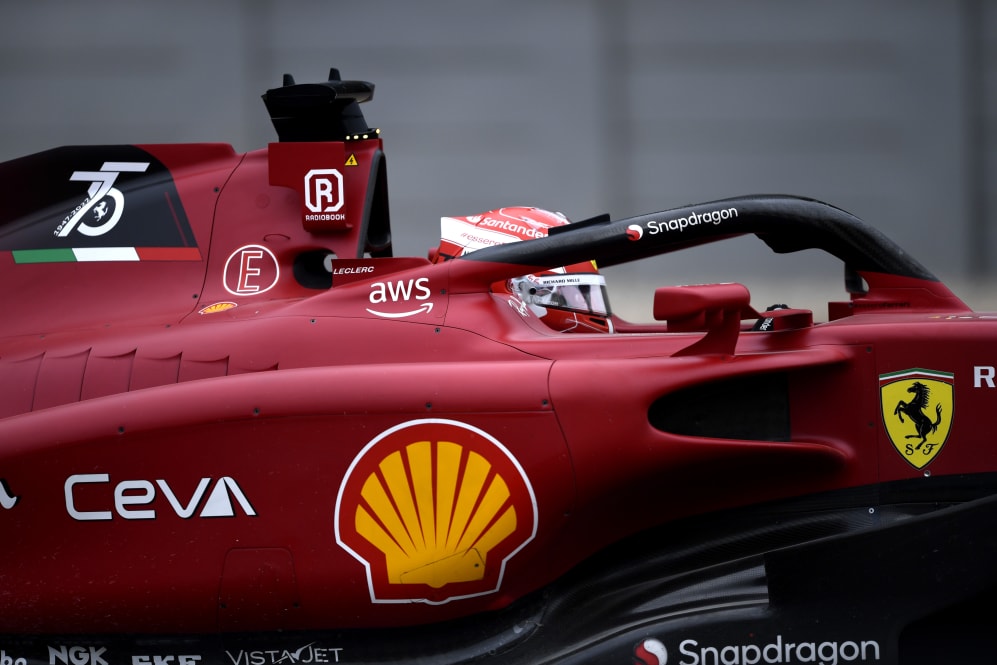 Key quote
"It was okay. Happy to be starting on pole. Obviously not happy to see the gap to Max this weekend and the gap that Red Bull has on us. We need to keep digging to see why Red Bull is so fast around this track and why we are trailing them but to start from pole is a good place to start and we will try and win from there tomorrow" – Carlos Sainz, Ferrari
What's next?
Sainz and Perez will lead off the front row, Verstappen and Leclerc chasing the pack down from P15 and P16, when the Belgian Grand Prix begins at 1600 local time on Sunday. Head to the RACE HUB for the full schedule.