Poor qualifying cost us victory – Vettel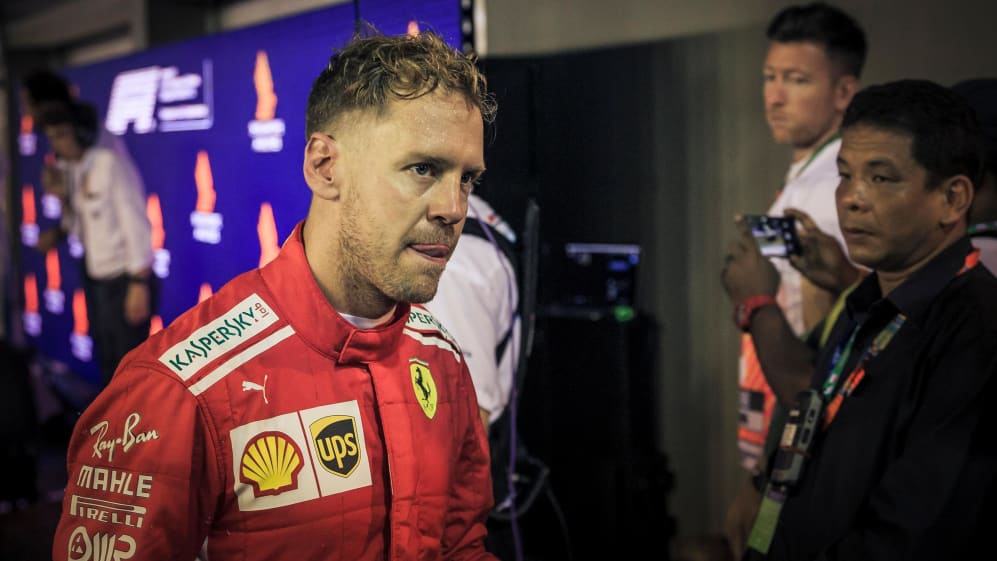 Ferrari were favourites to win in Italy – they didn't. They were favourites to win in Singapore – they didn't. How did it unravel at Marina Bay? Well Vettel reckons a poor qualifying put them on the back foot and ultimately cost them the top honours…
Vettel admitted after qualifying that the session "didn't go the way we planned" with the German ending up third on the grid, a staggering six-tenths away from Mercedes' Lewis Hamilton.
And after finishing in the same position on Sunday, allowing Hamilton to extend his championship lead by 10 points to 40 with six races – and a maximum of 150 points – remaining, Vettel said it was always going to be a challenge to make up for a poor Saturday.
"Mercedes obviously got everything together yesterday – credit to them," said Vettel. "But on a track like this we didn't have a clean qualifying, so it's difficult to say where we could have been.
"I don't think yesterday we were chanceless. I think we could have gone a lot quicker and a lot faster than we did. We didn't do it so we had to try something from third and unfortunately we couldn't make up any ground."
Ferrari opted to pit Vettel, who had passed Max Verstappen's Red Bull to run second, first to attempt the undercut, taking on the ultrasoft tyres. Mercedes team chief Toto Wolff said that was a "bit of a bold call" but it was the right tyre if Ferrari wanted to "make the undercut work".
It didn't. When Verstappen was able to subsequently pit and rejoin (just) ahead of the Ferrari – and on the softs that could comfortably make the end of the race – Vettel's attention turned to managing his tyres to avoid having to pit again.
"Looking back maybe there is something we could have done better," said Vettel. "But at the time I'm sure we saw… for me I'm in the car it's difficult to see everything, but I got the call to box and that's what we went for.
"I was happy and confident. We needed a mega out lap and I did what I could but it wasn't enough. I think it's pretty obvious what we tried to do and it didn't work and we got ourselves in trouble with the car that I had to pass on track.
"Red Bull did very well to react and jump us. It wasn't much that was missing but enough and after that for us with those tyres, I think it was the main priority to make it to the finish.
"The strategy was to get ahead of Lewis, which obviously didn't work and then it was a pity we lost the second place. After that the main focus was on defending third position and I wasn't very confident that we could make it to the end, but fortunately we did."
We were aggressive trying to get ahead... but that came back to bite us
Vettel refused to criticise his team's strategy. "I will always defend the team," he said. "I think the decisions we took in the race, the decision to try and be aggressive, if it works it's great and today it didn't work and it didn't work by quite a bit, so we need to look into that.
"But I believe we saw something and we went for it. We were aggressive trying to get ahead, taking into account that you have to go through traffic, but that came back to bite us as we also lost second place."
Vettel now faces an uphill battle to beat Hamilton to becoming F1's next five-time world champion, particularly as they now head for Russia's Sochi Autodrom – a venue where Mercedes have won all four editions of the race to date.