'Q3 was definitely on the cards' says Latifi after grid penalties put him 18th at Sochi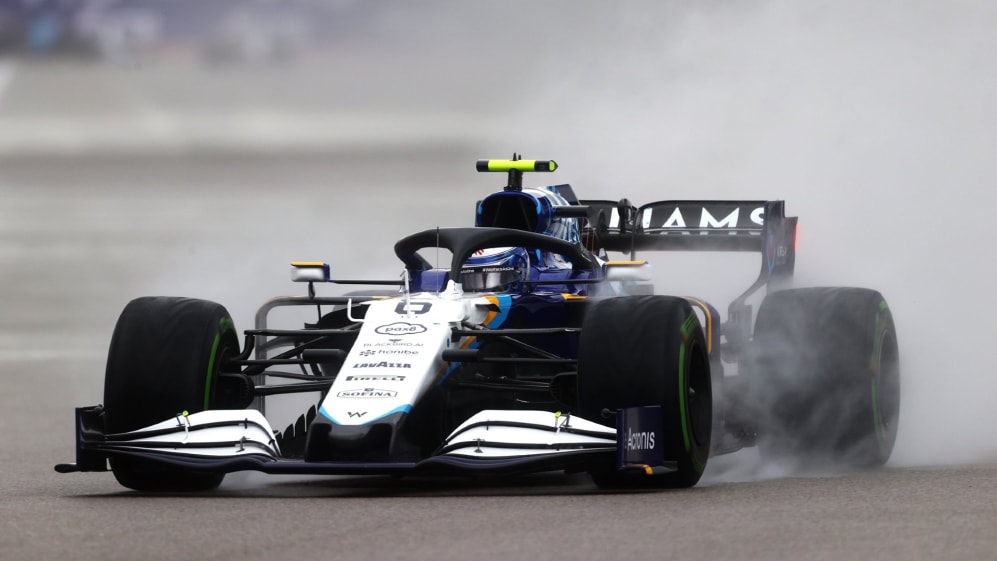 Nicholas Latifi said that the new Mercedes power unit bolted into his Williams works just "fine" but lamented the grid penalties that will see him start 18th for the Russian Grand Prix – because he reckoned a Q3 appearance was on the cards at Sochi.
Latifi finished 10th in Q1 to ensure he'd make it into the following session, but a pneumatic problem discovered by Williams overnight led them to fit a new Mercedes engine to his car, and he didn't emerge for Q2. The resulting penalties from that change mean that the Canadian will start at the back of the grid, ahead of Charles Leclerc and Max Verstappen on Sunday – who have also both been penalised for exceeding their PU allowance for the season.
READ MORE: 'It was 100% my fault' – Hamilton shoulders blame for pit lane crash that cost him shot at Sochi pole
Asked whether the new power unit was working as expected, he said: "Yes, no issues with it. So, yes it was working fine, which is good.
"It makes it more frustrating for sure," he said of his Q2 absence. "I mean, it was never the plan to drive in Q2 because the power unit penalty would be taken anyway. Q3 was definitely on the cards when I see what I did in Q1 – no question about that – so it's yes, a little bit unfortunate, but that's how racing goes sometimes."
With team mate George Russell having qualified third on the grid ahead of Lewis Hamilton, it's clear that the Williams is no slouch around Sochi. So where does Latifi see himself landing on Sunday?
"It's going to be tricky, I mean, I think anything's possible and on this track a lot can always happen in the first few corners. I think even though it's most likely going towards a… drier race so anything can happen on that side," he said.
READ MORE: 'We will put on a fight' says Sainz as he eyes podium after bagging first front row start for Ferrari
"But it seems the races we've had stronger results are the ones where we qualify up front or get into a good position and then we just manage to maintain that. I think it will be tricky to move forward but I think we can if we do things right."
Thanks to Russell's Q3 appearance and P3 start, Williams have a chance to add to their tally of 22 points and consolidate P8 in the standings in Sunday's Russian Grand Prix.