Report
Qualifying - Bottas scores his first F1 pole in Bahrain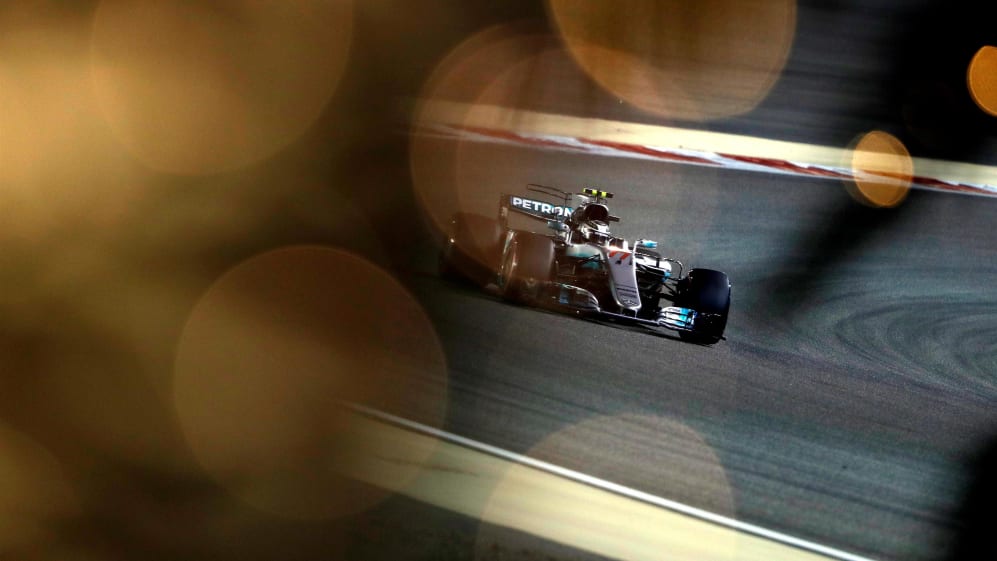 Valtteri Bottas has taken his maiden Formula One pole position after beating Mercedes team mate Lewis Hamilton by just 0.023s in Saturday's qualifying session for the 2017 Formula 1 Gulf Air Bahrain Grand Prix. Spicing up the mix for tomorrow's race, Sebastian Vettel's Ferrari was joined on the second row by Daniel Ricciardo's Red Bull, with their team mates Kimi Raikkonen and Max Verstappen a row further back.
Renault had a superb session under the floodlights, with Nico Hulkenberg seventh and Jolyon Palmer 10th. Between the yellow cars, Williams' Felipe Massa and Haas's Romain Grosjean completed the top ten.
Under the evening sky, and in cooler temperatures of 31 degrees Celsius for the track and 30 air, Hamilton set the initial pace with 1m 30.814s in Q1, running Pirelli's soft tyres. Verstappen was his closest challenger on supersofts, with 1m 30.904s, with Raikkonen third on 1m 30.988s from Vettel on softs on 1m 31.037s.
As Palmer's eighth and Pascal Wehrlein's 14th for Sauber were notable, power loss stymied a fast but frustrated Carlos Sainz as his Toro Rosso stopped, leaving him 16th on 1m 32.188s ahead of brake-troubled Stoffel Vandoorne on 1m 32.313s for McLaren, Sergio Perez, remarkably, on only 1m 32.318s for Force India, Marcus Ericsson's Sauber on 1m 32.543s and Kevin Magnussen's Haas on 1m 32.900s. Some of these were hurt by the flags for Sainz's stoppage.
Excitingly, Hamilton just aced Bottas in Q2, with 1m 29.535s to 1m 29.555s, and then Vettel joined them with 1m 29.596s. It couldn't get much closer. Then Raikkonen popped in 1m 29.43s, leaving Verstappen and Ricciardo trailing with 1m 30.307s and 1m 30.497s.
A broken power unit accounted for Fernando Alonso's McLaren, leaving him 15th, without a time. But all around him there was drama. Williams gambled on leaving Massa in the garage after he'd gone seventh on 1m 30.677s, but Hulkenberg leapt to fifth for Renault on 1m 30.169s shortly after being bumped by team mate Palmer. That left the fortunate Massa eighth, and Palmer, 10th behind a delighted Grosjean, still made his first Q3 of the year.
The unlucky ones alongside Alonso were Daniil Kvyat on 1m 30.923s for Toro Rosso; Williams' Lance Stroll, who didn't get out until late because of front-end problems, got into Q3 on 1m 31.168s, then got bumped in the last-minute flurries; the impressive Wehrlein on 1m 31.414s; and Esteban Ocon for Force India on 1m 31.684s.
So, as ever, it all came down to Q3. And whoever made the fewest mistakes. Would they beat Hamilton's 2016 pole time of 1m 29.423s at last?
After the first runs, the two Mercedes were at the front, Hamilton smashing his 2016 figure with 1m 28.792s, Bottas, on 1m 28.844s, right on his tail. The Ferraris were a little breathless in their wake, Vettel on 1m 29.247s, an understeering Raikkonen on 1m 29.684s. Verstappen got into that territory with 1m 29.687s, while Ricciardo was sixth with 1m 30.007s.
Could Hamilton hang on for his 55th pole?
The answer was no. He failed to improve, as did most of the really fast boys, with 1m 29.012s. But Bottas found what he needed, and took his first premier slot with 1m 28.769s, beating his team mate by just two-hundredths of a second after a fine effort.
Vettel stayed third, failing to improve with 1m 29.634s, but though Raikkonen did, with 1m 29.567s, Ricciardo had got it all together to jump to fourth with 1m 29.545s. Verstappen stayed on 1m 29.687s, dropping to sixth, while Hulkenberg great run to 1m 29.842s left him seventh. Massa improved to 1m 30.074s for eighth ahead of Grosjean on 1m 30.763s, while Palmer, though delighted to make Q3, was disappointed with a lowly 1m 31.074s for 10th.
Thus the provisional grid will line up: Bottas, Hamilton; Vettel, Ricciardo; Raikkonen, Verstappen; Hulkenberg, Massa; Grosjean, Palmer; Kvyat, Stroll; Wehrlein, Ocon; Alonso, Sainz; Vandoorne, Perez; Ericsson, Magnussen.