Report
Qualifying - Ferrari lock out the front row in Russia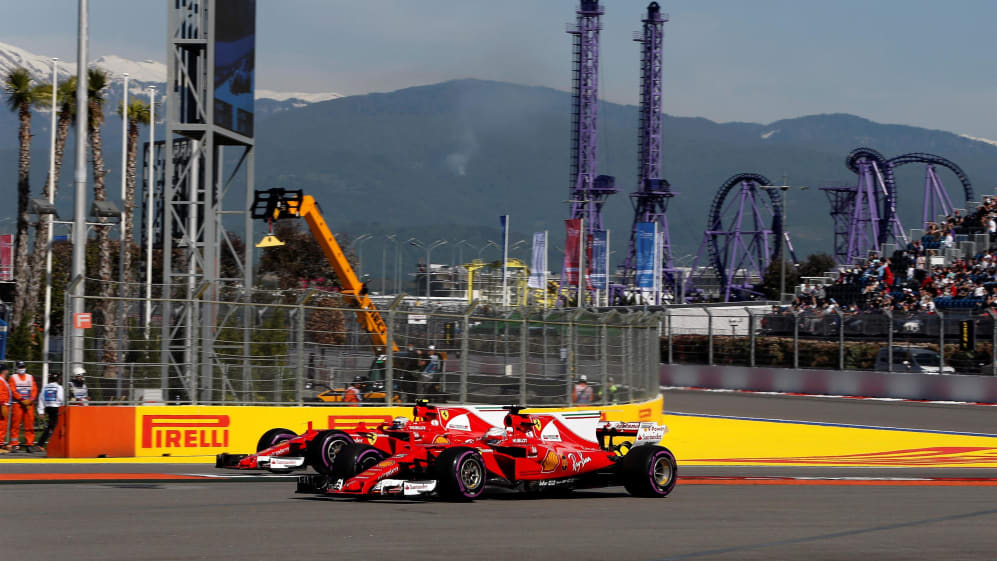 The 2017 Formula 1 VTB Russian Grand Prix will see an all-Ferrari front row for the first time since France 2008, after Sebastian Vettel edged team mate Kimi Raikkonen for pole position in an epic qualifying battle with Mercedes in Sochi on Saturday.
Less than a tenth of a second covered the two scarlet cars and the third-place silver one of Valtteri Bottas, who - as in practice - had the edge on team mate Lewis Hamilton in fourth. No other teams could come close, with Daniel Ricciardo a distant fifth for Red Bull.
Felipe Massa put Williams sixth, ahead of the Red Bull of Max Verstappen and the Renault of Nico Hulkenberg. Force India's Sergio Perez and Esteban Ocon completed the top ten.
Q1 belonged to Mercedes, with Bottas turning a 1m 34.041s and Hamilton, after a false start due to a twitch in Turns 8 and 9 on his first go eventually improving to 1m 34.409s. The Ferraris were close behind with 1m 34.493s for Vettel and 1m 34.953s for Raikkonen. Impressively, Ocon was sixth behind Verstappen and ahead of late improvers Hulkenberg and Ricciardo.
But… the Ferraris were on Pirelli's supersoft tyress, whereas everyone else plumped for ultrasofts…
Jolyon Palmer's chances of getting through were ruined when he got over the kerb in Turn 4, and then found his Renault spat into the outside wall. He was thus stranded in 16th on 1m 36.462s, ahead of Stoffel Vandoorne on 1m 37.070s in the second McLaren, the two Saubers of Pascal Wehrlein and Marcus Ericsson on 1m 37.332s and 1m 37.597s, and a very unhappy Romain Grosjean at the back on 1m 37.620s for Haas. Wehrlein also went off right at the end, trying to go quicker.
Mercedes came out fighting again in Q2, with Bottas flying on 1m 33.264s, the fastest time of the weekend thus far, and Hamilton, still struggling, 0.496s adrift, on 1m 33.760s. Vettel slotted into third on ultrasofts on 1m 34.038s, with Raikkonen fourth on 1m 34.053s on similar rubber.
Behind them, it was Verstappen and Hulkenberg again, from Massa and a brake troubled Ricciardo.
As the Mercedes stayed in their garage, Raikkonen improved to second with 1m 33.663s, but Vettel lost a promising lap by spoiling his final sector and failed to go quicker. Massa, however, moved ahead of Verstappen as Perez finally got going to join team mate Ocon in the top 10.
That left the Toro Rossos out in the cold as neither Carlos Sainz nor local hero Daniil Kvyat improved on their earlier 1m 35.948s and 1m 35.968s bests, and they were split eventually by Lance Stroll's Williams on 1m 35.964s. Sainz will, of course, drop three grid places as penalty for his collision with Stroll in Bahrain. Kevin Magnussen was 14th on 1m 36.017s for Haas, as Fernando Alonso brought up the rear on 1m 36.660s for McLaren.
Thus it came down, as ever, to Q3. Could Mercedes turn up the wick to stay ahead? Or could Ferrari push them off the front row?
Things began to go wrong for Hamilton straight away. He led Hulkenberg out of the pits, then had his warm-up lap process compromised when the German batted him before overtaking the Mercedes.
As Raikkonen went fastest with 1m 33.253s, the fastest lap thus far of the weekend, Bottas went second on 1m 33.289s with Vettel third on 1m 33.426s. Hamilton was a very disgruntled fourth on 1m 34.464s.
Round 1 to Ferrari.
Round 2 went their way, too. Though Raikkonen did not improve, thus losing his chance of a first pole since France 2008, Vettel did, banging in 1m 33.194s to settle the issue.
Behind them, Bottas looked good but did not improve, while a fastest first sector time for Hamilton translated in an improvement to 1m 33.767s, but no upward movement from fourth on the grid.
Ricciardo held on to fifth despite not improving on 1m 34. 985s, and as Verstappen likewise did not go faster than his earlier 1m 35.1611s, Massa snuck his Williams ahead with 1m 34.110s.
Hulkenberg improved to 1m 35.285s for eighth, as Perez and Ocon kept Force India on target for a 14th consecutive points finish with ninth and 10th in 1m 35.337s and 1m 35.430s respectively.
So, with penalties applied (in addition to Sainz, Vandoorne is set to lose 15 places for engine component changes), the provisional grid will line up: Vettel, Raikkonen; Bottas, Hamilton; Ricciardo, Massa; Verstappen, Hulkenberg; Perez, Ocon; Stroll, Kvyat; Magnussen, Sainz; Alonso, Palmer; Wehrlein, Ericsson; Grosjean, Vandoorne.